Among plenty of buzzwords, 'Growth Hacking' is presently a popular term in the business marketing sphere. But, what exactly is the concept of a growth hacker? Growth hacking is essentially a frame of principles, which are primarily aimed at accelerating the development of the brand or growth of your organization. The fundamentals of growth hacking practices involve several advanced methods, like viral marketing, to seek the desired business growth.For brands of all shapes and sizes, it is difficult to determine between growth hacking and marketing strategy while devoting funds and other resources: an important step to consider for designing business frameworks. As far as impacting the future of the business is a concern, deciding which route has more potential to manage a massive change of growth rate for the company is difficult.
To help with sucha decision, we have briefly provides a simple framework to guide you to decide whether the approaches of growth hacker or marketer are the most suitable fit for your business' requirements. We've put together a comprehensible layout of comparison between growth hacking and marketing strategies, designed for businesses, regardless of budget, services and products. Take the next step towards your growth, and explore detailing guidelines to sum-up the essential strategy.
Growth Hacking V/S Marketing- Decide and Improve your Conversion Rates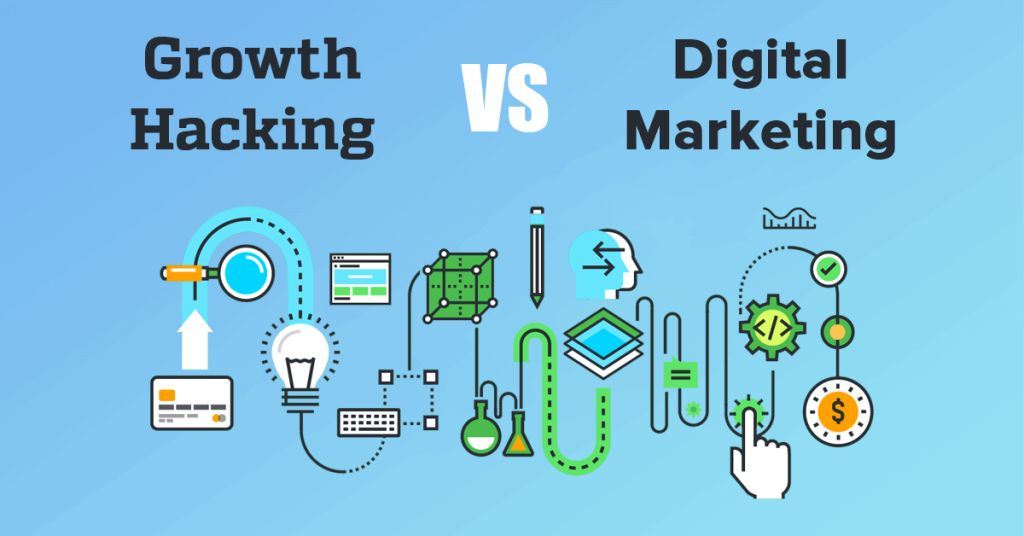 While growth hacker practitioners and professional marketers share some common business strategies, their end goals are always different. While marketers focus on firm engagement to sell their customer base, on the other hand, a growth hacker only aims to business growth as quickly as possible.Although growth hacking technicalities and marketing strategies certainly have some overlap, still they are considered sometimes very similar to many. No wonder to optimize the growth of the business, both the context needs to incorporate different principles however for the same objective- achieving growth.
Both marketers and growth hackers perform to observe, understand, study, seek and retain audiences (customers) but approaches and their perspectives differ. Each has a unique and ultimate purpose, based on the mode of business. While the principle of marketing is all about rolling out high-exposure and selling product or services of a company, growth hacking, on the other hand, practice a more holistic function- they are not just aimed to sales, Growth hackers are very focused on searching for the most effective way to build a business.Each has different ultimate functions- Check out how growth hacking is different than marketing.
Given the expression, Growth Hacking is an advanced Marketing dictum
While principles of marketing don't tend to explore beyond the possible realms of marketing technicalities, the advanced growth hacking fundamentals travels through all possible avenue, unlike age-old marketing steps to generate business growth. This may surely include pertinent business marketing strategies but in a more updated version that involves extensive market research and development along with product testing to their target group.
Software Savvy to manage innovative approaches
As the term defines, the role of growth hacking operations involves many advanced coming up technologies with shortcuts, and other hacks that workaround to provide a business hit through their growth targets. Since a huge deal of contribution and exploration are involved while in discovering such hacks like in-depth research and understanding of the essential software, technical performance, is imperative. However, the principle of marketing doesn't involve any harnessing of the technology endeavors.  For some companies, these 'techy' parts are performed by programmers, and thus the role includes building landing pages, setting up custom APIs, coding using HTML and CSS and a diversified amount of other box hacking. Over the last decades, several companies have adopted innovative approaches instead of just initiating marketing formulas- for examples, Airbnb, Dropbox, Youtube, and so on.
Now we know the major distinction between the approaches of growth hacking and marketing, let's take a closer look at the technical steps performed in growth hacking.
Software Engineering & Automation: Often considered as a very technical job, Growth hacking involves setting up landing pages, programming custom APIs, coming up with other advanced software-based applications.
Developing creative marketing: To perform growth hacking, it requires essential know-how to develop a creative platform for marketing products.
Data Analytics and Testing: To boost growth, it needs to be measured accurately, and thus, for growth hacking, all you need is suitable tools and techniques for collecting and researching lots of related data.
Managing the Right Audience
Typically, marketing is all about performing for a more established industry or business organization that deals with larger investments and practices more traditional kinds of marketing approaches, such as media, print, TV or radio. Of course, these marketing applications can be great and useful for generating brand awareness on a much larger scale, but there is only one issue, and that is the difficulty in tracking ROI.
On the other hand, Growth hacking engages more digital-savvy, rapid experimentation and measure the potential output and thus, most of smaller budgets tend to invest in growth hacking instead of marketing.
Growth hacking principles and simple marketing approaches may overlap, but these two business strategies are enormously different from each other- no matter what your business size, aims for constant growth.
I am a content writer of Search Engine Marketing.Are you looking for the right integrated marketing campaignto develop and implement for your business organization? If so, contact or schedule a complimentary integrated marketing consultation with us. Our team of experts will discuss your business objectives personas recommendations and campaign goals, to draft a successful integrated campaign.