Affiliate marketing is the latest buzzword in the online world. And why wouldn't it be? Affiliate marketing is one of the easiest and most effective ways to earn money online, EVEN WHILE SLEEPING. Build a website, promote other companies' products that you think have value, and earn a commission every time someone purchases the product using your link.
As per research findings by Statista, the overall affiliate marketing spending is expected to reach $802 billion by 2022 in the US alone. It is also responsible for 16% of all e-commerce sales in Canada and the US, along with 15% of the total online advertising revenue.
Affiliate marketing is an excellent marketing opportunity. But, it is also highly competitive. You must approach it the right way to achieve success. The first step is to build the perfect website. So, here is a detailed guideline for you to create your first affiliate marketing website successfully.
1. Choose a SPECIFIC niche
There are over 1,197,982,359 websites in the world. You can only imagine the competition you may face once you have a website. Thus, your website should focus on ONE SPECIFIC NICHE so that it doesn't get lost amid the sea of other websites. Niche down to stand out of the crowd.
Here's how you can identify a specific niche to build your website on.
You can focus on any one of the following sub-categories to niche down the website:
Genres (Horror, romantic, anime, sci-fi, thriller, etc.)
Periods (the 90s, 70s, 60s, etc.)
Type of information you want to provide (movie reviews, interviews of directors, critical analysis of movies, etc.)
Find out potential affiliate opportunities.
The niche you choose should have enough potential affiliate opportunities in the future. Think of the niche you are interested in. Are people interested in that niche? Will you be able to create enough content based on that niche? Ask these questions to determine the potential affiliate opportunities available.
As you can see, the motive is to break down the movie niche into more targeted segments. You can expand into other areas once you cover the bulk of one main category and build enough traffic to your site. No matter which category you choose, you need to stick to it, at least as long as you don't build an appropriate audience for your website.
2. Set up the domain and hosting
So, you have decided on a specific niche for your website. Now it's time for you to set up the base for your first affiliate website- a domain name and a web host. For many of you, these terms may seem a little too technical. Thus, here's a clear description of a domain name and a web host.
Domain name– A domain name is what you call your website. It is the name you want your target audience to type in the address bar to find your website. The domain name should be short (with a maximum of three words), relevant to your niche, and easy to type or memorize.
Web host– Let's say the domain name is like the address of your website. So, the web host is the space where your website exists. You rent this space on a server and use it to build your website.
There are multiple hosting providers out there. When I first started with my affiliate website, I chose Bluehost because it's easier to manage and it lets you purchase a domain under the same package.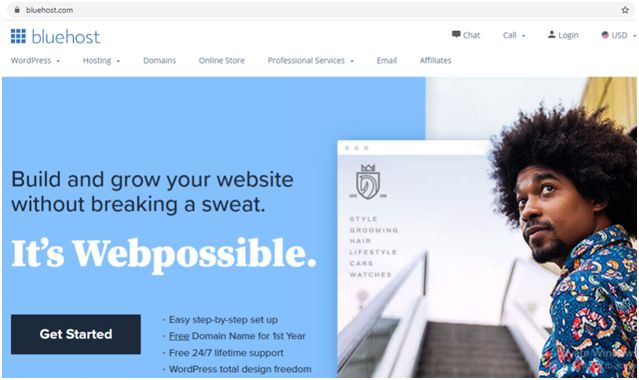 Image source: https://www.bluehost.com/
Follow these instructions to get a domain name and a web host on Bluehost:
Visit the Bluehost website and get yourself registered.
Choose your domain name. You can also check whether your domain name is available or not. Always try to go for .com rather than any other extensions. Choose a unique and specific domain name.
Fill in your billing and personal details to create your account.
Once your account is created, you will be redirected to the backend of WordPress. Click on the 'Launch' button and you are good to go!
You can also install the Yoast SEO plugin for your WordPress theme. This simple plugin can help you publish SEO-optimised content in a matter of a few seconds.
3. Figure out the affiliate programs to join
You need to join a suitable affiliate program to make the most of your affiliate marketing website. Here are the three main affiliate programs you can choose from:
High-paying, low-volume programs
As the name suggests, these affiliate programs are tailored for niche products that promise higher payouts. You may face a great deal of competition for these kinds of programs since you are just starting and there are already skilled marketers waiting to make money out of these programs. ConvertKit's affiliate program, for example, rewards $700 a month if the marketer could send even 80 customers to their website.
Low-paying, high-volume affiliate programs
These programs cater to products that have a mass appeal but low payouts. PS4 games, for example, cost around $50. The affiliate commissions are in the single digits. But, the popularity of PS4 games is unimaginable. Thus, redeeming these kinds of products can help you sell tons of products and earn impressive overall commissions.
High-paying, high-volume affiliate programs
A credit card is something everyone needs and most even already have one. Most people usually want to stay with the same credit card company for years. So, credit cards are just one of the examples to show that you can create affiliate programs for products that pay high commissions and have mass appeal. But, the competition is too tough to make any room for beginners.
Though tempting, I would suggest you focus on only either of the two programs as mentioned above. You are a beginner now. Instead of rushing through things, take your time to build an audience and maximize the visibility of your website.
Which affiliate program you should start with?
It mainly depends on the niche of your website and your expertise. Assuming you are a beginner, I would suggest you start with the programs for low commissions and higher sales volume. However, if you want to compel your audience to build a business, you may have to opt for high-paying with low volume affiliate programs.
4. Focus on nothing but GREAT content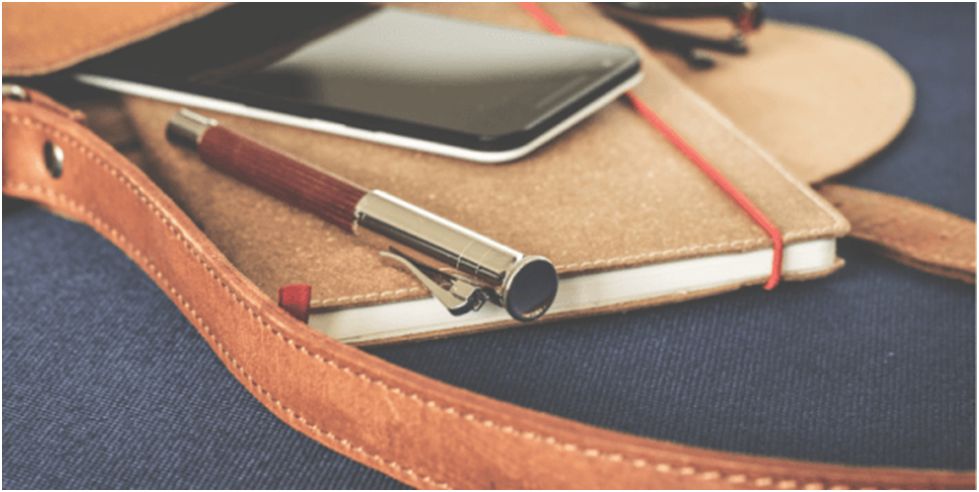 Content is the king and it is not an exception to affiliate marketing as well. Affiliate marketing isn't just about compiling a list of products from Amazon on your website. It is about providing the right content to your target audience to solve their problems. Let's say you want your target audience to download a plagiarism checker or paraphrasing tool from the merchant website. So, your website content should be related to topics such as 'importance of paraphrasing' or 'how to master the art of paraphrasing' or 'what are the consequences of plagiarism?' etc.
Remember these tips to tailor the right content for your target audience:
Identify the intent of your visitors
Visitor's intent will help you understand the needs, desires, and wants of your target audience. You can create the content they want only when you know what they want. Let's continue with our earlier example of plagiarism and paraphrasing tools-related websites. So, your website visitors are most likely to have the following intentions:
Just want to know what plagiarism or paraphrasing is
Check the consequences of plagiarism
Know the steps for paraphrasing a passage
Understand how to get rid of plagiarism
Look at the reviews of different tools for plagiarism checking and paraphrasing.
Understand the buying behavior of each customer to bring forth the right content to them.
Brainstorm ideas based on the visitors' intent
You can create content based on each possible intention of your website visitors. For instance, let's assume you want to create content for people who want to get rid of plagiarism. So, the content ideas would be something like this:
How to steer clear of plagiarism in easy steps?
What are the different types of plagiarism and how to stay away from each of those?
How to avoid self-plagiarism?
What is the difference between paraphrasing and summarising?
What's the best way to write a 100% unique assignment?
Once you have successfully created the right content for your target audience, share it with them. You can share the content in the form of PDFs, social media posts, a spreadsheet, a checklist, software, or emails. For instance, let's say you noticed a buyer visiting the page of free educational tools often. So, you can send an email related to "Get doubt-free. Hear it straight from the students how online educational tools made their lives better."
Wrapping Up,
'I want to make money online'- this statement generates over 2 million results on Google SERPs. I bet 99% of those results include affiliate marketing as one of the best ways to make money online. Affiliate marketing is a process that won't give you the desired results overnight. It demands consistency, hard work, and perseverance. But, it's not impossible. I did it. I know my friends who did it. There's no reason why you can't. Good Luck.
Ethan Taylor is an experienced academic writer, dedicated to offering cheap assignment help on behalf of the platform Assignmenthelp.us. Students wondering, "Will my professor rate my paper well?", often find Drew a reliable choice to lean back and seek personalized academic assistance.