If there's one question that's constantly on every business owner's mind out there, it is, "How do I get more customers for my business?". For most SMB owners, the answer to this question lies in how easily customers are able to find them online on local searches, especially if it's a service area business. If you're a plumber in Florida, and a customer in the vicinity is searching for "plumbers in Florida", or "plumbers near me", are they able to find you? If the answer to that's a resounding, "Yes!", then you've got nothing to worry about. If the answer to that's a no, then worry not; it only means that you have to perform a quick local SEO audit for your business, and you'll be raking in customers in no time.
Before all that – what is "local SEO", and why do I need to perform a local SEO audit?
Local SEO (Local Search Engine Optimization) is the practice of optimizing a business/website to show up for searches made with local intent. Much like the example cited in the introduction, someone searching for "fuel near me" expects to find gas stations near them. Search engines like Google and Bing understand this, and show them gas stations around them, or websites that are built for giving them this very data.
However, search engines can do this only if you've already provided them this information. If someone's standing a very busy street and searching for "restaurants near me", and you've not listed yourself online as one with accurate information about your address, for instance, then you are NOT going to show up on this search. And that's exactly why you need to perform a local SEO audit – to make sure that you're found wherever you need to be found.
Now that we've answered the "why", let's get into the "how" of it. Here's how you can get an effective 4-step local SEO audit done in under 30 minutes, and start showing up on online searches.
#1 Online Listings
Online listings can make a huge impact to your business' discoverability online. Let's look into how they help.
Say you run a Google search for "Cambridge university". This is how Google's results look like when you run a search with those keywords.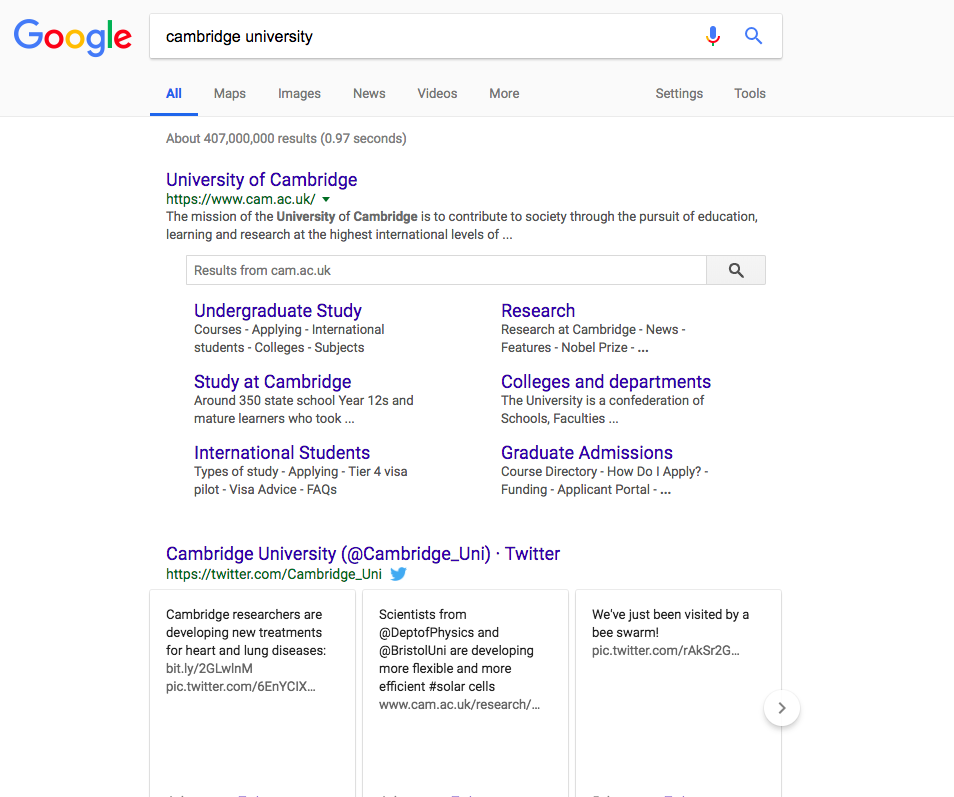 Google shows you the University of Cambridge's website, followed by their Twitter feed, like in most cases. However, this is not how your search results will look like if you run a local search.
Say you're a customer looking for carpet cleaners near you. Naturally, the first thing that you will do is search for "carpet cleaners near me", or "carpet cleaners in Florida" (assuming you live in Florida) on Google. This is how Google's results page will look like.
As you can see, the search results here are wildly different from those of a generic Google search. If we were to break this down further, we can see ads that users have set up for this particular keyword using Google AdWords first, followed by local online listings, and finally, organic results (mostly business websites).
We'll break this down completely for you in a bit, since all of these are key elements you'll have to look into when running a local SEO audit. Let's talk about online listings first.
Getting your business listed on major directories like Google, Yelp, Facebook, etc. is the easiest way to get your business' name in front of your customers. Moreover, this is not restricted to desktop searches. Customers who are searching for your business on mobile browsers and through voice searches will also be able to find you online if you have business listings with accurate information.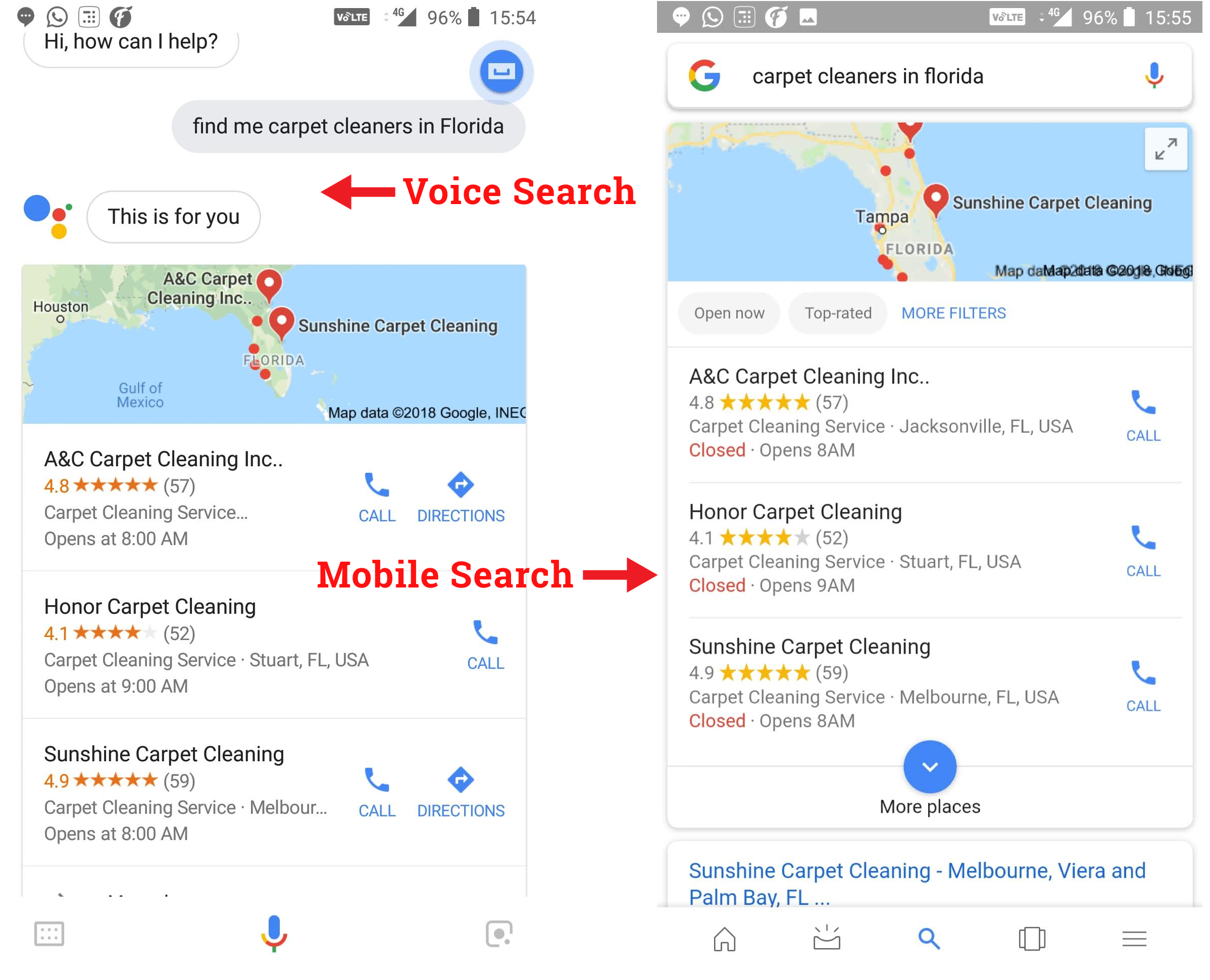 Customers who use apps like Yelp and TripAdvisor to discover businesses will also be able to find you only if you're listed there.
If you're not sure where to start, you can check out this list of business listing sites ranked by Domain Authority. If you're finding listing your business manually on each and every website to be time consuming and cumbersome, so you can choose an automated listing management platform like Synup to get it done.
#2 Optimizing Your Website for Local SEO
Once you're done getting your business listed on major directories, working on showing up on the organic results section of the results page should be your top priority. The easiest way to go about this is starting with title and meta tags of your website. If you're not sure what title tags are, check out this post.
To get your on-page optimization done right, you need to make sure that you have your title and meta tags optimized for local SEO. Let's take a closer look at the websites that were ranking on top of organic search results for the term "carpet cleaners in florida". This is how their title tags look like.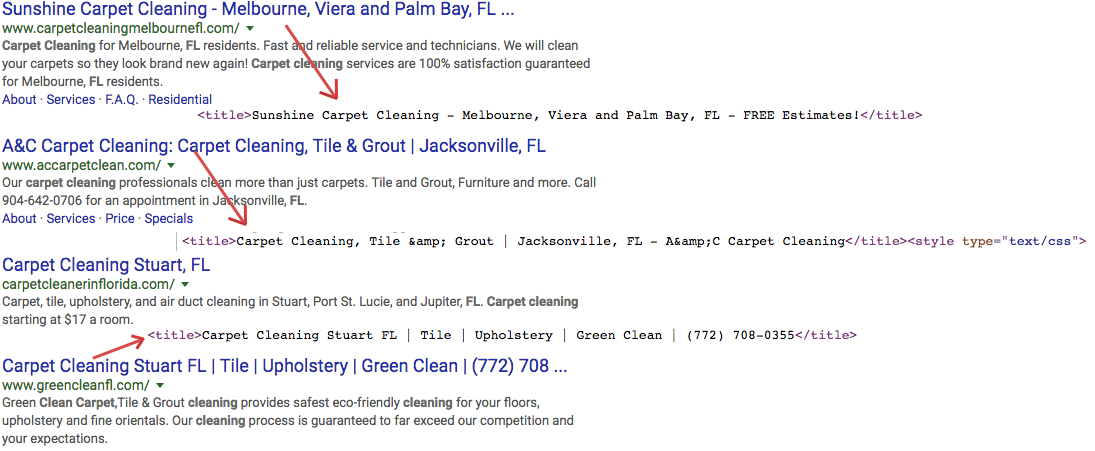 You can see that each of these websites have the term "carpet cleaners" and "florida" or "FL" in their title tags. This is what is helping them rank on top of organic search results. Getting your website's on-page local SEO done is simple, and can be done in two steps:
Do some keyword research and figure out what keyword you want to rank for
Make sure you add the relevant keywords/keyword phrase in your title tag
Once you're done with this, you're good to go to the next step.
#3 Google AdWords
While Google AdWords might not be the most long-term or budget friendly option for your local SEO, we highly recommend that you still do it because of two reasons:
Google AdWords ads top search engine results, and they will be the first thing that users see when they run a search
Google AdWords have a very convincing ROI stats
If you're unsure about spending a lot on Google AdWords, then start off with a small budget. Experiment and see whether this works out for you. Make sure you learn how to optimize your AdWords campaigns for local SEO before you go ahead with this, so that you get the most out of it.
#4 Local Link Building
Once you're done optimizing your ads, listings and website for local search, all you need to do is constantly build links to your business' website after this to make sure you stay on top of the search results. If you haven't heard about what link building is, check out this article.
Your local link building strategy can very greatly from the usual SEO link building practices. Local businesses can reach out to local bloggers, get published on local awards sites, and get backlinks from organizations that host local community events as well. If you're interested in more local link-building ideas, you can check out this post. Local link-building is something that you'll have to dedicate time to every month, but it will help you reap great rewards in the long run.
That's it! Your 4-step local SEO audit would have helped you figure out all the things that needed fixing in your local SEO. All you need to do now is wait for customers to discover you on search engines, and help your business grow.
Chris Mcdonald has been the lead news writer at complete connection. His passion for helping people in all aspects of online marketing flows through in the expert industry coverage he provides. Chris is also an author of tech blog Area19delegate. He likes spending his time with family, studying martial arts and plucking fat bass guitar strings.