On consulting the new age marketers, you will definitely listen more about digital marketing. They explain it more as a key to the consumer's heart, due to the fact that the internet is the most widely used source of information.
Despite the age factor, everyone is seen active with social media, Google and streaming online videos.  However, if you dig deeper, not every person is available online, which clearly shows that relying only on digital marketing might not solve your problems.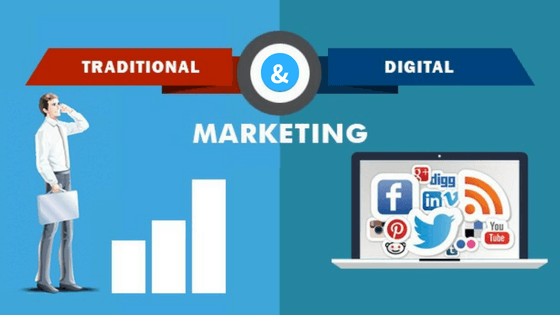 The combination of both digital and traditional marketing strategies can bring the better results than your expectations. Now, let's have a narrow look at how
Why should you go for digital and traditional marketing altogether?
Today's marketing campaigns majorly consist of emails, e-newsletters, blog posting, pay-per-click ads and social media campaigns. These methods are quite effective to reach a major part of the population especially tech savvies.
But this does not include everyone on the list. With the help of traditional marketing techniques, it is easy to influence the campaigns and outreach those who are not active with the internet.
Even, if people spend a major part of their time on the internet, still they are in touch with television, radio and even read newspapers, magazines and see billboards while driving their vehicle. So, by using these two marketing platforms in a combination, it ensures that your advertisement can outreach every type of audience. Here, the point of consideration comes that which product provides better online results and which are better with traditional promotions.
Pros and cons of using Traditional Marketing
It will be harsh to leave behind some of the proven traditional marketing methods. Despite older age, they are still beneficial in one or the other way. Let's check how
They offer a high success ratio
Outreaches wide scale of audience
Best to focus those who are not online
Comes with a better personal approach
They stick to the human memory for the longer duration
However, Traditional Marketing also offers some cons, such as
No proper targeted promotions.
Most of these methods can cost you higher.
It's very difficult to track the results.
Pros and Cons of using Digital Marketing
Digital Marketing is indeed the new age business strategy and today every business is going virtual by adopting such strategies. Let's have a look at how these methods are beneficial for the companies.
It is the fastest mode of marketing
These methods can outreach to a wider audience.
Easy to access by everyone from anywhere and at any time.
The results are easily trackable and measurable.
It is quite easy to collect the required data about the customers.
Target based marketing
Easy to interact with customers
Being advanced and amazing, it still lacks in some points. The cons of digital marketing are
With millennial of online content, it's hard to gain visibility
The ever growing technologies and techniques, it is quite hard to match the pace.
Some of the processes can be time-consuming
Negative comments can bring you down.
Even with such pros and cons of both the methods, integrating traditional and digital marketing can bring out great results with promotional campaigns.
But how to integrate traditional marketing with digital promotions? Check out these methods which work well in integrating both of these advertising techniques.
1) Combine Direct Marketing with Email Marketing:
Direct Marketing is a proven and effective method of traditional marketing to promote products and services. This mainly includes mailing custom postcards, letters, prospects to the customers. But in digital marketing, this includes sending emails with the promotional content to the interested customers.
By combining both of these methods, you can increase the outcome and your reach to the customers.
 2) Mention Digital Channels on different Print Mediums:
The print medium is a great part of promotions and now it has become vital to mention all your digital channels on them. It basically includes leaflets, brochures, posters, business cards and billboards.
Customers are more interested to follow the brands on social media and check every update by visiting on the specific URLs. This can be done in a more creative way if you are filled with innovation.
3) Display Digital Information on TV ads:
TV commercials are very effective despite being short. They positively impact the viewer's mind and creates a lasting impression. To get the viewers attraction on your digital platform, you can display your website URL and other additional details in the add.
It can be a better way to engage more with the viewers and interact with the interested parties. Also, it turns out to be a better way of having future communication with your brand.
4) Bring online traffic to the Physical Location:
Online purchasing has significantly increased in recent times but still, you can find people who prefer shopping in stores. With the digital marketing, it is quite easy to target them for your online campaigns.
You can provide them with coupons for online shopping on your website and even a mobile barcode can also be helpful. There is another option of Geo-targeting ads, which can aware the customers about the physical location of your store.
5) Advertise Digital Channels on Billboards:
Billboards are a very effective way for advertising. They easily attract the passersby attention, with good graphics and wording. No matter, what you are going to display on the billboards, do include information about your digital channels. It is one of the best ways to generate leads with such campaigns.
6)  Promote local events online:
Social media is very powerful and works as a great medium for advertising local events. For example, create an event page on Facebook and invite users. After the event is done, try reaching the participants on different social platforms. Make your post trending on these platforms by creating a hashtag.
In conclusion, advertisements and marketing strategies are vital for promoting a business. These methods change with time and requirements. There are two methods known as traditional and digital marketing and they are highly effective in their own kind. To get better results integrating these methods can be highly beneficial for your business promotions.
Devin Murphy is working as a blogger at Enhance Promotions which is famous for Corporate Gifts and Promotional Products in Brisbane. He used to write about creative gifts ideas related to Businesses, Lifestyles, Occasion and much more.