The very first thing that a person wants to have on his device is a healthy battery life. Therefore, a lot is said and discussed about the ways to maximize the battery life. Windows also with each release of its new operating system tries to incorporate the features that add some extra hours to battery life. The latest release i.e. Windows 10, by default comes with a battery saving feature that can extend the battery life.
Tips to Maximize Battery Life on Windows 10:
Guys if you feel that in Windows 10 your battery is quickly draining and you are unable to get the most out of it then go through the article, in which we have summed up few easy to implement tips to maximize the battery life in Windows 10.
Keep Battery Saver Mode Enabled:
The battery saver mode of Windows 10 undoubtedly adds some extra juice to the battery when it really matters.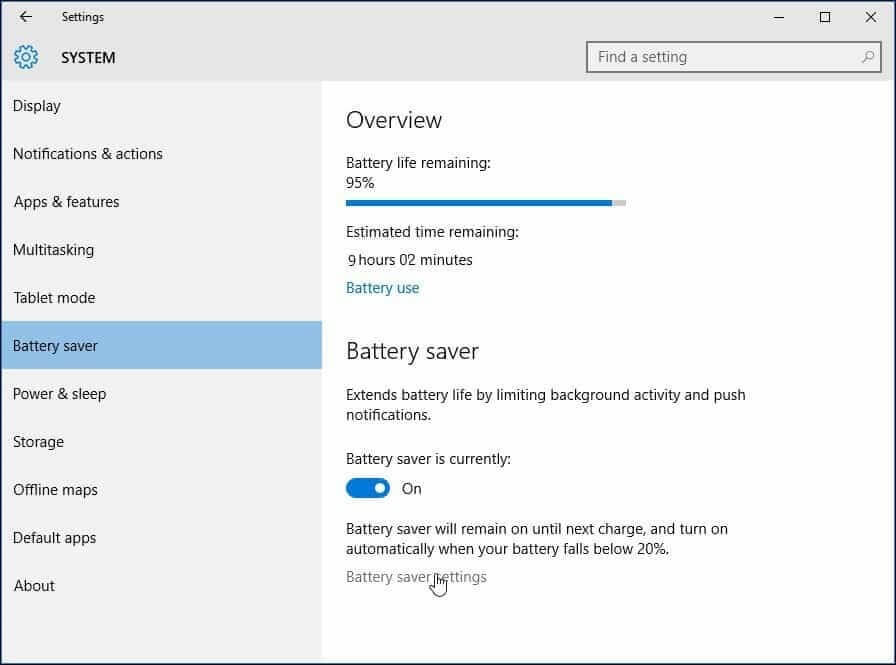 Therefore, the first step that one must take to enhance battery life is to enable battery saver mode. The battery saver mode limits all the background activities to add more life to the battery. To enable battery saver head on to Settings > System > Battery saver.
Disable Wi-Fi and Bluetooth When Not in Use:
Believe it or not but both Wi-Fi and Bluetooth keep on draining the battery. Although both Wi-Fi and Bluetooth help you in staying connected to the internet and sharing things. But when not in use you should turn them off like when you are watching a movie that is downloaded on your hard drive. Moreover, the action center in Windows 10 makes it really easy to turn off Wi-Fi and Bluetooth when not needed. You can also enable Airplane mode to disable all type of connections in one go.
Turn on Adaptive Brightness:
If you are a smartphone user then you must be very familiar with adaptive brightness that automatically adjusts the screen brightness depending on the situation.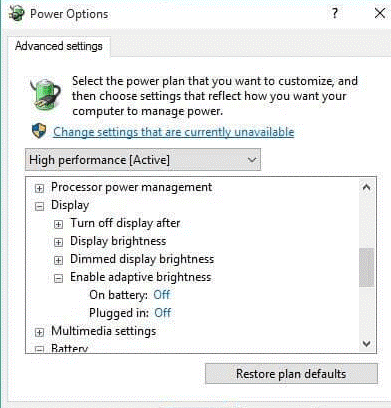 You must be glad to know that Windows 10 has similar option using which Windows automatically adjust the screen brightness. Like when there is dark it will automatically dim the brightness of the screen. Now, since the display consumes a lot of battery therefore, turning on adaptive brightness is certainly a good option to maximize the battery life in Windows 10.
Uninstall Unrequired Apps and Software:
After getting a new system, we tend to install a lot of apps and software. But after certain time we never use them and they remain present in the system. Some of these apps not only clutters the space in out hard drive but also suck system resources if automatically running in the background.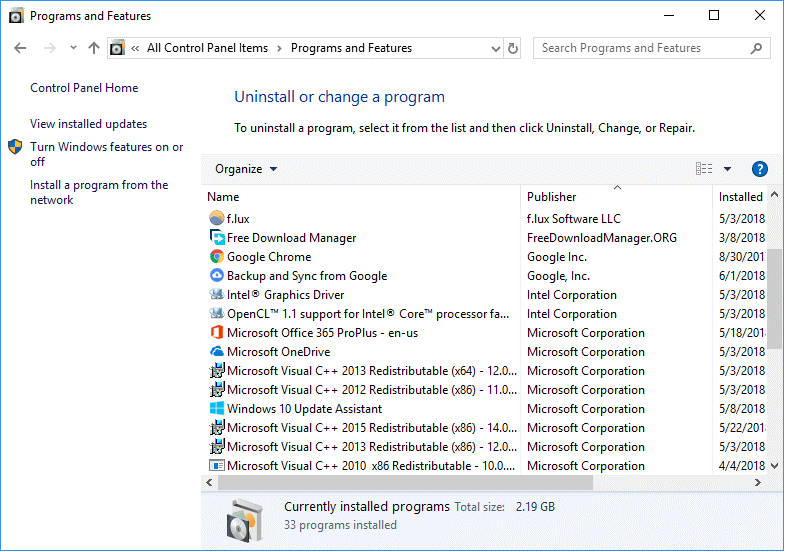 Therefore, it is always a good idea to review all the apps and software installed on your machine and remove the unnecessary one from the control panel. To remove unneeded software head on to Control Panel > Program and Features.
Disable Apps at the Startup:
You can start as many applications as you want at the startup of Windows. But these applications that start at system startup not only makes the system slower but also minimizes the battery life. As these applications after starting at startup continue to run in background and consume system resources including the battery. Therefore, make sure that only the application that is required at startup like your Anti-virus is set to start at the system startup. To disable applications from opening at startup open Task Manager > Startup.
Unplug Peripherals When Not Required:
Always keep a check on the peripherals that you have attached to your Laptop. Your USB mouse, keyboard, HDMI cable, VGA adapter all use some amount of the battery of your device. Even when you let your smartphone connected to your Laptop, it too consumes some amount of Laptop power. Therefore, whenever any of the peripherals are not required unplug them to extend the battery life of your system.
Customize the Power Plans as Per Your Requirement:
The screen of the laptop consumes a lot of battery. Therefore, choose a power plan to automatically dim the screen after a specific time. It is recommended to set it minimal to save the maximum power. Similarly, you can also set the time before your system goes into sleep mode.
Use PC Optimization Tool:
You can also use a PC optimization tool that not only boosts the performance of your system but also keep a check on the battery health by disabling the startup apps and other memory hogging apps. If you search on Internet you will find PC optimization tools, both free and paid. Review them and pick the one that best suits your needs.
These were some easy to implement tips that will surely help you in maximizing battery life on Windows 10. Apart from the above-mentioned tips, you can also lower your system volume while playing on internal speakers, to maximize battery life. So, guys start following the above tips to enhance the battery life of your system.
Yogesh Sharma is an SEO personnel and technical content writer. He likes to talk about various threats to cybersecurity and cybercrime awareness in his blogs.