"Your most unhappy customers are your greatest source of learning."
-Bill Gates, Microsoft
"We know that the best way to drive positive change is to learn from our mistakes and hear what our customers have to say. Our companies thrive off customer feedback. It helps us to innovate and disrupt, and keeps us relevant."
–Richard Branson, Virgin group of companies
"Customer feedback is the ultimate truth. If you read customer feedback and listen to call center calls, you will really get grounded."
-Julia Hartz, Eventbrite
You might think of gathering customer feedback as a tiresome process. But, if your customer is unhappy with your brand or product, then there are chances that they might not pick it up again. It is essential to know what your customers think about you — after all, isn't customer loyalty what grows a business?
How do you measure customer satisfaction? Here are a few tried and tested methods that have stood the test of time:
Customer Feedback Surveys
Customer feedback surveys are the easiest and oldest methods to measure customer satisfaction.
The Net Promoter Score (NPS) of your brand is a popular method to gauge customer feedback. An NPS is a simple measurement technique. The customer is asked a question: Would you recommend this brand to a friend or a colleague on a scale of 0 to 10?
Customers who rate your brand from 0 to 6 are 'detractors' who might provide negative feedback about the brand.
Customers who score 7 or 8 are 'passives' who don't have set views about the brand.
Customers who score 9 or 10 are 'promoters' who are likely to promote the brand through word of mouth advertising.
The total NPS is calculated by subtracting the percentage of detractors from the percentage of promoters.
NPS calculator is one of the fastest ways to collect customer feedback — since it is one question, it is reasonably easy to understand. A good net promoter score is any positive number, while a score above 50 means your brand is being perceived exceptionally well by customers. Other customer feedback surveys like Customer Satisfaction Score (CSAT), CES (Customer Effort Score), 5-star surveys are also easy to administer.
Monitor the Social Media Page of Your Brand
In a world where the internet exists, customers don't reach out to the brand directly to complain or praise their products. Instead, they switch to social media.
They expect your brand to address their complaints on social media. Also, the more responsive your brand is on social media, the more buzz it creates.
Since this is a more informal method of providing customer feedback, people tend to be more vocal about what they liked and disliked about the brand. You get a real sense of what the customer thinks of your brand as this method is entirely organic.
You can also get a sense of how the competition is dealing with customer feedback when you look at social media. Here's an example of how an exchange between Dominos and a customer went viral. Witty banter aside, Dominos created quite a buzz after this: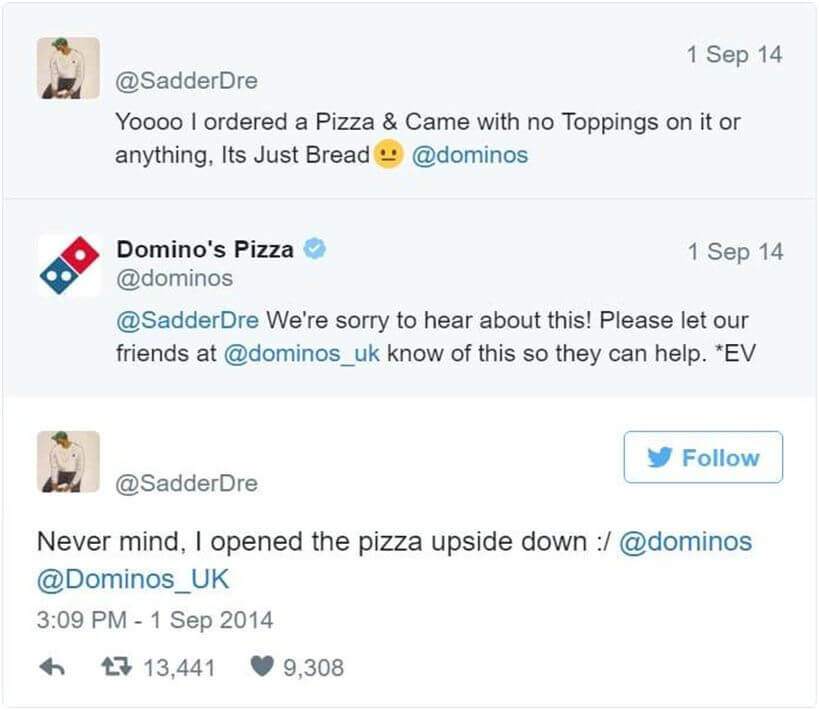 Customer Interviews
Customer interviews can provide you with in-depth insight on what works for your brand and what doesn't. Qualitative market research methods that involve in-depth interviews with customers can provide you with detailed information on how customers perceive your brand – if they like your advertising campaign, if they like the new modifications you've brought to your product, and so on.
But this can be done in a simple way too — loyal customers who keep coming back to your brand will happily give you feedback too. These are the people who are as invested in your brand as you are, so you'll gather valuable insights here.
Follow-Up Through Emails
This is one of the most frequently used methods for customer feedback. If you have ever stayed at a hotel — you've received a feedback email after you're back from your stay.
This feedback method wins because this way you can collect a significant volume of data and analyze what is working and what isn't for your brand.
Taylor and Hart, a British based jeweler that specializes in customized engagement rings, started sending emails to their customers an hour after they purchased jewelry on their website.
This service NPS email survey lets the customer rate the customer service at Taylor and Hart. After a 40 day period in which the jewelry was delivered to the customer, the company sent out an email asking about the feedback of the received product.
In doing so, Taylor and Hart discovered that the customer was more satisfied with the customer service as compared to the finished product — and they used this feedback to make improvements accordingly.
Feedback Boxes
Back in the good ole' days before the invention of the internet, companies collected feedback by using pen and paper questionnaires and having a feedback box where these surveys could be dropped anonymously.
This tried and tested method is the most cost-effective method of collecting feedback. But it can also be a big pull on your time when it comes to collating and analyzing the feedback thanks to the sheer amount of paper you would have collected.
Look at the Analytics
It's equally important to try and figure out what parts of your website and social media strategy are working for customers.
A good way to do this is to look at the Google Analytics and social media analytics of your website.
Do people look at the 'About Us' section?
Are people engaging on your Instagram page?
Are they checking your Insta feed in the morning at tea time or during office hours?
When you look at customer analytics, you can easily identify the shopping patterns with customers.
Collecting customer feedback is one of the most important aspects of growing your brand. It's essential to choose the right method of feedback according to the sort of customer you are catering to — a few customers might be apprehensive about giving feedback interviews while a few might not talk about your brand on social media no matter how much they like it.
While asking for feedback, it's important to tailor the feedback method according to your customer and the sort of information you want.
Bhavika Sharma is a survey designer at SurveySparrow, where she designs surveys that work by making them more conversational and engaging. When she isn't designing killer surveys, she loves to travel, searching for adventure and meeting new people. Her travel experiences have taught her the importance of conversation, and that is what she brings to the table while creating surveys or content for her readers.