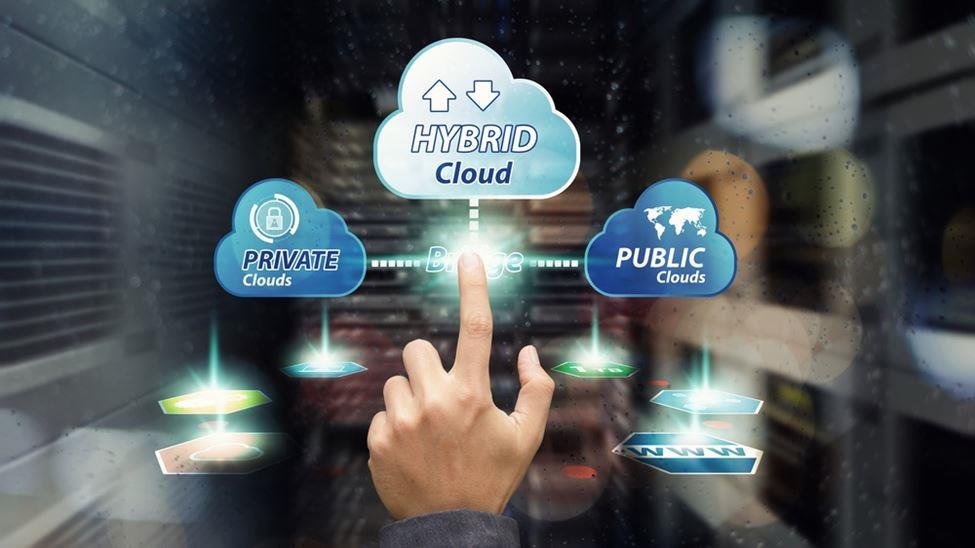 In today's fast-growing world, most of the businesses are opting for modern ways that help them to transfer their business and help them to take it to the new heights of success. They have kept their eagles eye on modern technology such as Blockchain, Artificial Intelligence (AI), Internet of Things (IoT), and many more to upgrade their business. One of the most emerging technologies which are considered by all the businesses these days is cloud computing, this modern technology poses the great potential of providing businesses with sustainable results that also in a cost-effective manner.
Report shows that the cloud computing market jumped and reached 36,700 million USD during 2018, this number is expected to grow much higher by 285.3 billion USD till the end of 2025, and the CAGR is estimated to grow and reach around 29.2% during the forecasted period.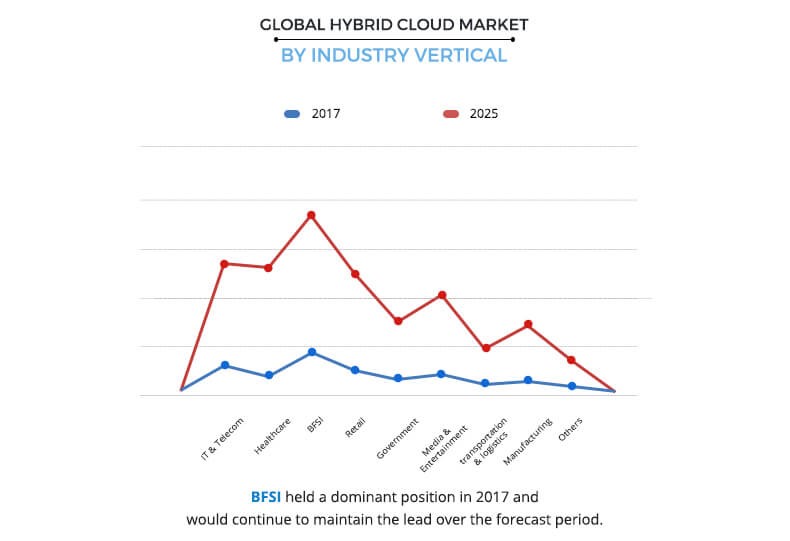 Image: (Source)
While on the other hand, the global hybrid market size is estimated to increase to a great extent, it was valued around 36,138 million USD in 2017 and is predicted to grow much higher and reach to 171.93 billion USD by the end of 2025, and the CAGR is estimated to reach around 21.7% in the same year. (Source)
Image: (Source)
Hybrid Cloud: Know Why Businesses Can't Avoid Using It
Various types of clouds are available in the market these days, businesses can opt for any one of them as per their business requirement. Mainly there are three types of clouds from which businesses can choose any as per their business need, this type includes:
A public cloud identifies an infrastructure whose service is purchased from big tech giants like Amazon, Apple, Google, IBM, and many more, whereas when it comes to private cloud services, then only a single user is hosted by a cloud provider. A cloud computing environment is combined with on-premises third-party or private cloud services that are termed as a hybrid cloud. Hybrid cloud is a combo of public and private clouds that are totally different from each other in various aspects, but when combined together, then it can provide the best result then your imagination. In the same way, a multi-cloud solution can provide proven results as it combines three basic clouds to generate the best outcome.
Challenges Which Businesses Face While Considering Hybrid Cloud Computing Strategy
Computing needs are changing with the passage of time, hence hybrid cloud is proven to be the best option to opt for your business. This cloud solution allows the movement of workloads between public and private cloud, this provides great flexibility to the businesses and also avail them with various options for data deployment, this makes it one of the best choices for most of the businesses worldwide, thus they can't refuse the same for their business.
There are numerous benefits which any of the businesses can leverage while they consider developing a cloud strategy for their business. Most businesses these days are opting for a hybrid cloud as it provides businesses with numerous benefits of private and public clouds.
The infrastructure of pay-as-you-go and scalable enabled by the public cloud is successfully transforming the banking and finance industry (BFSI). The private cloud makes the whole business process more predictable and offers full control to the businesses over the process. It helps in improving security and helps in improving customer experience to a great extent.
Many companies such as IBM, Google, Amazon, and many more have identified the potential of implementing hybrid cloud, even they are trying to make the best use of it by leveraging various advantages from the same. For example, IBM is helping Ohio to modernize and consolidate all the data centers into the computing centers, this will result in easing the process of developing thousands of applications. For instance, if any of the individuals want to craft an open source event ticketing platform, then they can consider sharing the data on the private cloud, this might decrease the cost which you need to invest in existing infrastructure.
There are various challenges which businesses are facing when it comes to integrating a hybrid cloud computing strategy for their business, these challenges might include:
Maintaining security.
Compliance issues.
Scaling complications.
Hybrid governance.
Hybrid cloud costs.
Understand the goals and outcomes.
Handling multiple cloud providers.
Common Mistakes Which Businesses Make While Considering Hybrid Cloud Computing
There is an end number of mistakes that any of the businesses makes while considering using hybrid cloud computing for their business. This mistake includes:
Jumping quickly.
Un-monitored spending.
Holdover and Incompatibility apps.
Non-native cloud services.
How IT staff can be trained accurately to manage a hybrid cloud environment.
Hybrid Cloud Computing Tools: Know Which One Can Help You to Make it Much Easier
There are numerous tools that make hybrid cloud computing much easier for businesses. Explore the listed below tools to know which are those tools that you can make your work much easier and quicker than ever before.
IBM Cloud Orchestrator
This cloud management platform is designed to automate almost all the cloud services work and helps in making the right use of policy-based tools. Core features of the IBM Cloud Orchestrator platform include automation of cloud configuration, end-to-end cloud services management, provisioning & deployment, etc.
vCommander
This advanced tool was crafted by Embotics for the use of corporate IT groups and enterprises to reduce the cost of cloud infrastructure and improve automation. vCommander provides users with numerous key features such as multi-cloud management, SLA management, access control, demand monitoring, supply monitoring, and much more.
Wrike
It is one of the advanced online project management software which possesses multiple functions for various industries. Wrike provides users with a comprehensive set of tools, this makes it the best choice when it comes to managing cloud. It provides numerous features such as task creation, tracking, customized tools for reporting, and much more.
Apache CloudStack
Apache CloudStack is an open-source software which is possessing high scalable infrastructure as a Service (IaaS) platform for cloud computing, this simply means it becomes quite easy to manage and deploy a huge network which consists of virtual machines. It provides a huge ability for VMs and hosts and hypervisor agnostic, besides this, it also allows users with snapshot management as well as usage metering.
Symantec Web and Cloud Security
This tool provides various features such as access governance, information security, threat protection, and many more to the use and also provides them with a robust cyber defense across their project. Symantec Web and Cloud Security also offer integrated cyber defense and endpoint cloud security to the users, which ensures the security of the data.
Concluding Lines
Hybrid cloud computing has opened new opportunities and scope for businesses, it is helping them to adopt complete digital transformation for their business. It assists businesses in adding more value for their bend by improving their business reach and helping them to achieve goals which they have set to achieve new heights in their business field. With the time passage, this technology will be adopted by most of the businesses, but opting for it, businesses must analyze everything about the same.
Gaurav Kanabar is the Founder and CEO of Alphanso Tech, an IT Consulting company that provides open source event ticketing platform development service and other app development services to individuals as per their demand. He also loves to deliver excellent niche helping readers to have deep insight into the topic.