You're spending a hefty amount as well as doing all your efforts to increase the website rank. Making use of all the SEO skills, but still not getting the desired result on the search engine. It's a common thing to get shattered if the results are not favorable. You're spending a lot of money and thinking that the website will be at the top place in Google results. To really check whether the SEO strategy of yours is working or not, you must checkout the latest SEO strategies.  If you don't know these SEO strategies, then getting a higher rank on the search engine is the most difficult task on earth. Here in this blog post, my job is to guide you some of the latest SEO strategies to move in the right direction.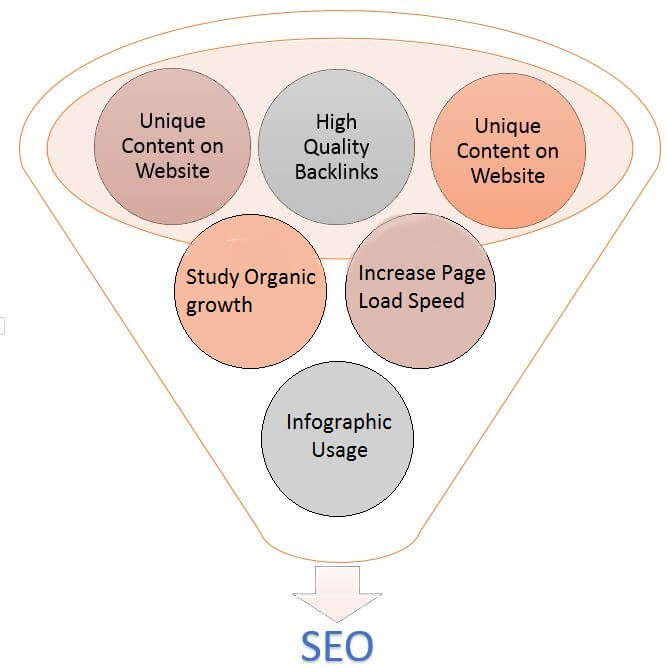 Strategies to boost Website Rank
1. Unique Content on Website
Duplicate or similar website content from other website can also restrict a website from reaching true ranking level on a search engine. Copy content not only makes your rank lower on the search engine, but also the users you are having also begins to decline. Once the duplicate content is posted, the user will get the thinking that that the content present on your website is low in the facts. The very first reaction of user would be to start searching other website and reading other information. By posting copy content on the website, search engine starts spamming the website and get to know that this is repetitive stuff, which can lower your ranking severely. The saying "Content is King" has very important significance in the SEO strategies to work. The importance of content is revealed when content includes all the data in it.
2. High Quality Backlinks
The most crucial part of SEO strategy as per the Google's algorithm for search engine is Backlinks. After hosting the website and setting a reliable website, there is a need to focus on the backlinks immediately. Backlink role is to redirect back to your website and it is a hyperlink only. You have to think on quality of the backlink not on its quantity.
Backlinks helps to increase the score of domain authority. You can verify your domain authority by taking assistance from a tool Moz. In addition to that you can also analyze your competitors' websites. Higher domain authority helps to analyze where your website will be positioned on Google and other major search engines.
In order to increase the website rank, several people get backlinks from different sources. But, they forget to check them properly before using them. Some backlinks are suspicious and ultimately leads to low rank. Backlinksare major partof SEO strategy. There are people who tryto change the system by positioning their on-spamwebsites. This could make you pay a low rank on the major search engines like Google and Bing.
3. Social Media Promotion
A genuine website with immense traffic is the need of every business person. For that website creation your web content needs to be exclusive. Thecontent on your website should have interesting and attractive topics to go through. Promotion of website by means of social media platforms like Facebook, Twitter and Google Plusshould be carried out. Websitelanding page and internal pages should provide relevant data that will create interest for the reader. The website needs to responsive to work on every platform.Your website is the main marketing strategy. Make sure the content is amazing as you'll get higher rank on the Google search engine with this.
4. Study Organic growth
As a SEO expert, you know to analyze keyword rankings, but how would you analyze whether your organic search position and existence are growing or not?
Check the number of daily, new, old, existing, weekly visitors and visits. This will help you to reach your target in minimum time frame.
Confirm new website visitor's numbers arriving by method of organic search. Check whether it is rising- day to day, on weekly basis, monthly basis or yearly basis.
Trust high conversions, particularly those visitors who reached the website by means of organic search only.
5. Increase Page Load Speed
A slow loading website generally ranked low on the search engine. Both Google and Bing consider pageloading speed a crucial factor in their website ranking rules.Users switch to different website if they have to spend a few seconds waiting while the website is getting opened. This slow loading of website is a major factor that needs to be rectified to get good rank on the search engine. Increased bounce rate and lowered the number of pages surfed, such factors paly crucial role in lowering down your SEO ranking on search engine.There are several ways to boost page load speed, many of which comprise using a plug-in for caching, make sure the code written is free of error and efficient, dropping the number of errors, managing the size of images,and least redirects.The key part of visitor engagement is dropping your bounce rate to a low rate, it is the visitor'spercentage who land on your website and switch to another website without surfing further.
6. Info-graphic Usage
Including trending, high resolution images, graphs all through your website content is one of the best means to increase the website rank on the search engine. High quality images help to create interest of the viewer on the website to a great extent. Images and graphs help you reveal an idea, not just mention it. In addition to that, images as well as the graphs helpsto slitthe content into several levels. And at last, people just like seeing images revealing a lot of information. Images act as a sign of high standard content to search engine. Search engines like the content having images in it. Put in all your efforts to make your content look good and amazing. Image marketing his one of the integral part in increasing user interest and finally the conversion. It's revealed in the studies that websites using infographics can achieve a better ROI, compared to other websites lacking in infographics content.
James bond is a professional content writer since 2011. He is working with SEO Services Company Delhi and graduate of the English with a degree in Mass communication. His written blogs and articles have been published in several online publications. He is fond of writing, reading, traveling, and Internet surfing.The above-mentioned SEO strategies are very much helpful for the website to rank better on search engine.