The growth of a business also depends on how it innovates to engage existing customers and attract new customers. For your business to pop up first in the minds of its customers, you need to make consistent good brand impressions.
As a matter of fact, studies show that it takes around five to seven brand impressions for a customer to recall a brand.
That's why businesses invest in advertising. But does it work for them all?
Not exactly.
Before we get to the juicy bits of using promo products for advertising, here's an overview of all important stuff.
Traditional Advertising
The USA is arguably the world's largest advertising market, accounting for close to $300 million in annual ad expenditures.
Each year, brands invest more in figuring out the right way to influence consumers, by following traditional marketing models that have proven their worth.
However, many marketers fail to take into account the fact that consumers now have access to more information to form their own opinions and make decisions. They engage faster now, and expect messages from businesses to be straightforward, genuine and consistent. For marketers, the challenge comes in navigating an oversaturated digital ocean of information to get the right message across to the right consumer demographic at the right time. And in the right way, while consumers start relying more on solutions that remove ad interruptions.
Takeaway? It's time to shift from linear, predictable advertising to data-driven advertising and creative marketing.
Necessary Reinvention In Marketing Communication
Forcing unwanted ads to consumers who see a lot of ads every day is not going to cut it. This is where promo products come in. Custom hats, personalized apparel, unique accessories…they all offer value to customers. Far more than an ad that can be skipped, closed or scrolled away.
Research from the Promotional Products Association International (PPAI) shows promotional products, like branded hats and shirts, are the most positively received advertising medium across all generations – from Baby Boomers to Millennials and beyond.
Why Nots
So why not use promo products including headwear and apparel for advertising when all else fails to engage? Research data says it's worth a shot.
83% of consumers use promo products more than once a day.
The longer a consumer keeps a promo product, the longer the message of the brand is communicated.
8 out of 10 recipients of promo products pass it along if they don't want or when they don't need it anymore.
According to PPAI research, 9 out of 10 consumers remember the branding on promotional products they've received. This recall rate is 67% higher compared to broadcast advertising and 78% higher than online, print, and mobile advertising.
83% of consumers are likely to do business with brands advertised on promo products.
Nearly 70% of consumers would pick up a promotional product if they found it useful, with headwear being among the most favored items.
Using customized caps for promotions cost about 3/10 cents per impression
Promo apparel is mobile. And so are the messages on them.
…and the list goes on.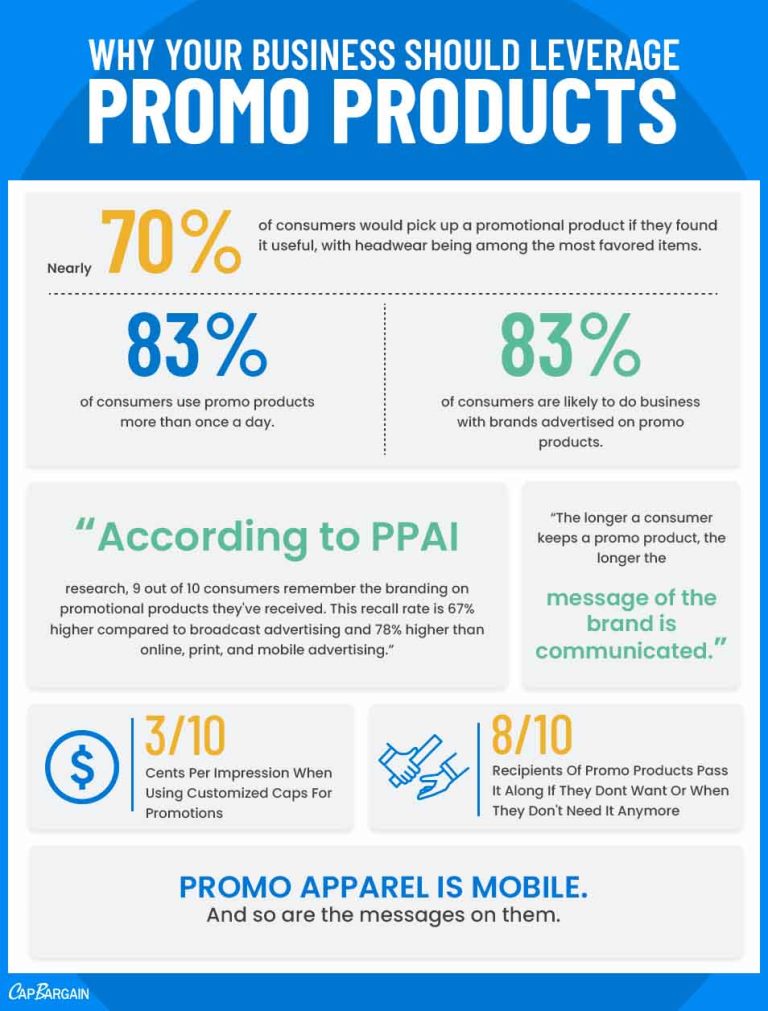 Promo Hats
Using customized hats for promotions is how your brand can stay relevant in your customer's mind longer after an interaction. Additionally, hats don't cost much. So you can potentially get a bigger impact and wider impressions on a small budget.
Here are a few other reasons why they are the perfect promo product.
They boost both brands & fashion
Ever stared at a trendy, two-tone baseball cap with the logo or slogan of your favorite sports team? Guess what, the hat was also elevating the wearer's style. They are great accessories that enable your customers to complete their own personal style, which is why many of them love collecting promo hats as much as possible.
Head size doesn't matter
Arguably the biggest benefit of using promo hats is that you need not be concerned whether it will fit the recipient. Just imagine getting medium-sized hoodies for a promotional event but the recipients finding it too small or too big. Doesn't leave a good impression does it? With hats, this isn't a problem as one size fits all (OSFA).
They come in trendy styles
Promo hats are available in many trendy shapes, color combinations and styles. You can choose from various cap options like baseball caps, beanies, visors, and more. When selecting promo hats, consider the time of year, weather conditions, and especially the target demographic expected at your event. Picking the right hat style can help attract your ideal audience.
Custom beanies are a great choice for promotions in colder seasons. You can go for sun hats and visors during summer. Trucker hats are great anytime of the year, and are among the most widely chosen hats for promotions. Understand your audience and everything that generates public interest around your business, to identify the perfect hat for the job and customize it accordingly.
Custom Hats For Promotions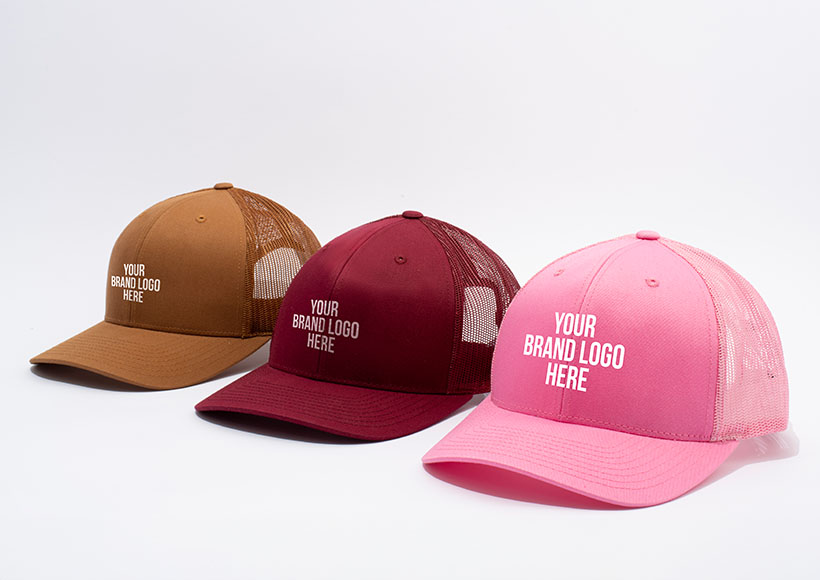 Customization techniques like embroidery can give a timeless, classy look to your branding or messaging on promotional apparel like hats and caps. The embroidered logos and designs will beautifully stand out on any headwear. Embroidered caps or custom caps in general have a higher perceived value, highlighting both the brand's commitment to quality and its values. Or you can have your message printed on caps, with modern, advanced printing techniques.
Now, how do you leverage these custom caps to give your business a boost?
Here are a few suggestions to get you started off in the right direction.
Team Gear
Custom hats with your team's logo and colors can induce a sense of belonging within the team, giving them a feeling that they are an important part of something bigger. Great way to showcase team pride on a budget.
Promotional Swag
Branded hats are memorable gifts at store openings, trade shows, and other events. Recipients will proudly display your logo as walking billboards.
Fundraising Merch
Non-profits can sell customized hats to raise money. These caps sell easily compared to other merchandise.
Seasonal Gifts
Embroidered hats work great as summer promo gifts. Recipients will display your brand at beach parties and pools.
Employee Appreciation
Surprise your staff with personalized hats in corporate colors. Employees will feel valued wearing your logo on sales calls and events. It also shows that your business cares, and appreciates their commitment.
Showcase Traditional Style
The classic look of embroidery lets you celebrate traditional craftsmanship amid modern decoration techniques. An embroidered business tagline can help recipients of the caps recall your brand more often.
Memorable Keepsakes
Custom hats become cherished souvenirs of your brand's most important occasions and celebrations. A simple giveaway is all it takes.
By now, you might be wondering about all the hassle of finding the right kind of caps to customize from a reliable seller. We've got you covered there too. First off, order bulk caps to get bulk discounts, but make sure you get them from top retailers offering fast, efficient shipping.
Check out this list of our top cap recommendations.
OTTO 83-473 Pro Style Trucker – This 6 panel hat comes in over 60 colors, and features a mesh back with adjustable snapback closure. Just choose one that fits the color theme of the event you have in mind, and customize it with a message from your brand or maybe the event logo.
OTTO 27-079 Cotton Twill Baseball Hat – 65% polyester, 35% cotton, 100% awesome. High quality yet super affordable, the hat also offers many different color choices. Great choice to promote your country club or sports-based events.
OTTO Mossy Oak Camouflage Superior Trucker – Planning an event in the great outdoors? This 6 panel won't disappoint. Choose a color option that matches the terrain, customize the caps with a catchy event slogan and just hand it out. They make cool gifts for recipients who love outdoor activities like fishing, hunting and camping.
OTTO 133-1258 Polyester Pongee Performance Cap – Featuring reflective binding trim visor, performance sweatband, and smooth hook & loop closure, this 6 panel cap is another great option to promote sports activity-based events. Organizing a marathon for a cause? People are going to just love this handout, and remember your brand for the support…and because your logo sits on the crown.
OTTO 39-165 Polyester Foam Front Trucker – Among the brand's bestsellers, this 5 panel hat is a favorite among young entrepreneurs running lifestyle and apparel businesses. You have around four dozen color options to choose from, and a big canvas for your message.
Wondering why OTTO? Because they have been consistently offering premium headwear at the best prices in the industry for a few decades  now.
Final Thoughts
You almost never go wrong when using personalized or customized caps for promotions. You get big returns on small investments. Most of your audience love to collect them. They are fashionable and functional. And one size fits most. If the reasons are not enough, research data alone are testament to how caps are helping businesses make significant impact through creative promotions.
Chris Mcdonald has been the lead news writer at complete connection. His passion for helping people in all aspects of online marketing flows through in the expert industry coverage he provides. Chris is also an author of tech blog Area19delegate. He likes spending his time with family, studying martial arts and plucking fat bass guitar strings.