Working from home is fast becoming the new normal and more people than ever before are giving up the daily commute and settling into home office spaces instead. One of the main bonuses of working from home is that you get to set your own routine and keep to your own work schedule. However, some people struggle to find the discipline to sit down at their desks when they need to.
Having a luxurious and comfortable space that is perfectly arranged to suit home working is a great way to motivate yourself and make the transition easier. These home office design ideas have suggestions to suit all tastes and include décor ideas for when your space is limited or is part of a shared living space. So, whether you like a sleek, minimalist vibe or a classic, cozy study, these modern design ideas will help you feel productive and inspired! A unique piece of art such as a wave sculpture can enhance a space and help create an inspired setting.
Home Office Basics
Before you start planning your home office layout, you should think about how you want to use the space and which essentials you really need. After all, when you feel comfortable in a room, you're more likely to feel productive and enjoy spending time there. This should be your aim when designing your home workspace.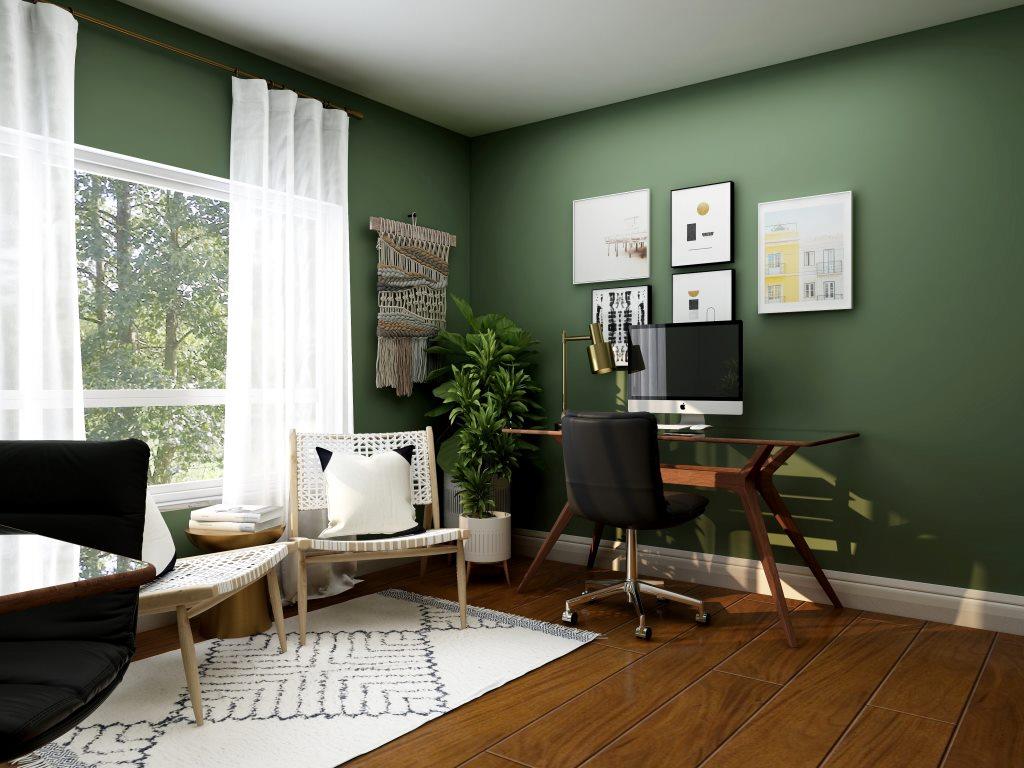 When selecting home office must haves, like a desk and chair, make sure that you're purchasing furniture which is the right height for you. Pay attention to the depth under the desk so that you have enough leg room and make sure your chair will be comfortable enough to sit in all day. If you know you like to pace around while you think, perhaps consider a standing desk. Alternatively, you could opt for a minimalist design to free up more space for movement in your office. Think about your unique needs before you begin and don't forget to give things a touch of your own personal style!
Home Office: Classic Study
If you prefer a classic study feel for your home office décor, leather furnishings and dark wood can help you achieve this. A traditional wooden writing desk works best here to give you an elegant vintage look. A high-backed leather chair or full leather suite can give you a comfortable and stylish place to relax during your downtime.
Bookshelves can also really help create a studious atmosphere. Matching up dark wooden shelves with your desk can create a rich, harmonious palette. However, if you want to give your home office modern touches, opting for glass or metal shelves can help create a stylish combo look.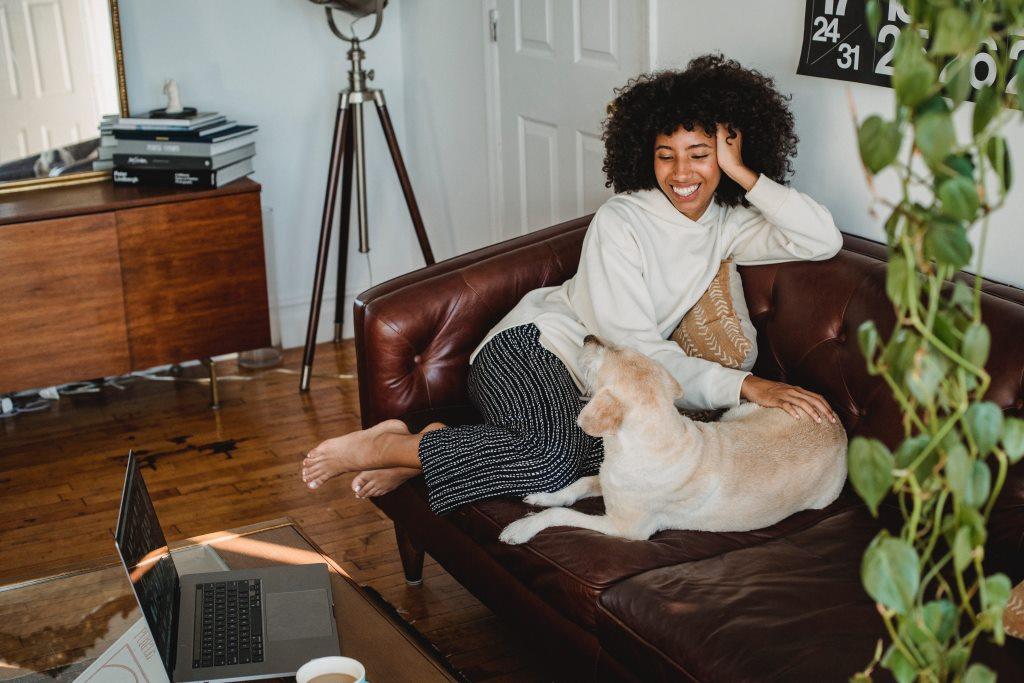 Lighting is also important if you plan to spend long hours in your study. Try to position your desk so that you get natural light but not so that window glare affects your ability to see computer screens. A selection of floor and desk lamps can help create warm, mood lighting for evenings when you need to work late. Stylish options like Himalayan salt lamps or overhead pendant globes can help offset dark wood and can give a lovely, reflective glow on work surfaces.
Minimalist Home Workspace Looks
If you favor more modern interior design and are lucky enough to have a whole room to renovate for your home office, why not create a minimalist workspace? Many people feel motivated to work in more minimalist environments because this décor style reduces clutter and creates an orderly, organized feel. If you're looking to give your home workspace a minimalist overhaul, check out some basic home improvement tools you might need to purchase for making larger design adjustments.
Features, such as a single floating shelf as a home office desk, can create a sleek, urban look. Choose a desk in muted tones, like beige wood or grey, to imitate a minimalist, Nordic design. You could also opt for a glass desk and pair with floating glass shelves to develop a modern office aesthetic.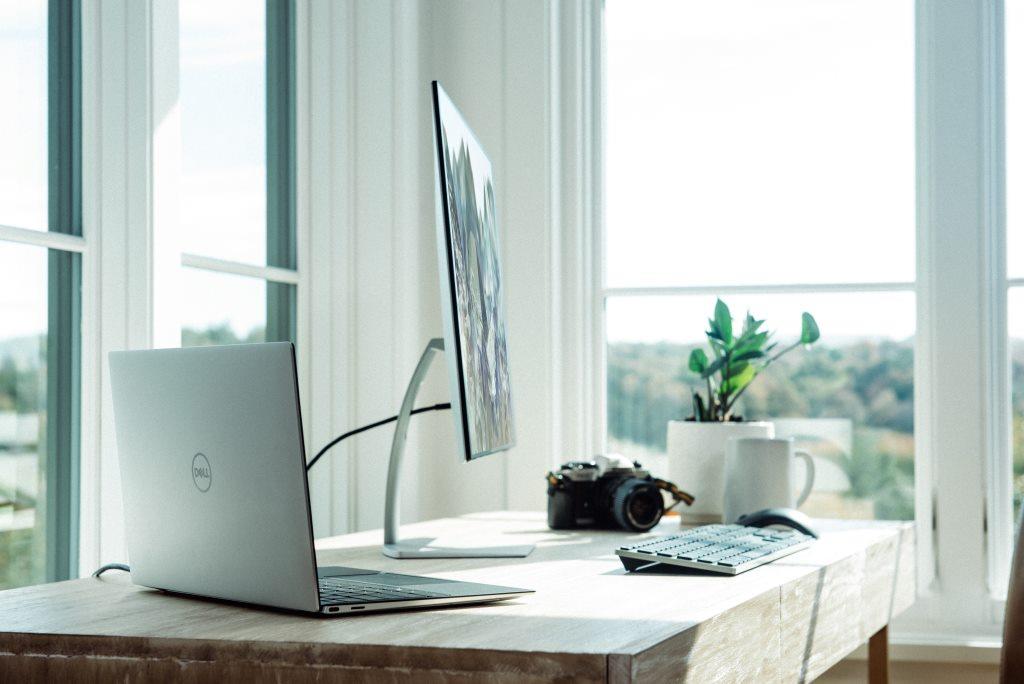 If you want to keep clutter to a minimum, focus on creating lots of floorspace and aim to set up in a room with lots of natural light. An effective storage unit, like a stylish metal shelving rack or floating wall shelves, can help you keep your workbench organized. Overhead lighting, rather than lamps, can also help you eliminate clutter.
Home Office in a Shared Space
Of course, not everyone is fortunate enough to have a whole room to dedicate to creating a home office. However, you can still create a comfortable and eye-catching place to work in a guest bedroom or even in a corner of your living room. Here are some home office setup ideas for a small space:
Even if you set up your workspace in your open plan living/dining room, you can still maintain the feel of a separate office area. Aim to set up your home office in one corner of the room or keep a whole wall dedicated to your workspace. This way, this area of the room will feel slightly detached from the rest.
Another great way to emphasize separation within a room is with changes in flooring or furniture placement. For example, if your living space has wooden floors, give your home office space rugs or carpet to visually divide the area. If you're setting up in your living room, position your desk so that it faces one wall and have your couch facing the other wall. The back of the couch will create a natural divide between living and work space. This will help your area feel zoned so that you have a dedicated place for work and a separate one for relaxation.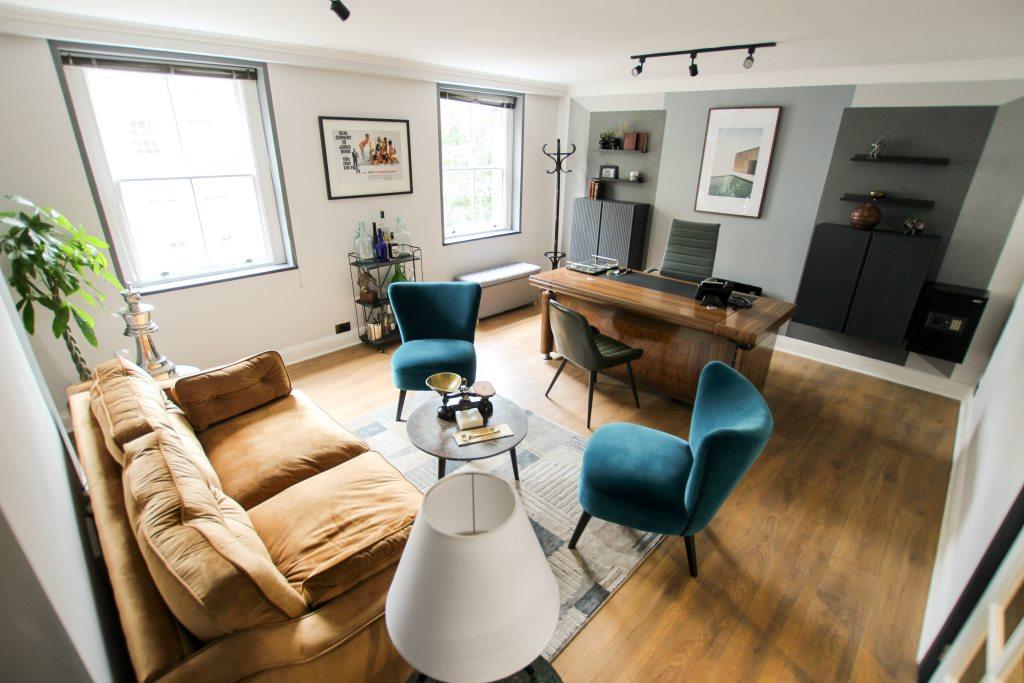 One way to feel more comfortable using a home office that's part of a shared space is to focus on organization, both in your office and your living area. Clutter, mess, and improper home office organization are sure-fire ways to make yourself feel stressed and unproductive. Make sure you have plenty of compact storage in your office space as this will help you keep the area neat. Storage containers that can be stacked or slotted under your desk are great space-saving devices. Meanwhile, wall shelves above your desk can give you places to put things, without taking up floor space.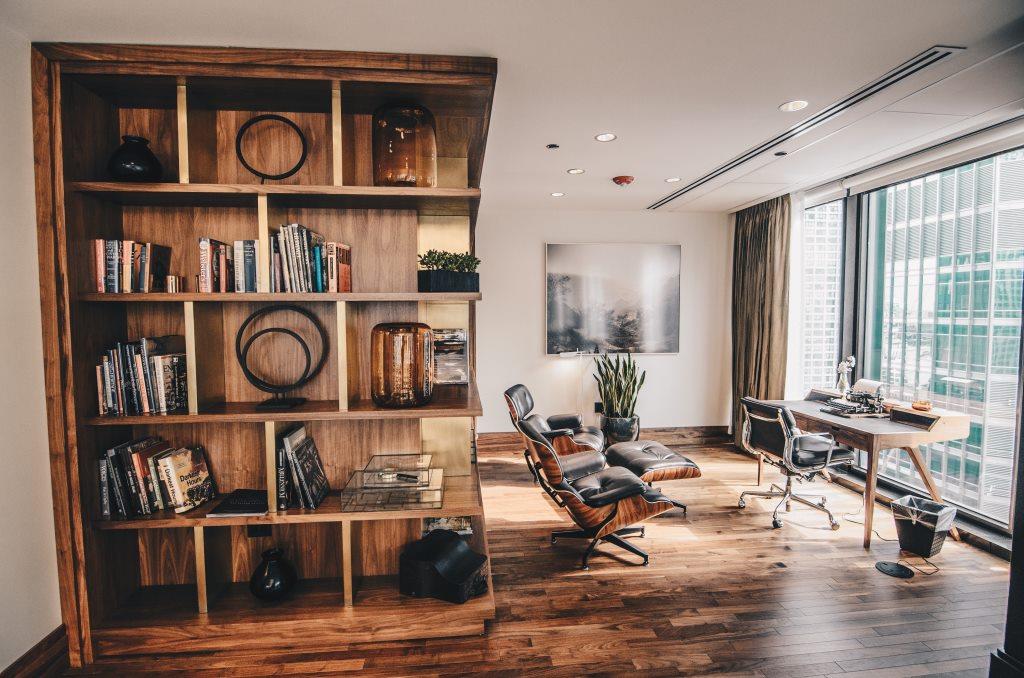 Small Home Office Ideas
When it comes to decking out a small space with home office furniture, a little imaginative design goes a long way. As with a shared space coming up with home office storage ideas is probably the best thing you can do to keep a clean, inviting work area. If you don't have a room specifically for your home office, you could always fit a desk or workbench under the stairs. Install wall lights to illuminate your space or build shelving and storage units into the side of the staircase.
Fold-down desks that attach to the wall also make great options for small home office spaces. Pendant or hanging lights can eliminate the need for desk lamps if you only have a small work surface to use. If you have a desk with cupboards built-in, adding interior shelves to these cabinets is a great way to add extra storage without requiring extra wall or floor space.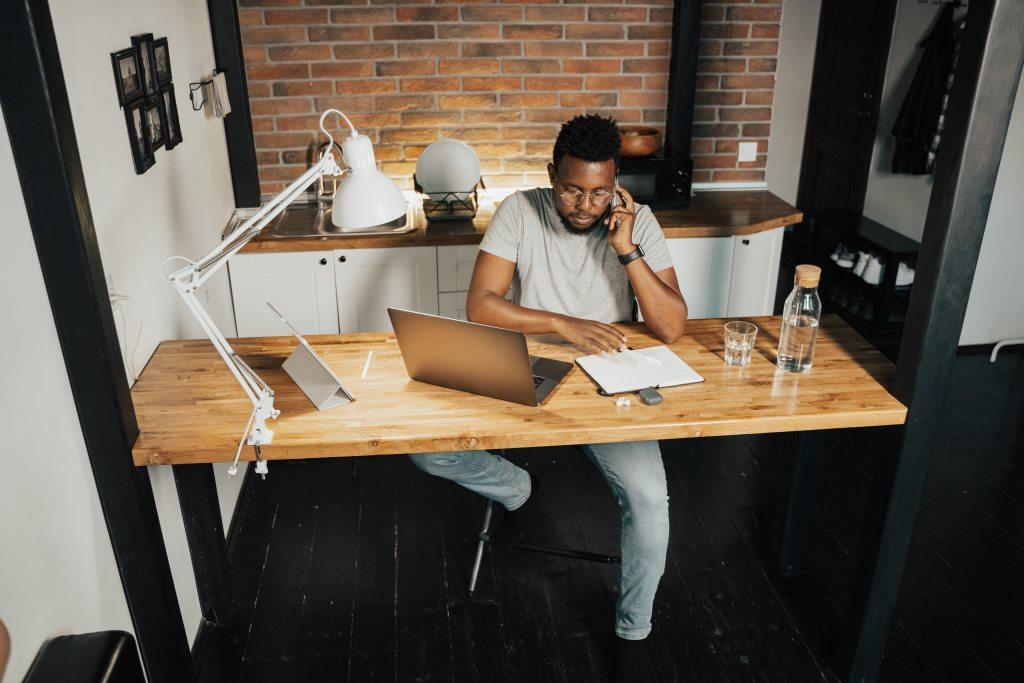 Soft Office Ideas
While some people favour a sleek, Scandinavian or minimalist look, other people can't get enough of a cozy, soft office design. If you want to create a soft office, think about the ways that you like to work and feel relaxed at the same time. Maybe this involves curling up on a beanbag to work on your laptop or placing an armchair behind your desk rather than using a traditional office chair.
From an interior design point of view, fluffy rugs and bright splashes of wall color work well in a soft home office space. Try using plush throws to decorate couches or chairs or add a colorful, graffiti-inspired mural to one wall for a fresh, casual vibe. Fairy lights also make a great addition to a soft office, adding a student, carefree feel that can help you feel inspired.
If you need lots of space in your office for creative thought, why not forego a desk altogether and opt for comfortable floor cushions or a suspended hammock chair. For fans of artisanal design, wicker storage baskets can be a great alternative to wooden or wire shelves. Similarly, a colorful sectional sofa that can be taken apart and rearranged can give you the creative freedom to redecorate and reorganize your room whenever you feel like it. If you love to be creative, this type of décor is sure to keep you feeling inspired!
Conclusion
No matter how you want your home office to look, this is a space where you should feel comfortable spending time and where you feel driven to create. Selecting beautiful décor that suits your needs can really help with this and can be the key to working from home productively. Working from home may be a big change but, when it's done right, it can be an incredibly positive lifestyle shift.
Final Call: Do you love working from home? What are the best things you have invested in for your home office? Have any of these designs inspired you? Let us know in the comments!
Kevin is a content writer for about 3 years. He studied Design and Arts at College in Pennsylvania. A fan of home interior design and, he has taken it upon himself to spread his love for decorating homes by informing people on some of his ideas through his articles.