Robots are no more an element of science fiction and futuristic trends. Their use has become widespread in the 21st century as they offer numerous benefits that contribute to several factors such as safety, time, costs, and quality. Today, the machines have revolutionized industrial tasks by helping to carry out a variety of functions in a wide range of industrial sectors with greater accuracy and speed. One area where the robotics technology has proved to be outstanding is industrial painting.
With the help of specialized operator programming and robotic vision technologies, painting robots perform flawless and high-quality paint finishes with great consistency and throughput in a short time. They can determine the location of edges of an object, what parts to pick up or put down, which areas to paint on an object, evaluate the size of an object, and do several other tasks. The improved consistency of paint application by the robots create less hazardous waste. Painting robots also offer improved safety in hazardous painting work environments.
The rise in adoption of painting robots in the automotive industries and the benefits offered by the robots such as flawless painting, time optimization, reduced material wastage, and less complexity are mainly driving the painting robots market. As per the report by Allied Market Research, the painting robots market is expected to grow at a CAGR of 10.4% from 2017 to 2023.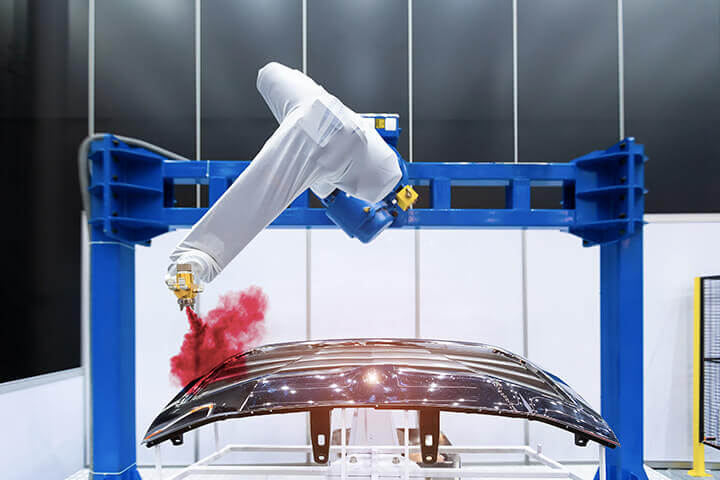 To meet the demands of the highest efficiency in the production and reproducible quality, more companies such as ABB, Fanuc, Yaskawa, Kawasaki Robotics and more are adopting painting robots for their work. In February 2018, Yaskawa Motoman, a subsidiary of the Japanese company Yaskawa Electric Corporation recently expanded its portfolio of painting and dispensing robots by launching two high-speed robots namely MPX1150 and MPX2600. In May 2018, FANUC, a robotics company introduced a lightweight P-40iA intelligent robotic arm with the aim of expanding its family of painting robots. In June 2018, the automation company, ABB launched a digital connected robotic paint atomizer to achieve an unmatched paint performance.
Yaskawa Motoman Adds to its Line of Painting Robots
Yaskawa Motoman recently came up with two high-speed, six-axis MPX1150 and MPX2600 robots which offer exceptional performance with proven efficiency. They help perform smooth and consistent finishes for a variety of painting and dispensing applications. The MPX1150 robot features a straight wrist with 5 kg payload capacity, a 727 mm horizontal reach, 1,290 mm vertical reach and ±0.02 mm repeatability. It is mainly suitable for painting smaller components and for mounting various spray guns and small bells. With a small footprint and slim arm design, the robot allows for minimum installation space for efficient use of floor space.
The MPX2600 robot is well-suited for automotive parts and other industrial applications. It comes with a streamlined, upper arm equipped with mounting points to optimize hose routing. It also features a 2,000 mm horizontal reach, 3,643 mm vertical reach, and ±0.2 mm repeatability. The 15 kg wrist payload that it possesses enables mounting of several spray guns and large bells. The 70 mm hollow wrist diameter of the robot helps prevent paint and air tube interference. The MPX2600 robot can be installed close to workpieces for efficient use of floor space.
FANUC Releases Intelligent Robotic Arm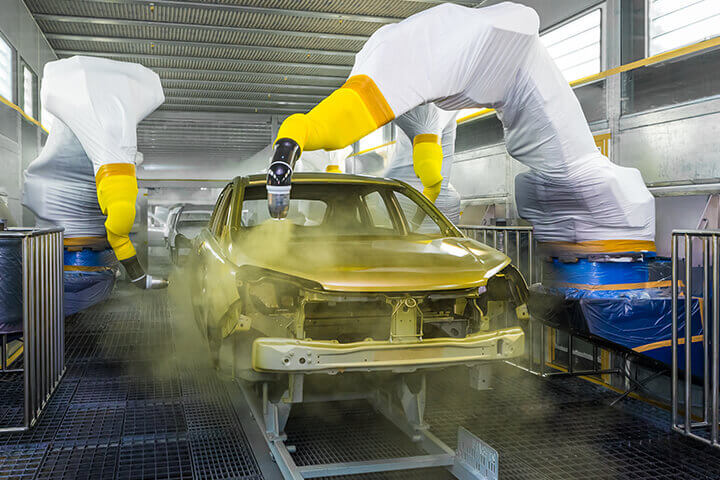 FANUC UK recently launched the lightweight P-40iA intelligent robotic arm extending its family of paint robots. The latest product is well-suited to various painting and coating applications and has a maximum payload of 5kg and a reach of 1300mm. Featuring an aluminum body, the P-40iA is designed to seamlessly integrate into an end-user's paint or power system. The robot is IP67-rated to sufficiently safeguard the internal workings of the arm from any residual paint or coating material, and dust and oil mist. The P-40iA's flexibility is further enhanced by its slim arm and lightweight design. The various positions that the robot can be mounted in make it the ideal choice for operating environments in which space is at a premium. The system also comes with a new R-30iB Compact Plus Control with the iPendant Touch, which is a lightweight control panel with a touchscreen graphical user interface (GUI). The panel also features a multi-window display for fast access to important data, and any in-process modifications to the program.
ABB Launches Robotic Painting Atomizer
ABB recently launched a digital connected robotic painting system called the ABB Ability Connected Atomizer at the recent industry event, Automatica, in Munich. Integrating state-of-the-art hardware with ABB Ability digital platform, the system is equipped with sensors and allows for a brilliant paint performance. According to the company, the paint atomizer improves transfer efficiency by 10%, minimizes internal atomizer waste during color changes by 75%, and minimizes compressed air consumption by 20%. And all this could save millions of dollars. Per Vegard Nerseth, managing director robotics at ABB, said, "Even in mature, heavily automated industries like automotive, digitalization is creating new low-hanging fruit-opportunities for automakers to sharpen their operations in ways never before possible. Even incremental improvements in high-cost activities like a paint can have a significant multiplier effect. The ABB Ability digital platform allows us to help our customers discover and make the most of these emerging opportunities."
Sharmistha has always had a keen interest in reading and writing. Though an engineering graduate, she forayed into the field of writing due to her love for words and the urge to do something different. Allied Market Research has given her the chance to gain knowledge about different subjects. She aspires to make each of her written works a piece of art.
Email Id: [email protected]
Twitter Link: https://twitter.com/Sharmis_Sarkar