Users refer to best mobile apps to be installed on their smartphones. It is seen that for only 8 seconds on average, the mobile app remains in use when it is not up the mark. So, it is clear that downloading the app and using it are not the same things. Thus question arises: How does it happen that mobile application didn't show up? Can it be due to too slow, too complicated, too outdated.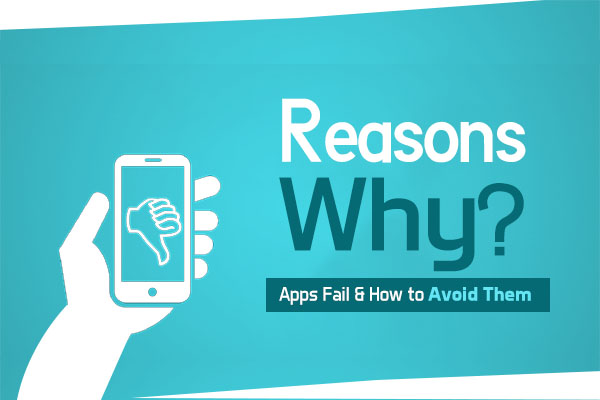 App development companies only put their heart and soul, but also a lot of hard cash on the mobile app development.So, where things go wrong.What is relevant approach while building a mobile app?
It is witnessed when things go wrong duringmobile app development it negatively affects your potential customers as well as your brand. Therefore, many small and big organizations look for guidance to understand the process and challenges. Mobile app development and testing in itself is a big deal. It is not every time that this lands to wrong place. The key steps that prevent mobile app failure isto receive the proper service through your mobile app.  Keeping in mind Customers are the assets for any business so, efforts to give the customers what they are looking for must be limitless. This create a long lasting impression of companies, that should be maintained all the while.
UI The First Step
Developers pay ample attention to creating a prototype. To avoid all these problems this instrument is highly useful for understanding the functionality. The necessary changes on the earliest stage of mobile app development is to work on attractive UI. Thus, prototyping helps to make sure that users will feel good about the app's UX, as a result they won't quit too it early.
User experience and interface design is so key to the app. If in any case user finds the navigation confusing and cannot get to the gratification quickly, they're likely deletingthat mobile app.
Therefore, UI and UX of an app are not just about how the app looks, but also about how easy it is for the users. With this user also look if their problem is resolved through that specific app quickly or not. A good UX is a factor of how well developers understand the user's problem.
If an App build for specific purpose is notable to solve or help user to resolve problems quickly can be a factor of understanding for the mobile app development company.
Analyze audience and market
Number of mobile apps first interaction with user is the last one in 78% occasions. Talking about the developers they only understand customers' needs adequately whereas they do not create any problem-solving mobile app.
Thus, each solution should address carefully investigation before launching the development process. The search should focus on mobile app idea.Thus it should clearly define some specific audience with consider level of competition with other apps.
Following this approach, it is sure ach the solution for core problem will be solved with strategies for further development. It is sure that you cannot make it out whether customers really need your solution or not without this step.
Such market research methods help organizationto connect with your idea with targeted customers. This step is an inevitable element of your mobile app development at any stage.
Flexible approach
Major problem in mobile app development is that it is hard to modify its web version to the respective smartphone screen. It is necessary to meet this difference where company should consider the major factors. The company should make a differ between mobile version and web version. The screen size, limited functionality, and personalization are the factors that differ from web versions.
The key challenge for mobile app developers is that users using phones for numerous tasks had expectation that apps installed on them cover all user needs.
Therefore, choosing the best approach means answering this question.And that can only be done by considering mobile app that requires specific approach.
Working On App's Functionality
Users' experience should be more promising and useful.Features are included where App can provide users with social networks integrations.Focusing on this would definitely save some time of switching between the apps. Among all, consider the simplicity of data processing for obtaining and maintaining app.
To be specific it doesn't matter if the mobile app API is operated by a 3rd party systemor it is related to your website. The thing matter is that just pay great attention to the data processing speed.Things to be considered are that the less information a mobile app receives, the faster it processes data.
Thus,it can even generate revenues that can be in the forms of subscription and resource-usage model. Providing benefits APIs worth dedicating so much time to give user friendly environment.
Broadcasting About Your App
"Marketing is an important tool". Despite your business activity type, the primary task is to demonstrate users its core functionality.Through this approach companies can illustrate HOW their app will solve user problem. Therefore, user before interacting with app shouldknow what exactly app is for.
Marketing websites for mobile apps offer a number of options to promote app.Feature of app can be published through website and social networks.Creatingsome promotional materials such videos and imagescan be shared via your network. Attractive icon and interesting screenshots that attract users can be Mobile app featuring ideas.
Colleen Jansen is a digital marketing expert in Quy Technologies, a leading Enterprise mobility solution company which provides Enterprise mobility solutions for Education, Real estate, healthcare, E-commerce industry across the globe. She loves to write on latest mobile trends, mobile technologies, startups, and enterprises.
Colleen Jansen is a digital marketing expert in Quy Technologies, a Top Mobile app development company in India which provides enterprise mobility solutions, iPhone app and Android app development services across the global