Every time when a new iOS version comes out, a large number of iPhone iPad users will start asking for missing photos solutions after a new update of system.
In the Apple community, we can see that after the latest iOS 12.2 upgrade, some iOS users said, "My iPhone/iPad is automatically updated when I was sleeping last night. A lot of photos on my device were gone overnight suddenly. Fortunately, all my photos are backed up via iCloud before."And some users complained, "I haven't done any backups with iCloud/iTunes, what should I do? "
In addition to the iOS system upgrades, there are the following reasons that can cause photos loss on our iPhones/iPads:
Accidental deletion of photo (photo loss due to accidental deletion/factory reset/ jailbreak the device unsuccessfully);
Unable to access or use the device (the device is locked, device component is damaged, the black/white screen, the system crashes, device keeps restarting, etc.)
Device accident (device is lost/stolen, etc.)
Unable to access backup (iTunes/iCloud connection failed, backup corruption, etc.)
If the same unfortunate thing happened to you, what can you do to restore these precious memories? In fact, when you're used to backing up your photos to iTunes or iCloud regularly, you can easily restore them in minutes. But for those who don't have available backups, don't worry, this page will also share how to recover lost photos without backup.Keep reading.
Method 1. Recover Lost Photos via Recently Deleted Feature
If you're using iOS 8 or higher version of iOS and you accidentally deleted some photos, you'll find a Recently Deleted album in the Photos app, which will store the deleted photos for 30 days. During this time, you have enough time to restore them back to your iPhone/iPad. The following steps you need to know:
1.Go to Photos App, tap on Albums and scroll down to find Recently Deleted album.
2.Open Recently Deleted album and preview the recently deleted photos.
3.Click Select and choose the photos you want to recover, then click Recover in bottom right corner.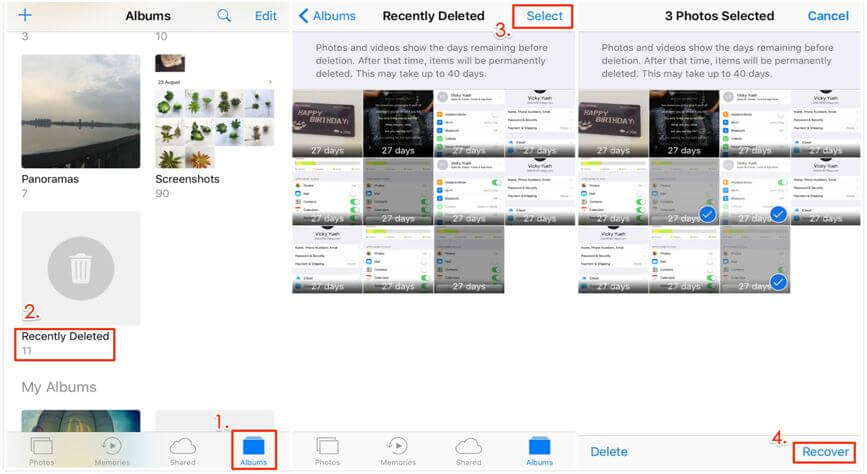 Of course, you should pay attention to some things before using this method:
Recently Deleted album will only help you recover the photos you deleted- only the photos you deleted from the Camera Roll, not the photos that were deleted from the Recently Deleted album.
Recently deleted only keep deleted photos for 30 days, once exceed the deadline, they will be automatically deleted from the Recently Deleted album, which means that if your photos are not recovered within 30 days, they will be permanently deleted.
This method is only available if you accidentally delete a single or a small number of photos from your device. If the entire Camera Roll is lost or disappeared because restoring Device, syncing iCloud or iOS system update, photos cannot be recovered by this method.
Method 2. Recover Deleted Photos with iCloud Backup
Before restoring photos from iCloud backups, you must ensure you have done backups before and the backup that you prepare to restore contains the deleted photos you want to get back. And you should know that the full iCloud backup restore will not only help you recover deleted photos, but also restore files in the backup.
Open Settings app on iPhone/iPad. Navigate to General > Reset, and tap the "Erase All Content and Settings" option.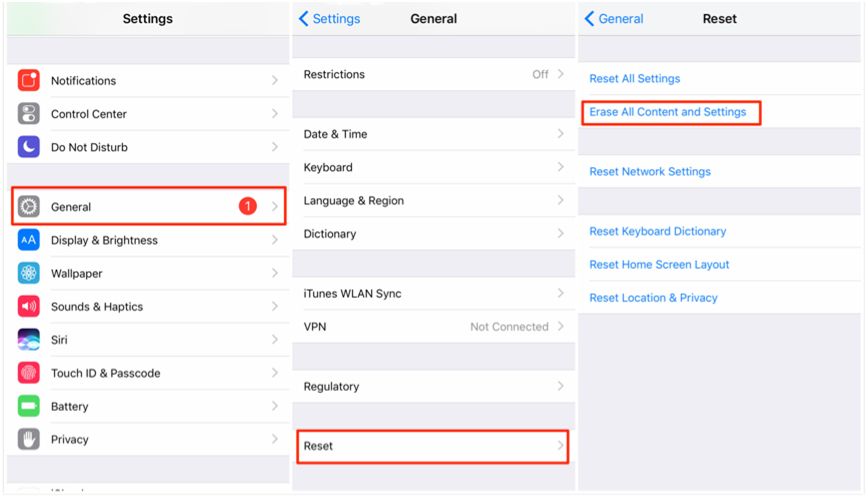 Reach the Apps & Data screen and tap "Restore from iCloud Backup".
Sign in to iCloud with your Apple ID and password.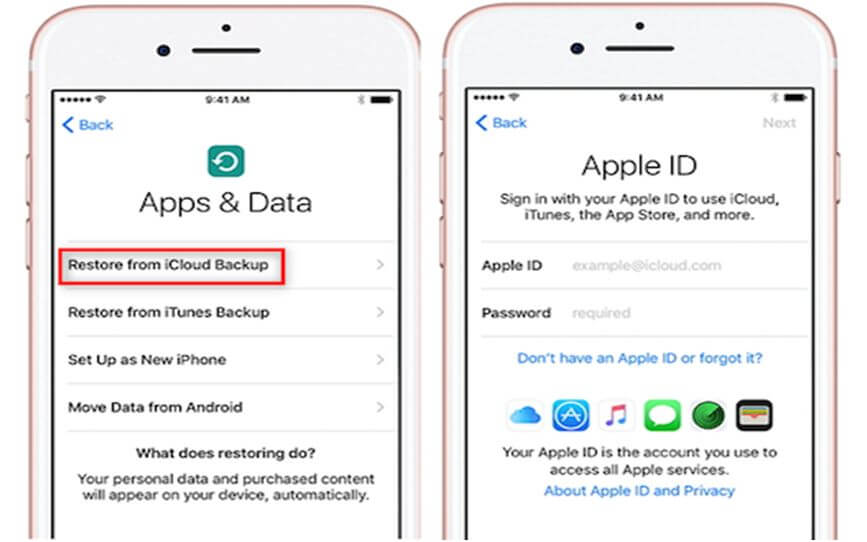 Select the iCloud backup contains the photos you need and then wait for the restore to end. Finally go to the Photos app to check if the deleted photos are back.
Method 3. Recover Deleted Photos with iTunes Backup
Similarly, all the existing files and data on iPhone/iPad will be erased after the recovery from iTunes backup. The newly created data, like new photos will be wiped away. And before the restore, you also need to make sure the deleted photos you want to get back are included in the iTunes backup.
Launch iTunes on computer and plug in your iPhone/iPad via a USB cable.
Hit the phone-shaped icon when it shows in iTunes and then the "Restore Backup" option.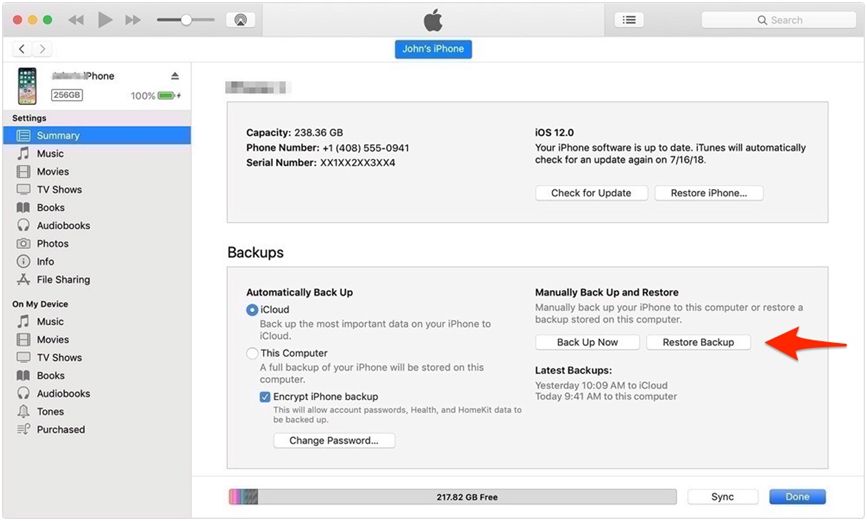 Choose the most relevant iTunes backup according to the backup data and size.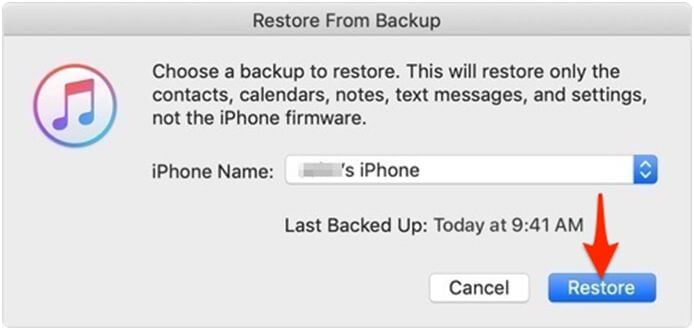 Click Restore and wait for the restore process. Then go to the photos app to check.
These Things You Need to Know about Recovering Photos from iCloud and iTunes backup
Typically, if you're using an iPhone/iPad, you can restore from a previous iCloud/iTunes backup to recover deleted photos. But it's well known that recovering from iCloud and iTunes backups will reset and wipe your device, and then you'll get full data recovery with other unnecessary data. To make matters worse, after you have full recovery, you may find that this backup may not contain the deleted photos you need at all.
iTunes and iCloud do not support to preview data that stored in backups. Therefore, we have difficulty in making sure whether there are missing photos in the backup.
You need to reset the iPhone/iPad first during the recovery from iTunes and iCloud backups, which means that all data and files on the iPhone/iPad will be deleted, even the newly created data. If the backup does not contain the photos you want, the storage contains the lost photos in your iPhone/iPad will be replaced by the backup data, and all the photos you need will disappear forever.
Method 4. Recover Deleted Photos by Third-party Software
If you are not expecting a full restore method or you don't have an available backup, some third-party softwares can help you out. Phone Rescue for iOS, a superb data recovery tool for iOS devices is what we would like to introduce to you here.
Compared to iTunes / iCloud, Phone Rescue allows you to preview the contents of your backup and you are free to restore only lost photos to your iPhone/iPad without having to reset device. In addition, it also supports to automatically compare data between device and backup to accurately find your lost photos.
It features with ability to recover deleted photos with/without backup. It can search your iPhone/iPad and find out all the deleted or lost photos in the deep way. And support to preview all the photos on computer firstly and then selectively choose what you really want to recover. With it, you are allowed to easily pick the parts of the data you actually want to restore and restore only that. Not limited to recover from device only, if you have data stored in the iCloud or iTunes, you can retrieve all of it or parts of it directly from the iCloud or iTunes backup. What's more, except for photos, Phone Recue for iOS also supports retrieving deleted or lost iPhone messages, contacts, call history, voicemails, notes, and even data from WhatsApp, Kik and something else up to 31 different file types, which are indispensable for users. And it supports all kinds of iOS deives, no matter what iPhone, iPad and iPod you are using. Let's check how it recovers the data.
Free download Phone Rescue for iOS to computer and install it.Plug in your iPhone via a USB cable.
Choose "Recover from iOS Device", and click the Right Arrow.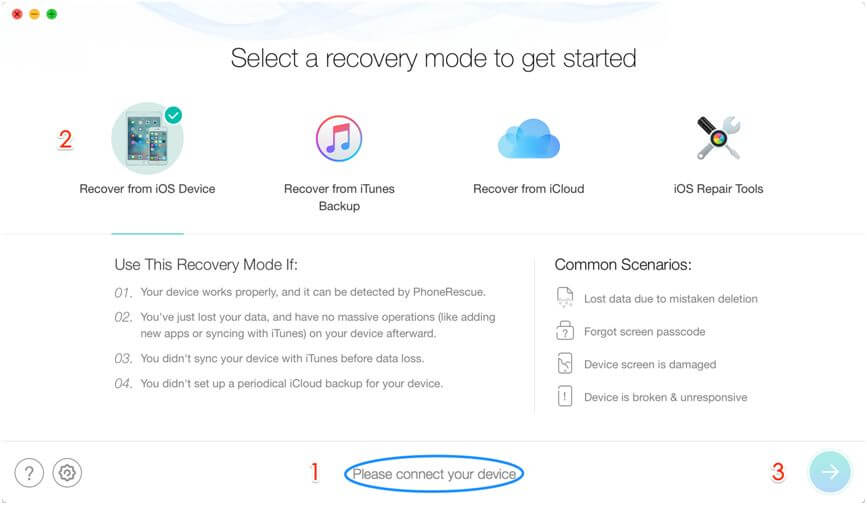 Please choose only Photos. Click OK to start scanning.
Phone Rescue for iOS will scan your iOS devices for listing all the deleted photos. When the scanning is finished, you can review and select the photos you want to recover and then click To Device or To Computer button to recover the photos to iPhone's Photos App directly or download them to computer.
In addition to recover from device only, if you have photos stored in the iCloud or iTunes, PhoneRescue for iOS can retrieve all or parts of them directly from the iCloud or iTunes backup without losing data.
If you think that all the above methods cannot meet for your needs, here is also an effective method.
Method 5. Recover Lost Photos by Data Recovery Specialists
When our data is lost, the quickest and most effective way to recover data is to seek the help of data recovery expert to get professional instructions and guidance. These experts are dedicated to recovering data that stored in damaged device or lost due to various accidents, and they can help you recover the important data you want to recover, even one of your photo. Of course, the cost of this way is expensive, and the price depends on the damage level of your equipment and the importance level of the data you want to recover.
Conclusion
That's all for the possible methods to recover deleted photos. If you have available backup and don't mind the full backup restore, the iTunes/iCloud method is a good choice for you. But if you have no suitable backup and want to keep the existing data on device safe, PhoneRescue for iOS is what you need.