WhatsApp offers tons of useful features to make the user experience seamless. While lot of features are known to users still many remains hidden on your device. Let's discuss some of these interesting hidden features of WhatsApp, you should use to enhance user experience.
Broadcast message to numerous contacts: If you have a party home tonight and want to invite long-list of friends, then this feature is meant for you. While very few people use it, this feature is quite useful. Using this feature, you can send the same message to numerous contacts from your list without them knowing it is shared with others too. It works bit like "Bcc" option in emails. To use this feature, go to Chats > Broadcast Lists > New List > Add Contacts and type your message here. Once you have typed your message simply hit the send button. Here, this message will be delivered as single chat to individual contact from your list. All the replies from these members will also be visible as private chat with each person. Though, there will be a little megaphone icon appeared next to the message.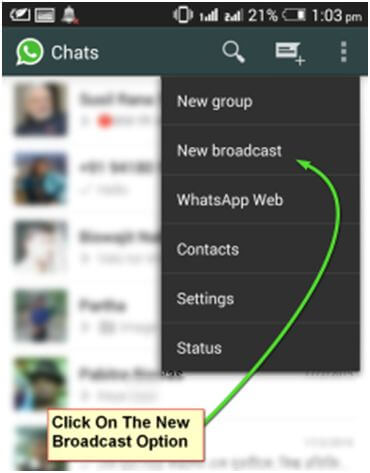 Source: blogfin
Hide WhatsApp status: If you love to update status on WhatsApp daily and don't want certain people to watch it, then you can hide WhatsApp status for those people. By default your status remains visible to everyone, you can edit the settings to show WhatsApp status to certain people or everyone else except few people from your contact list. This feature will help you keep your secrecy while still allowing you to share your best moments with people you want. To make this edit, open WhatsApp > swipe right to open Status page > click on three-dots icon in the upper-right corner and select Status Privacy. Here, you will get three options to select from. Using these options, you can set who can see your status updates i.e. My Contacts, My contacts except, and Only share with. Once you have made the edit, simply press on ok and the changes will be applied. Here, changes to your privacy settings won't affect status updates that you've sent already.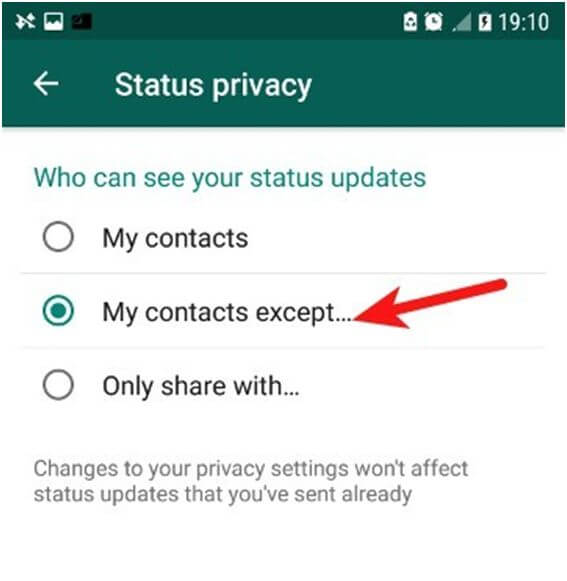 Source: maketecheasier
Send a giant heart: If you want to share your feelings with big giant heart then simply select a red hear emoji and it will appear as a giant beating heart. This is a simple trick that will definitely impress your loved ones.
Source: telegraph
Protect your chats: It happens many times when you are watching some video with your friends on your device and a message view appears on your home screen. Though it doesn't display the whole message, but it could be personal chat or important message that was meant for you only. Here, the first line of the message remains visible to another person as well who are watching the video with you. Here, you can edit settings to prevent the first line from the message appearing on the home screen. To do this, go to Settings > Notifications > Disable show preview.
Source: igeeksblog
Share files between mobile and desktop securely: This is another interesting trick that helps you share your data between mobile and desktop effortlessly. To do this, follow these steps.
Create a group with one friend and then remove him from the group.
Share the file from your mobile that you want to download on your desktop.
Login to WhatsApp web by scanning QR code.
Once you are logged in on WhatsApp web on desktop simply open that group chat and download the file.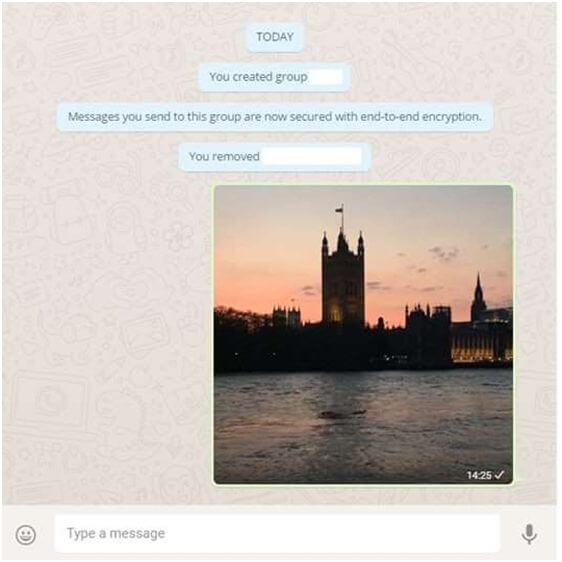 Source: msn
So, these are a few interesting features and tricks that help you enhance user experience on WhatsApp. If you know more such hidden features of WhatsApp, then feel free to comment below.
Metadata: From abundant useful features on WhatsApp, many remain hidden from users' eyes. Here, we have discussed some of these interesting and hidden features of WhatsApp to offer enhanced user experience.
Ankush Ameria is Working at Systweak. Who loves to write on PC tips, latest software and apps to boost system performance.