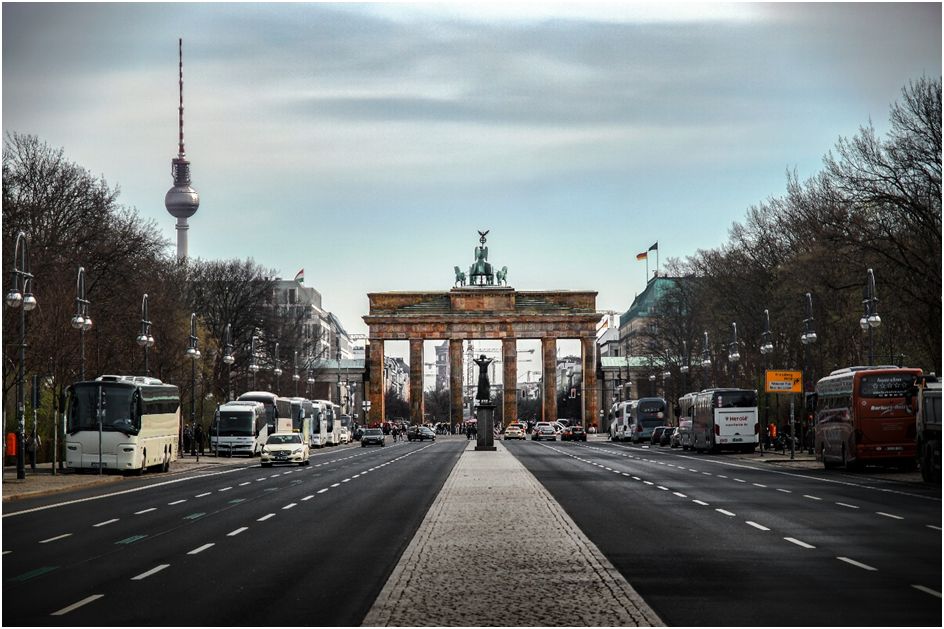 Located in the heart of Europe, the land of Bratwurst, Wiener Schnitzel and Lederhosen is officially the world's number one hotspot for exhibition events.
Germany is not only home to the some of the world's largest exhibition venues, but over 60% of all the major exhibition and trade shows in the world are held in the country. If you're planning to take your exhibition overseas, then no other country offers a better opportunity to grow your business than Deutschland.
Around 160 international trade shows are held in the country every year, and are attended by around 180,000 exhibitors and 10 million visitors. More than half of these people come from overseas expanding the potential reach of your product or service far beyond the Rhine or the Elbe.
Germany is Europe's largest and strongest economy –  and the fourth largest in the world. The country's vast exhibition industry certainly makes a significant contribution to its leading economic status. It is estimated that exhibitors and visitors spend around €14.5 billion a year for their activities at exhibition and trade shows in Germany.
The overall effect on economic production amounts to €28 billion German exhibition organisers post sales of around €4 billion a year.
German Über-Efficiency
Germany's position as the exhibition capital of the world is no accident. Unlike other countries where the venues and events are run by private profit-focused companies, German exhibition venues are owned and managed by local government bodies.  As they also run most of the international shows themselves, the result is highly efficient and effective exhibition events with low participation fees and technical service costs.
In a nutshell, Germany is an exhibitor's paradise.
Germans Liebe Order
Germans are well-known for their levels of efficiency, but they are also notorious for being sticklers for rules. It'll come as no surprise to learn that there a number of regulations you need to be aware of when exhibiting in Germany.
So, before you book a spot at a German exhibition show make sure you know your Frankfurter from your Weisswurst . . .
Book all your exhibition services in advance
German exhibitions offer invaluable opportunities to launch your business's products or services on a global scale. Butwhen you book your space at a German venue you will also need to ensure you arrange all your exhibition services upfront.
Even if it is something as simple as cleaning or catering, this all needs to be arranged in advance with German exhibition show organisers.  If you haven't booked a service beforehand, you will get a direct "nein, nein" if you try and sign up when you arrive.
You can be charged if you withdraw from an event
If you sign up to the exhibition show terms and then later decide you want to withdraw from the exhibition, you may still be liable to pay up to 25% of the agreed participation fee. Even if the show organisers manage to redistribute your stand, they still have the right to charge you this fee.
Protect your intellectual property rights
One of Germany's more curious laws is that allows people to make copies of other company's products or brand. This means it is the responsibility of business owners to ensure no-one else can legally make money from their ideas. As the whole point of a trade show is to promote your brand or product this can be a challenging issue.
In the event of any IPR infringement, exhibition organisers will offer support and help, but they still can't enforce the law. The best way to prevent any infringement at a German exhibition show is to contact a lawyer beforehand to make sure you own the protective rights of your product or brand.
You need a Visa if you're outside the EU, but there's no fee.
If you're from outside the EU then you will need a visa – and that will probably include the UK post-Brexit. There is some good news though, visa fees have been waived for companies exhibiting at a German trade show. Further information can be found at the visa regulations section on the German Foreign Office.
Now, we've got the most important rules and regulations out of the way, let's look at some of the main expo venues in Germany . . .
Vorsprung DurchMesse: Exhibition Venues in Germany
In Germany, many exhibitions or trade shows take place in all of the major cities including Hanover, Frankfurt, Berlin, Dusseldorf, Munich, Stuttgart and Hamburg.  All of these shows are known as "Messe", which literally translates as "fair" or "expo".  The biggest ones, by far, are Hannover, Frankfurt, and Düsseldorf . . .
Messe Hanover
Covering an area of 554,000 sqm surface area (58,000 sqmoutdoor space and 496,000 sqm indoor space), Messe Hanover (aka Hanover Fairground) is officially the largest exhibition ground in the world. With 29 halls and 35 function rooms, it's easy to see why this has been a leading exhibition venue for more than 60 years.
Also known as "the miracle of economies", it is also the birthplace of the German exhibition industry as we know it today. In order to encourage economic recovery after World War 2, the British Military held a trade show in an old aircraft hangar in Hanover. The event proved so successful it soon became a permanent fixture, and the site went on to become Messe Hanover.
With a large international airport on its doorstep, with many direct flights to many major world cities, Messe Hanover is easily accessible from anywhere in the world.
Messe Frankfurt
If Hanover can claim to be the largest exhibition ground in the world, then Frankfurt has the biggest capacity.
Located at the heart of Germany's financial and business centre, Messe Frankfurt is one of the largest and modern in the world, with 367,000 sqm of hall area and 96,000sqm of free space at its disposal. As business is engraved into the core of Frankfurt, with over 5 million professionals living within the centre's catchment area, the venue attracts a large B2B audience with good reason.
Messe Frankfurt is bang in the heart of Germany. And as there are more than 260 destinations that land in Frankfurt Airport, the venue is easily accessible wherever you are in the world.
Messe Düsseldorf
With 19 exhibition halls, spanning across 262,000 sqm, Messe Düsseldorf is well equipped to host any sized event, from large industry exhibitions to small trade shows.
The venue organisers are highly regarded in the exhibition industry for their organisation. This has enabled Messe Düsseldorf to become one of the top trade show venues in terms of revenue.
Located in the north-west of Germany, the venue is just a two-hour train journey from Amsterdam and Frankfurt, or a one-hour flight from Paris, London, Berlin and other European cities.
Messe Cologne
Since its founding in 1922 Messe Cologne has gone on to become one of the largest and most influential exhibition centres in the world. It has over 284,000 sqm exhibiting floor area and is the third largest venue in terms of indoor exhibition area.
Messe Cologne has 11 main halls, 2 congress centres and an additional 100,000 sqm of open space and park areas.
Located just 30 miles south of Düsseldorf, Messe Cologne can also be easily reached by car, train or plane from most major European cities.
Messe Stuttgart
Located in the beautiful capital city of Baden-Württemberg, bang in the heart of central Europe, with excellent transport connections, it is easy to see why so many businesses choose this venue for exhibitions and events.
Messe Stuttgart offers a combined area of 105,200 sqm across its seven halls – measuring 10,500 sqm each – and proudly hosts events across many different industries.
One of the main reasons that Messe Stuttgart is so popular with exhibitors across Europe is its location right next door to the city's international airport. The venue organisers even boast that once your plane lands you are only 355 steps from the exhibition centre – not that you necessarily have to walk all of those steps.
Messe Berlin
Messe Berlin has 26 dedicated halls offering 180,000 sqmof space, and a multifunctional business suite consisting of an additional 20 variably-sized rooms and a rooftop terrace that can hold up to 200 guests.
The organisers of Messe Berlin are highly regarded in the exhibition industry and it's easy to see why. The facilities and space make it a popular venue, drawing in huge crowds of visitors and international exhibitors.
Located in Germany's vibrant capital city, bang in the heart of Europe, Messe Berlin is easily accessible from anywhere in the world. There are over 75 airlines that connect Berlin's international airports with 173 destinations, making Messe Berlin one of Germany' best connected exhibition venues.
Planning for Your German Exhibition
There are two main ways to arrange your exhibition at a German expo. You can choose an exhibition company from your own country to take care of everything in-house, from the design, build, transportation and installation of your stand. Alternatively, you can rent a customised stand and a standard shell-scheme booth directly from the German organisers.
The latter will certainly be the cheapest and easiest solution, but not the most visually attracting way to present your company to an international audience. What is more, exhibition stands in Germany tend to be more high-end quality than elsewhere. This means a basic stand design and structure will make even less of a mark in such an upmarket business environment.
Leading exhibition designers, Quadrant2Design, state that "German Messe's stand and booth services might be tempting, but their limitations don't allow you to exhibit your product or service in the most effective manner, risking a poor return on investment for the show".
Also, choosing an exhibition company from your own country, means you won't have any language barriers to overcome when it comes to planning your exhibition stand. Any good exhibition company will allocate you with a project manager who will oversee everything, from the initial design of the stand to the installation at the German expo.
An even better option would be to choose an exhibition company that will pre-build your stand before your show takes place. This will give you the chance to make sure everything is in perfect order, and ready to go, before your stand is installed in Germany.
Doing Business in Germany as a Foreign Exhibitor
When exhibiting in Germany, where the highest standards are expected, it is important to respect the country's rules on business etiquette.
Any misinterpreted behaviour at a network event or conference could seriously harm all future business negotiations. It is worth remembering that Germans tend to be more formal than a lot of other nationalities, so be careful not to become too informal too quickly.
Here are a few simple rules to follow when doing business in Germany . . .
Punctuality – don't be late
Not surprisingly, time management is a big thing for Germans. Turning up late for meetings is a big "nein, nein". Germans are extremely punctual and even a few minutes' delay can offend. If you do find you're going to be late, call ahead to explain your situation. Otherwise, a good rule of thumb is to always be ten minutes early for appointments.
Gift-Giving – quality over cost
It is not common to give gifts when doing business in Germany. However, there has recently been more of a move towards making business meetings less formal with rituals like gift-giving. When choosing a gift for potential business clients or partners, make sure it is small and of good quality but not overly expensive.
Germans take pride in dressing well, so appearance is very important when doing business.  Casual clothes are just not something Germans do when it comes to business. Men should wear dark-coloured business suits with white shirts. Women should also dress conservatively in dark suits or conservative dresses.
The most important point of all when it comes to German dress code is NEVER remove your jacket or tie before your German host does – this is considered to be the height of bad manners.
While German will obviously be the main language spoken at all the Messe exhibition shows, most professionals will speak very good English. Having said that, it would be a sign of respect to have a translator with you as part of your exhibition team.
Deutschland – The Land of Exhibiting Opportunity
Yes, there are a few rules to be aware of when exhibiting in Germany, but a successful show in the most important and powerful exhibition country in the world can result in substantial international success for your business.
When you exhibit in Germany, you are exhibiting to the world.
If you're planning to exhibit at a German expo, you've made a wise choice for your business.
Viel Glück (good luck)!
Austin Rowlands is a content writer at Quadrant2Design, with extensive experience in the exhibition industry. He writes exhibiting guides for Quadrant2Design – to help businesses with their exhibition needs.  In addition to this, he writes press releases to promote exhibition events, as well as exhibiting feature articles for various industries.