TikTok is quickly emerging as one of the most popular social platforms around.
Leveraging the power of video to engage the younger generation, TikTok is the must-have application for Gen Z'ers – and it's starting to take the marketing world by storm too.
Though many companies are still figuring out how to use TikTok to their advantage, the benefits of leveraging this tool are pretty clear. TikTok now has around 800 million active users worldwide. Plus, customers spend an average of around 52 minutes per day on the app. That's plenty of meaningful moments that companies can use to generate brand growth.
Of course, just like any other social media marketing effort, you'll need the right strategy to really benefit from TikTok. Though an official marketing platform does exist, you'll often find that you can reach your followers on a more meaningful level if you connect with the people on TikTok that they already respect and love.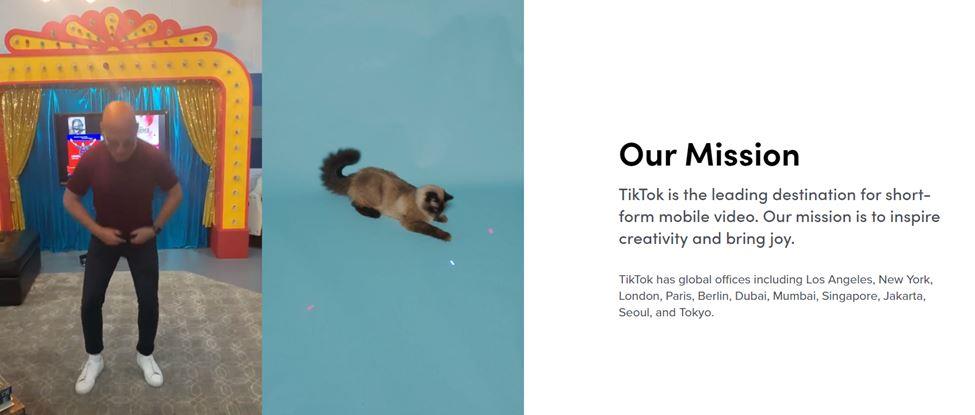 Influencer marketing on TikTok is the easiest way to give your brand a boost.
So, how do you find your influencers?
Performing TikTok Profile Searches For Influencer Marketing
TikTok is perfect for influencer marketing.
Most advertising pros already know that influencers are more likely to inspire their younger customers than any traditional ad campaign. Generation Z and millennials turn to the social media landscape to make connections. When they see a content creator they love, they follow that person, respond to their videos, and even take their advice to heart.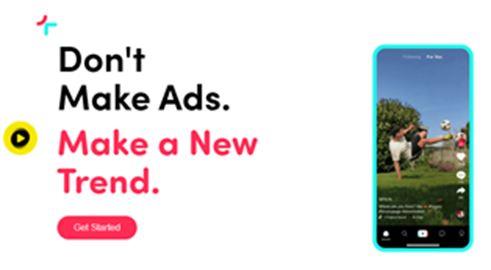 Since TikTok is still a relatively mysterious platform for most business leaders, influencer marketing can be an excellent way to get your foot in the door of this new channel. Even if you're not sure how to reach your audience on TikTok, your influencers can help you to make the right impression.
Partnering with an influencer is your chance to instantly create content that appeals to your target audience and reaches a lot more people. However, you need to find the right partner to work with first. That's where TikTok profile searches come in.
Conducting a TikTok Profile search means you can find influencers that are relevant to your brand. Plus, you can make sure that anyone you decide to work with has enough engagement to make an impact on your marketing campaign.
Finding Influencers With A TikTok Profile Search
The best influencers for your business on TikTok are the ones that can appeal to your target audience and champion your brand. You need someone who's going to be relevant to your industry and authentic. Nobody likes someone who seems fake on TikTok.
Remember, Generation Z is savvy, cynical, and capable of seeing through any obvious marketing ploy. Conducting a TikTok profile search is how you ensure that you find the right fit for your campaigns. Remember, you'll need to:
Consider your niche: Your influencer needs to make sense to the industry you're trying to promote. If your company sells pet food, then it totally makes sense to use an influencer like Jiffpom – the most famous TikTok dog. However, it wouldn't make as much sense to use a pooch when you're selling banking apps, or makeup.
Know your audience: Think about what kind of people (or animals) would be most likely to appeal to your audience. What kind of hashtags do your customers follow? What sort of topics and trends do they find interesting on TikTok right now? Look at your competition for insights into what works for your clients.
Prioritize engagement: Follower size is important when you're choosing a TikTok influencer. The more followers someone has, the greater the reach for your brand. However, it's important to ensure that those followers are engaged too. Check that your influencer's fans are actually connecting with them on a regular basis.
3 TikTok Profile Search Tools To Try
Using a TikTok profile search tool is the easiest way to track down potential influencers without having to deal with endless hashtag searches. These tools will help you to sort through potential partners based on metrics like their follower size, engagement levels, and niche.
Using a TikTok search tool also gives you access to the contact information you need for each influencer. This means you can more easily reach out to the person you want to collaborate with via Instagram, email, YouTube, and other channels.
1. Influence Grid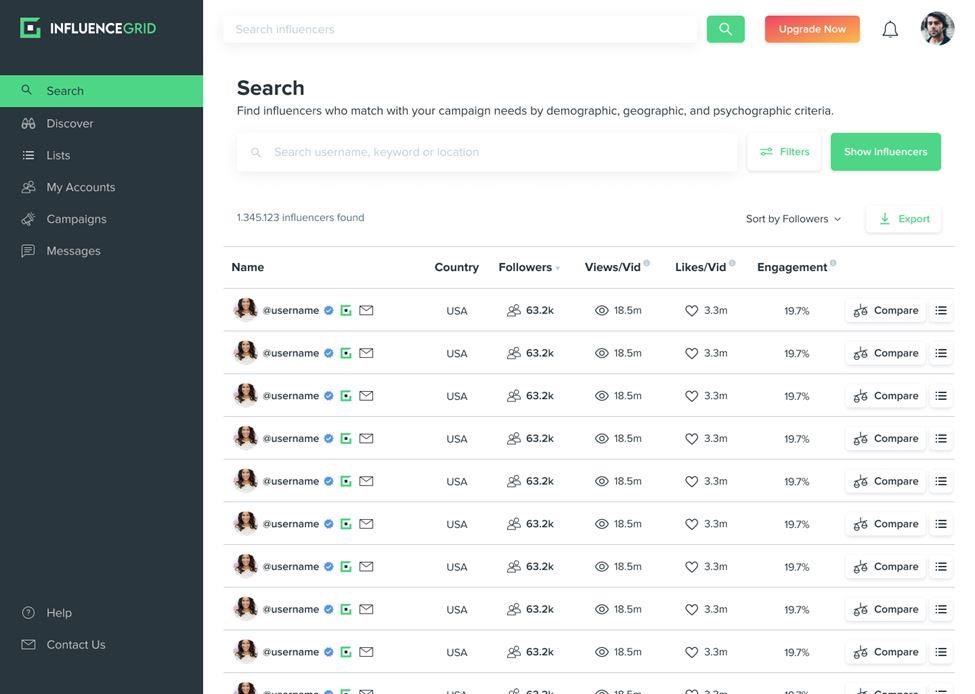 in TikTok. The great thing about this profile search tool, is how it helps you to filter through all of your options as quickly as possible. You can search according to the location of your ideal influencer, their account size and follower number, or you just focus on influencers for a specific topic.
The Influence Grid tool is extremely easy to use. Just grab your free trial and decide how you want to search. Options include:
Country / location
Topic or #hashtag
Engagement rate
Account size
Average video views
Account name/ username
Once you've got your search results, Influence Grid will show you detailed statistics about each influencer, as well as showcasing their most recent videos. That means it's much easier to reach out with a relevant message about their latest content.
You can export your search results to a CSV, so it's easier to track who you've already tried to connect with. Plus, you'll see the other social media accounts connected with that Instagram too. Even better, the software is constantly updating with new features and better functionality to help you nail your Influencer campaigns.
2. Vidnice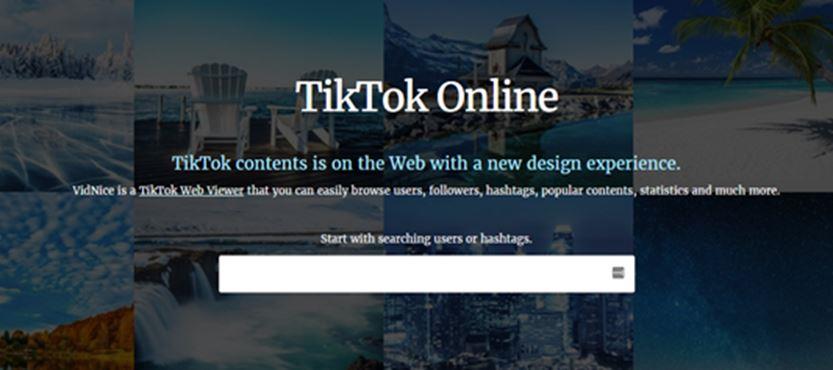 Vidnice is another convenient profile search tool that makes it easier to track down specific users, or find influencers related to specific topics and hashtags. You can find TikTok users based on a certain category, like Pets, Fashion, or Travel. Vidnice also allows you to create custom lists of the people that you want to connect with.
There's a list of popular TikTok accounts on the homepage of the application every day, and whenever you search for profiles, you'll get an overview of each person's followers. You can also see how many posts your influencers have published, and how many people they follow back.
Vidnice makes it much easier to gather handy data about TikTok influencers, and search for people based on important details. It's also connected to "TikBuddy" – an application that helps with analyzing your TikTok marketing results.
3. Comment Picker

Comment Picker is a handy and straightforward tool for TikTok users. You can find your user ID with this service, and search for other TikTok content creators. The service is pretty easy to use if you know which users you want to learn more about. Just type a username into the search bar, and you'll get information on the TikTok's user ID and their follower count.
You can also search for influencers and their profiles by typing a video URL into the search bar too. Users can only check the ID of the people they want to learn more about for free on Comment Picker. However, if you sign up for an account, you can get more advanced stats.
This is a handy tool for anyone who wants to learn more about the TikTok users they might want to work with. You can also rely on Comment Picker to help you find out which content creators are behind some of your favorite videos.
Start Your TikTok Profile Search
There's no arguing with the fact that TikTok is rapidly growing to be one of the most popular tools for social media marketing. As the platform continues to grow, businesses of all sizes are looking for new ways to reach and engage their audience through video content. Working with the right TikTok influencers could give your brand the boost it needs.
Remember, think about what kind of customer you're reaching, what sort of niche you need to look at, and how much engagement you need from your influencer's fans before you start searching. Once you have an idea of what you need for your next campaign, use the TikTok profile search tools above to track down the perfect partner for your advertising.
Chris Mcdonald has been the lead news writer at complete connection. His passion for helping people in all aspects of online marketing flows through in the expert industry coverage he provides. Chris is also an author of tech blog Area19delegate. He likes spending his time with family, studying martial arts and plucking fat bass guitar strings.