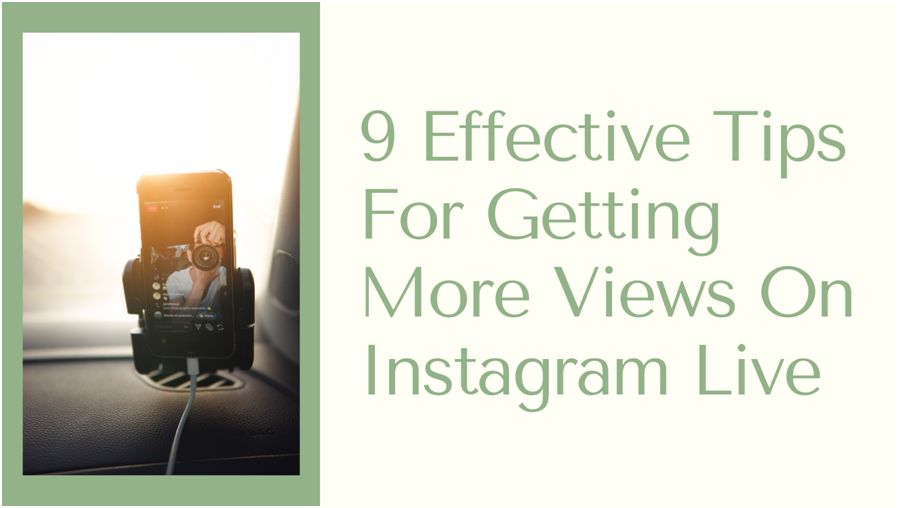 Instagram Live is a relatively new practice for many bloggers, but it has already earned praise from social media marketers. This is a method to connect with the audience even better than before. To enhance your results and to receive more positive feedback, there is even a possibility to buy Instagram live views. Nevertheless, you shouldn't rely on your purchases entirely if you want to reach success on Instagram. There are other ways to get more views on IG Live, and here they are exposed to you.
1. Announce that you are going live
An excellent way to secure more views on your future Live is to promote it beforehand. Suppose you have a good schedule for your content that is nothing hard to do. Secure a date for your live streaming and begin a small promo campaign. Your primary instrument here is Stories on Instagram. In between your regular content, you should mention that you are about to go live and tell your viewers what time you will start the translation. This way, you can drive the interest of the audience to the maximum level.
2. Make your Lives regular
Consistency is a rule that applies to this type of insta-content too. Even if, for starters, your viewership is small, releasing lives regularly gives you the opportunity to attract more people in dynamic. On Instagram, your videos will be saved as IGTV, so users will be able to check out your past lives without additional efforts. Making series of content is a great idea as this method addicts regular spectators who secure the flow of views to your profile stats.
3. Motivate your viewers materially
Such a tactic is good for co-working with a brand or for promoting your product. Just secure that promotion isn't the main topic of your live stream. One of the easiest ways to promote the product and gain more views for your IG is to create a contest or game with a material prize for a winner. Think of some visual hide-and-seek type of games, kind of like online quests, so people would be motivated to watch the video till the end. For example, you can hide clues in your speech and ask your viewers to decipher the phrase you hid.
4. Make a screenplay and rehearse
Although insta-live is considered the type of content that is original and spontaneous, it is good to have a plan to rely on. The screenplay doesn't mean that you must read the text. In this context, you need to write down the notes that will help you have a stable conversation and keep up with the chosen topic of discussion. It is not a secret that sometimes people can get carried away as they talk, jumping from one theme to another, so the screenplay helps to stay on track.
Rehearsing is vital for being confident in your speech. If you rehearse the main points you want to highlight, you will see how you look and how your speech sounds to other people. Yes, it can be challenging – many people don't like hearing their voice. Hence they skip rehearsing to avoid the discomfort. But the effort is worth the result.
5. Add value to your streams
Streaming for small talk isn't an option – it will not attract enough people. To gain more views for your streams, you must provide valuable and interesting concrete information. For nonprofits, the most suitable types of streams that will drive the attention of users are:
Q&A sessions.
Collecting feedback about their performance.
Discussion of recent news related to the industry, lifestyle, and social position of the blogger.
Sharing personal experience.
These content ideas are working for sure because a blogger connects with the audience through such topics, nurturing a strong community. Of course, the range of topics is more considerable for brands, but the general idea remains the same – talk informative and valuable for your viewers.
6. Make your live streams engaging
Instagram streamings are incredibly engaging experiences for users, so you must not miss the opportunity to bond with your viewers. Of course, the stream is dedicated to your topic, but spectators want to talk with you, so it is up to you to provide. People come to social media for communication in the first place, so they expect to be heard and appreciated. People can talk to you through a special comment section that updates as you stream. You can answer your viewers as you read their messages – they would appear on your screen too. Another way to communicate is to have a collective stream. You can add up to 4 people to your live and have a conversation much like a video call.
7. Take suggestions from your audience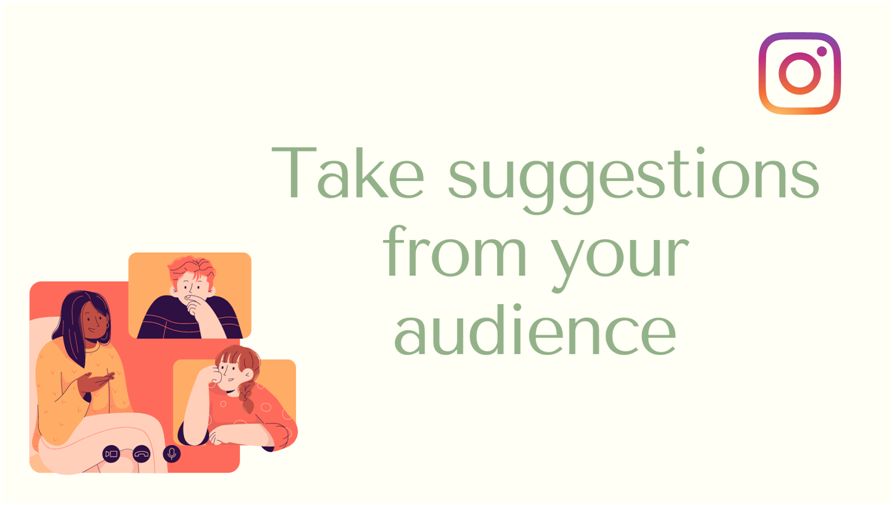 Instagram live itself is a great way to collect feedback, and it is also an incredible idea generator. At the end of your streaming, ask your viewers to suggest a topic for the following live. Make sure you expressed your gratitude for all offers, and then distinguish the one that suits you most.
Another way to get ideas for your next stream is to highlight this question in Stories. Create a questionnaire where people can leave their ideas for a limited time. This can even become some kind of content – with the additional motivation, and you will get more content ideas.
8. Catch up with users who reached out to you in direct
Some people can address you privately because they don't want to ask their questions publicly. Or they have something to say about your topic, but the stream is ending. Anyways, personal communication is much more comfortable to use with direct messaging – live chat isn't the most suitable place for face-to-face conversation. So, don't forget to check your private messages after you finish your streaming. Unattended queries will make people angry, and you can lose part of your viewership. That's what you probably don't want for your profile. Nothing else than being attentive could help.
9. Create post-live content
As you were creating announcements to your upcoming streams, you have to post at least a story with a follow-up to the topic you discussed. This way, you can increase interest in your following streams and express your appreciation to your viewers. Creating a dedicated post is also a comment-gatherer, where you can find new themes for your further broadcasts.
Conclusion
Instagram Live is a 100% engaging tool in the arsenal of every brand and nonprofit. This type of content works well when you need to bond with the audience and if you want to get some feedback about your performance.
Chris Mcdonald has been the lead news writer at complete connection. His passion for helping people in all aspects of online marketing flows through in the expert industry coverage he provides. Chris is also an author of tech blog Area19delegate. He likes spending his time with family, studying martial arts and plucking fat bass guitar strings.