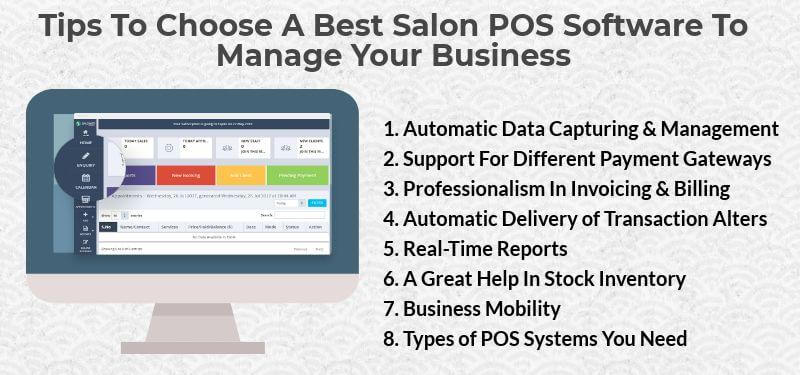 POS systems are software and hardware tools integrated together to automate the works of cashiers, accounts and auditors. POS-systems are used in various types of business organizations. So, they are available in many different options and configurations. The requirements of a retail store and restaurant differ quite. So, there is no single solution that could fit the needs of all business organizations. So, what necessary features a POS system should have so that multiple business organizations can use them easily? Let's mull those features now.
Automatic Data Capturing & Management
The collection of customer data, their storage, careful use in different business operations, protection- all require you to keep an Internet or data security expert on the job. Many companies don't have the budget to hire such professionals in exchange for a handsome monthly salary. A good POS system must automatically capture customer data, store it on its server, and keep it safe from authorized access. Salon point of sale system should be based on cloud servers, allowing them to use the software from all locations and on any devices.
Support For Different Payment Gateways
Because of different reasons, people choose different payment methods to pay for products and services they buy from companies. Salon POS software must support different payment gateways. Only them people will buy it and use it in billing and invoice generation.
Professionalism In Invoicing & Billing
When people buy from you, they like to have a bill that includes all details, such as the purchased items, time, date, calculation of Tax, applicable discounts, total sum, company name and logo, etc. The POS system should be created in such a way that it automatically prints all these details on paper or display it on the computer screen. It allows customers to know the billing details in advance and manage shopping accordingly.
Automatic Delivery of Transaction Alters
In today's world, millions of people live from one paycheck to another. So, they always spend money with great care and caution. They love to have real-time alters about the money spent by them. So, a POS system must automatically deliver SMS & Email Alters to both companies and customers, confirming them that the transaction has been completed successfully completed or failed due to some technical errors. Automatic Alters about transactions remind people about spending and encourage them to maintain financial well-beaing.
Real-Time Reports
It doesn't matter how well your business is performing today. Always keep in mind that ups and downs are the part and parcel of all business organizations. As a business organization, you need to analyze the effectiveness of your business marketing campaigns and know your strong and weak points. You can fetch the latest and up-to-date report about the performance of your business on different parameters and make further improvements accordingly.
A Great Help In Stock Inventory
Every company maintains one or more warehouse to store products and sell them as per customer's demands. Companies need to monitor the availability of goods in their stock at all the times to know their uses, prevent their theft and cut wastage of resources. Manual inventory of stocks has many flaws and reports contain errors.
Apart from this, it takes a lot of time to audit the company's stock from A to Z. POS system simplifies the process of stock inventory. Based on the input, it automatically generates reports about the availability of goods in the stock, sold out items, damaged/stolen goods in a few minutes. Using this report, auditors can easily find out the actual status of goods and manage stocks accordingly.
Business Mobility
Business mobility has now become the order of the day because it is not possible for company owners to sit in the office at all the times, monitor the performance of employees, and prepare bills for purchased goods and services. The mobile version of POS system allows cashiers to prepare bills for the purchased products and services at any time, send electronic invoices to customers, and collect payment from them using different payment gateways.
Types of POS Systems You Need
Always keep in mind that having the basic knowledge of POS-systems allows you to choose the POS system you need. All POS systems have the same basic set of functions, but there are a lot of features and functionalities that are designed especially for particular industries. It is possible that the POS system designed for retail stores may not work well for billing requirements of hotels and restaurants. So, check which industry a POS system is designed for and select accordingly.
Final Words
A POS system that meets all the needs of your business is an important tool for business management and maintaining financial well-being. It allows you to automate the billing process and focus on meeting the needs of your customers. These tips will help you make the right choice of a POS system for your company. Good Luck!