Running a successful startup is not as easy as pie. Whether you have a team of five or fifty, managing resources and their tasks efficiently is crucial. For this, you need a project management tool to organize tasks and get the best out of it.
There are plenty of tools available in the market, but choosing the right tool for your organization can be a difficult task.
To make it simple, I have listed some of the best tools for startups that I have used during my career.
#1 Nifty PM
Nifty is an integrated project management tool that includes team communication feature to manage their team in an efficient way. Gradually, Nifty has got recognition with its distinct features including project tasks, resource management, team chat across all the projects, resource management and more.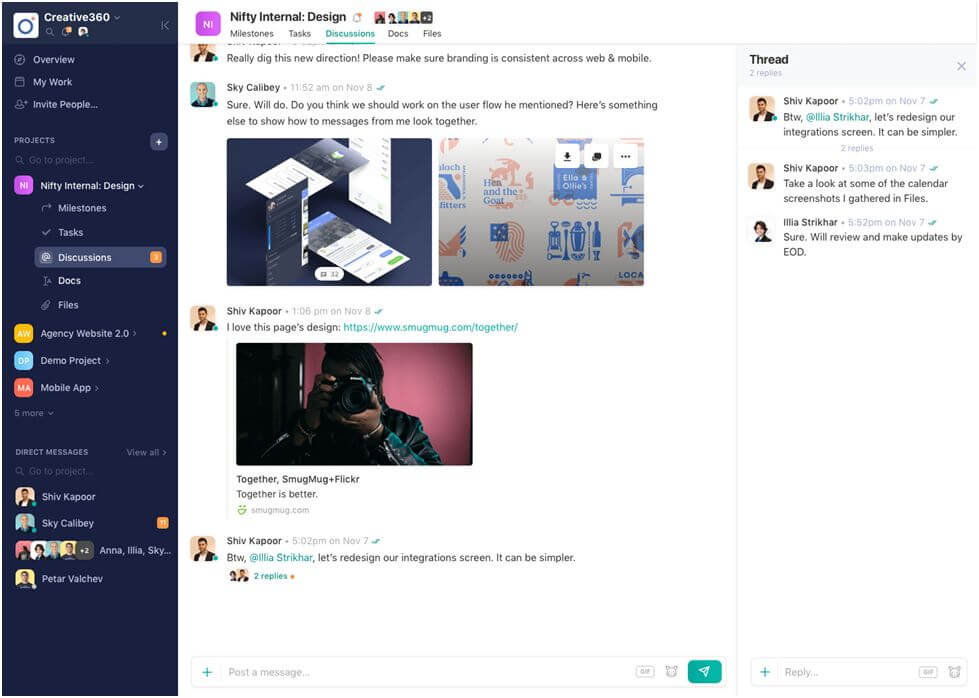 Key Features:
Kanban Board View to divide tasks
A birds-eye overview of all projects and teamwork
File storage with different categories
Change notifications settings for each member as you want
Pricing: Free for a small team. Its basic plan starts from $8 per month with 5 GB storage.
#2 nTask
nTask is a new tool with a simple design to manage projects and tasks. It has clear design and straightforward format that eliminate the learning steps of any team. With native modules, this tool provides a comprehensive report to your project requirements. Also, with issue management module, you can identify and assign issues to the team member.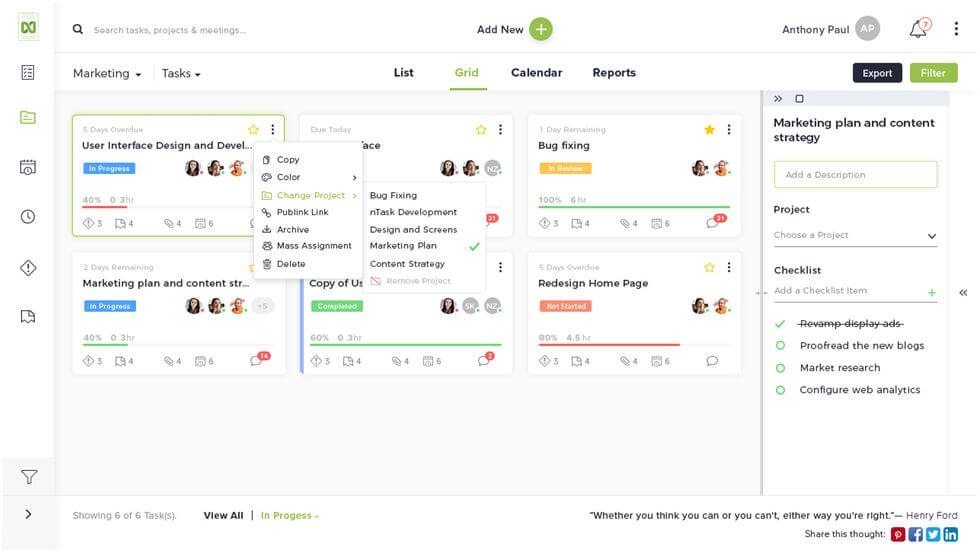 Key Features:
Create and track projects and tasks
Meeting scheduling with followup action
Timesheet management to log hours (manually)
Task export
Gantt chart facility to give you an idea of task timeline
Pricing: Pro plan starts from $2.99 per month per user.
#3 GanttPRO
GanttPRO is a rock star in the Gantt chart software category for businesses of all sizes. With the greatly visualized Gantt chart timeline, managers and teams can easily create, assign, and manage tasks, as well as quickly collaborate on urgent issues.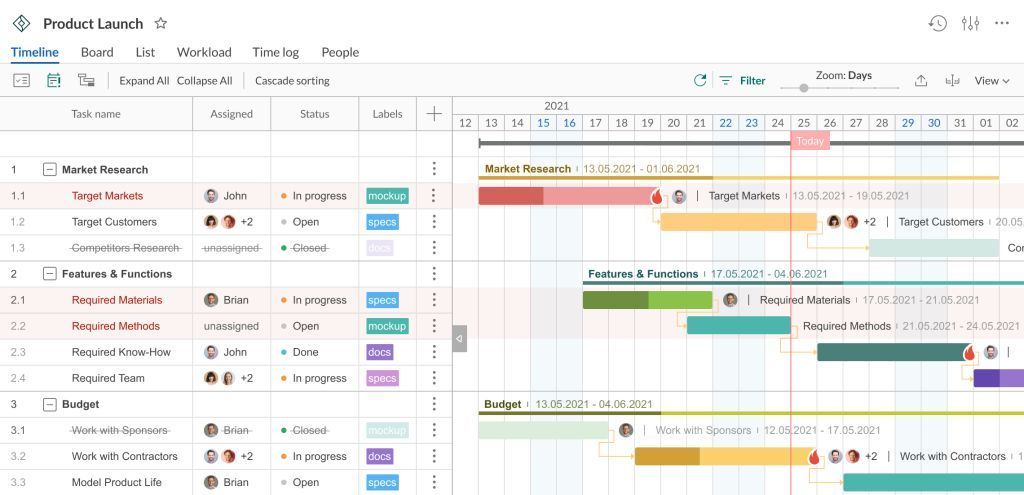 GanttPRO stands out for its intuitive interface and robust set of project management features.
Key Features:
Intuitive Gantt chart timeline

Additional ways to manage tasks: Board view, My tasks list, and more

Advanced resource management

Project portfolio management

Export to PNG, PDF, and Excel and Sharing feature via public URL even with unregistered users

Real-time team collaboration through comments, attachments, and mentions

Task time tracking

Ready-made professional templates for various industries
Pricing: Free 14-day fully-featured trial is available. Paid plans start from $8.9 user/month.
#4 Trello
Trello is one of the leading project management tools for startup owners. With Kanban boards, user can quickly create a card and assign to the team member with drag and drop facility. Its free plan offers unlimited cards, unlimited members and checklist with file upload facility.
Key Features:
Easy-use dashboard to create tasks and check task progress.
Allows to create checklists within cards
Email-to-board feature to convert emails into cards and boards
Pricing: Business plan starts from $9.99 per month per user.
#5 ProofHub
With unique features and add-ons like email project management and multi-language interface, ProofHub has gained popularity among enterprises. Compared to other tools, it's a bit expensive though it's an easy-to-use project management tool to manage a large team.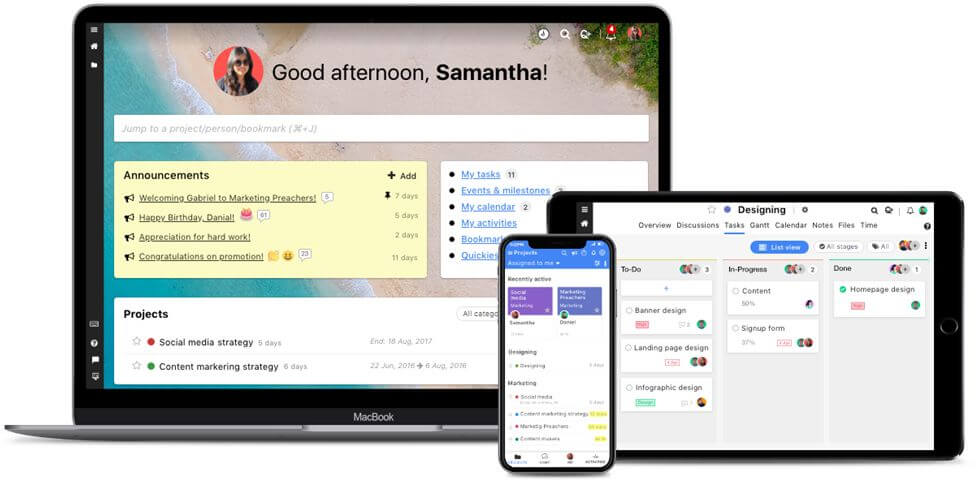 Key Features:
Time tracking to manage tasks
Gantt chart to timeline visually
File sharing and group chat features
Multilingual interface
Users can make items private to control visibility.
Pricing: $89 per month with unlimited projects and users, 100 GB storage
#6 Proworkflow
With in-built templates, Proworkflow has become the first choice for project management. It is best for organizations who want to manage finances and monitor their investment. Customized workflow, time logs, and team communications add-ons are also included.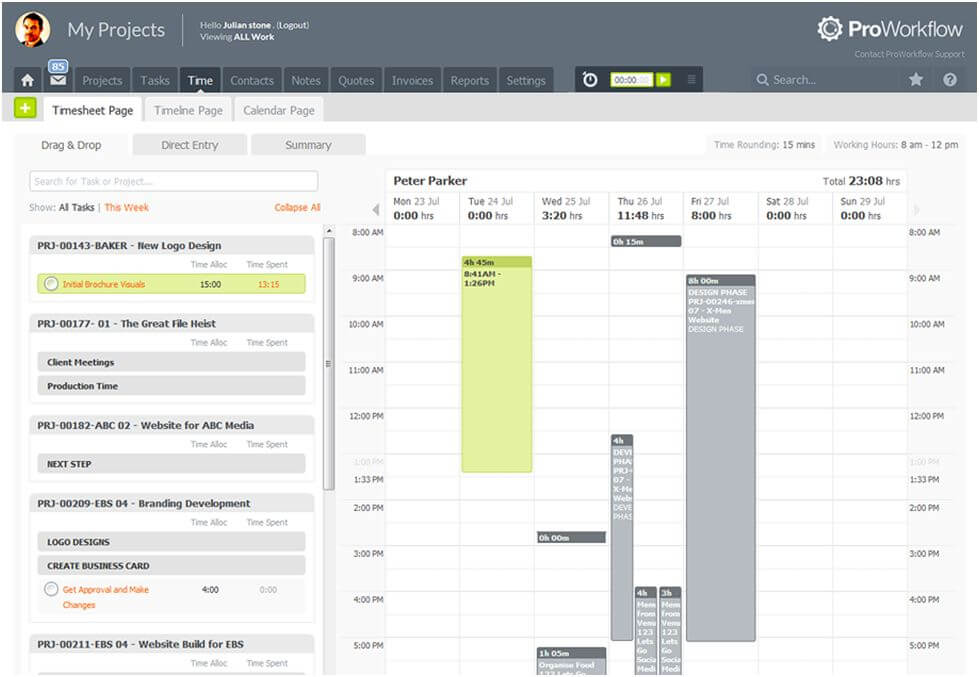 Key Features:
Flexible, easy task control with one project dashboard
Integrated messaging & collaboration
Multiple methods for tracking time from anywhere in the app
Assign work to clients and contractors
Invoice manager
Pre-defined templates for different tasks
Powerful report manager
Pricing: Solo plan starts from $10 per month per user and professional from $20 per month per user.
#7 Basecamp
Basecamp is one of the best project management tools for solopreneurs, startups and enterprises. With powerful features like real-time instant messaging and group chat, task management and team management have become organized. Also, reports can be generated based on a work summary.
Their simple price format allows businesses to use this tool regardless of team size.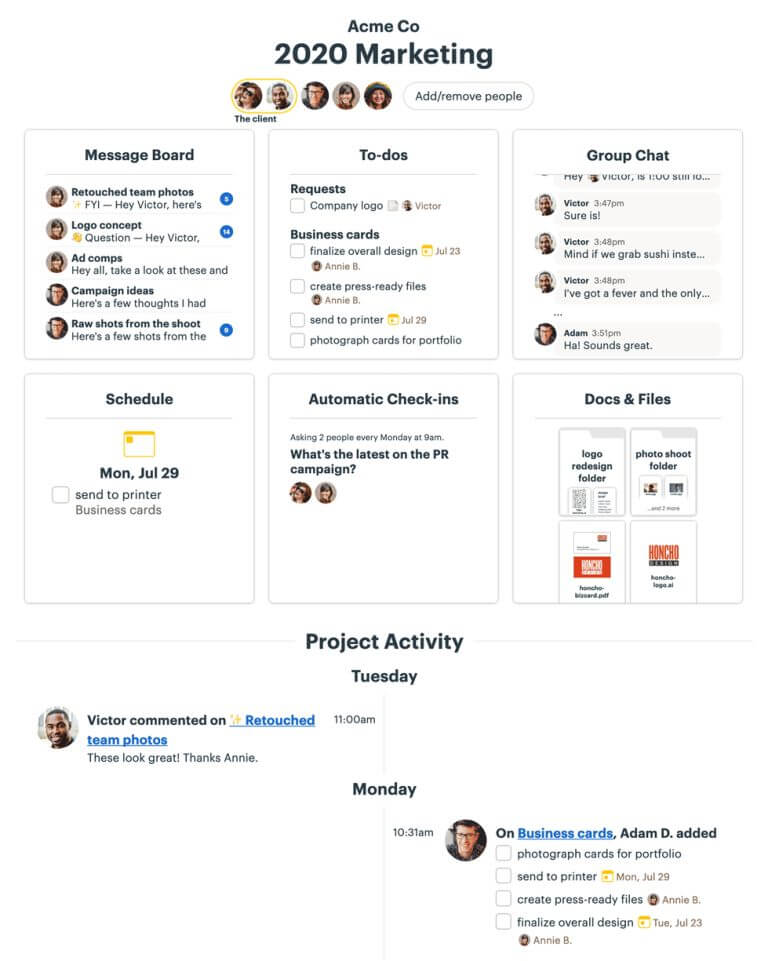 Key Features:
Create a to-do lists for tasks and schedule
Project templates
Track time spent on projects
Gantt Charts for task progress
Instant messaging to groups and individuals
Team Discussion
Pricing: $99 per month, no per-user fees
#8 Teamwork
Teamwork takes care of all your project management and team collaboration. It has incorporated all the features like task management, time tracking, billing and many more. Whether you are a small team or enterprise, Teamwork helps you to streamline your projects and team.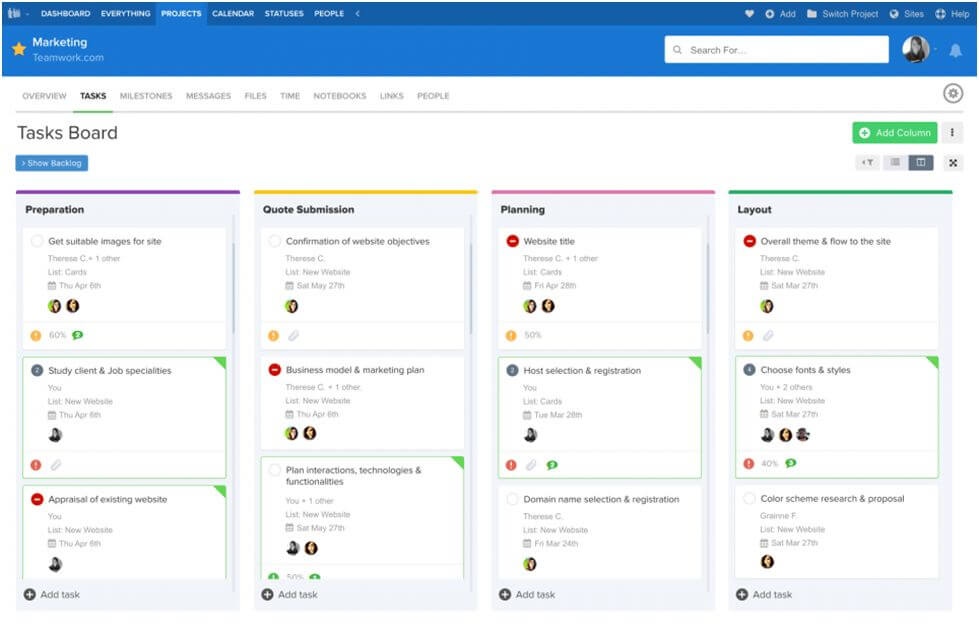 Image via: Picksaas
Key Features:
Easy task management with sub-task feature
Time-tracking on each task
Gantt-style view of a project
Templates for task list
Set permissions of users and decide what notifications to be sent.
Create invoices quickly and easily
Create project reports and get updates
Pricing: Free plan for a small team for five users. Paid plans start from $9 per month.
#9 Aha!
Aha! is the most favorite tool among startup communities as its subscription plan is designed for them. It helps startups to understand vision, goals, and to develop a strategy that works efficiently. It also has included the feature which gathers ideas and feedback from clients to improve their product or services.
Key Features:
Centralized all the projects
Pre-defined modules to develop strategy and roadmaps
Wireframes, sketches can be attached directly to features.
Analyze the reports without any duplication entry
Allows customization of navigation, layouts, workflow and status
Mobile apps for iOS and Android
Pricing: For free plans, startups have to meet their guidelines. Premium plan starts from $59 per user per month.
#10 Wrike
Wrike is a complete package for project and task management which is suitable for all size businesses. Managing tasks is easy with Wrike as it allows you to tag a person to assign the task. It also offers a free plan with a limited number of users so you can check features before you go with paid plans. You can always upgrade the subscription plan later on as your company grows. Learn more about Wrike pricing before you fully commit your team
Key Features:
Gantt Chart for real-time work visibility
Advanced reporting and workload view to monitor project progress
Resource management tool to manage team workload
Customize workflows to every project
Team discussions
Real-time newsfeed
Time-tracking
iPhone and Android apps
Pricing: Professional plan starts from $9.80 per month per user
#11 Teamweek
Teamweek is an easy-to-use project management tool with visual planning and the drag-and-drop feature. You can create tasks based on a timeline and monitor your workflow. If you are looking for colorful visuals for task management, this tool can be your first choice.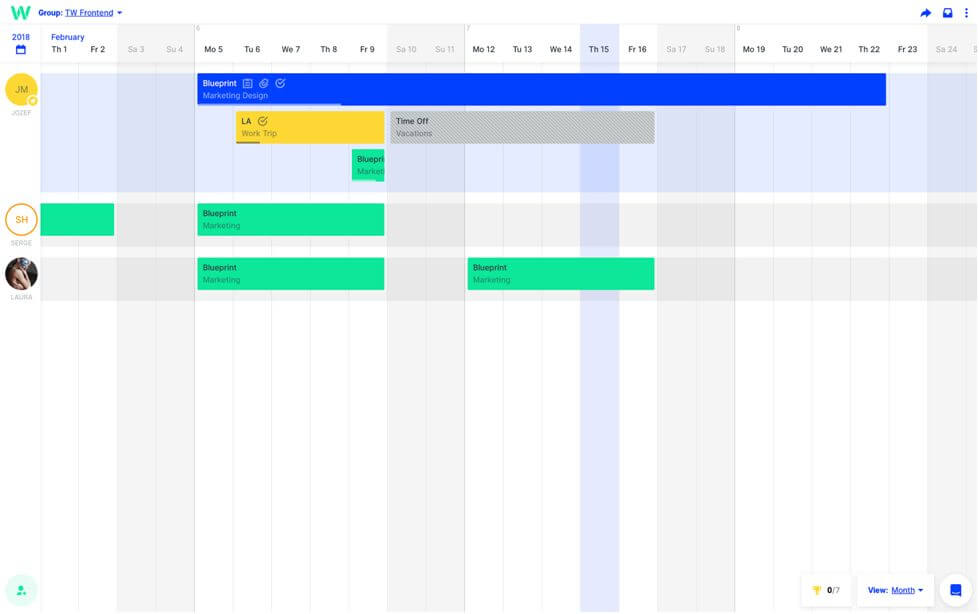 Key Features:
Simple tool for project management
Gantt-chart for visual presentation
Task management with the drag-and-drop interface
Scheduling task
Manage your team and check their availability
Divide your tasks as sub-tasks
Pricing: Free for a small team, up to five users. Subscription starts from $35 per month, for 10 users.
Project management is an essential part of every industry. With the right tool, startups can grow and scale and get success.
Pete McCain is a technology startup enthusiast, associated with AppVelocity – one of the best mobile app developers in Montreal. He has collaborated with more than 50 entrepreneurs – over the last decade – to maximise growth and contribute to technical excellence.