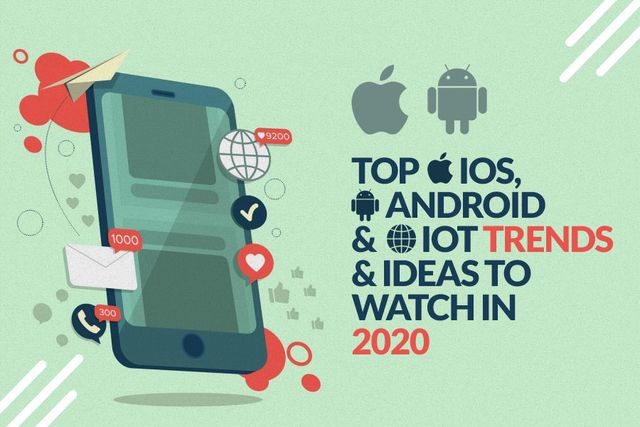 Technologies would never fail to amaze you through amazing features and out of the user experience. Over time, progress has been made in this digital era that has created considerable disruption in patterns in mobile application development. Starting with various basic features, the internet of things, virtual and augmented reality technologies, has enhanced the overall productivity of mobile apps. Have a look at some stats and facts of mobile applications:
Have a look at some of the major technologies that will impact the mobile app development in 2021:
In this blog, we have elaborated top mobile app trends in 2021 like iOS app development trends in 2021 and Android app trends in 2021. You will also read emerging trends in IoT as well as best app ideas for startups. So, let's begin:
Android App Development Trends in 2021:
Android has traversed a long journey to reach the popularity that it has gained. Indeed Android's story, like any other hit story, is an inspirational story that resulted in the transformation of the custom mobile app development industry.
The strategy that Android used to capture the market is fabulous. It was launched earlier in 2008 and now, after 10 years, Android's smartphone OS Market Share has grown up to 85%. Moreover, it is predicted that volumes are still predicted to attain growth at a five-year Compound Annual Growth Rate of 2.4% with shipments reaching to 1.41 billion in 2022.
Every new year comes with new tools and techniques in mobile application development. These innovative changes are aimed at making the development process easier. Not only this, one more objective is to incorporate best practices in user experience and design.
So, before you start hiring mobile app developers to create a good looking, efficient and user-friendly app, it is quite important to understand the trends and how these are connected to the Android ecosystem. Simply copying these changes will not be beneficial, besides partnering with a mobile app development company can add more advantages.
Here, we are presenting top Android application development trends that give a better insight of what will dominate in the year 2021.
Let's have a quick round-up of Android application development trends 2021!
The gradual increase in the number of latest Android Instant Apps
Google Play Instant allows users to try out a game or app without installing it on their smartphones. The reason behind this is that Instant apps do not require extra space on your mobile devices. You do not need to download these apps on your smartphones as all the data is stored on the cloud that can be accessed from anywhere.
The entry of Instant apps in the market has transformed the direction of the mobile app industry towards eliminating the litter of unnecessary apps on mobile devices. Recently, Google has started various new features for Android app developers. These features help developers create smaller and lighter apps that download faster. Hence enable a potential customer to try out a new app without installing them.
The new publishing format of Android, named as Android App Bundle, is a good move in the direction of offering a Google Play Instant experience quickly. We will see further innovations in Android Instant Apps in the upcoming year 2019.
Android Apps Architecture
Google's architecture guidelines talk about various best practices in creating an Android App and recommend architecture to create high performance and efficient applications.
Android architecture components act as a robust beginning point to create stable apps. Architecture components help developers create apps with less boilerplate code. Moreover, they help the developer focus on the code that makes the app unique.
Android app architecture helps the Android app developer community to create stable apps. Furthermore, it helps in eliminating the idle pattern for Android like MVC, MVP, or MVVM.
Age of Budding Technologies and Android
Now, innovations are being done in the direction of making google smarter and utilizing Artificial Intelligence in all aspects right from self-driving cars to smartphones. Google's AI-focused planning is now enhancing the reach of Artificial Intelligence and Machine Learning for mobile app development.
With each new day, there is an increase in the popularity of virtual assistants. Moreover, various assistants are being incorporated in apps as chatbots.
Google has already introduced Actions and Slices at Google I/O that allows direct app-assistant integration on the device. Google wants users to use Google Lens which is a visual search tool designed to make search more advanced and easy.
The next step of Android app development is towards combining AR/VR with Artificial Intelligence by introducing advances in immersive technologies involving its Visual Positioning Service.
Multiplatform development is on the rise
Flutter is a popular framework created by Google. It allows you to create astonishing native apps on iOS and Android with the help of only a single codebase.
Other than offering customizable and extensible widgets, Flutter is a mobile SDK that provides reactive views with no requirement of a Javascript bridge.
Kotlin helps in the development of applications with the help of existing native libraries and instruments. The Kotlin compiler has the special capability of producing standalone executables that can work without any virtual machine. Kotlin/native is set to become popular in 2021.
Android Enterprise
After iOS devices, devices are the most used and preferred devices to perform several tasks in enterprises. Android Enterprise setups best practices of the Android app in the Enterprise ecosystem. Also, it offers complete control of the applications and data owned by a business entity.
This program offers APIs and other tools for android app developer that provide integrated support for Android into enterprise mobility management solutions.
iOS App Development Trends in 2021
In this section, we will see trendy trending ios app ideas for startups as well as iOS app trends for the year 2021.
Transformation by AR and VR:
In the gaming and film worlds, VR and AR have already made their way. It is one of the advanced development technologies in the creation of IoT mobile applications that demonstrate the power of creativity and perception of reality.
Many well-known brands, such as Gap, IKEA, and others, have already used the features of VR and AR in order to drive significant sales with their iOS mobile applications. The field of concept and functionality focused on VR and AR is projected to be fully functional in iOS apps by the year 2021. With the new direction of the virtual world, iOS mobile devices will be born.
Mobile app developers can try their hand at building authentically real-time apps using VR and AR technology in order to enhance user experience and confidence. All the credit goes to Apple's Archit, which is developing AR-powered iOS applications that have gained a lot of momentum. Examples of AR-based applications are iOS applications and applications such as dance releases. Therefore, the year 2021 seems better for VR and AR apps.
Machine learning is a standard:
Apple's launch of CoreML (Core Machine Learning) has recently received tremendous user feedback and is useful for building smart apps across Apple's various devices. Siri is playing with you, the camera you are using to click images, and QuickType is a very responsive, integrated caramel mobile application.
For the past few years, CoreML has held a shining aspect of the development phase. The development of an iOS mobile app empowers machine learning when it integrates with the CoreML framework. Later, we will note that CoreML will become the default for creating custom iOS mobile applications. The software will help, and users can make use of advanced programming.
Swift 5 Programming Language:
By using a stable application binary compatibility and binary interface, Apple has released its Swift 5 programming language. The iOS app development company is now concentrating on how to use this language for their business point of view.
Consequently, with every now and coming version of iOS, macOS, TVs, and wearable AS, Swift libraries will be included. Therefore, those libraries no longer have to be covered by the mobile app developers, applications will now be smaller and more comfortable to create. The software is very compatible with Linux, so mobile app developers can quickly expand their knowledge base for the new version of Swift 5 when designing mobile applications.
Cloud Integrated iOS Apps:
Cloud technology has significant capabilities and benefits. This allows mobile app development companies to store large quantities of data. Because it is one of the most reliable data storage systems, you can make it safer, fast, and easy to access at any time. Cloud-based systems that operate directly in the cloud. This improves the internal memory of smart devices. Therefore, it increases the productivity and communication of mobile applications. Cloud integration helps both consumers and application developers. By downloading this, mobile app users can easily access this particular software. In the years to come, this iOS app trend will grow in the market.
Apple Pay:
Digital wallets, online banking and the rapid growth of electronic commerce have contributed already to the wonderful creation of various online options of payment available to all the consumers. In addition to this, the use of mobile wallets is high at any moment. People are no longer willing to pay cash or write our bags for their purchases. By combining the payment gateway with the Apple Pay-Mobile Wallet program, iOS developers have made payment processing faster. Apple Pay is not only secure but also eliminates the need for user-stored data. According to the study, Apple Pay is expected to increase 200 percent of total payments through the gateway. This is how Apple promotes a point-to-point grid for payments.
Better protection of the App:
Cybersecurity is an important factor in the development of iOS mobile applications. Since Apple is known for its integrated technologies to ensure complete device security, the integration of more features of security in the early stages of the mobile application development process should be a key consideration for mobile app designers and developers. iOS mobile application developers have decided to prevent hackers from accessing the user's personal space when developing the concept of iOS applications. After launching iOS 13, developers are granted the right to integrate ATS – App Transport Security for any application they have created.
Business development: Business development takes one of the most important and important developments and favors the development of iOS by developers. It offers the best user experience, more security, and greater productivity. Therefore, iOS application developers rely on iOS to grow their highly scalable business.
The Smart Siri:
With the new and improved Siri and its applications, Apple developers never cease to impress us. By mixing AI with Siri, the company and iOS application developers can discover endless possibilities. As presented at WWDC 2019, Siri's new voice has a personalized touch with the ability to personalize the dialogue and feels so real and natural.
Big Data Rise:
Big Data is the latest, but not least, event in the year 2021 to accelerate the development of iOS applications. Big Data Integration helps developers create stable, robust, and scalable iOS applications that enhance user development as well as increase business.
Emerging Trends in IoT in 2021
According to Statista, the number of IoT devices will cross 75.44 billion in 2025. Hence, entrepreneurs are more interested in IoT app development companies. IoT makes your life easy in the year 2021. How? Let us look at the numerous ways explained in this article and we will also see top IoT trends 2021 later in this blog. First, quickly go through the simple meaning of this buzzword IoT. IoT or Internet of Things means a global network of things that are connected to each other and are able to send and receive data.
For example, a refrigerator connected with the service center can easily send a message when there is any kind of problem in it. The problem may be of different kinds, let's assume below-mentioned problems:
Its light does not respond
Its freezing is not proper
It is doing extra cooling
In case, its light is not working, it will automatically send a message to the service center and service center will send a technician to the location of the refrigerator.
Moreover, if the refrigerator is facing a low cooling problem, then it will automatically send a message to the service center and the service center will schedule a technician visit to the location of the refrigerator.
Hence, we can easily see how IoT implementation in a refrigerator makes our life easy by managing its problems by itself.
Similarly, if we have our car connected to the service centers, police stations and mobile phones of other family members, it will automatically send messages to the appropriate entity (family member, police station or service center) when it strikes without any problem.
Now, this was about our car and fridge only. Suppose, we connect all such devices to various responsible entities (authorities), it will make our life quite easy.
Future Applications of IoT in real life
A Connected Water Filter: A water filter connected with the service center can easily send a message to the service center when there is a need for service in a water filter. And service center can easily schedule a technician visit to the water filter location. So, in a way, it reduced your work and responsibility. Isn't it?
A connected Air conditioner: An air conditioner requires servicing at regular time intervals in order to maintain its smooth functioning. Moreover, it can strike with problems such as
Low cooling
Fan not working
Not responding to the remote sensor
Whenever it faces any such problem, it sends a message to the service center. Then the service center performs further action and schedules a technician visit. And the technician comes to your door and tells you that your AC has called him.
Moreover, he checks AC and resolves the problem and you pay the money. AC gives feedback to the service center that its problem is resolved.
Hence, you can see how IoT can ease your life if these things get connected and start sending and receiving messages (or we can say starts communicating) to each other.
A connected Home:
A home can be easily connected to various crucial places with the help of this amazing technology IoT. It can be connected to:
Police station
Fire station
In case of entry through ways other than doors (which usually thieves prefer), a connected home can send messages to the police station. And police personnel will come to ensure the security of the home.
Moreover, in case the home catches fire, sensors will message fire station and fire rescue team will reach home in order to take the necessary steps to extinguish it.
Now, we will start from introduction to the Internet of things and then we will move towards the fate of IoT in 2021. So, let's take a dive into the introduction!
The Internet of Things (IoT), often referred to as the future Internet; is a collection of interconnected devices integrated into the worldwide network that covers almost everything and could be available anywhere.  IoT is an emerging technology and aims to play an important role in saving money, conserving energy, eliminating the gap and better monitoring for intensive management on a routine basis. Now, we will read some of the latest trends in IoT technology for the year 2021.
However, to realize the true potential of this emerging technology, new approaches beyond
performance optimization are necessary. IoT can also be defined as interplay for software, telecom, and electronic hardware industry and promises to offer tremendous opportunities for many industries.
The building blocks of the Internet of Things (IoT)
Internet of things (IoT) comes to life when its multiple building blocks simultaneously operate and communicate with each other:
Application and user interaction
A collaboration involving people, applications and business processes.
Cloud server
Computing systems/platforms such as enterprise and cloud with real-time processing and data analytics capacity, storage and content delivery, application hosting.
Network (connectivity)
Internet access: wireless/wired, Wi-Fi, Bluetooth, ZigBee, VPN, Cellular 2G/3G/4G
Gateway
Communication standards and protocols that enable connectivity down to the sensors and up to the network
Physical objects & devices
Objects equipped with sensors and actuators gave the ability to emit, accept and process signals
Convert information from the physical environment into a signal
Act on the signal from the sensors and convert it into the output
The Future of App Development
Certainly, Android is the most widely used OS on mobile phones Android is a mobile operating system that runs on the Linux Kernel. Android Mobile Application Development is entirely based on Java language codes.
Android is a software stack for mobile devices that comprises an operating system, middleware, and other key applications. The Android SDK offers tools and APIs that are essential to start creating applications on the Android platform using the Java programming language.
Component classes and methods
The Android SDK has a base class for each type of component (Activity, Service, Receiver, and Provider), with callback methods that are invoked at various points in the life cycle of the associated component. Each component has a life cycle. Application Packages .apk files- compressed files, Class Bytes codes, Binary native files
Trends in Android Development
Huge Market Android started as an experiment and it has proven that it can be run on every item that can hold a small microprocessor Android can be found in the TV, tablet, camera, bicycle, kitchen appliances, thermostats, cars, etc. The organizations and corporations must keep a keen interest in such an enormous market of android users to tap.
Swift Innovations
The Android platform permits swift innovations in App development, by constantly pushing the boundaries of hardware and software forward, to bring new capabilities to the users and the developers. For Android developers, the rapid evolution of technology enables them to stay in front with the powerful, latest and differentiated products. The Android platform gives access to the most advanced technologies and rapid innovations and gives simple to use user-interface and rich portfolio of applications.
Blockchain
The promise of blockchain as a decentralized database is a known phenomenon in the tech industry now. Apart from living up to its promise in FinTech, the time is now right for Blockchain to be incorporated in other types of apps. Android developers have no option but to come to terms with blockchain.
Kotlin and multiplatform projects will transform the way we think about mobile development
Why Kotlin?
Kotlin has a great IDE
Weak IDEs usually create limitations for programming languages, which is particularly notable with cloud platforms. Very often, IDE support for the Java Virtual Machine and Android is provided by a handful of enthusiasts. Kotlin is very distinctive in this respect – Kotlin was developed by popular IDE vendors that clearly had an understanding of what it takes to make an IDE that's reliable and easy to work with.
Kotlin is Java-compatible   
The fact that Kotlin is Java fit makes it a uniquely useful language that can leverage JVMs. Moreover, at the same time can be used in updating and enhancing enterprise-level solutions that have enormous codebases written in Java.
Kotlin has clean as well as modern syntax and is often compared to Swift
There are a number of similarities between Swift and Kotlin, though the intuitive syntax is the killer hallmark, especially when Kotlin is compared to Java which, for all its great features, has never been known for simplicity.
On-Demand and App Bundle
The Android App Bundle results in smaller apps sizes while delivering a great user experience, with little to no refactoring to your existing code. A huge variety of available Android devices would be able to make use of the new publishing format. Features like on-demand delivery and instant enabling of modules are going to be a huge step in improved UX (user experience)
AI and AR
AI (Artificial Intelligence) and AR (Augmented Reality) have huge potential crucial not only in image and speech recognition, but it also can be used for prediction and analysis of user behavior. With the advent of Quantum computing technology, the AI and AR would certainly get a boost with the android development at its center point.
DB management
Debugging SQL errors is not so easy – it's time consuming, and has no GUI for looking at our database data. The innovation in android development with quality improvement in Hardware can be the panacea for better Database management.
Let's Summarize It
The year 2021 seems to address a major and most-awaited shift for the iOS, Android & IoT app development industry. While these technology trends keep coming and going, it is quite important to comprehend all the recent technology updates to find out and grasp various opportunities for your organization for creating a competitive benefit.
Android dominates the realm of smartphones with the open-source platform and no strict guidelines for the app development community. It's a golden opportunity for the customers to capitalize on such a platform with unprecedented innovation and ideas. Owing to this, most of the businesses want to hire Android developers or hire iPhone App developer for their project in the year 2021.
This year, we will see how a connected refrigerator, home, car, a water filter can manage their problems themselves without asking us or involving us. And this is all possible because of this amazing technology (of connecting things) featured in the growing trend of the Internet of things. Moreover, we have realized that IoT has the capability of easing our lives by making things to work themselves for their problems and that too in a smart way!
Kristy Hill is a Sr. Business Consultant in one of the top offshore software development company. Apart from consulting she has a keen interest in writing too. She is a graduate from a renowned business school and has done much research work in this field. Apart from this, her keen interests linger around reading novels, discovering new cuisines and culinary arts.