Nowadays, online forms can be found in every corner of your life no matter what sector you work in. One of the reasons why they have become so widespread is that they make life easier for both businesses and customers. You can gather the necessary data regarding your work or business in a very short time without any direct contact.
The importance of online forms for businesses has greatly increased the number of online form sites. Among so many online form sites, you may be rightly confused as to which one to use. For example, you must have heard of Typeform which is a famous site among these form sites, but you should also take a look at other form tools that may be of interest to you. Check out the main features of the Typeform alternative ten form-building tools through this article.
What is Typeform?
Typeform is an online form and survey-making tool that you can use without any coding knowledge. It has many professionally designed templates you can use freely. Its interface is simple, and there are many editing and design options.
The quality of service Typeform provides as a form builder is unquestionably good. However, Typeform's free resources are limited, so you should choose a package from $29 to $99 per month, depending on your budget. This price may be too much for some. That's why you can take a look at various Typeform alternatives below so that you can compare price and performance.
Let's look at the pricing of Typeform in a detailed manner:
1. Basic pricing is 29 USD monthly and 25 USD per month billed yearly
You get 100 responses/mo included
It allows only 1 user
Unlimited typeforms and questions in a form
2. Plus pricing is 59 USD monthly and 50 USD per month billed yearly
You get 1000 responses/mo included
It allows up to 3 users
Option to remove Typeform watermark
Customizing the subdomain of your Typeform URL
3. Business pricing is 99 USD monthly and 83 USD per month billed yearly
You get 10.000 responses/mo included
It allows up to 5 users
Feature to see individual question views to analyze
Chance to get service faster when you need help
Top 10 Typeform alternatives to try out in 2023
As of 2023, many form sites are actively serving the market. Although some of them are newly formed, it has managed to catch up with the old form tools with the services it provides. Now, since almost no online form builder requires coding knowledge, you can create your form without any trouble, even if you are unfamiliar with form creation steps.
Focus on this article to find the most suitable form tool for your business, institution, or organization in terms of its simplicity, price, and functionality. You can see the list of the various form-building sites, whether they are known or unknown on the market. Do not wait any longer and start reading from the first one:
1. forms.app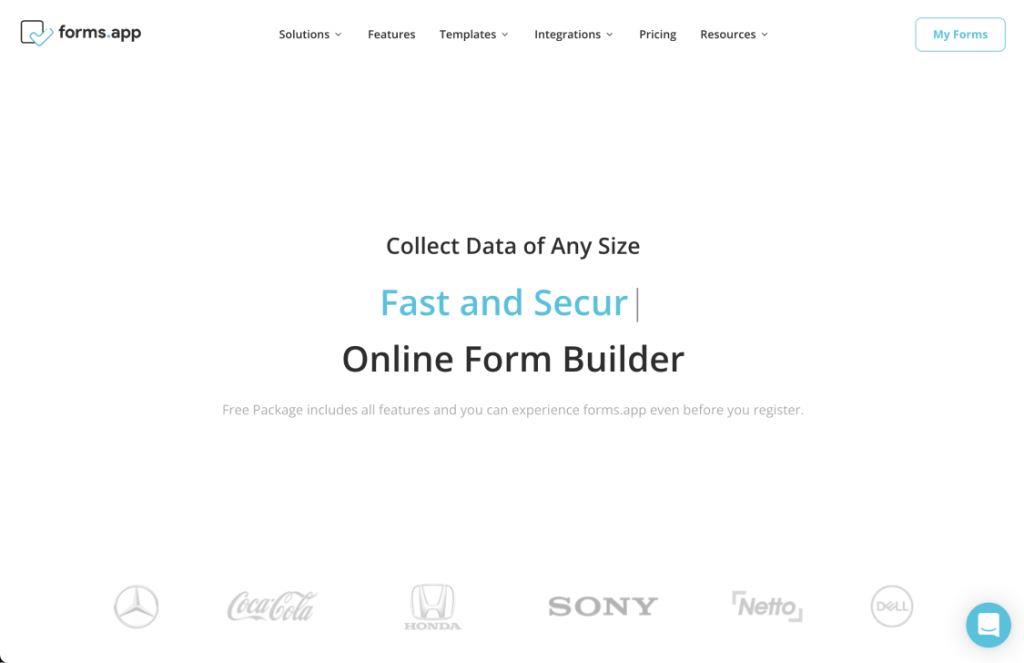 forms.app is the first Typeform alternative tool. It offers the opportunity to create free forms with nearly 1000 templates. You can customize these templates with many editing and design options. forms.app is one the best options in terms of price and performance with both its free and paid features.
Best features:
The calculator to receive and give quotes or to prepare quizzes
Get secure and commission-free payment
Geolocation restriction to share your form on a specific area
Simple but effective interface with many options
forms.app pricing:
The price of its cheapest package is 12 USD per month if billed yearly and 19 USD if billed monthly.
2. 123FormBuilder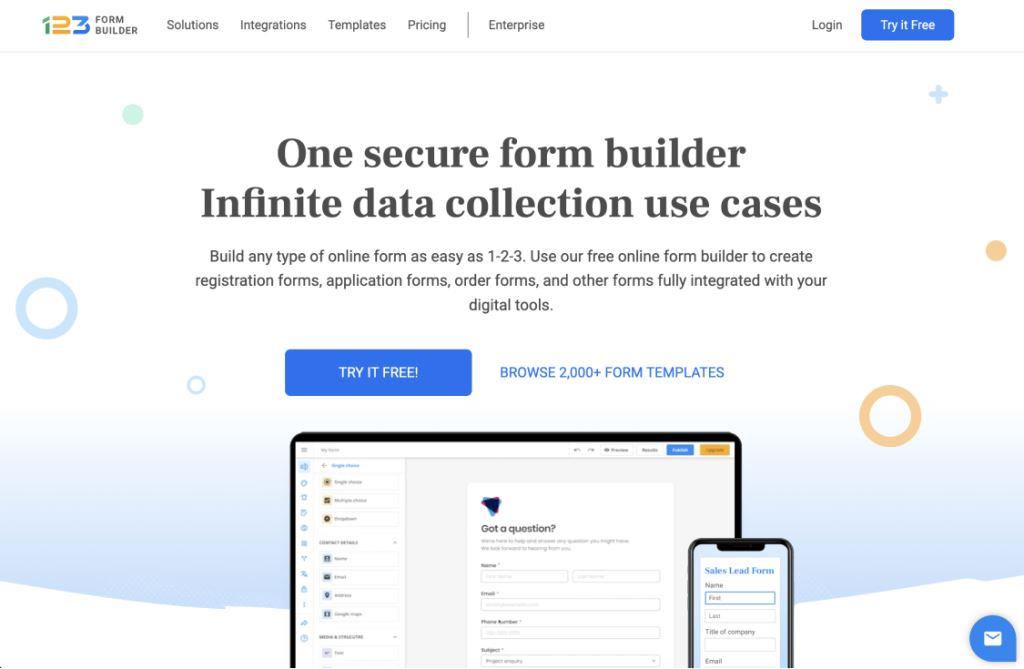 123FormBuilder is another form-making platform that provides a drag-and-drop interface for a better form-building experience. There are templates for almost every content you can imagine. And most importantly you can freely customize them with a free account.
Best features:
It has over 2000+ templates
Advanced conditional logic and customization options
You can create multilanguage forms
123FormBuilder pricing:
The price of its cheapest package is 19.99 USD per month billed yearly and 30 days a money-back guarantee.
3. Google Forms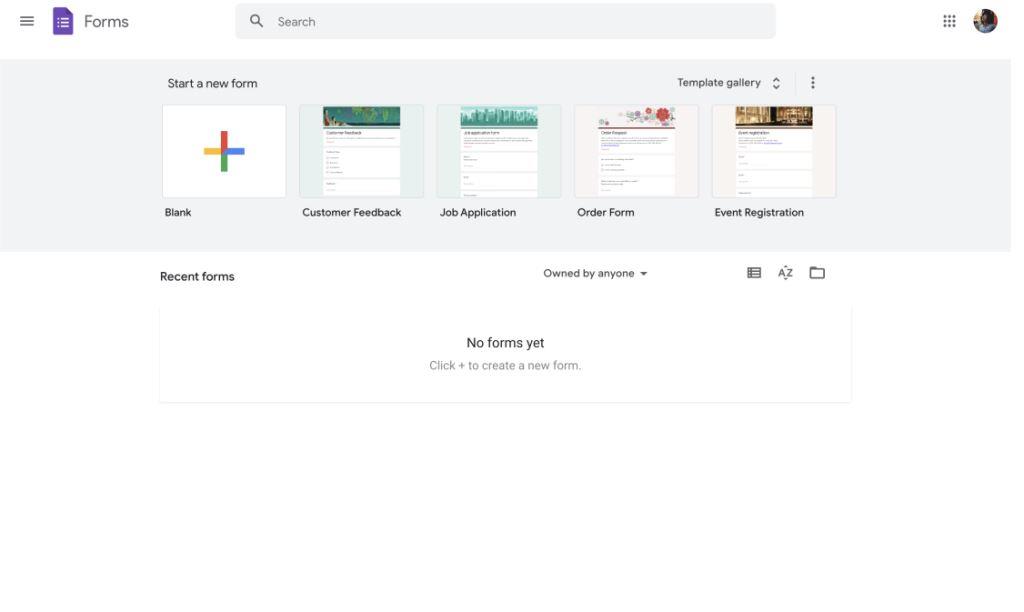 Perhaps one of the most basic form tools you hear about the most is Google Forms. It offers a free form creation service for users who do not need to create very complex forms. But keep in mind customization options and template possibilities are very limited.
Best features:
All customization options are free
It has an easy-to-use and comfortable interface
Unlimited form creation possibility
Google Forms pricing:
It has only one package which is Business Standart costs 12 USD per month.
4. Formstack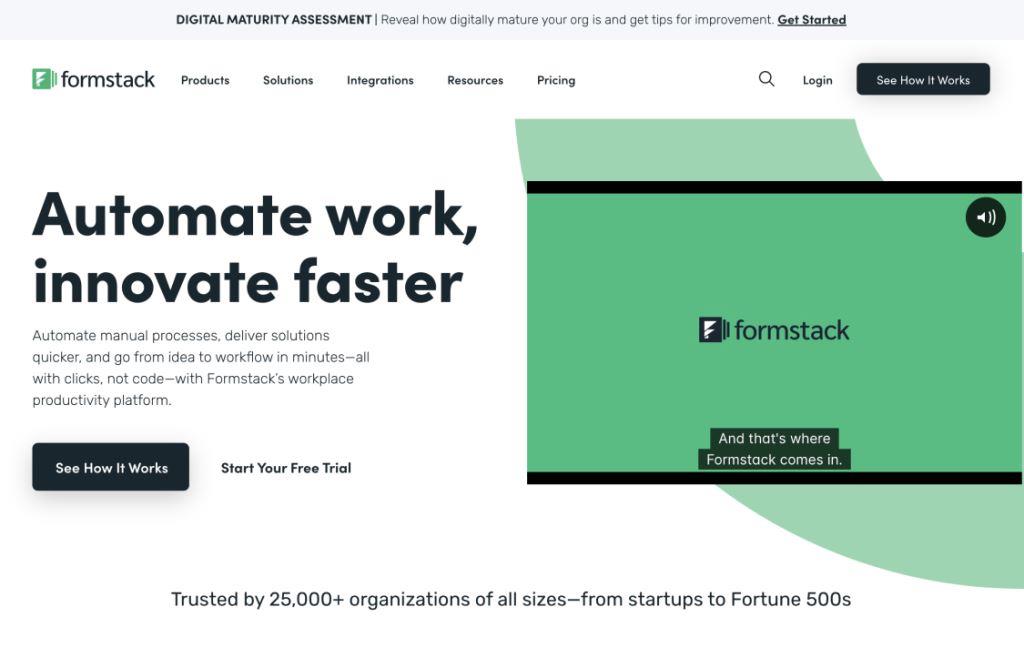 Formstack is another form tool you can use for data collecting, payments, analytics, and so on. If you need an online form builder to automate manual processes in your business, you can try Formstack.
Best features:
It has conditional logic
It has a mobile application to create forms
Offers a better interface for mobile form takers
Formstack pricing:
The price of its cheapest package is 50 USD per month if billed yearly and 59 USD if billed monthly.
5. Jotform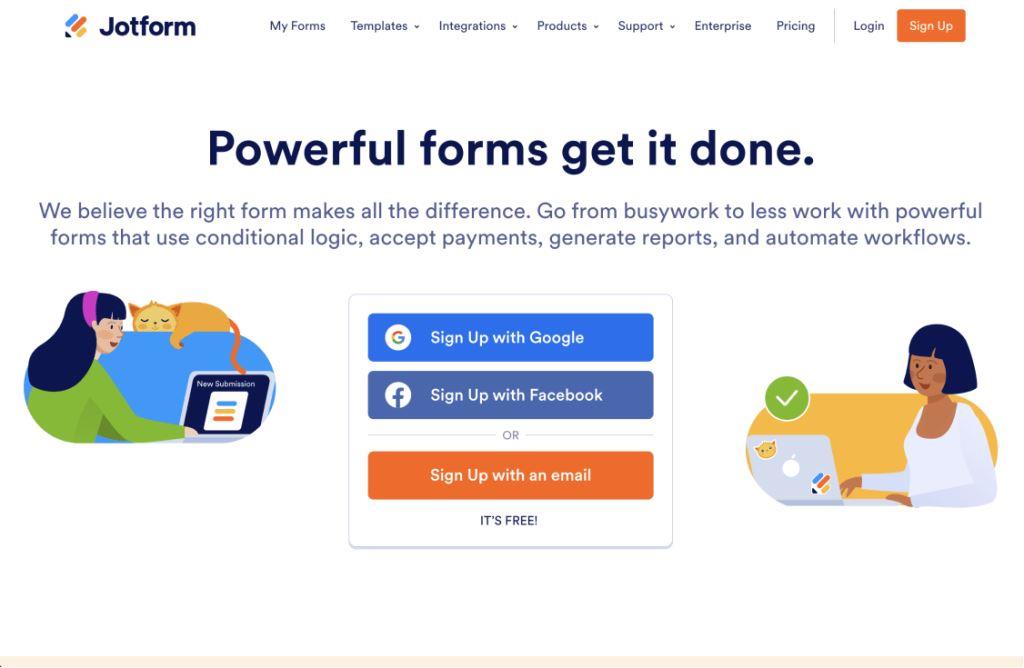 Jotform is ideal for people who want to design custom creative forms. It has a user-friendly interface, and you can collect information and payments easily like other form tools. Many businesses prefer Jotform, especially for their integrations.
Best features:
Offers countless integrations
It has form translation to reach a broader audience
You can collect data offline with Jotform's mobile app
Jotform pricing:
The price of its cheapest package is 34 USD per month if billed yearly and 39 USD if billed monthly.
6. Formsite
If you are creating forms that contain sensitive data, Formsite is confident about the security of this data. You can import and export data easily and report sharing. Other than that it is a decent form-making website you can create cool forms.
Best features:
Data safety
Ability to easily share the account with sub-users
Has a detailed toolbox for customizing
Formsite pricing:
The price of its cheapest package is 21 USD per month if billed yearly and 24.95 USD if billed monthly.
7. Paperform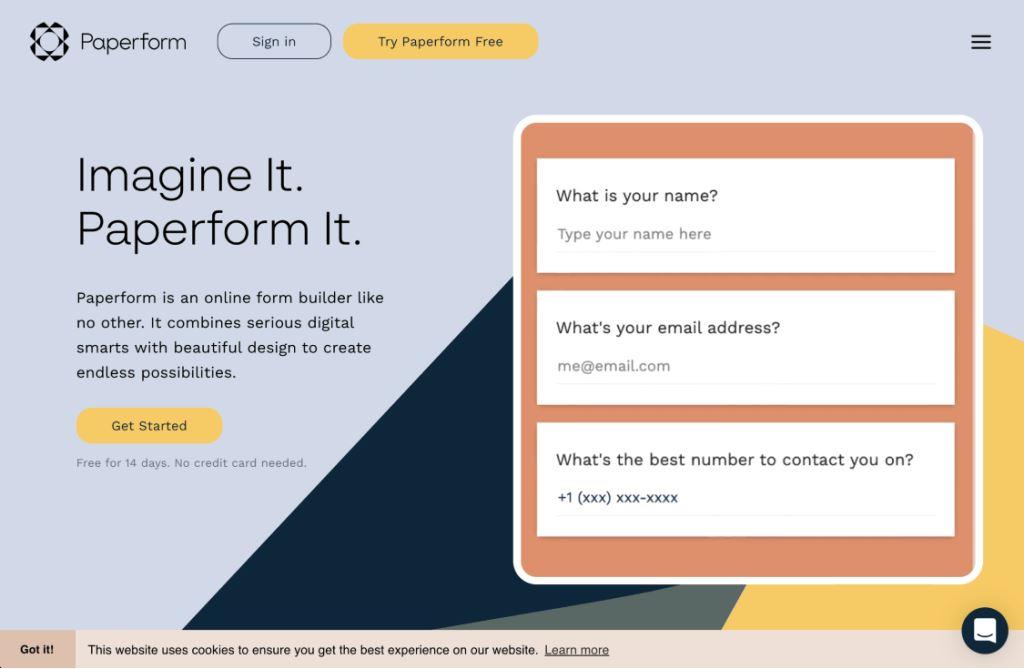 Paperform is a small but simple form tool that you can use to create forms. You can easily build your form without the need for coding knowledge. Use the free templates and customize your forms according to your needs.
Best features:
Unlimited number of form storage
Collect e-signature online
Collect payments
Paperform pricing:
The price of its cheapest package is 20 USD per month if billed yearly and 24 USD if billed monthly.
8. Sogolytics
Sogolytics is a cloud-based form tool you can use to collect data online. It is an important form site that you can use in your market research. And apart from that Sogolytics communicates well with its customers.
Best features:
Advanced in analytics
Secure data process
Flexible in creating forms, surveys, quizzes, and polls
Sogolytics pricing:
The price of its cheapest package is 25 USD per month, but if billed yearly, it is 299 USD annually. And it has a free 10-day trial without the need for a credit card.
9. ProProfs Survey Maker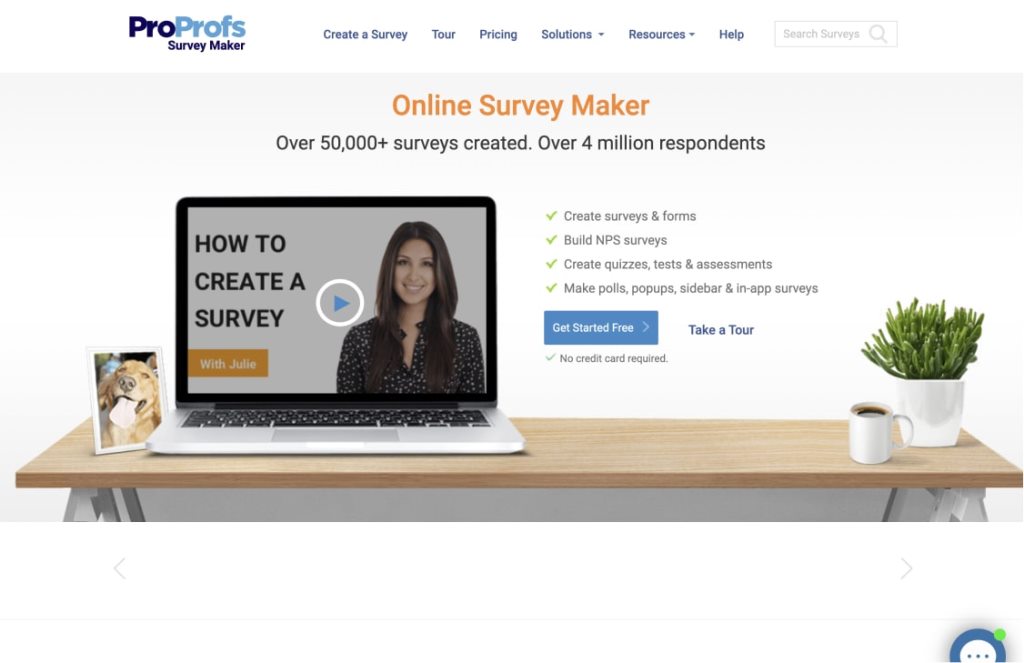 ProProfs has both a quiz maker and a survey maker website. You can create the form you want using ready-made templates in a short time. Creating a form that can calculate the Net Promoter Score, which is important for businesses, is quite easy here.
Best features:
You can brand your form with custom logos
You can calculate your Net Promoter Score
It has scored surveys to have a feedback
ProProfs Survey Maker pricing:
Unlike other form sites, ProProfs charges per response. Its essential package costs 0.10 USD per response monthly if billed monthly and 0.05 USD per response monthly if billed yearly.
10. Qualaroo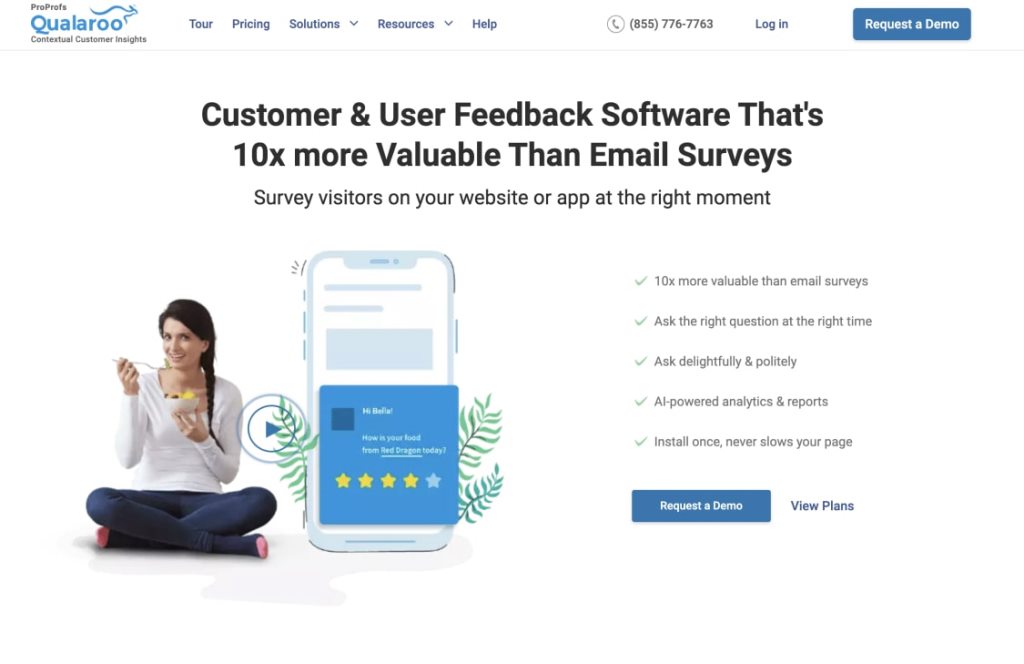 Qualaroo is the last Typeform alternative here, and it is designed to do research and get customer feedback. Although not as extensive as Typeform, it can handle form work on its own. And you can deeply analyze your forms with the features of the Qualaroo software.
Best features:
Advanced form analytics and reports
Real-time feedback survey
Various design options
Qualaroo pricing:
Quolaroo charges you with how many pageviews you have. The cheapest package is 100 USD per month billed monthly and 80 USD per month billed yearly for 100k pageviews.
Our verdict
It depends on the criteria and features you are looking for, but this list has been ranked considering price and performance. Whether you are a large or small business, organization, or institution, you will need to choose one of these online form tools. That's why we have mentioned the features of these form tools here to shed some light on you.
To choose your ideal form site, first get to know yourself. Know what you expect from a form site and how much budget you have. If you have read this article and found a suitable form tool for you, this article has achieved its purpose.
Atakan Efe is a freelance translator and content writer. He is interested in language learning and linguistics, especially in subjects like etymology and constructed languages.