Social networks and media are regarded as a popular way to communicate, share minds, discover new opportunities. Apart from this, a contemporary and totally new app was launched in 2010. Pinterest is the modern way to find necessary information, share ideas and hone your business.
Can you enrich your digital marketing using Pinterest? Of course, Pinterest is not only the place to find nail ideas or backgrounds for your mobile phone. Nowadays, Pinterest is a wide community of people with different interests and useful ideas.
Why is Pinterest Good For Digital Marketing?
Digital marketing is related to brand dissemination, increasing visitors to your online website, an extension of your audience, and increasing the business rates. Could Pinterest deal with it? Under the reports of CNN Business, Pinterest attracts 300 million users monthly. It is the number of users you are missing. It would be great to attract such a number of people to your activity.
Pinterest works with the words "pin" your "interest". It means users can find what they like and need and pin that information on their boards. This network is absolutely free, so the usage is unlimited. It attracts more people every year.
Given Pinterest's popularity, the number of accounts is great. You may see different content there. More popular accounts have more subscribers indeed. How can subscribers use accounts about digital marketing on Pinterest to broaden their business?
Check the list of the most useful and popular accounts about digital marketing
Subscribe to all of them
Review the news every day
Pick up nice ideas and save them
Implement useful issues into your business
Aspect Of Digital Marketing In The Pinterest
Digital marketing represents a wide sphere of interests. There are a lot of components. Can Pinterest cover all of them? Or what can you find on the top 10 accounts?
SEO
SEO or searching engine optimization is the essential part of digital marketing. Pinterest has a lot of accounts, where you will see the primary and advanced methods of SEO creation. Keywords help to find the needful audience for the brand development.
Social Media
Social marketing is the modern way to advertise and develop the brand. No wonder social marketing is the most popular part of digital marketing on Pinterest. Make sure to get the best there.
Content Marketing
As a part of digital marketing, content is one of the most important. Check on the Pinterest top accounts how to get more visitors. The clear content and specific tricks will help you to get more attention in your work.
The best strategies from the providing specialists are on the top 10 Pinterest accounts.
Top 10 Accounts About Digital Marketing
The narietu of offers on Pinterest can hesitate you during the choice of the best digital marketing accounts. If you are a marketer and want to get helpful ideas, follow the recommended accounts. They will prove your expectations. There is a list of perfect boards, accounts, and profiles you can follow to find interesting tips and information about digital marketing.
It is one of the most popular pages about digital marketing in general. The account has more than 50 000 visitors monthly. The owner of 007 Marketing is Daniela. She has provided not only information about marketing but also how you have to use Pinterest to make your business better.
Needless to say, Daniela makes about ten new colorful and easy to understand pins every day. Get to know about the logo trends in 2021, the various digital marketing strategies, and digital transformation stages in one click.
Famous marketers use this profile to pick up new ideas, profitable strategies. Follow Daniela to know more about trends in all spheres of digital marketing. 007 Marketing is the most popular page about digital marketing on Pinterest.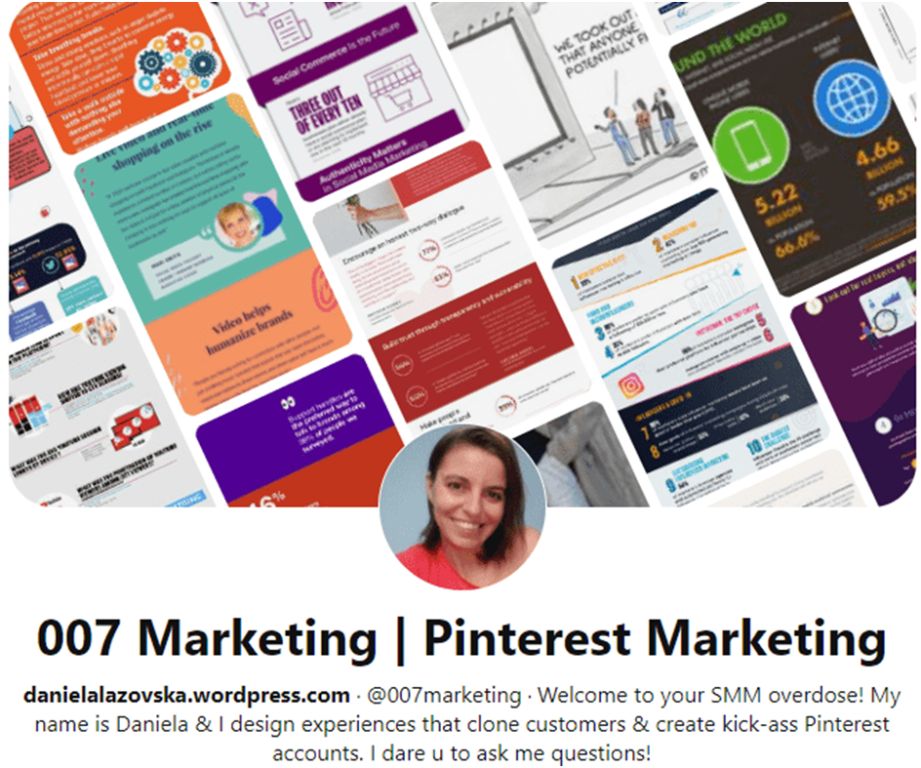 Sandra Jay Clayton is a famous strategist in business and branding. In her Pinterest account, she shows helpful tips and ideas for digital marketing. The account is evolving all the time.
Apart from this, her boards include different components of digital marketing:
There are a bulk of interesting ideas for people who are new in the marketing and start all from the bottom.
Are you going to become a famous blogger? The conversion-minded profile will tell you how to make the first steps, what to do with the post and how to attract more followers.
Social media. The needful social media tips will tell you about the new mainstreams and media calendar. Keep them under the hand to be sure.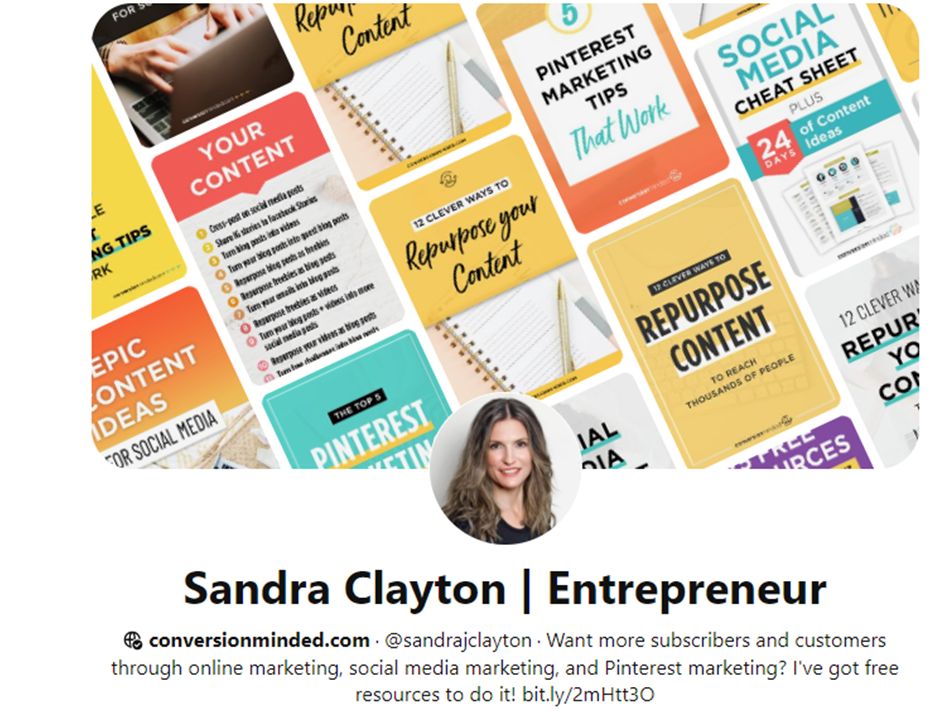 What is the best in organizing your digital marketing? CoSchedule account will not only tell you what it is. You can see the working examples, read the comments, and ask something. CoSchedule informs the users about the best tips to save time and refocus on the important stuff.
There are a lot of calendars and useful articles from the blogs. The straightforward design allows seeing the title of the article. Follow the link to read about it. Learn more about social media content calendar, digital asset management, marketing leadership, and so on.
The last argument to follow this account is the 2 million visitors monthly. Stay popular on the market with the best tips and actual information from the CoSchedule.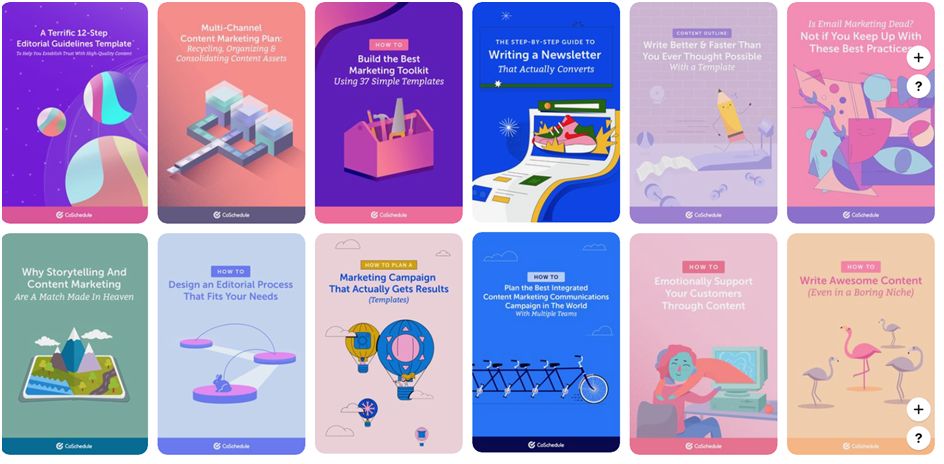 Search engine optimization or SEO is an important component of digital marketing. Yoast account is the perfect choice for users who want to know all about SEO. Yoast is perfect for newcomers and experienced people as well. It covers all tips from easy to advanced users.
If you want to find the infographic to get into the SEO world, the Yoast will not help you. As an experienced account, it offers followers to read easy and understandable articles. Pin the links and read them in your free time.
The special attention is worth the colorful and cartoon-like design. There are perfect photos, which bring positive flows. Read the Yoast account to become a popular and professional SEO specialist.
Digital Information World's account has an enormous variety of trendy facts. On that bulk of the helpful topics users appreciate most of all facts about:
Social media. Infographic content.
Digital marketing, Infographics, and articles.
Content marketing pictures.
The Digital Information world provides followers with facts about storytelling, chatbots, Twitter important, or Facebook news. The number of visitors is around one and a half million per month.
Users appreciate the digital information world for different types of content stuff, topics from social life to business updates. The considered accounts are the separate world of digital news. Follow it to stay trendy and provide modern strategies and ideas. It is better to open an interesting account and see all the newest updates than browsing on your own.
The title of the website is not connected to the content. Red Website Design has only one board for revision. It is about business and marketing infographics. Only with one board, the Red Website Design has many subscribers and a high number of visitors.
Suppose you are looking for social media trends, reliable ways to boost the number of visitors and customers. In that case, you should follow Red Website Design. 2 million people visit the website monthly to take advantage of it and improve their digital marketing skills.
Red Website Design is one of the exciting accounts with interesting topics. Follow it now to get better results tomorrow.
Are you a blogger, owner of the business, or an amateur in digital marketing? Do you like social network marketing? Visit the Tailwind to get more skills and knowledge about social marketing.
The popular way of developing business is the Instagram and Pinterest promotion. To gain more popularity, read the pins on the Tailwind. There you will get how to start an activity, renew the old accounts and attract more people.
Tailwind gives the recommended schedule to public stories, advertisement secrets to becoming well-known, and ideas for smarter marketing. Find more information on the page. More than ten millions successful people find interesting and useful facts on the Tailwind. Would you join them?
Visually is about the perfect infographic design. Thousands of ideas are waiting for you. Apart from this, content marketing explosion, trendy improvements for 2021, and many other useful facts reviewed on the Visually.
The best about Visually is the science of visual content. To get readers and customers, you need to make attractive and colorful infographics. The Visually offers blogs and fascinating free accounts, which will help you make your digital marketing fabulous.
This Pinterest account encourages people to work smarter, but not more challenging. How is it possible? Stay in contact with this account to get fresh ideas in digital marketing.
Online digital marketing calendar, working strategies, QuickBooks, and checklists are already on the Constant Contact account. Find out more about fruitful issues on the Constant Contact page.
MCNG is a perfect Pinterest board. Vincent NG directs it. The main target is to increase sales and the number of visitors. An account provides the information that users, after visiting the MCNG Marketing, increased the sales by 14% and visitors by 42%.
The MCNG Marketing provides only the primary information you need. Read the blogs, view informative infographics to get success. Follow the MCNG Marketing to see the better result in the next month.
How To Use Pinterest For Digital Marketing?
Now you have a detailed list of the top 10 accounts about digital marketing. Given the significant amount, it is easy to lose attention in the amount. How to make sense of following the top 10 accounts about digital marketing on Pinterest?
1.   Captivating Content
The top accounts for digital marketing have captivating infographics and phrases. As a rule, users open one pin, then follow the other below that, and so on. It is a big mistake. When you are looking for something, follow your target to get better results,
Do not let down attention to the pins, which are not for your business. The other important step is the quality of the pin. The considered top accounts are popular, but there can also be both cool and low-quality pins.
What is an excellent digital marketing pin?
Quality photo. Make sure the image is right, and you can understand what is going on there.
Descriptive pin. From first sight, you have to understand what you are going to read.
An immense amount of likes. Interesting pins are popular, so review in the first turn what users like most of all.
2.   Organize Your Board Carefully
As you see, the number of top accounts is significant. There is useful content where you may lose your head. Of course, it is a trick. By the way, rationalize your pins to sort the pins you save. Then every time, you may return there and review them one more time.
It is principal to use new pins. Follow the accounts and see how the strategies change a lot. Every day recent trends and improvements come to the website. To get success in digital marketing, you have to work all the time. You have to check the accounts all the time. Review the newest updating all the time to stay trendy.
Final Thoughts
Every drop of water has its role in the ocean. Pinterest is like the deep ocean, where pins appear all the time. Digital marketing is the new and modern sphere, which is at the pick of development right now.
Even when you read this article, new ideas about SEO, content improvements and strategies appear on the top 10 Pinterest accounts. Use 007 Marketing, Digital information world to know about the general updates in digital marketing. Talking about specific components, Tailwind and Constant Contact will help you.
Just follow the top 10 Pinterest accounts and recommendations of use for digital marketing to gain success.