With smartphones and the internet being more accessible, more people are using social media. As of 2017, 71% of netizens were using social media platforms. Social media is one of the best channels for connecting with people regardless of their location. So it gives them an online channel for socializing.
It also enables brands to reach out to their followers and share informative content about their businesses. This helps them increase brand awareness and gain new followers, as well as engage their existing audiences.
Today, it has become a necessity to include social media as part of your marketing strategy. You can use social media to boost your engagement rate, promote your brand, and increase visibility. Especially for businesses that are running on shoestring budgets, social media is the best possible option to promote their brands.
You need to create high-quality, relevant, and effective content for your social media profiles. However, make sure that the content is not too promotional or pushy, as it can make your campaign less successful.
Here are four of the most effective low-cost ideas to promote your business on social media:
1. Leverage Your Employees as Brand Advocates
Who better to talk about your business than your own employees? They know your business in and out. So, you can leverage your employees as brand advocates and motivate them to promote your products or services on social media.
You could implement an employee advocacy program as part of your social media marketing strategy. Enable your employees to share relevant business stories with their networks on social media. It will help you gain the trust of your customers and you might get new customers as well.
You can give them basic rules and instructions about what and what not to post about your business on social media. You can also organize a training session on some of the latest social media trends and best practices. So they'll have a better idea of how to promote your business and increase engagement.
For instance, in the screenshot below, Sue Siegel, an employee at GE, talks about General Electric on her LinkedIn profile. Similarly, you can also ask your employees to promote your business on social media.
Image Source: LinkedIn
2. Leverage Influencers to Talk About Your Product
Other than your own employees, you can also collaborate with influencers and ask them to talk about your products on social media. Usually, influencers have huge followings so you can leverage them to reach a bigger audience. Make sure you identify a relevant influencer and invite them to review or talk about your product or services.
However, you need to make sure that you select relevant influencers to promote your business. To make the job easier, you can use tools like Grin to find relevant influencers for your business. There are filters like location, engagement, niche, etc. to narrow down on the most relevant brand influencer.
Marques Brownlee is a huge tech geek with 8 million subscribers on his YouTube channel. He reviews and talks about all sorts of new technology and gadgets on his videos.
Samsung collaborated with him and asked him to review and talk about the new Samsung Galaxy S10 on his channel. The video was viewed by more than 8 million people.
Image Source – YouTube
3. Use Facebook or Instagram Live Videos
87% of businesses use videos as part of their marketing strategies. 35% of businesses have used Facebook Live Video, out of which 74% of them reported success. Also, 36% of marketers have stated that they plan to use live video as a marketing tool in 2019.
Are you leveraging the power of live videos on social media already? If not, then it's high time you do. You can use live videos to announce an event or introduce a new product or service. You can also use live videos to give a quick demonstration of the product you're introducing.
This gives you a chance to interact with your customers and followers live and answer their questions. Live videos give you an opportunity to make your loyal customer feel like part of your events, even when they cannot attend in person.
To organize a live video, all you need is a good camera and quality content. Speaking of high-quality camera, if you have a small budget, you can use your mobile as well. Live videos are one of the most engaging and cost-effective ways to promote your business on social media.
For example, Gucci recently participated in Fashion Week 2019 and they broadcasted it live on their Instagram handle. Similarly, you can also leverage Instagram or Facebook to create live videos for your business.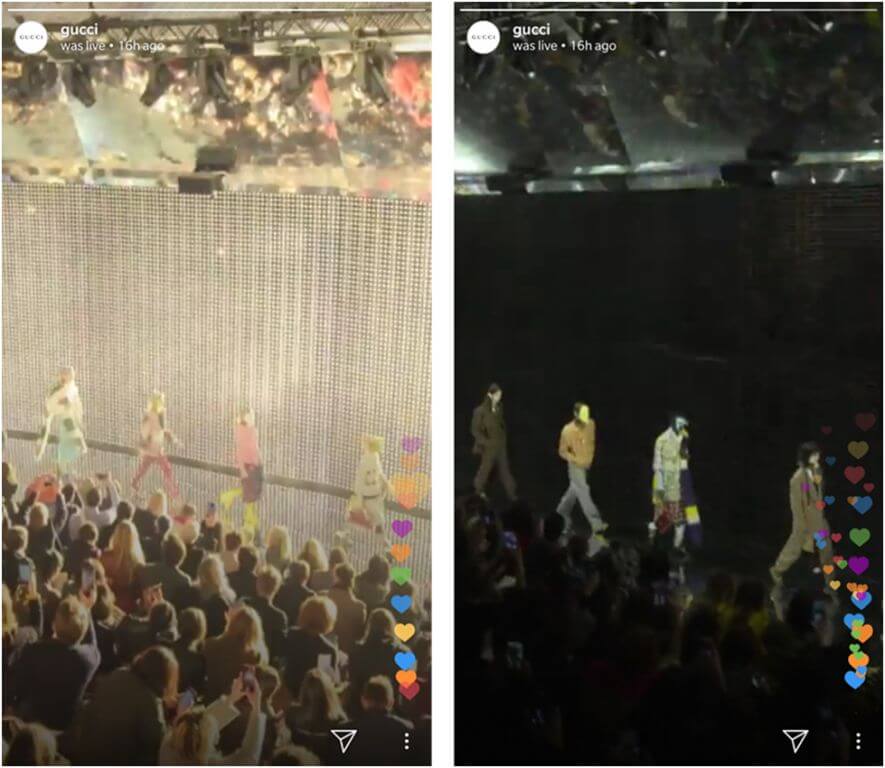 Image Source – Instagram
4. Organize Contests and Polls
Contest and polls are low-cost, effective ways to promote your business. They are also engaging. They can help you get the attention of your target audience and motivate them to participate. So they give you an excellent opportunity to interact with your customers and increase your engagement rate.
Running a contest or organizing a poll is a very subtle way of promoting your product without being too promotional. Polls and contests can drive traffic to your website. Keep them simple and fun to get more people to participate.
Social media polls are very effective for getting feedback for your business. You should design polls in such a way that it motivates your audience to visit your website. And with a contest, ensure that you offer a valuable giveaway or prize to the winner. This will increase the loyalty of your target customers towards your brand. This, in turn, will help you generate leads in the long run.
For example, Uber organized a poll and asked their customer to vote for a city which needs Uber Rewards. More than 350 people voted and 51% said that LA should get the UberRewards. In this tweet, Uber not only engaged with their online audience but also promoted their Uber Rewards plan.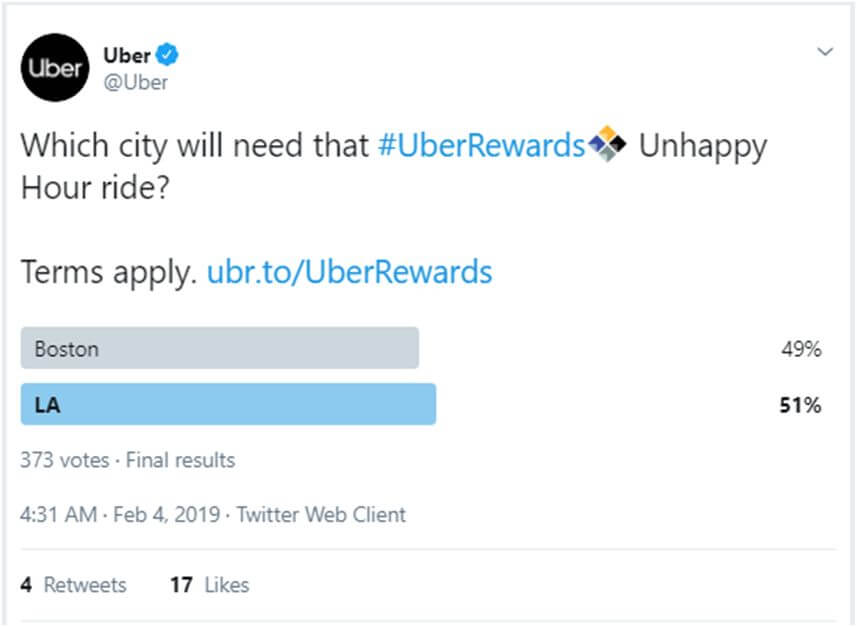 Image Source – Twitter
5. Use Relevant Hashtags to Gain Visibility
When you add hashtags to your posts on social media, it helps you gain more visibility. You can use relevant hashtags to promote your business if you are on a shoestring budget.
However, it's important to do some research to find the most suitable and effective hashtags for your business. Also, you need to make sure that the hashtags are relatable for your audience. Using the right hashtags will help relevant social media users discover you. You may even be able to turn them into new followers.
It is important that you use a mix of hashtags that are generic as well as ones that are unique. Stick to the combination of hashtags that works the best for you.
For instance, Walkers Crisps created a unique hashtag,"#WalkersPoppables" for the launch of their new product. Using this hashtag, the brand not only generated a high engagement rate but also promoted their new product. The brand also used some generic hashtags as well besides the unique hashtag. The post has garnered 4.7k views.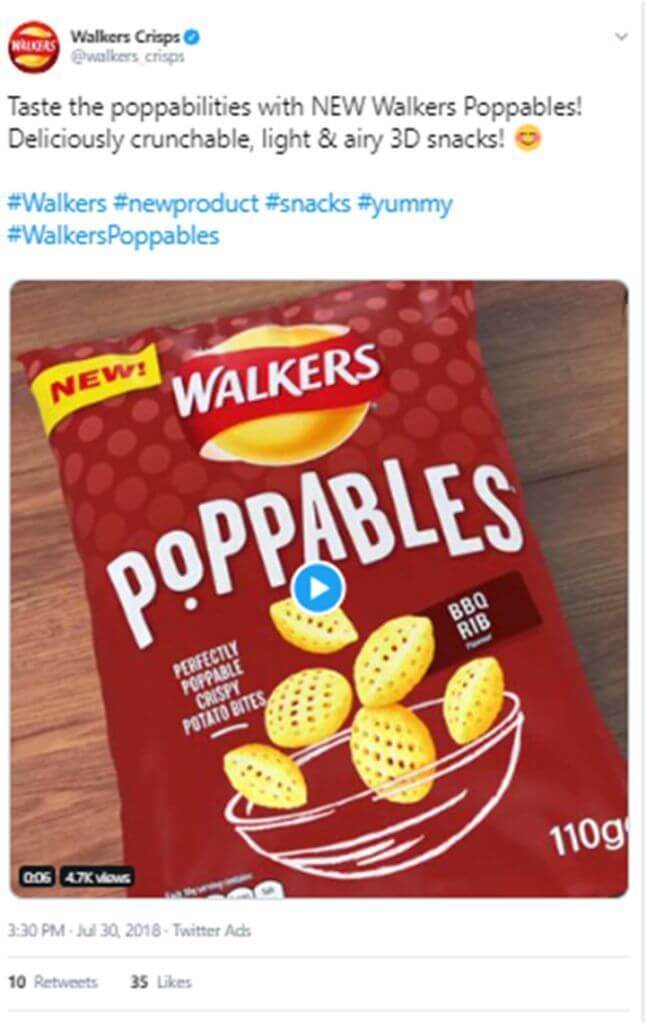 Image Source – Twitter
Final Thoughts
Social media has become a very powerful and integral part of our lives. When compared to traditional forms of marketing, it takes less time to reach out to a new audience. It helps businesses gain more visibility, engagement, and audiences. In addition to all of these benefits, it is a cost-effective way to promote your business.
So, it's time that you shift your focus from traditional marketing tactics to this cost-effective marketing channel. Just make sure that you use social media platforms where your target audience spends most of their time. Otherwise, all of your hard work will be in vain.
You can broadcast an event or launch a new product using live videos on social media. You can also implement employee advocacy programs and convert your employees into brand advocates.
Do you know any other cost-effective ideas to promote your business on social media? If so, feel free to share your thoughts in the comments.
Brian Mechem is COO and Co-Founder of Grin, a software solution for companies who run influencer marketing programs. Grin's software powers some of the best influencer programs in the world, providing insights on ROI and adding efficiency to the influencer marketing process.