No doubt, healthcare is one of the leading and fastest-growing industries; and has gained immense popularity during the pandemic and will continue to grow. According to the study, there is a 25% increase in healthcare app usage.
The Healthcare app market is rapidly growing, allowing both patients and doctors to leverage the app features.
Your healthcare app should be developed in such a manner that it should be loaded with features and should attract the user's attention.
In this blog, we will be discussing the best companies which you can choose for healthcare app development.
Types of Healthcare Apps
In the healthcare industry, there are different types of apps available in the market. Some of these apps are:
i) Medicine Delivery Apps
With the help of a medicine delivery app, you can easily order your required medicine and get it delivered to your doorstep without visiting any pharmacy stores. Some of the famous medicine delivery apps are Doximity and Epocrates.
ii) Wearable Apps
Nowadays, we can easily check our body movements through fitness watches. It can measure our blood oxygen level, blood pressure, body temperature, and breathing level. Some famous wearable apps are Fitbit, Apple watch, 7-minute workout, etc.
iii) Telemedicine App
Nowadays, no one wants to visit the hospital and have physical interaction with doctors. All thanks to the Telemedicine app. Now, patients can download telemedicine apps from the app store and consult a doctor for any health-related query.
Plushcare is one of the famous telemedicine apps you can download from the app store.
iv) Health & Fitness App
It is important to check your body's activities daily. With the help of a health and fitness app, users can check their daily activities like total calories consumed, walking distance covered, and sleeping activities.
Tracking all these activities by health & Fitness apps like Sworkit and C25K will help you to maintain a healthy lifestyle.
v) Wellness App
Your mental health matters a lot to maintain a healthy lifestyle. Wellness apps like CALM are the perfect solutions that help you to maintain a healthy lifestyle.
The app helps you in multiple ways like:
Specify your daily goals and keep track of your daily record.
Provide a complete guide on meditation.
You can buy meditation products from the app.
There are multiple blogs on meditation that will help you to enhance your knowledge.
vi) Remote Monitoring
Remote monitoring apps have been widely used to monitor patients' activity and send reports to the doctor. These apps were in huge demand during COVID-19. It is used to track a patient's pulse rate, oxygen level, and other body activities and send them to their concerned doctors.
List of 8 Best Healthcare App Development Companies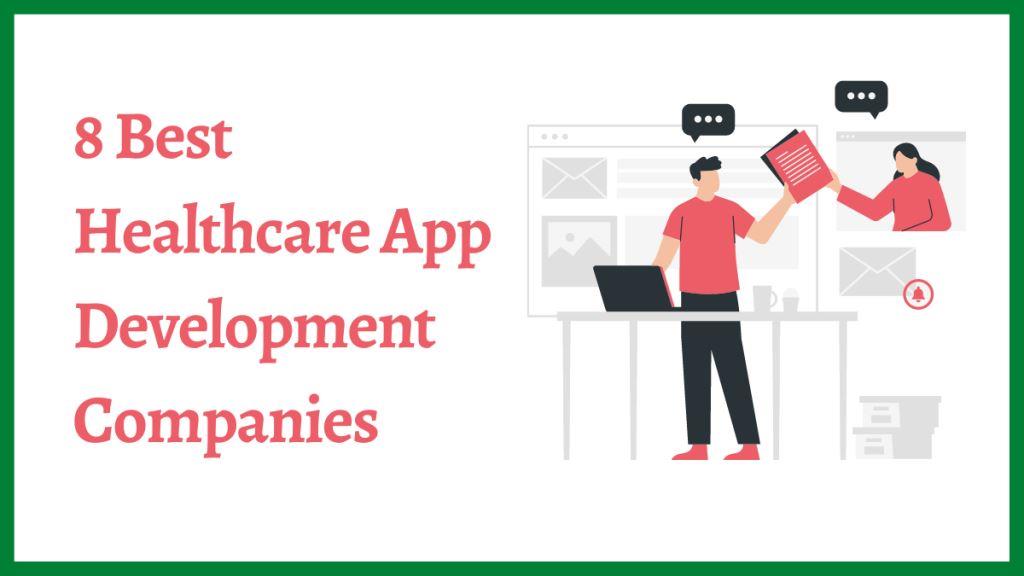 Though there are various app development companies in the market, we will be talking about the 8 best healthcare app development companies.
1. App Maisters
App Maisters is a leading healthcare app development company from Houston, Texas. It was founded in the year 2014. The experienced professionals have continuously worked with robust solutions to serve its clients by using various technologies like Artificial Intelligence, Blockchain, and many more.
The continuous workflow, cost-effective solutions, and on-time deliveries have made App Maisters receive various appreciation and feedback from clients.
Some of their successful clients are MontaPlast, LifeCare, AEON Global Health, etc.
Key Highlight
The minimum project size for app maisters is $5,000+.
The average hourly rate varies from $50 – $100
Works on the latest technologies like IoT, Business Intelligence, Blockchains, AI Technologies, Machine Learning, etc.
2. AppsChopper
AppsChopper is one of the USA's best and most innovative healthcare app development companies. It was founded in March 2011. Appschopper is a part of Webby Central LLC, which delivers world-class development and marketing services.
AppsChopper has been rated 4.8 stars with 96% satisfaction from app development services by over 250+ clients around the globe.
AppsChopper has delivered around 350+ projects in the last ten years of its successful journey.
Key Highlight
Developing an app that generates your revenue using the best monetization methods.
We develop an app that users love to use.
Our team tries to develop an app that tends to go viral.
3. Sparx IT Solutions
Sparx IT is an ISO 9001:2008 digital service provider serving for more than 14 years.
We provide a wide range of services, including mobile and web app development using the latest technologies.
Key Highlights
Sparx IT Solutions follows "Ideate, Innovate, Create.' The main mission of Sparxs is to bring maximum productivity with the least resources.
Sparx IT Solutions is one of the best healthcare app development companies. We always try to create sustainable solutions based on credibility, high quality, and the fastest delivery approach.
They always try to provide and work on future-oriented apps matching clients' requirements.
Till date, SparxIT has served more than 500+ brands. Some satisfying and leading brands are HP, D-Link, Necco, Vedanta, etc.
4. iTechArt
iTechArt is a health app development company from New York, founded in 2002. It has a team of 3500 experienced developers who deliver top-class projects to its clients.
iTechArt follows the "First, do no harm" principle in everything they do. While developing healthcare apps, they do follow security protocols like HIPAA and PHIPA, which are reliable working partners.
Key Highlights
Served more than 350+ clients.
Their hourly rates vary from $25 – $50, with a minimum project size of $25,000.
A new dimension of healthcare software development is integrated by iTechArt.
5. Appstem
Appstem is a software development company that aims to transform complex problems into elegant digital solutions. The company is located in San Francisco and was founded in the year 2010.
Key Highlights
Appstem has worked for some of the leading brands like Enterprise, Johnson & Johnson, Tesla, and many more.
The hourly rate for app stem varies from $150 – $200, with a minimum project size of $50,000+
6. CodigoDelSur
CodigoDelSur is located in Uruguay and was founded in the year 2007. CodigoDelSur deals in various business verticals, but their expertise is in medicine and healthcare. Apart from developing healthcare applications, Codigo also offers consulting services.
Key Highlights
The company has helped more than 200+ US-based startups and SMEs.
Codigo has min. Project size of $10,000 and hourly rates of $50 – $100.
7. Ready4S
Ready4S is one of the leading development companies in the USA. They have successfully delivered more than 120+ mobile application projects in the health and wellness sector. They are now operating in more than 30+ countries.
Key Highlights
Ready4S has min. Project size of $10,000 and hourly rates of $50 – $100.
Ready4S has been recognized with various awards for outstanding project deliveries and client satisfaction.
Some of the top clients are Coca-Cola and Sadly Care.
8. Mercury Development
Mercury development is another top healthcare app development company based in the US. They have a team of 200+ experienced professionals who tend to deliver top-class healthcare apps for their clients.
Key Highlights
Delivered more than 400+ projects till date.
Since 1999, its team has continuously worked hard to deliver the best healthcare services to its clients.
Some of the top clients are Grainger, HSBC, and DOW.
The above-mentioned are some of the best healthcare app development companies that offer top-notch healthcare app development services to their clients.
Conclusion
Apart from that, the above-mentioned companies are listed only after collecting reviews from different clients based on their different healthcare app development projects.
Undoubtedly, there will be huge demands for healthcare app development by different hospitals and healthcare institutes in the coming few years. Patients can easily consult a physician to diagnose their health problems from the comfort of their homes.
If you are thinking of developing a healthcare app for your business, you can hire a Healthcare app development company according to your requirements. Their team will assist you in the further process of your app.
Some FAQs on Healthcare App Development
Q. 1) How To Develop a Healthcare app?
Answer) Before you begin, you need to conduct research on your audience, business, and competitor. It will give you a clear idea about your business. After this process, you can look out for healthcare app development companies and hire which suit best for you.
Q. 2) How Much Does It Cost To Develop a Healthcare app?
Answer) To develop a healthcare app will cost you between $20,000 – $1,50,000 depending on the features, UI/UX, the platform you are choosing, and many more things are considered.
Q. 3) Why Do We Need Healthcare App Development?
Answer) Healthcare app development is needed to save patients and doctors time. They can take consultants online. All medicines which a doctor prescribes are available online and can be ordered from a healthcare app. All these things are possible; thus, healthcare development is required.6
Q. 4) How Much Time Does It Take To Develop A Healthcare App?
Answer) The app's development time is based on app size, features that need to be implemented, design, and the platform the client is choosing.
Steven Martin is a senior app developer at AppsChopper, who is not only passionate about coding, but also likes to share his knowledge via writing unique content. He is dedicated towards his work, and stays updated with all the latest technologies trending in the market.