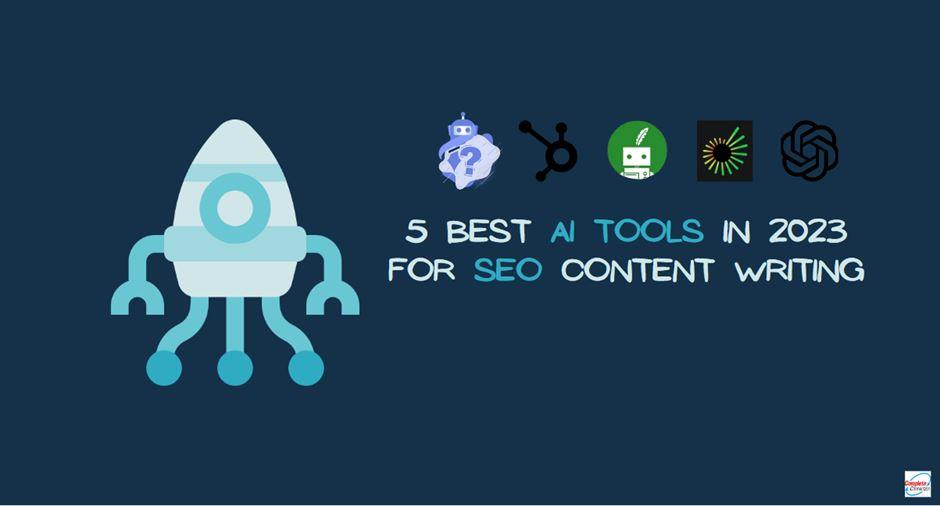 Both content writers and digital marketers must stay ahead of the curve in the dynamic world of SEO. Artificial intelligence (AI) is a crucial component in the SEO specialist's toolkit. It changes how information is produced, optimized, and ultimately ranked on search engines like Google.
Because of developments in AI, the industry of SEO content authoring has experienced a revolution. AI-powered tools now make it possible to manufacture well-optimized material with astounding accuracy and efficiency. The top 5 AI tools that have completely changed how we approach producing SEO content will be discussed in this article.
What is Content Writing?
The art and practice of producing written content for various platforms and purposes is known as content writing. It entails creating interesting and educational content that attracts the intended audience. Writing content can take on a variety of forms, including essays, blog posts, social media updates, and more.
The basic objective of content writing is to provide readers with worthwhile information. If it is being used for marketing, instruction, amusement, or any other reason. Writing content is essential for communicating ideas and increasing website traffic.
A key element of contemporary communication and marketing tactics is content writing. A skilled content creator adapts their writing style to their audience. To assure the accuracy of the content, they perform extensive research.
Top AI Content Writing Tools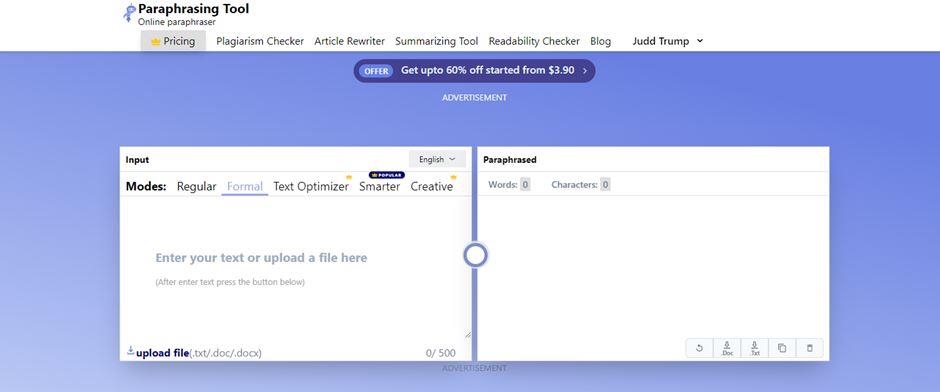 Paraphrasing.io is a cutting-edge AI tool created exclusively to improve the originality of text. This paraphrasing tool was primarily created to make writing easier. It changes the diction and syntactic constructions, resulting in fully original and error-free content.
The most effective sentence rephraser is paraphrasing.io. It carefully examines the provided content to comprehend the context before rewriting it.
Features and Benefits of Paraphrasing.io
To ensure that the text is paraphrased without mistakes or delays, this technology makes use of algorithms.
This tool may be simply located, accessed, and used by anyone, to paraphrase the material.
With regard to correctness and efficiency, this paraphrase tool effectively rewrites the content.
The ability to adjust the writing's tone and style is provided via four different rewriting styles.
You can choose from 15 different languages to rewrite the content as necessary.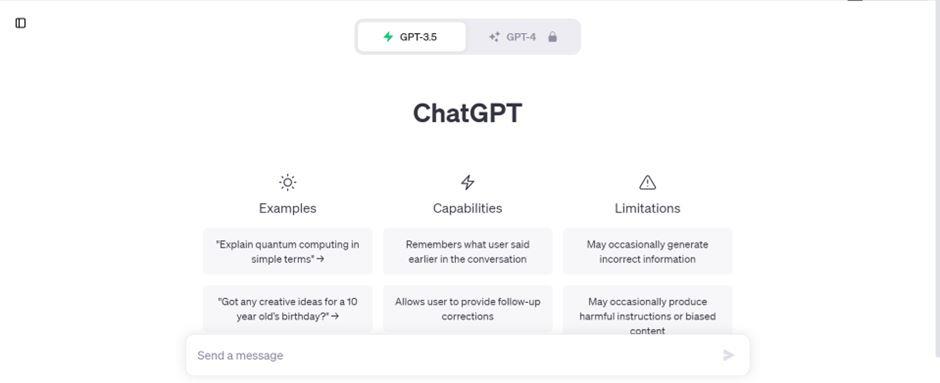 Powered by OpenAI, ChatGPT is a sophisticated language model. Based on the given instructions, it is intended to produce language that resembles that of a human. It makes use of the most recent advancements in NLP to create content that is both extremely entertaining and pertinent. ChatGPT, an AI tool, has remarkable features that change the game for SEO content creation.
Features and Benefits of ChatGPT
ChatGPT excels at encouraging creativity. It gives content creators the tools they need to create interesting blog articles, and catchy headlines.
By smoothly incorporating pertinent keywords into the article. It ensures that the text generated precisely complies with your SEO strategy.
This AI program is knowledgeable about language rules and style guidelines. It ensures polished, error-free articles that appeal to your target market.
Comprehensive topic research is possible using ChatGPT. It maintains the highest accuracy level while saving writers time and effort.
ChatGPT caters to a global audience and opens up new global markets by supporting many languages.
According to user preferences and behavior, ChatGPT customized content. It gives website users a tailored experience while increasing user interaction.

Another outstanding AI system that excels in paraphrasing and rephrasing existing content is QuillBot. This tool is tremendously helpful for creating original and unique material. Its sophisticated algorithms guarantee that the content generated is both original and readable.
QuillBot aids in the creation of new content and works to improve the general caliber of writing. Users can change the paraphrasing intensity to meet their needs. It is a priceless tool for content producers trying to cut corners without sacrificing quality.
Features and Benefits of QuillBot
The paraphrasing skills of QuillBot are unmatched. It safeguards your content's originality and preserves the search engine rankings of your website.
The tool provides numerous synonym options. It gives authors the freedom to experiment with new word choices, improving the text's overall quality.
The sentence-building skills of QuillBot are excellent. It makes sure that your writing is fluid, grabbing the reader's interest and improving readability.
The Word Flipper function in QuillBot makes it simple for users to change words and phrases. It presents content from novel perspectives and improves the user experience as a whole.
QuillBot is a useful tool for content curators because it can sum up lengthy articles.
QuillBot's user-friendly interface enables writers to create text and paraphrase it.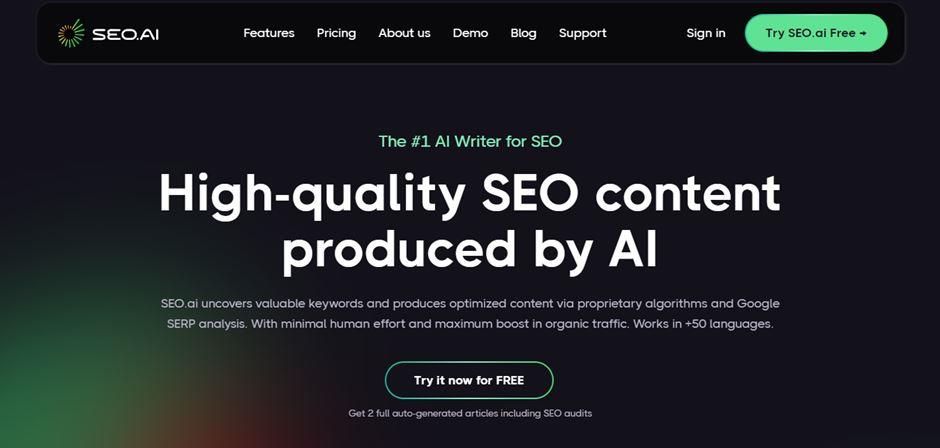 A ground-breaking AI tool specifically created for search engine optimization, SEO.ai, is revealed. Marketers may use data-driven decisions made possible by SEO.ai to improve and maintain their rankings.
It uses complex algorithms to evaluate keywords and provide helpful information. SEO.ai will create well-organized, keyword-rich material that properly complements your SEO strategy. The tool helps with content production and also monitors and tracks how well articles are performing.
Features and Benefits of SEO.ai
Deep keyword research is performed by SEO.ai. It finds low-competition, high-traffic keywords to efficiently optimize your content.
The tool evaluates competition tactics in-depth. It made it possible to surpass competitors in your niche and stay one step ahead.
ai finds worthwhile prospects for backlinks. From the viewpoint of search engines, it strengthens the legitimacy and authority of the website.
ai provides real-time recommendations for content optimization to increase visibility and engagement.
The tool conducts thorough technical SEO audits, identifying and resolving any potential problems.
The rank tracking offered by SEO.ai is precise. It enables you to track keyword placements and evaluate your SEO efforts over time.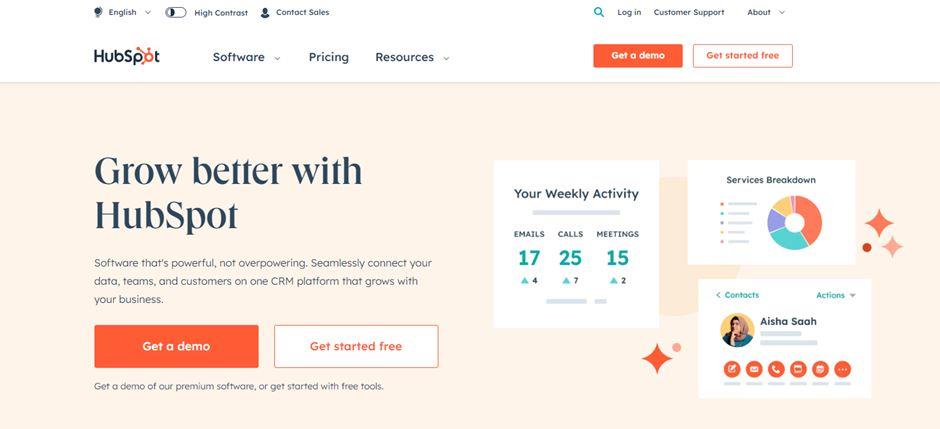 HubSpot is a complete content marketing platform. It offers a variety of AI-driven solutions to simplify the production, sharing, and performance evaluation of content. Businesses can efficiently attract, engage, and delight their audience thanks to HubSpot.
Features and Benefits of HubSpot
HubSpot provides strategic planning tools. This helps to create content ideas that are in line with your marketing objectives and target audience.
HubSpot makes sure that your content is search engine optimized so that it will appear higher in search results.
The platform offers distribution across numerous platforms and a common content calendar.
You can evaluate the success of your content marketing activities with the help of HubSpot's AI-driven analytics.
The software offers the ability to generate leads through well designed content.
Social networking platforms are smoothly integrated with HubSpot. It makes it simple to share material and increases your reach on social media.
Final Say
AI tools are becoming essential for generating SEO content as the digital landscape changes. The five AI tools covered in this article are at the forefront of supporting content producers and marketers. To enhance the user experience and search engine optimization of their content. You can considerably speed up the process of creating content by utilizing the strength of these AI tools. It boosts organic traffic and helps you outperform your rivals on Google. Accept technology, play around with these tools, and see how they can help your attempts to write SEO content soar to new heights.
Chris Mcdonald has been the lead news writer at complete connection. His passion for helping people in all aspects of online marketing flows through in the expert industry coverage he provides. Chris is also an author of tech blog Area19delegate. He likes spending his time with family, studying martial arts and plucking fat bass guitar strings.