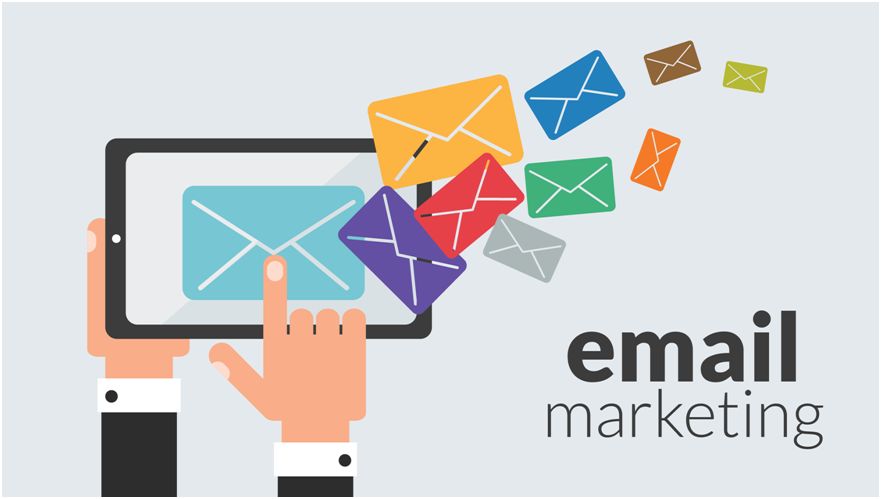 There are many e-commerce and digital marketing news that show the importance of email marketing. One study has shown that 52% of consumers use email as their primary source for information when making a purchase decision.
You have to remember, e-commerce is one of the most significant sectors in the online world today, so it can be hard to keep up with this constant feedback cycle.
This article will showcase some of the best email marketing platforms for e-commerce you have to check out in 2022 and beyond. As always, make sure you give them a read and see if they fit your business model.
List of the Best Email Marketing Services
1. Moosend

Because of the diversity of capabilities it offers at a moderate cost, Moosend is the ideal email marketing service for e-commerce.
The platform offers a comprehensive drag-and-drop builder for designing email campaigns and a range of responsive email templates that help you craft successful campaigns.
Apart from that, Moosend also allows you to preview your campaigns on various devices to ensure that they always appear perfect.
Advanced email automation features are also included, allowing you to automate marketing campaigns, segment your email list, and provide hyper-personalized content to convert your audience.
The real-time analytics and reports will also assist you in evaluating the performance of your emails to improve your marketing approach.
Best Email Service Features
Email newsletter software with responsive designs.
High-converting landing pages to increase your lead generation.
Design subscription forms that complement your website.
Reporting and analytics: track and analyze campaign results.
Connect your favorite apps to boost your productivity via integrations.
Moosend Pricing
With Moosend, you can develop forms and send unlimited emails to 1,000 subscribers by signing up for a free account. Their subscription plans start at $8 per month and include extra tools such as the landing page builder.
2. Constant Contact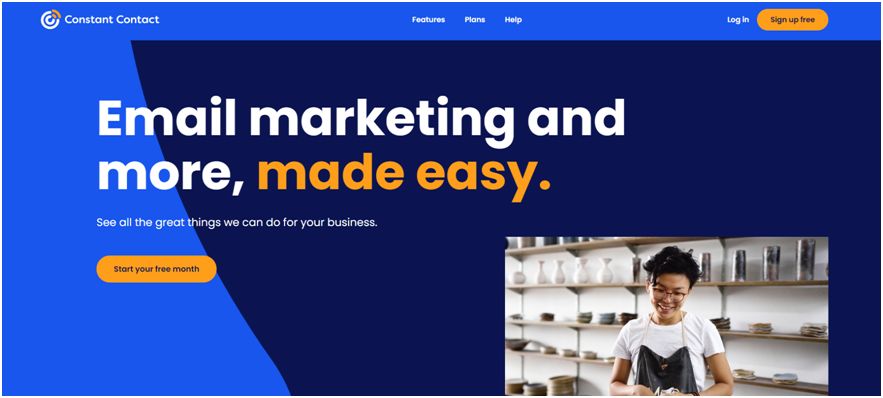 Constant Contact is a marketing automation and email marketing tool that helps organizations improve their ability to acquire, convert, and retain consumers using email and social advertising. The tool includes a variety of drag-and-drop email layouts as well as many contact import options.
Users of Constant Contact also have access to smart event management tools, social networking capabilities, and a number of resources to help organizations succeed with their marketing efforts.
Users can target and send a series of personalized emails to contacts in a series, resend to those who didn't open emails the first time, and more with its marketing automation tools.
Businesses may monitor advertising results over time and discover which contacts are engaged thanks to detailed data.
Constant Contact also has a mobile app that allows company marketers to create and send emails directly from their phones. It has email tracking features, allowing users to monitor and track the performance of sent emails while on the move.
Best Email Service Features
Event invitations, vouchers, surveys, and polls
Create and capture leads using an online form builder.
"Resend to Non-Openers" options that are automated
Ads and insights on Instagram and Facebook
Integrations with social media and more
Constant Contact Pricing
A 60-day trial is available for Constant Contact. Nonetheless, depending on the number of users, the website offers two paid options starting at $20/month.
3. Mailchimp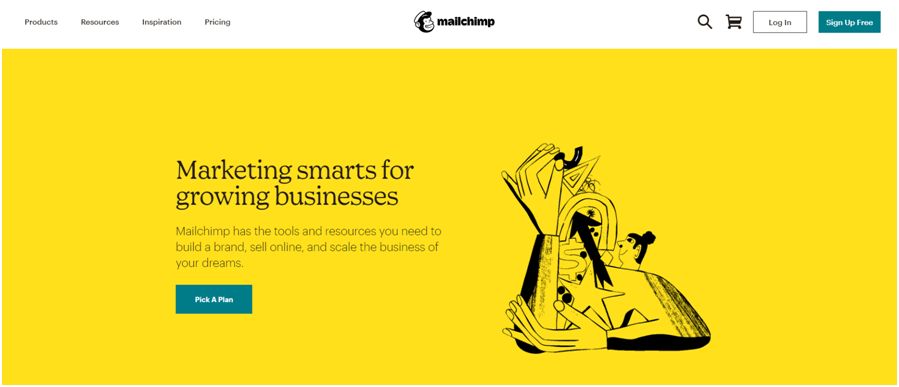 Mailchimp is a well-known name in the email marketing industry. Mailchimp empowers organizations with its easy-to-use controls, extensive template library, and robust integration and automation capabilities.
Other components of small business marketing, such as automation and customer relationship management (CRM) features, are now being included in the company's expertise.
Mailchimp's most recent updates have expanded to include domain name search and hosting, as well as website design, all while staying inside their recognizable product architecture.
Overall, Mailchimp provides a wealth of excellent email marketing and marketing automation tools. However, it may not be the ideal option for new business owners that want to move their customers quickly through the marketing and sales funnel.
Best Email Service Features
Targeting based on advanced segmentation and behavior
Cross-device email testing.
Increase your lead generating efforts with landing pages.
Integrations with popular apps.
Mailchimp Pricing
Mailchimp has a free plan with a limit of 2,000 contacts per month. However, if you send more than the allotted amount, you will be charged extra. The Essentials package from Mailchimp starts at $15 per month.
4. SendInBlue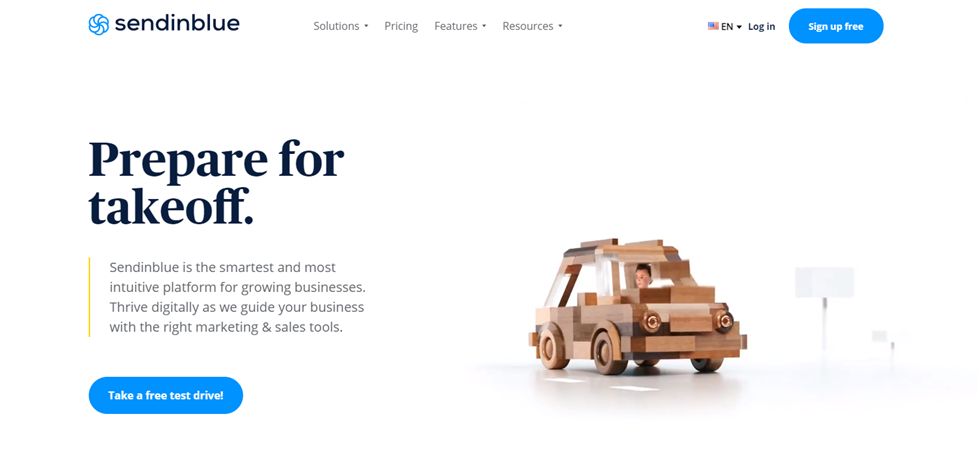 SendInBlue is a single email marketing solution that integrates email and SMS marketing to send transactional communications via email and SMS.
The platform has a drag-and-drop email builder that allows you to generate HTML templates when it comes to email marketing.
Like the rest of our solutions, this email marketing software allows you access to email automation, enabling you to customize your automated workflows.
You may also segment your clients based on demographics or lead scores and manage your email list by importing, exporting, or modifying your contacts.
In addition to email marketing, SendInBlue will provide you with SMS and landing page services to help you engage with your audience and generate leads.
SendInBlue is on our list of best email marketing software because of its email outreach and SMS marketing features, which allow brands to target their audience better.
Best Email Service Features
Drag and drop email editor.
Options for sending SMS and autoresponder messages using SMS marketing.
A/B testing to see which aspects of a campaign convert better.
Email and SMS transactional messages
SendInBlue Pricing
SendInBlue also has a free plan but limits you to 300 emails per day to an unlimited number of recipients. Paid options begin at $25/month for the Lite, which increases the number of emails you may send.
5. ActiveCampaign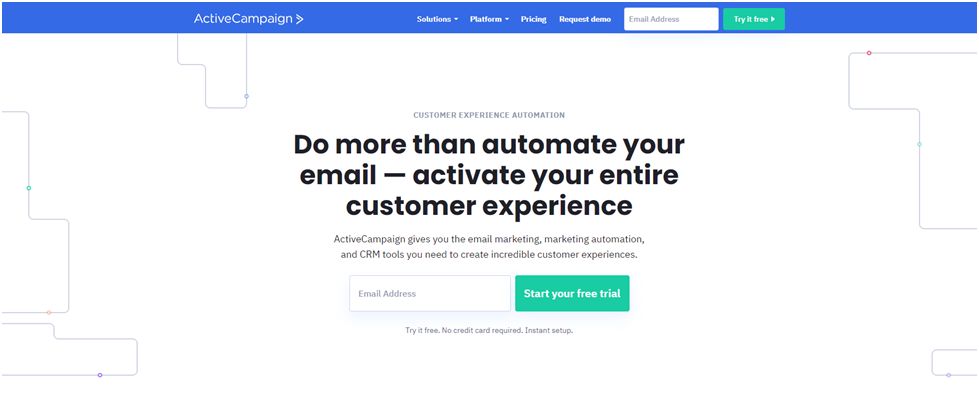 Another email marketing program that is well-known for its marketing automation is ActiveCampaign. But, before we get into its unique features, let's take a look at how well it works as an email marketing service.
The email builder is simple to use, making it easier than ever to produce a newsletter. Additionally, the email marketing software gives you various templates to help you with the email generation process.
Not only that, but the platform allows you to make the most of your contacts while using ActiveCampaign's CRM system. You may make appointments, DM contacts, and use labels and notes this way.
The event tracking feature is also helpful for keeping track of particular actions that your contacts have taken. You may tailor your content and make your marketing messages more effective by sending data from those actions to your email marketing platform.
Overall, Active Campaign has sophisticated automation tools that are ideal for experienced email marketers. However, unlike other ActiveCampaign competitors, the tool may be difficult to use when creating simple sequences.
Best Email Service Features
Hyper-personalization options for event tracking
A user interface that takes you step by step through the process.
CRM built-in to make the sales process go more smoothly
A wide range of integrations to boost your productivity
ActiveCampaign Pricing
ActiveCampaign offers four premium options starting at $9/month, including email marketing, web forms, automation, and more.
6. Benchmark Email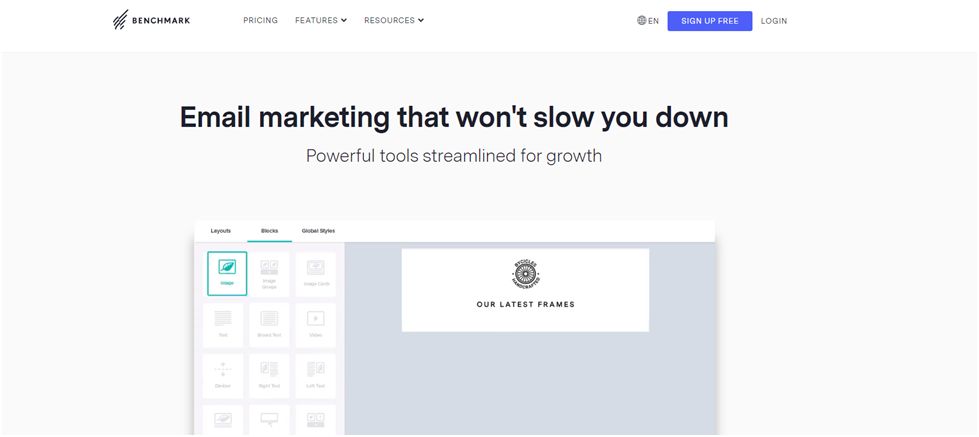 Benchmark is one of the email marketing providers providing multilingual customer support and a drag-and-drop email editor.
You may update your pieces by clicking on them in the email builder, and the built-in image editor lets you discover and add photographs on the fly.
Benchmark will also provide you with critical customization to boost your click-through rates. The "preview email" feature is similarly handy, although it does not include a mobile device preview.
Best Email Service Features
Create newsletters using a simple drag and drop email builder.
List management and tools that help you keep your list clean
Automation that is triggered by email interactions.
Support is available in various languages by live chat, email, and phone.
Benchmark Email Pricing
Benchmark Email's free plan allows you to send 250 emails to an unlimited number of recipients. There are two premium subscriptions available for the tool: a Pro plan that starts at $13/month and an Enterprise plan that starts at $23/month.
The Takeaway
Email marketing is one of the most underrated marketing strategies available, but with the right tools, you can skyrocket your business.
I hope that this article has been of great assistance to you in your search for the right email marketing tool to boost your email marketing strategy and take your marketing game from good to great.
Of course, many more email marketing services may be considered the greatest, and everyone has their personal favorite.
Choose the platform that suits you best, and until the next one, keep sending.