As the digital landscape keeps evolving with new businesses popping up online, e-marketers have to keep updating their methods with the latest tools at their disposal.
When figuring out the value of any application, such as a social media management tool, there are multiple factors at play.
For some of you, there might be a preference for certain features such as social media automation and listening. How do you then discern between all the tools that have these and more?
A simple 3-step diagnostic can help form the basis of your decision on what is the best social media management tool for you:
Integration Abilities
With several social media networks incorporated in your digital strategy and possibly various tools for their analytics, it becomes vital to check out the cross-play functionalities of social media management tools.
Certain applications might be focused on one specific network with a depth of functionalities, but it's worthwhile to see if your existing systems speak to another.
This is why it's critical to find that one solution or set of solutions that work best for your online practice.
Scope of Features
As we discussed earlier, features of certain functions might be useful to you more than others.
You might have a greater focus on predictive analytics than on response rates, so you need a tool that caters to that specific function only.
Depending on perspective, the problem/good thing about the tools of today is how each is trying to become a 1-stop shop for all social media needs.
This means that breadth of functionality is what you will usually find in most tools, but make sure to take notice of ones that offer depth in particular functions that you prioritize the highest.
Can You Afford It?
Every quarter, a marketing manager somewhere has a crisis on their hands, which is typically related to the same issue: Budget.
For small marketing agencies and businesses across the world in this turbulent economy, the cost is a significant issue.
This is why you should always consider the long-term cost of an application and system before purchasing one.
Auxiliary costs, such as support/maintenance fees, come hidden in certain apps and hit when you least expect them, so watch out.
Weigh the benefits and value that you're getting for the price you're paying to ensure that you picked the right product at the right cost.
Get the right fit by choosing from this list of the best social media management tools of 2023:
A highly promising Social Media Management Tool with support for multiple platforms and a booming user base.
If you're looking at value for money, all-in-one functionality, and customer support, this tool is your best bet.
Keeping teams in mind, SocialBu serves as a multi-functional tool with automation, publishing, scheduling, and other features for all the major social media platforms. (Facebook, LinkedIn, Instagram, Twitter, and Google My Business).
With Instagram posts, it also schedules Instagram stories, alongside monitoring of any and all hashtags/keywords chosen for your brand. It also enables you to do Twitter thread scheduling, and generate reports and insights.
Their 24/7 customer support, fully dynamic automations, Scheduling from RSS are a few of the features that differentiate this tool from the herd.
Its mobile application and chrome extension make social media management more convenient and fun.
With these features at hand, you can tap into the sentiments of your audience and keep them engaged, effortlessly.
Single, Convenient Point of Access for all Social Media Marketing features on multiple accounts.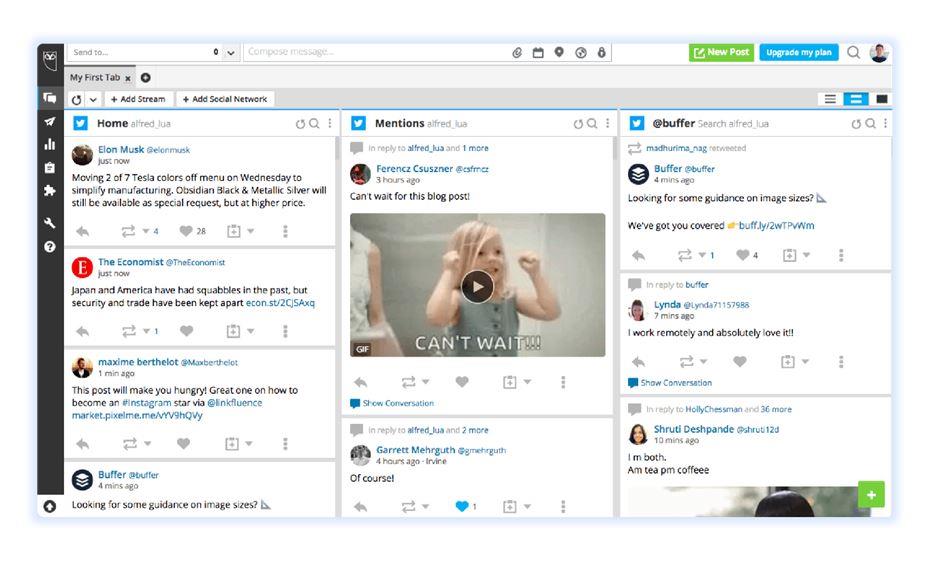 With their Active Cloud Technology, Hootsuite differs from others by enabling social media managers to manage hundreds of accounts and terabytes of data, all at once.
The need for this service arises, especially when media-heavy Content is to be scheduled and other services' limits are reached, or they are unable to handle the files.
Hootsuite (Chrome Extension) grants instant post sharing directly from the browser onto any chosen social media account.
Their Business / Team / Pro account types offer multiple layers of functionalities, according to your brand's needs.
A veteran in the social media management game, with streamlined functionality and layout.
Oomph allows any number of posts (even created for other platforms) to be bulk scheduled through a simple, direct upload from your PC.
You can even set up an RSS Feed to have its Content scheduled for upload on your social media handles.
They were also one of the first tools to pioneer the self-destruct feature for social media posts. With it, posts that are old and/or repeated often are automatically deleted so that your audience isn't irked by any stale content.
One of the few tools that allow true automation in Scheduling of posts, partially or entirely eliminating repetitive & manual efforts.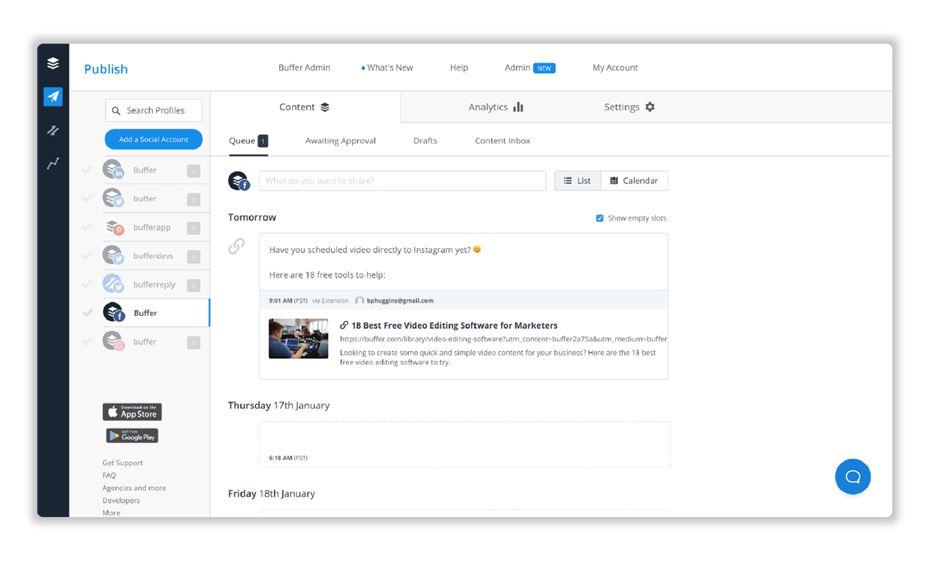 Offering compatibility with Facebook, Twitter, Pinterest, and LinkedIn, Buffer is a versatile scheduling tool that allows for maximum ease of use with its modern design.
Through their Chrome Browser extension or Scheduling of Posts through Calendar, it is a smooth and quick process to get your Content out there.
You can have teams of up to 25 members reviewing posts individually or collectively, with approved admin access for power users.
The Specialist of Monitoring in the field of Social Media Management.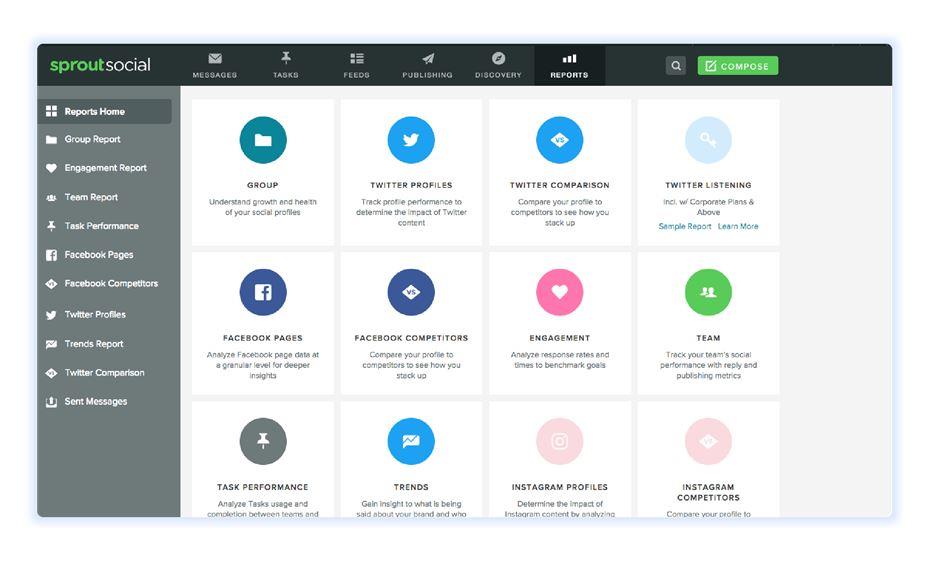 The title of specialist for this tool comes from the context of sophisticated features such as Advanced Listening, providing actionable insights and intelligence on the fly.
These come in the form of data for demographics, campaign performance, sentiment, and trend analysis. Such features can be applied to form a comprehensive arsenal for competing with the best out there and gauging your own performance, in the meanwhile.
Their Social Media Analytics are compiled from multiple platforms, delivering reports containing information about FB Impressions, LinkedIn Engagement, and even Instagram Impressions.
Made for Visual Content, Tailwind focuses on the visual mediums of Pinterest and Instagram for a depth of functionality.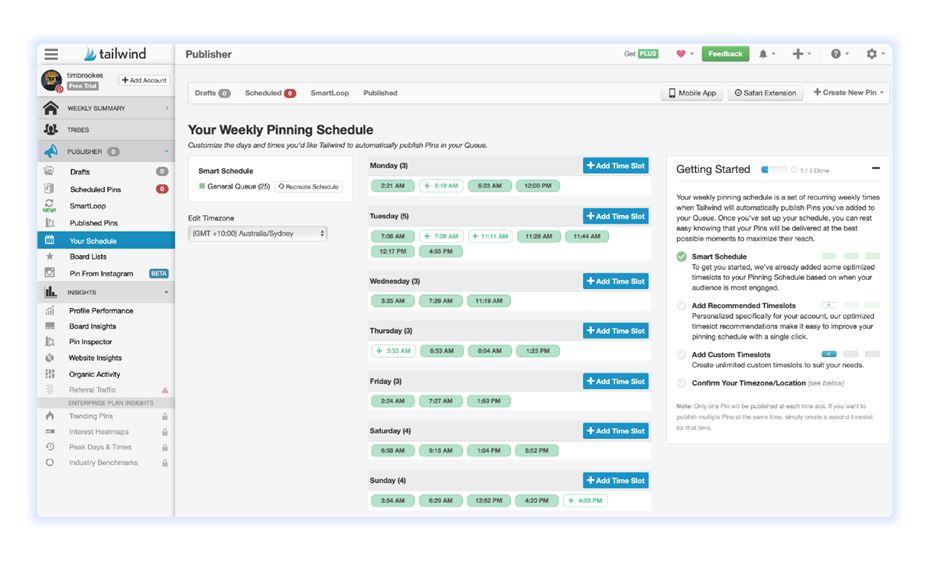 With many restrictions on its API, Instagram has become a problematic platform for the provision of 3rd party functions. Since Tailwind is a verified partner, there is no issue in Scheduling and posting directly on Instagram from their dashboard.
For interacting and developing posts, there are many features: Produce, Schedule, Pin, Clone, or Tag posts with ease on both platforms.
Content for these platforms can also be curated on Tailwind by sourcing visual media from multiple, miscellaneous websites.
Therefore, you don't have to keep on opening each source individually for selection. Adding to this convenience, you can even crop these posts with an override of Instagram's dimension's rules.
Similar to Tailwind in functionality, Mav sets itself apart with their Social Inbox.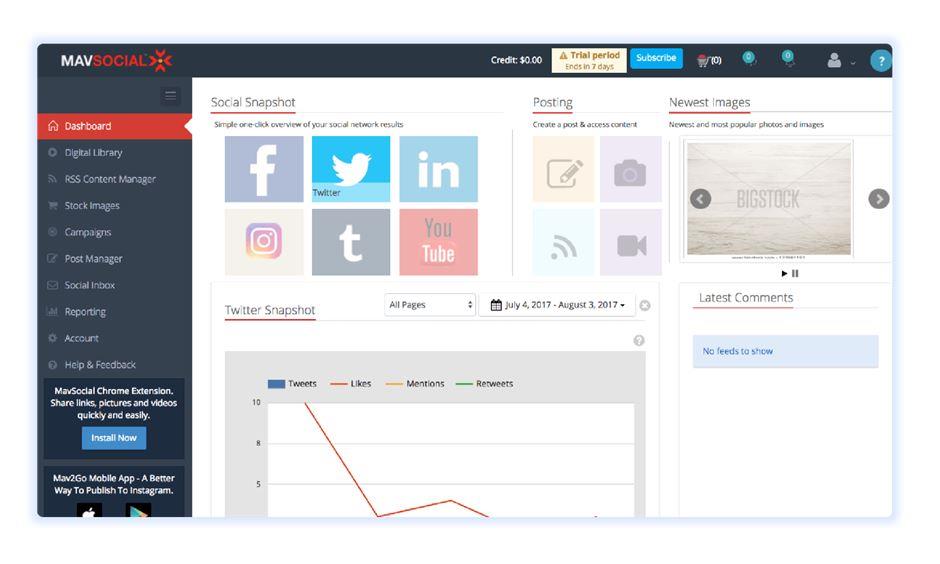 By distributing work from all platforms among members of the Social Media teams, managers can interact directly on this platform. No time is hence wasted on going back and forth with each platform or manually distributing work.
With Built-in Photo Editing, Stock Images library, and an RSS Reader, Social Media Handlers can quickly formulate a smooth stream of Content without moving away from the app, simply adding Content to Calendar dates from their Chrome Extension.
ME facilitates content development by providing the platform to create and edit posts to keep them fresh.
Once you group a variety of content types and randomize their order of publishing, ME will keep your audience engaged through this diverse Content.
It's able to do this with the help of Split-Post testing and Analytics that prove which posts and overall campaigns are working optimally.  
Going one step further is their Natural Language Processing Technology. It creates posts on social media according to your analyzed brand voice, giving you options to choose from so that the human element stays intact.
Adored by its massive user base for the simplistic & refreshing design, filled with valuable features.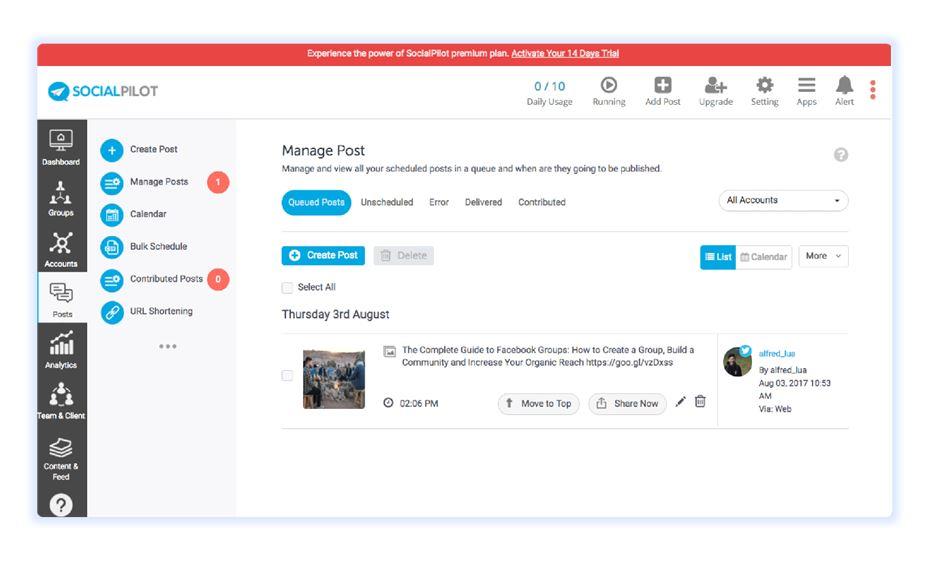 Brand management, Content Curation, and Scheduling are what this tool does best.
Adding to that, the Calendar facilitates users by allowing them to drag and drop posts onto specific dates, without any extra hassle.
Filtering will display any particular type of posts while the reporting mechanism will notify account managers of any possible clashes, corrupt files, or general errors in Scheduling.
Built for Community Engagement, Khoros gets you tangible results that boost your Customer Relationships.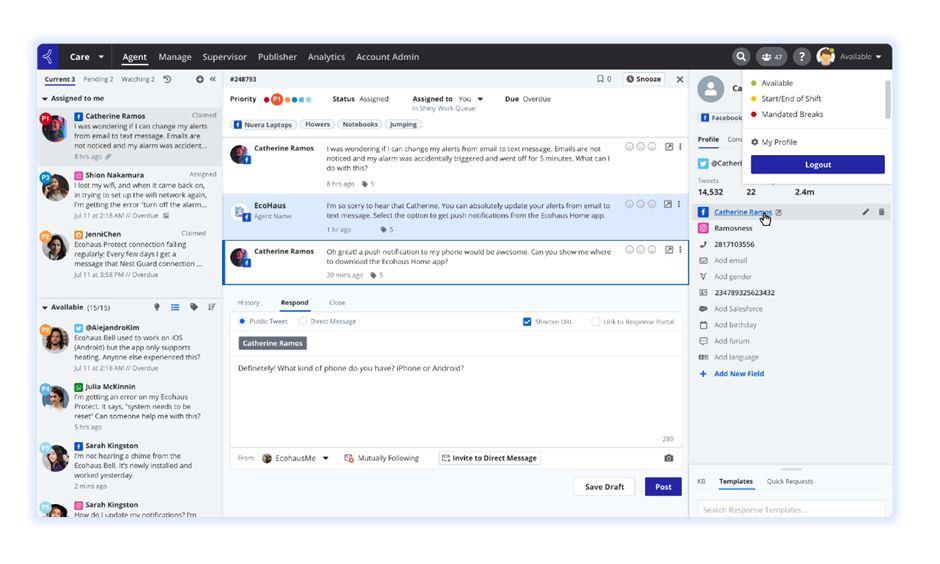 By promising simplicity in Social Media Operations and an increase in customer satisfaction, Khoros sets its benchmarks very high.
Their Communities are the feature that doesn't allow them to disappoint, as it creates customized spaces online for supporting your customers and personalizing the brand relationship.
Such increased touchpoints are vital in commandeering Mind space and brand positioning through Social Media and Communities.
eClincher boasts a diverse seat of features and exceptionality in each of them.
Teams, Agencies, Influencers, Small Business, and Social media Managers.
All are welcome to use this tool as it was built with no specific user-type in mind. Features such as Live Social Feed and Unified Social Inbox organize, aggregate, and display social media interactions across all compatible platforms.
In the spirit of ease, they also offer an in-built Goo.gl link shortener, Image Editor, and three types of Queues: One-Time, Recycle, and End-Date. According to the Queue type, posts are recycled, and their contents automatically posted according to a randomized schedule.
PDF Reports explain in detail the performance of these Posts and are delivered to users on selected intervals.
Armed with a singular focus on Twitter, Commun.it is a champion of Social Media Management.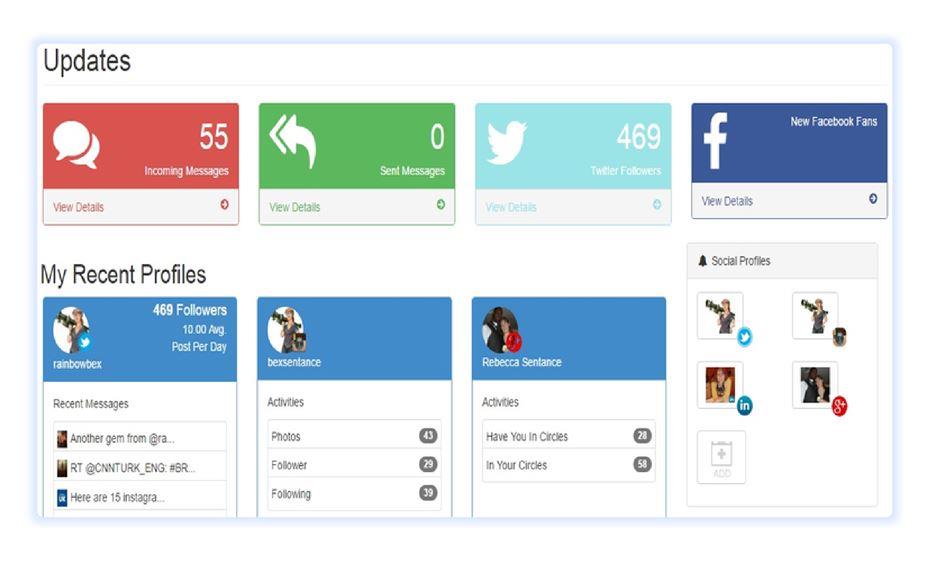 Twitter is a complicated platform, even for humans.
That's why it's incredible how this tool eases the complexities of the platform by knowing how exactly to organize and analyze replies, mentions, and sub-tweets.
Reducing the workload of any Community Manager, this tool group's conversations, posters, influencers, and bots for companies to recognize what set of users is to be focused upon.
The Audience on Twitter is then also partitioned into High value/Influencers/Supporters based upon levels of followings and engagement.
Explicitly developed for Small Agencies and Marketing teams, Pulse serves as an effective addition to the Social Media Marketing Toolkit.
AP hosts several handy features, such as Social Inbox, that organizes work items not piles of critical, non-essential, and incomplete.
Another is the delivery of detailed performance reports that display an individual or aggregate performance of accounts for checking and comparing their standings.
It also shows customer service reports with time filters that visualize changes in trajectories of engagement rates and complaints.
Additionally, it also offers compatibility with YouTube, and hence, it is an excellent choice for brands with a robust video-based presence online.
In contrast to AP, Sendible is optimized for large-scale Social Media Marketing agencies that prioritize teamwork.
Their suite of team features allows multiple accounts and campaign managers to collaborate on projects that call for it. Projects involving stakeholders from other departments (such as Sales/QA) will especially benefit from this tool.
This collaboration across departments called for simplicity of design and features such as Reports Hub also adhere to this by detailing campaign performance in simple terms to management/clients.
Visualization and Collaboration features make Planable a valuable tool for all Social Media Marketers.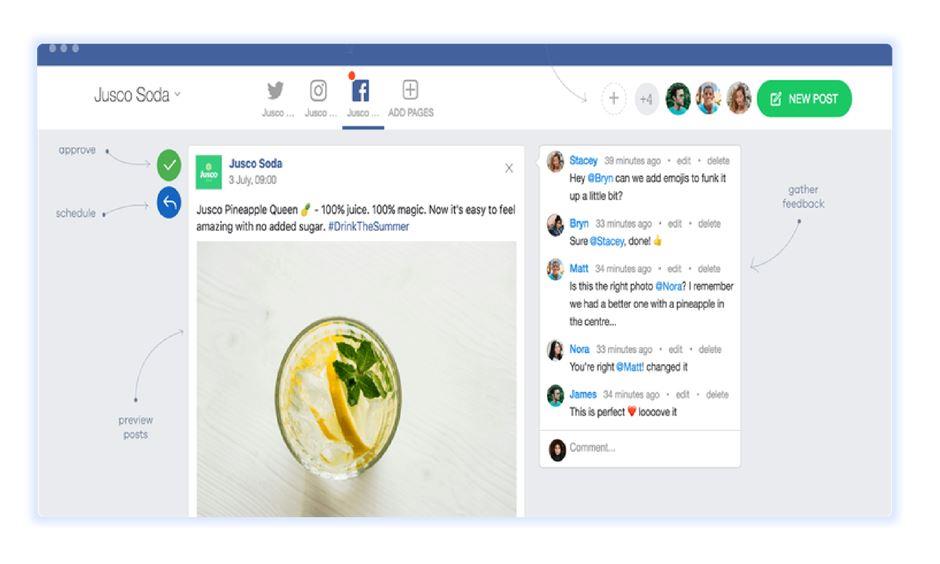 During the process of conceptualization, Content is generally planned simultaneously for all platforms.
Undergoing this, Posts don't fit or look right on certain platforms with dimension regulations, such as Pinterest.
Due to this, Content looks 'off' to users, and to prevent this, Planable's Simulation feature steps in to provide an accurate depiction of how each post will show up in Users' Feeds.
Their support for multiple image formats such as .GIF is also beneficial for users who post this type of Content often, looking to enhance brand relatability and their 'fun' outlook.
Parting Note
Whew, that was a lot of options.
If you're still unsure about which social media management tool to pull the trigger on, don't worry!
It's completely natural to be overwhelmed when there are so many great options out there. The only way forward for you might be to sign-up for trials, and once you figure out what you like, make them a part of your practice.
Tell us in the comments below whenever you pick one, or if you've already decided.
We'll be waiting right here…. 😊
Julian Scott: I am mostly seen creating multiple integrated marketing campaigns across social, email, PPC, and content. Currently, I am working as a Content Strategist at SocialBu.