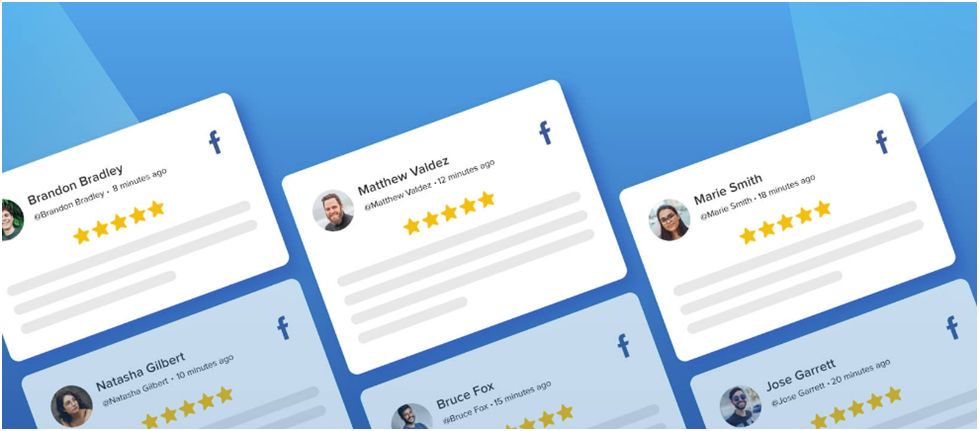 Well, how will you know the customer's experience with the brand? What will take you to the words of customers who have already availed of the product and service of the brand?
The answer is none other than reviews. Now, as people are using more online platforms to learn about the product, they also use online platforms to check the reviews and ratings about the brand through websites.
Being the oldest social media platform, Facebook is one of the prominent platforms where people make friends and actively participate in brand activities.
With the Facebook Business Page announcement, many customers like to find the brand or business they availed product or service to share their invaluable reviews on the Facebook Business Page.
It has allowed customers to share what they feel about the business, but it is super beneficial for businesses, too, as it gives rise to the social proof of their business.
Many brands and businesses are making huge success with Facebook reviews as it increases awareness of their product and services, which increases the conversion rate on their online store or website.
With the advancement in technology, many tools are designed to help businesses embed Facebook Reviews on websites. Yes, you heard it right. With the help of a tool, you can create a Facebook Reviews window to creatively display on your website.
As per the BrightLocal research, 91% of online customers trust the local business when they find reviews about the business.
So Why Should You Embed Facebook Reviews On Websites?
Website is the first place that your customers are looking to search for your business. It is creating a first impression on your potential customers. However, seeing the monotonous content and every business claiming that they are the best, your potential customers want to check what the real people say about your business.
Here comes the role of Facebook Reviews to enhance your business website with the power of social proof.
Moreover, embedding Facebook Reviews on your website enhances vibrant content on your website, increasing the visibility and appearance of your business and product.
Your customers get attracted to the stars and blue icon of Facebook, which automatically generates a sense of trust among the customers.
Thus, marketers of this era must include online reviews, specifically Facebook reviews, into consideration.
So how would you embed Facebook Reviews on websites? Here are some best tools available on the internet that help embed Facebook Reviews into your website.
Best Tools To Embed Facebook Reviews On Websites
#1. Taggbox Widget
One of the most trusted and highly used social media aggregator solving, providing all-in-one solutions to business needs. Taggbox Widget is popularly known for creating amazing-looking social media widgets in a minute. With Taggbox Widget, one can effortlessly collect Facebook Reviews and ratings in no time.
Taggbox Widget gives its users a simple interface that anyone without any technical or coding can create a Facebook Review widget and embed on their website.
As this is at the top of the list, we would like to tell you why. Taggbox Widget provides themes and various customization options to make the reviews look vibrant and classy.
Along with that, you can moderate the Facebook Reviews if you find any negative reviews or low star rating reviews so that only positive reviews are displayed on your website. The best part of using Taggbox Widget is that it is super pocket-friendly and has pricing plans per your business needs.
#2. Elfsight
Another tool that we would like to give a shoutout is Elfsight. Similarly, it is also a social media aggregator tool that helps website owners collect and curate Facebook Reviews effortlessly and provide single-click integration features.
With Elfsight, you can create a Facebook Review widget on your own and place it on your website wherever you find it right.
They also offer various features that help create attractive Facebook widgets for the website. With single-line code, you can easily embed Facebook reviews on websites.
#3. Embed Facebook Review With Facebook
If you don't want to spend any money and just want to try your hands on embedding Facebook Review on your website. You can directly select the Facebook Review from your Facebook Business Page and generate an Embed code to add to your website.
In this way, without spending any money on tools, you can embed Facebook reviews on websites. However, there are drawbacks of embedding Facebook Review from Facebook that you can only embed one review at a time.
Although it is free, there is no customization option to present the review widget creatively.
Wrapping Up!
So here you go, you can start embedding Facebook Reviews on your website. You can use any tools to embed Facebook reviews, but I will recommend you use a social media aggregator for your website.
Chris Mcdonald has been the lead news writer at complete connection. His passion for helping people in all aspects of online marketing flows through in the expert industry coverage he provides. Chris is also an author of tech blog Area19delegate. He likes spending his time with family, studying martial arts and plucking fat bass guitar strings.