Social networks have millions of users you could target. The most popular social networks like Facebook, Instagram, Twitter have users who might be interested in the services or products that your business is selling. Ignoring such a huge audience is the worst thing you could do, so it's essential to include social networking into your marketing campaign.
It helps to increase your reach and it's also helpful when it comes to increasing brand awareness. Here are some ideas for your small business that will help you in advertising on social media. These small tips might be very helpful for you in the long run.
Target Audience
One of the reasons many smaller companies waste money is because they target everyone. Targeting everyone on social media won't help you gain customers, on the contrary, you will spend more on your marketing campaign without getting clients. To make the strategy efficient, you need to figure out who your audience is.
You probably already have customers, and you track where they come from, what is their age, gender, etc. Analyze gathered information, that way you will learn more about the needs of your audience. That way you will be able to target potential customers, rather than every user out there. It will reduce the costs of your campaign and at the same time, you will get more customers. Moreover, knowing your customers helps to define the platforms they prefer to use.
Choose The Right Platform
Not every other social network could be useful for your business. You need to do the research to find out what social networks are the best for your business. It doesn't mean that you can use only one social network, on the contrary, it's better to use a combination of several networks. But note, your audience might be using Facebook and Reddit, or Instagram and Twitter, so you need to research what social networks are preferred by your target audience.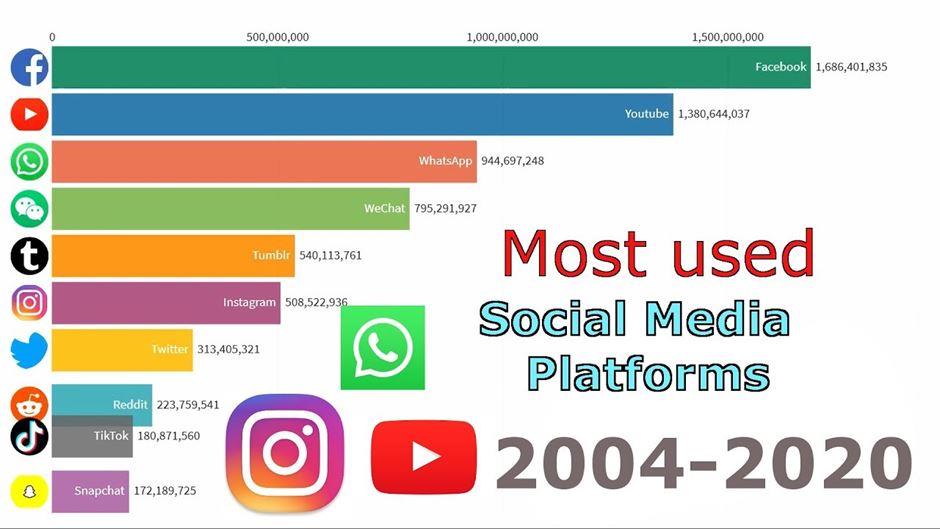 Sure, Facebook and YouTube are the most popular among users of all ages. But what if you engage only those users who prefer YouTube and Facebook, won't you lose the audience on other platforms. That's why you should analyze your current audience. If you have visitors on your website, you could use such apps as Google Analytics to check the demographic information. Here is what you can find out:
The device type used to browse your website.
What products or services your customers search (and the rankings of most popular to less popular).
The age of your clients.
Interests.
Google Analytics offers a lot more opportunities than mentioned above. But the point is, you can learn about the age of your customers to use the social networks accordingly. For example, check the screenshots: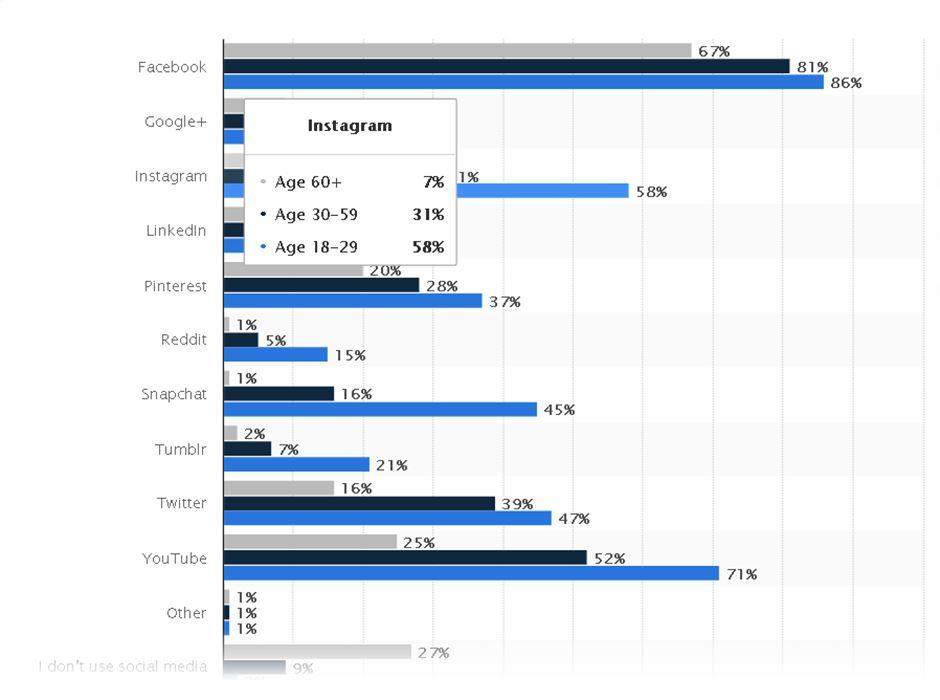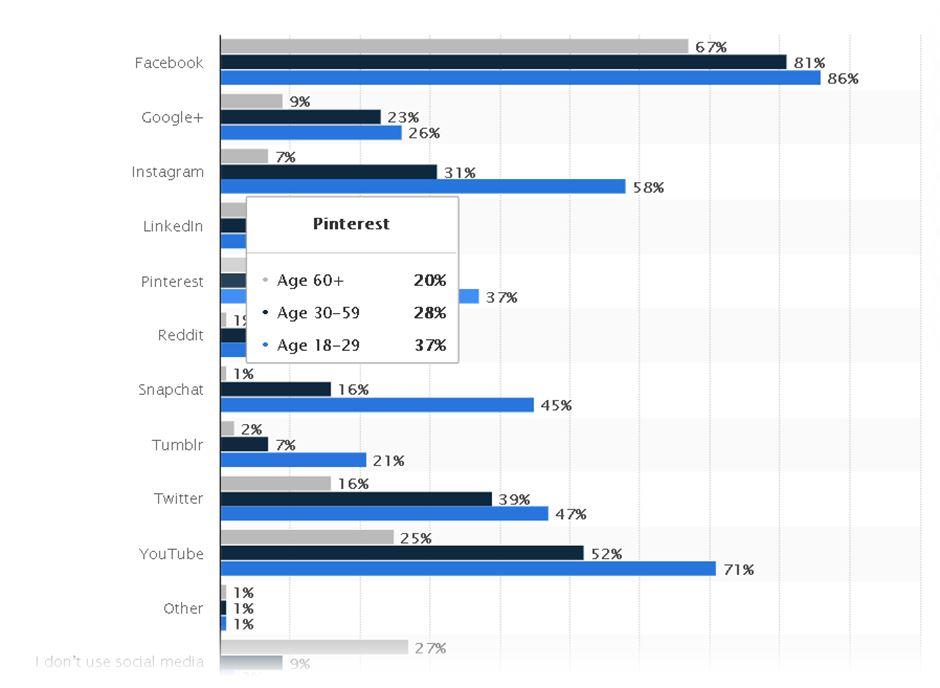 If you are selling products to seniors, it would be wiser to use Pinterest to communicate with your target audience. Most beginners would use Facebook, Twitter and Instagram since they are most popular. But as you can see in this case, Instagram has only 7% of users of the age 60+, while Pinterest offers 20% of users over the age 60.
It's essential to choose your platform wisely, especially when you begin your campaign. Instead of wasting effort and money and not gaining anything, it's wiser to learn who is your audience and what social networks they prefer. The usage of social networks could also be affected by the country, region, gender, etc. Don't miss out on the opportunity to learn about your existing customers, so that you will be more successful when choosing the right social network.
Make A Plan
Whether you have a small bakery or other business that you want to promote, it's important to come up with a plan. Why is the plan so important? Well, how else would you track your progress? The plan should state the goals you want to achieve, who you want to target, what results should you achieve in a quarter of a month, half a year, a year, etc.
Here are some tips on how to create a social marketing plan:
Set goals and objectives for social media marketing.
Analyze your competitors through social media monitoring.
Evaluate your current social media strategy, find and improve the weak links.
Create a social media calendar, it will help you post content at the right time. You should analyze the active time of your audience, that would be the right time to post new content.
With good planning, you will be able to achieve great results. Plus, you can track your progress.
Expanding Your Audience
Once you have a clear idea of who your audience is, what they like, and you have ways of reaching them, you can say that your plan is successful. Now it's time to expand your reach and find similar customers. One of the best tools to do so is to use Facebook Lookalike. It's a Facebook mechanism that helps to find new customers.
All you need to do is to highlight the criteria of your favorite customers and based on this data, Facebook will come up with results that will most likely satisfy your needs. There are also other tools that help to find similar customers and thus increasing your reach.
Building Relationships With Customers
One of the best ways to engage with your customers and build trust is to use social networks. You can directly communicate with your clients, learn more about their demands, etc. Such communication is great for small businesses. You can show that you are interested in improving your products or services. Moreover, if you want to improve your products and increase sales, you might consider gathering the feedback of your users. Knowing exactly what your customers need can aid in increasing sales.
Look at the example below: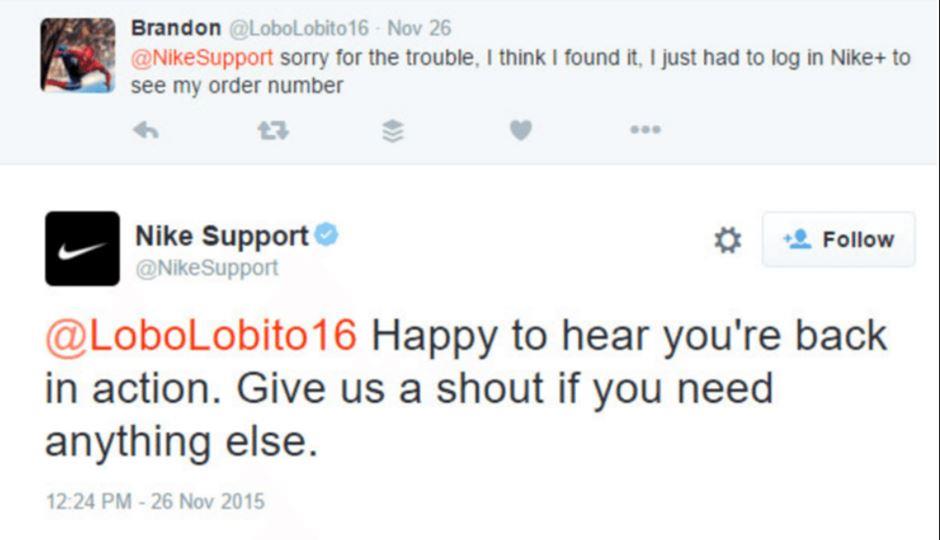 Instead of ignoring the comment of the customer who has already solved his problem, Nike Support still reacts to the comment of the user. Most of us love it when someone is being polite and willing to solve our problems. You would be surprised how easy it is to solve most users' problems by just reacting to their postes and showing the willingness to help
Add More Visuals To Your Posts
When users subscribe, they expect to see some posts. It doesn't mean you have to post every day, it means you have to work on creating attractive posts. Most Internet users have said that visual posts triggered their desire to buy certain products. So you should work on creating posts about your brand that include visuals.
Check out this simple example: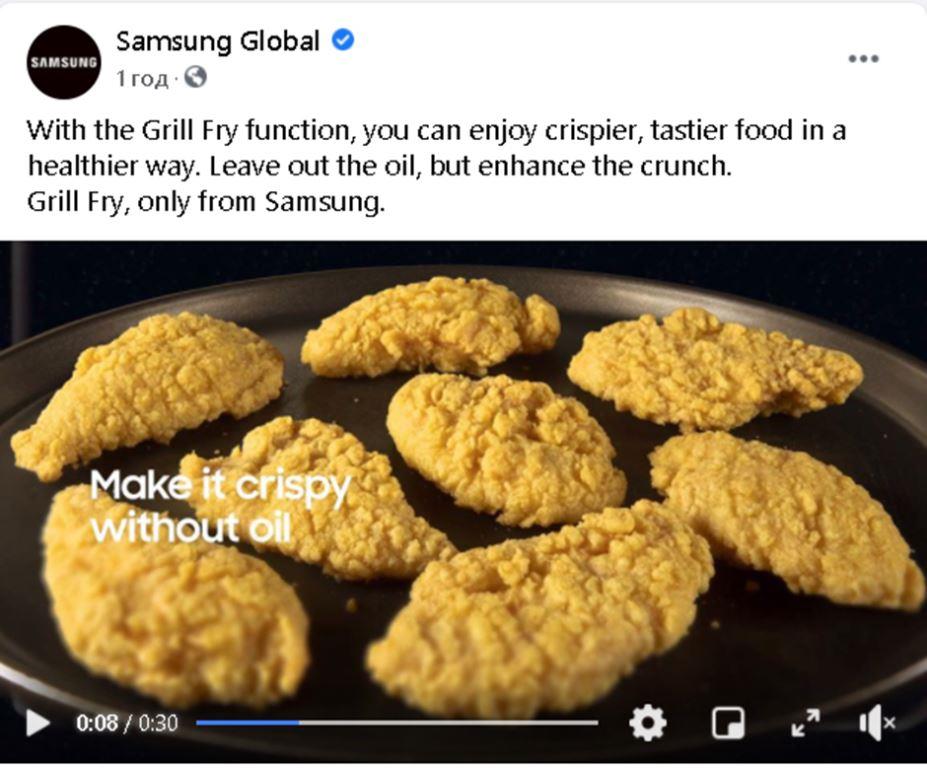 It's a video posted by Samsung. The video shows how food can be healthier and how easy it's to cook with Samsung items. The video and the post solve the problem of many people – eating healthy, but tasty food. Most likely, subscribers of the official page are going to like this amazing video and it could go viral. Of course, it will increase the sales of the company.
Some might be sceptical and say that Samsung is anyways a popular and well-known brand, they would sell their items either way. But check out this example:
It's a nail polish website that creates posts on Facebook to make sure people keep making orders in the online store. The post mentioned above has a nice visual picture, and it has an interesting title that might solve some everyday problems. When it's holidays time, we all have friends and family members to spoil. But what to buy as gifts? The post helps solve the problem of people who can't figure out what to buy. The article includes nail polish and it has the link to their Amazon page to buy the item.
Work On The Quality Of Your Posts
It was mentioned in the article that the quantity of your posts doesn't really matter. Of course, posting one post a year won't help you at all, but posting every day, especially if you have nothing to say or offer just now, isn't a good idea either. When creating posts, remember one important thing – you are working on building trust. Your posts should be honest. Don't post false information about your brand – it will cost clients.
Try not to use your official page as a way to offer to buy your products. Don't be too bold, offer some blog posts with interesting tips. Or show ways how your products and services might solve some problems, etc.
Be Creative
Globalization is without doubt a great thing. People communicate with each other and make lots of posts each day. But yes, it might make your posts less vocal. It's extremely difficult to be heard by the crowd of people who have so many options to choose from. When introducing your business on social media, you have to be more creative than everyone else.
Here is how you can be more competitive:
Check out the pages of your competitors. Don't copy their posts, make sure you are as original as possible.
Provide users with quality content. If you are working on a blog, make sure all articles are of great quality, typos-free, etc.
Create your own images and photos. Check out what are the current trends in photography that people like. Users will less likely visit your website if you offer old-fashioned content.
Create engaging posts. Make sure the title is interesting and creative, so it makes people willing to click on the posts and read it.
The more you engage your audience with creative posts, the better. You need to provide your users with creativity, so they will be more willing to share your posts. The recent research shows that people want to be useful, and they share posts with their friends only if they consider them useful. So, if you make useful and creative posts, you can increase your audience, which is great for business.
The Bottom Line
Social networks are great when it comes to increasing reach and brand awareness. You can directly communicate with your customers, learn about their needs, and offer what they want. Build trust and grow your business with these simple tips. It might take a while to increase brand awareness, but it's possible if you are consistent with your goals.
Karl Murphy is a professional journalist from Des Moines, Iowa. After obtaining his Master's degree, he's launched his career and over its course, Karl was contributing to the popular publications for men. He also develops his blog topforeignbrides.com.