Google Apps is quite a popular name in the discipline of online collaborative suite. No doubt, It is equally used by small and large businesses as well as the individual user for their work.
However, the potential data loss tragedy can take place in G Suite application without any prior notice. To prepare yourself from such disaster, it is advised to keep a backup of Google Apps mailbox data on local device. In case, if you face any kind of problem with data, then no need to worry, there is already a backup in your system.
Now, the next question is how we take backup of Google Apps data? So, with comprehensive result oriented rate, huge compatibility with all G Suite plans and friendly interface, SysTools Google Apps Backup Service is the best option for a G Suite user.
In this review, we will go through the software and explore the associated functionalities that help users a lot during backup.
Quick Glance On Globally Accepted Google Apps Backup Service
As of now, SysTools G Suite Backup software has been used globally for its features that provide – Flexibility, Range and Intuitive layout. Plus, it provides a more comfortable environment to export sensitive data from Google Apps accounts and simply save on local Windows platform. Alongside, the facility to use software either by an administrator or End-user gain popularity among the Organizations.
The only way to describe the software – A standard and authentic platform to take backup of Google Apps emails, share Google contacts, calendar entries and documents from every G Suite plan. The tool has some additional powerful features that charge up the entire Google Apps Backup task.
Familiar Dashboard
Designed with a quiet smooth user interface that looks consistent in every panel of software. All the important icons are visible and easy to use without any technical assistance. Every panel is rich with self-explanatory features that helps you a lot while performing the backup task.
Sufficient For Bulk Export
The tool has two sole purposes, the most obvious is to take backup of emails, contacts, calendars & documents from G Suite accounts, while the other one is to carry out multiple Google Apps users account data in one shot that ultimately cut down the time. As always, the time is very crucial and with batch export of data helps you to achieve backup of all users account in the least time. In an effort to backup multiple G Suite accounts, the tool has functionality to add a CSV file with every user ID. So, you can upload that file and tool can work further on it.
Advanced Features to Speed Up G Suite Backup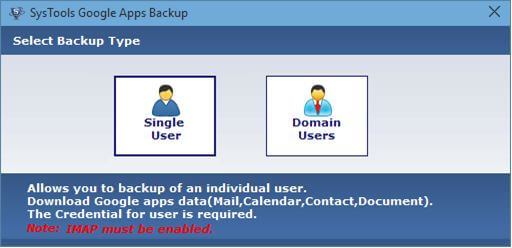 The other benefits of Google Apps Backup Email software are various numbers of powerful features that exponentially enhance the performance. All of these are listed below in a descriptive way.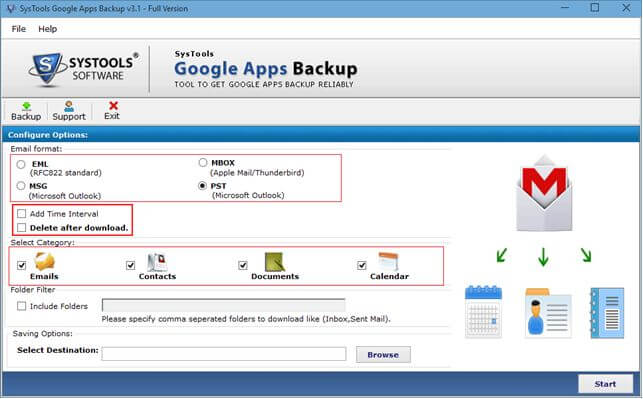 Add Time Interval: To get the emails of specific time-period, use this feature. This option needs a set of dates and then communicate the entire backup task. It means the offline copy of only those data items that lie between the mentioned time, will be saved on the local system.
Delete After Download: Activate this feature to directly delete data items from Google Apps server when you run out of space in Inbox. With this feature, you can create new space by removing the files that backed up in the system.
Include Specific Folders: For exclusively backup emails of selective folders, then opt this option in Google Apps Backup utility. For this, you only need to enter the name of the folder separated by the comma. Afterward, the tool will download a copy of those emails from G Suite account on the desired location.
Select Category: This option lets users select its desired data item and export on on-premise location. Here, you have the liberty to select any data item from the following list.
Emails
Calendar
Documents
Contacts
Download Email in Multiple Formats
The Google Apps Backup tool offers various file types to export Google Apps emails that further supported by various email applications. During the backup operation, the tool provides the following 4 file formats option and you have to select one as required.
EML – Supported by Mozilla Thunderbird, Windows Live Mail etc.
MSG – Supported by Microsoft Outlook program
PST – Supported by all versions of Outlook email application
MBOX – Supported by Thunderbird, SeaMonkey, Entourage, Apple Mail etc.
Final Verdict
After having a deep analysis of all features of SysTools Google Apps Backup Service for Windows platform, it can be summed up that it is a versatile utility to backup G Suite data. No doubt, it is a utility that fits right on user expectations. As a whole, all the inviting features of the tool are sufficient for users' attention.