Do you want to grow your e-commerce business?
Instagram is the right platform to invest your time and money that can fetch you handsome returns both in long term and short term arena.
Facebook by Zuckerberg was once a hot property to invest into but the way its algorithm has been tweaked to reap the most out of it for revenue generation, shifting the focus to Instagram is a way better idea.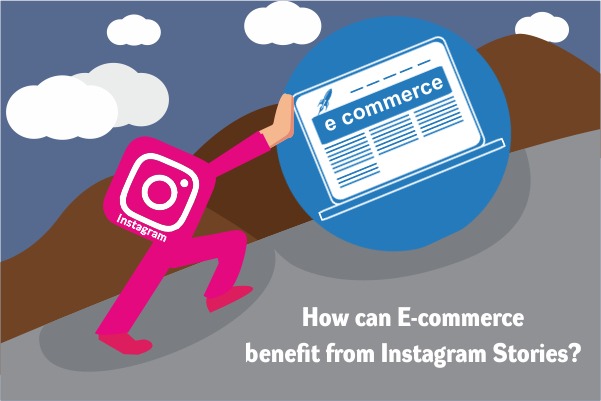 Instagram was launched in 2010 and by 2016, its stories made entry into the smartphone world. A way to tackle Snapchat which Zuckerberg failed to acquire despite several attempts.
Instagram stories are those daily expiring posts embedded at the top of the user application which provides the maximum visibility. They are free to run and provides the best existing customer reachability. It can help e-commerce broaden the business quickly and more effectively with its 'reach to all followers' approach.
So, what makes Instagram the hottest property in the application market?
Instagram has over 600 million users across the world which is 6 times more than that of Snapchat and yes that a Big number. Exploit the numbers to gain the business is what we would suggest to you all.
What are Instagram stories?
The multi-colored circles around your profile picture are 'Instagram Stories'. These stories can either be a text, a picture or a 15-second short video that are available to the followers of the brand with an expiry period of 24 hours.
Instagram stories are less saturated in terms of reach and the content options it provides to the brands. Staying on top of feed's it helps in reaching the followers in a much efficient manner when compared to feeds.
How can you reap the most out of you Instagram stories to benefit E-commerce your brands?
Being a brand, higher the visibility, it ensures higher sales. You can try and test different tweaks and see what works for you the best. Here are a few things that you can try to spread the word through Instagram Stories.
Spreading positivity
Instagram stories require you to produce unique content everytime you upload them and with the limited time frame for the appearance, it is more important to come up with best and positive content each time. If you succeed in doing so, customers tend to engage more with the content and respond to brand cues.
Create a feeling that customer doesn't want to miss your content
Brands should be able to create that fear in the mind of its followers about missing on an important content if they don't stay connected and engaged with the brand. This one is the ultimate way to gauge the followers brand association. Such followers are deemed ambassadors of the brand and tend to buy products more often than those who aren't connected seamlessly with the brand.
Call to action is important for sales
The more you post, it will keep engaging the followers to check your stories. Embedding a call-to-action button will push your followers into making a purchase. You can put Swipe Up, mention your website link or number. Something where the customer can go and make the purchase to stay connected with the brand.
Offer followers can't resist
Targeting your followers to turn into customers can be one of your best business strategies. You can build regular offers with a clock ticking over to make the purchase within time to avail the maximum benefit.
Direct promotion helps the followers to connect better with the brand and contribute to making the brand a successful one.
Stay Mysterious and tease the customers
It is important to create the buzz in the market about new products and offers. This will keep the followers engaging and waiting for the new post to come. Pre-launch cues, half product information in form of video or photo or a scratched screenshot of the post with a call to action towards to product can work wonders.
Don't give it easily to them all the time, holding on and making them impatient will bring in more engagement and sales.
The comparison is the Key
If the creature that you upload on the stories explain the customers about how your product or service will add a value to the existing one or how enhancing it is, there are higher chances of customer willing to make a purchase or least inquire about the product.
e.g. For a car spa business, you can prepare a creative video showing how dirty the car looked and a quick information on your cleaning services and post service look of the car. This one works like a charm and can help the customer better understand the product or service.
Create a sense of connectivity
It is important to recognize your best customers and feature them in various segments that you can. Happy customer, Customer of the Day, Customer of the month can be several ways you can make them feel special and connected to the brand. This, in turn, will provoke the followers to turn into customers and those who are already your customers; they will be pushed into a repetitive purchase from your brand.
Connectivity brings in loyalty as well and that sense of value from the brand to consumer will result in repost as well helping the brand tap more followers and customers.
Hashtags were, are and will
Hashtags are the best way followers can search for their relevant information. Using the right hashtag in right quantity can help you connect to new followers and build more audience to your stories and feeds. Hashtags can make the customers connect well with your brand. Your unique hashtag can be your brand recognition material in long run.
To conclude how Instagram stories can work wonders for you, it is just a personal voice you attach to your brand. It is that person you trust with your brand than what the person will convey will be in the best interest of the business. Focus on creating valuable and unique content each day as quality along with the best quantity is the key to a successful Instagram stories strategy. It is the best free way you can use to market your business and grow its manifolds.
Azin is a SEO master at Marketing Mantra, focusing on business development to extend deals online through increased traffic and conversions. He even likes to share his insight through many articles with Digital Marketing.