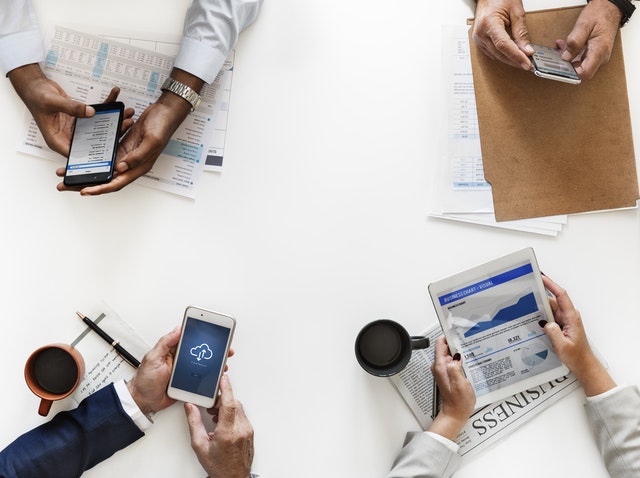 Technology has not only changed the way we communicate, but it has also altered the way we manage our health. The global mobile healthcare app market is expected to reach $11.2 billion by the end of 2025.
Health Technologies is "indispensable for effective and efficient prevention, diagnosis, treatment and rehabilitation of diseases," states the Resolution 60.29 of the World Health Assembly. The proliferation of smartphones is making this resolution a reality as it has increased the demand for healthcare apps. The increased demand is evident from the fact that in 2017 there were around 259,000 apps in all the app stores. These apps are usually related to disease management, wellness, nutrition, and fitness.
Healthcare apps have given what the patients have always wanted: more control over their medical decisions as apps make it easier to access information. Here is how apps are helping people manage their health:
1. Cost saving
Apart from making it convenient for patients, healthcare apps also help patients save money. An in-person consultation is expensive; a one-night stay at the hospital can cost around $4,300, which is expensive and in case you don't have insurance coverage then it can put a big dent in your pocket. An app that allows video consultation, on the other hand, can not save the cost of the in-person meeting as well as emergency cases.
The app MeMD, for example, allows you to connect with healthcare professionals and receive personalized treatment from the comfort of your home or office. It is the perfect solution for ailments such as flu or sinuses as it is better than random information search online.
All you need to do is sign up, fill in your medical history and you will be assigned a licensed professional to help you out. The company claims that its team has an average experience of 15 years. The best part is that it only costs $57.95 per consult and you don't have to go through the hassle of scheduling an appointment; you can contact anytime.
2.Increased convenience
Before the advent of the internet, people used to ask friends and family for a reliable doctor. However, since the internet has become a part of our lives, we have information on the tip of our fingers. Apps not only allow you to search for the right doctor but also schedule an appointment easily without waiting in long queues.
An app such as Practo, for example, allows you to search for a doctor based on your location. All you have to do is sign up on the app, tap on book an appointment and search for the relevant doctor. If you are looking for a dentist, the app will show you a list of dentists near your location. You can choose the best doctor based on patient reviews and then select the time slot that is convenient for you.
Apart from that, the app also helps you order medicine right from your home. Just search which medication you need and order it with the click of a button. You can also easily schedule any tests or scans that you need and request a home pickup sample from any lab.
3.Improved coordination
One of the most significant issues that a patient faces while dealing with a disease is the lack of answers. Google may be an excellent source of information, but it sure doesn't provide the comfort that is talking to a doctor does. In fact, research also shows that increased communication between doctor and patient reduces chances of medical error. However, it often happens that doctors who are treating patients with chronic illnesses are not informed for days that the patients were admitted, which causes unnecessary complications.
Apps make the process easier by allowing remote monitoring. Doctella is one app that does that. Developed by Peter Pronovost, director of the Armstrong Institute for Patient Safety and Quality at Johns Hopkins Hospital and his team, the app allows doctors to put specific information in patients' calendars. The app helps doctors keep track of patients' vitals and reported symptoms. It also allows patients to put up particular questions on the forum for their surgeons.
4.Better disease management
Today, apps not only increase convenience and coordination, but they also help in relieving symptoms. Chronic pain is an epidemic in the US, and it can take a toll on the patients. An app that goes by the name Curable is a self-guided app that helps patients manage their symptoms by teaching them guided meditation sessions and pain-relief visualizations.
Some mindfulness apps such as MoodHacker and Headspace also help people deal with mild depression. A study conducted showed that these help patient monitor and manage their mental health.
Brain training apps such as Game Show also help people suffering from Dementia improve memory. Braintests showed that people in their early stages of Dementia showed improvements after using the app. Hence, after conducting Dementia test, doctors can recommend this app if the patient is in the early stages. Another app, Braintest, allows people to detect any changes in cognition. It acts like a cognitive screening instrument that is like the one used at a hospital.
Healthcare apps are no doubt making our lives easier by improving coordination, saving money and helping with the symptoms. However, there is a cost associated with them. There are a plethora of apps on the market, and the issue is that not all of them are tested, which makes it difficult to determine which app is reliable.
A study conducted in 2016 showed that there is little evidence that mHealth is effective. Other than that, there is the issue of data privacy as well. Apps that records people's vitals, eating patterns and any private information may share this information with the third party.
Hence, whenever you decide to download an app, make sure to check the ratings and reviews. Also, check if it is approved. Moreover, do not entirely rely on apps for diagnosis because no app is higher than a healthcare professional.
Chris Mcdonald has been the lead news writer at complete connection. His passion for helping people in all aspects of online marketing flows through in the expert industry coverage he provides. Chris is also an author of tech blog Area19delegate. He likes spending his time with family, studying martial arts and plucking fat bass guitar strings.