Have you noticed your system has started performing slow even when you have the most powerful machine?
While there could be numerous reasons behind it, one possible reason is accumulated duplicate files on your device. The primary reasons behind the accumulation of these junk files include data backup, same file downloading for numerous times, and file sharing via different apps.
The initial step you should follow to get rid of these junk files is, manually cleaning your system. Here, you need to sift through every folder on your system to find and delete these identical files. While manual cleaning is time & efforts consuming process, it doesn't even guarantee accurate results. To deal with this problem, here come the best duplicate files cleaner tools to find & delete duplicates instantly. Let's discuss more about these tools here.
Duplicate Files Fixer
Duplicate Files Fixer helps your recover precious disk space in seconds by removing duplicate files. Its powerful scan engines help you scan, detect & remove copies of files even from the darkest sides of your system storage. Working on smart algorithms, it helps you deep clean your system storage. To prevent deletion of important files, it takes backup of your existing files so that you can restore files in case of accidental deletion. It also offers folder exclusion option, where you can exclude any folder on your system from the scan process. Using this useful feature, you can keep important files & folders untouched. It helps you set matching criteria to find both similar and exact duplicates. It supports all major file formats and works efficiently on multiple platforms including Windows, Android and Mac.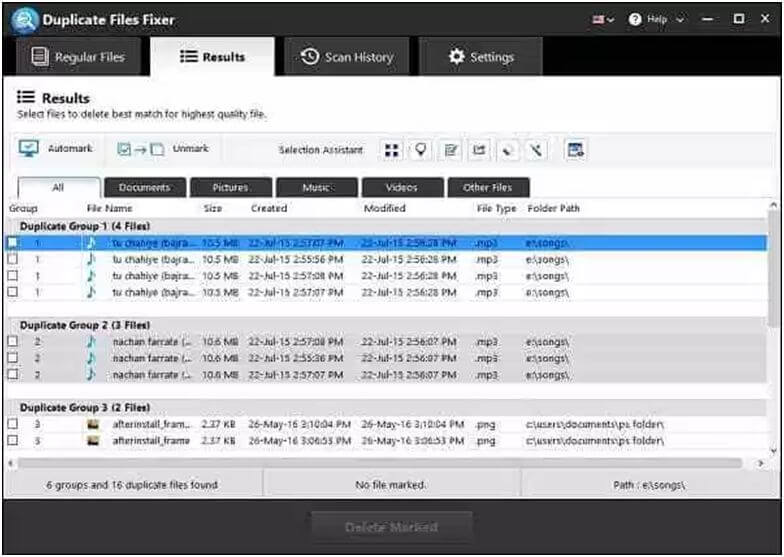 Duplicate Filter
Duplicate Filter offers scan by CRC sampling which is useful for a fast scan for large files. For exact file finding, it offers check by CRC + Name. It also offers duplicate file finding based on file name, file size, file tags, check by CRC only (file content), and more. It offers easy and flexible file selection methods for easy file management. It allows you to move, rename or remove identical files effortlessly. Using this tool, you can find and remove the largest user specified duplicate files for instant results. It also allows you to find duplicates based on the varying degree of similarity. It gives you greater control over scan results, where you can decide which file to keep or delete. Its free folder size viewer option allows you to view the sized of all subfolders in seconds to easily manage the largest files.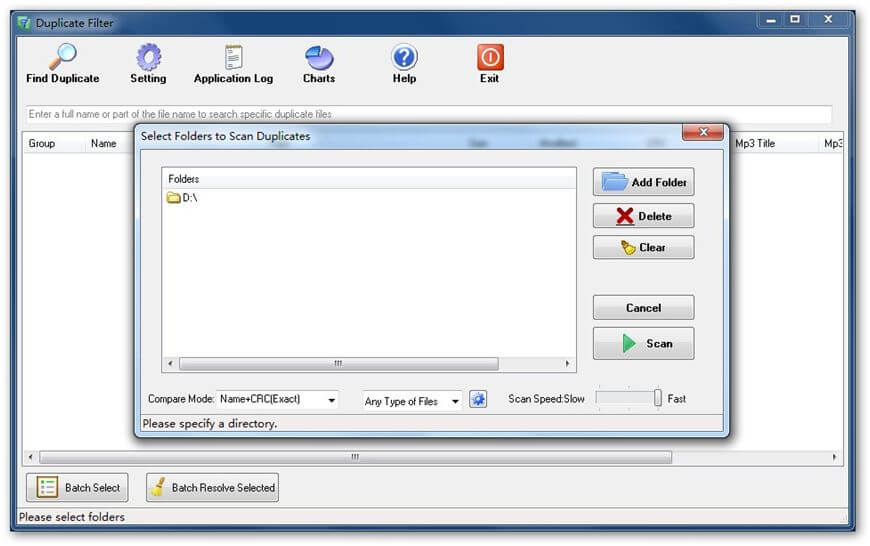 Easy Duplicate Finder
Easy Duplicate Finder helps you find duplicate files both on Windows and Mac systems. Its advanced search methods and custom scan modes help you deep clean your system storage. It supports cleaning all major file formats to help you recover valuable disk space. Its ultra-fast search engines deliver results with 100% accuracy. It offers a preview option to help you view files before deletion. It even offers an Undo button for emergency recovery. It helps you find & clean identical files from Windows Media Player, iPhoto, Photos app, iTunes and more. It even supports cleaning from Dropbox and Google Drive. It offers Wizard and Assistant for easier file management.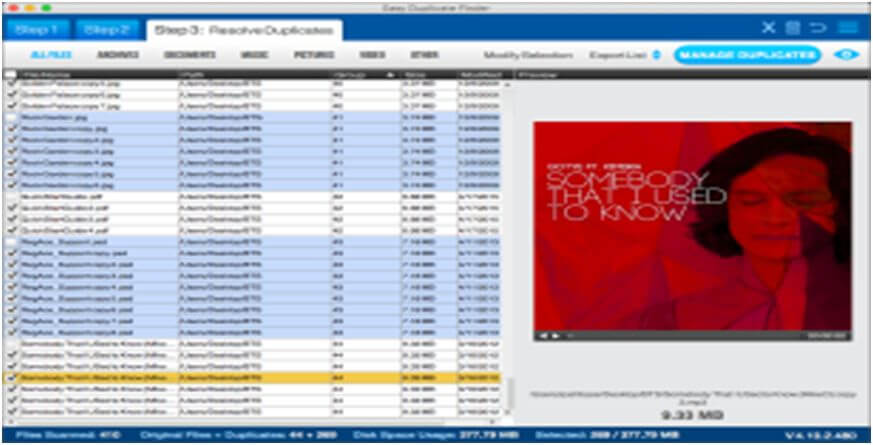 Advanced Duplicates Finder
Try this handy tool to scan, detect and delete all duplicate files on your system. This smart solution helps you recover abundant disk space and speed up system performance significantly. It helps you organize your disk space and clean up all junk in a jiffy. Its smart search engines look for duplicate files accurately without affecting original files on your system. It works in a simple & powerful wizard, where you need to follow few steps process to get rid of unnecessary files. It helps you find identical files based on various attributes. Here, you can file complete identical files with similar content, audio files with similar tags, similar images, empty files, files with same name and size, and more. Using its clone remover feature, you can also clean network drives & archives. Its strong filters allow you to configure search settings where you can scan files based on file name, file size, file modified date, and more.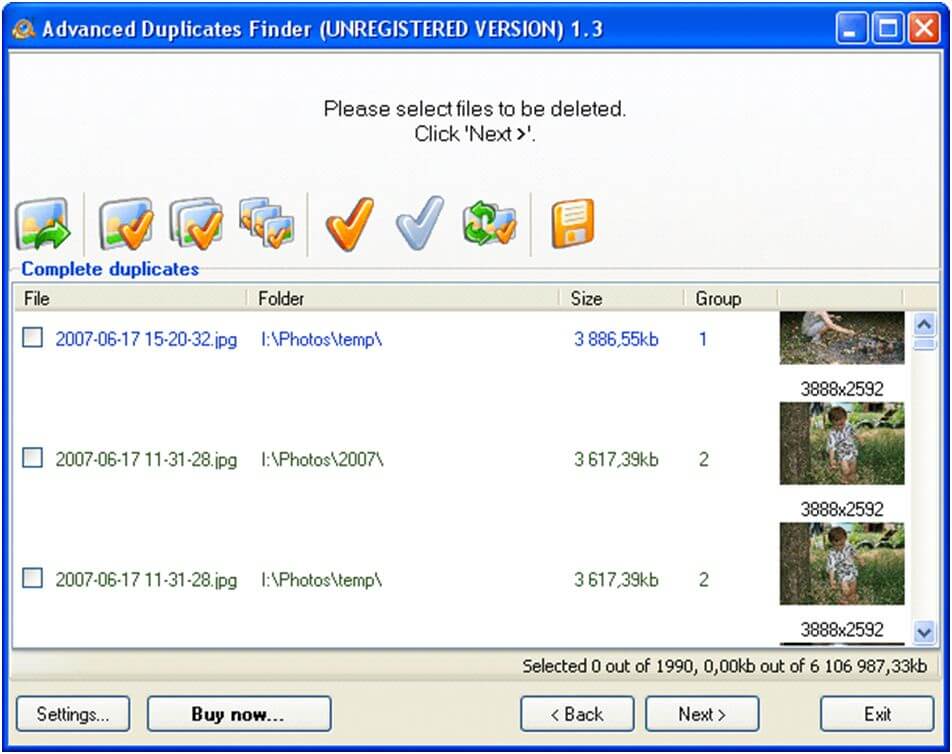 Wise Duplicate Finder
Wise Duplicate Finder is a simple yet most effective tool that makes you de-duplication process seamless. It searches duplicate files based on the same file name, file size, same content, and other attributes to deliver instant and accurate results. It supports all major files types including same photos, audio files, documents, videos , and more. It even helps you clean empty or zero-byte files that are left after cleaning. For file management, it allows you to delete copies of files manually or automatically. It takes backup of your existing data and allows you to restore files when needed. It supports multiple languages.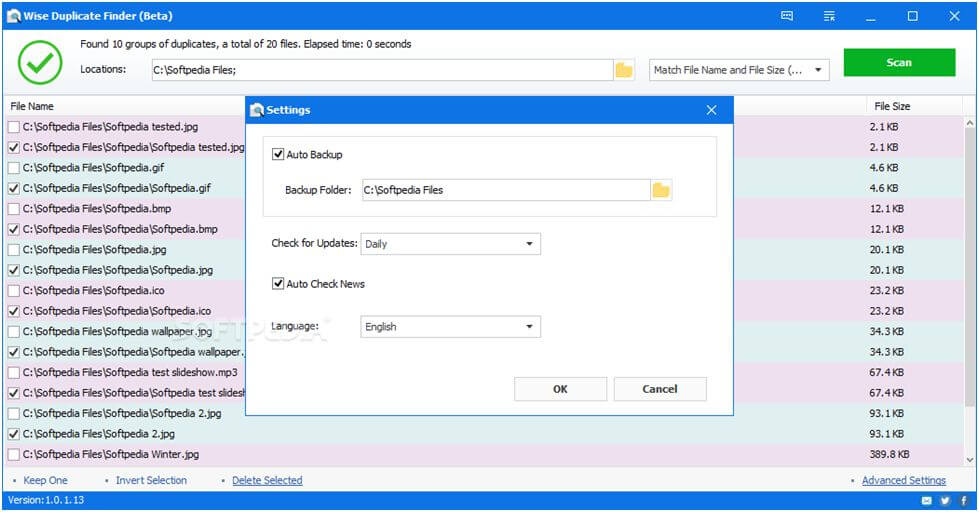 Conclusion
Using powerful duplicate files remover tools reduce the need for manual intervention when it comes to finding & deleting duplicates on your system. Working on smart algorithms, these powerful tools help you deep clean your system storage to recover valuable storage space. It also boosts your PC speed & performance significantly. Here, we have reviewed the best tools in detail. If you have tried any of these or other similar tools, then you can share your experience below.
Summary
The digital junk accumulated in the form of duplicate files could be easily fixed using best duplicate files remover tools. Let's discuss more about these tools here.
Chandra Shekhar Choudhary is working as an SEO analyst and technical Content Writer. His potential of writing is PC tips, bestmaccleaner, Android and Mac tricks and he is anxious in writing other technical blogs. You can also find Chandra Shekhar on Facebook, Twitter and Instagram.