In the current situation, Instagram is the highly targeted channel among various social media platforms. Instagram is a visual marketing channel for your brand; it is used to promote your business and also gives the opportunity to increase the loyal customers who will grow your business.
It is reported that over 500 million Instagram and IGTV users use this app every day, which shows Instagram is the best place to market your business to keep the most engaged audience around.
Just creating a business account on Instagram will not improve the business. There are lots of strategies to be followed by us in order to increase the Instagram followers which in another hand will definitely grow the business.
Increasing the number of followers is not a simple task for anyone. We will show you the best tactics and the most effective way to use Instagram to increase engagement and grow a massive following over time.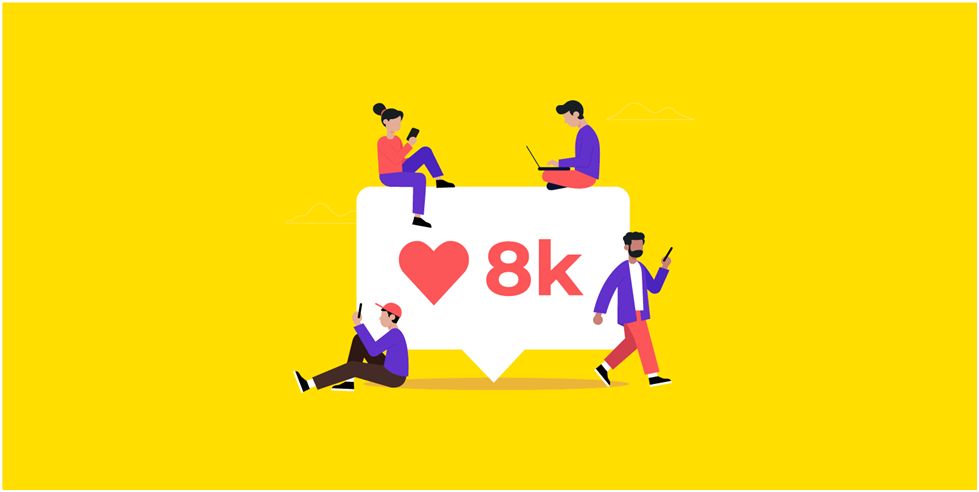 Here's how you can improve Instagram followers for your business page.
Promote your Instagram business account on other social media platforms:
Most people create accounts on several social platforms; they are active on these platforms. Just let them know about your Instagram account by sharing it on all other social media platforms. If the people like your content there is a chance they add you to their account. It gives two or more chances to reach them easily.
Connect your Instagram business page to your Facebook account, so you can always share your Instagram posts on your Facebook page too. It will create curiosity among the users about what they can expect on your new insta feed.
Use the right branded hashtags:
Your goal on Instagram is to engage current audiences by posting stories on a regular basis while also increasing the number of real Instagram followers. Posting new, interesting, and engaging photos will make all your audience get engage but to reach the exact audience hashtagging your photo is extremely important. Hashtagging your photo will make it easy for people to reach the photo who are finding for the specific term.
Hashtagging is important but the point is which hashtag to use? Just like Twitter and other social sites, Instagram uses several hashtags. Most people use popular hashtags for their photos which will reach new users and be discovered.  But for the business page more than the popular hashtags, it is defined that searching brand-oriented hashtags will definitely reach you the exact customers. Using popular hashtags can help you to reach more audiences but using brand-related hashtags will provide you long-term engagement by the audiences.
Optimize the business page:
Your Instagram business page will represent your company's public face. It's more to concentrate on creating a business page on Instagram rather than a normal profile account.
Your business page provides the opportunity to introduce your company completely to the insta world and to increase the traffic to the company site.  For this optimizing the business account is more important. Linking your homepage perfectly to the account will be more effective and also concentrating on the landing pages will improve the user's engagement.
To optimize the business page more, add branded username, complete bio, profile image, and captions for the image. And also add important call-to-action buttons like "call", "email", and "directions" which will show up as clickable buttons on your profile.
Consistent Post on the business page:
Just creating an account will not improve the Instagram followers. Always try to post at least one post a day on your Instagram page to keep your audience engage on your profile. It also recommended having two or three posts a day on the branded page to be more competitive.
Create sizzling Instagram images to get eyes on your messages. Regular posts on the business profile about your company information will help you to connect with your customers regularly. Regular posts will keep the account active on the insta.
Timing plays an important role in Instagram posts. Do some research on the best time to post on Instagram. Find the time when your audiences are active and follow the time to post all our images regularly. This will help you in creating new followers and maintain the existing ones.
Adding video content on business profile:
Video content is tremendously important on all social media platforms. Creating videos and posting on Instagram brings growth in user engagement.  Over Instagram engagement is faster for videos than for images. People prefer to watch videos more, which are quick, compelling, and short-form videos. So follow the concept of uploading short-form videos which are precise in giving information about the company.
Try to post pre-recorded videos at least once a week. In addition to this don't forget about the Instagram live videos.  Creating live videos on Instagram is popular among people. So follow the live video strategy to cover your audiences.  It's more powerful in user engagement than the pre-recorded videos.
Moreover, when you go live on Instagram, you'll get a prominent place in follower's feeds until you end the video. You will also get the chance of reposting this live video on a timeline to reach those who missed it.
Increase Follow, Like, and Comment:
FLC (Follow, Like, Comment) this simple formula will get you lots of Instagram followers. The quickest way to raise your Instagram followers is to start following all your closest competitor's followers. If you are running a local business this strategy works out well.
Try to engage directly with those followers by liking their photos and leaving a comment. Repeat the process on the follower's page on different days until you get a response from them.
A report says that when you perform this task with a deft, personal touch will be amazingly effective. Among 100 contacts you can reach nearly a third of followers who can follow you back.
Reach the influence marketer:
Creating an optimized post can bring you audiences but to create an impact on Instagram you should take advantage of influencer marketing who can expose your brand to wide audiences.  Unlike the above tactics, this one is usually isn't free.  Need to do sponsor pay to the influencers. However, if the process is done correctly, it's worth money.
To get started first you need to collect and make a list of accounts related to your niche. Follow them closely, the two things you have to note while the search are whether they have followers more than 20k-200k and they have any contact details like email.
After collecting the details verify whether they are ready to do sponsored posts or shout out in the sponsored story.  You need to email them to enquire about their sponsoring price. Basically, their sponsoring price ranges based on their number of followers.
Creating a sponsored image or video on your brand by the influencer will reach their followers; as result, you can gain a following from those followers.
Increasing Instagram followers is simple and easy when you follow the above strategies.  Sometimes it is difficult for you to follow these and perform the strategies. To grow your business with expert help – taking assistance from a social media marketing companies will help your business reach the top eye through Instagram.
Ashwini Jayakumar is a SEO Analyst in Techsolve Solutions. She loves to write on topics that are related to branding, promotion, digital marketing and website development.  She has helped her clients to achieve SERP result easily with various SEO skills.