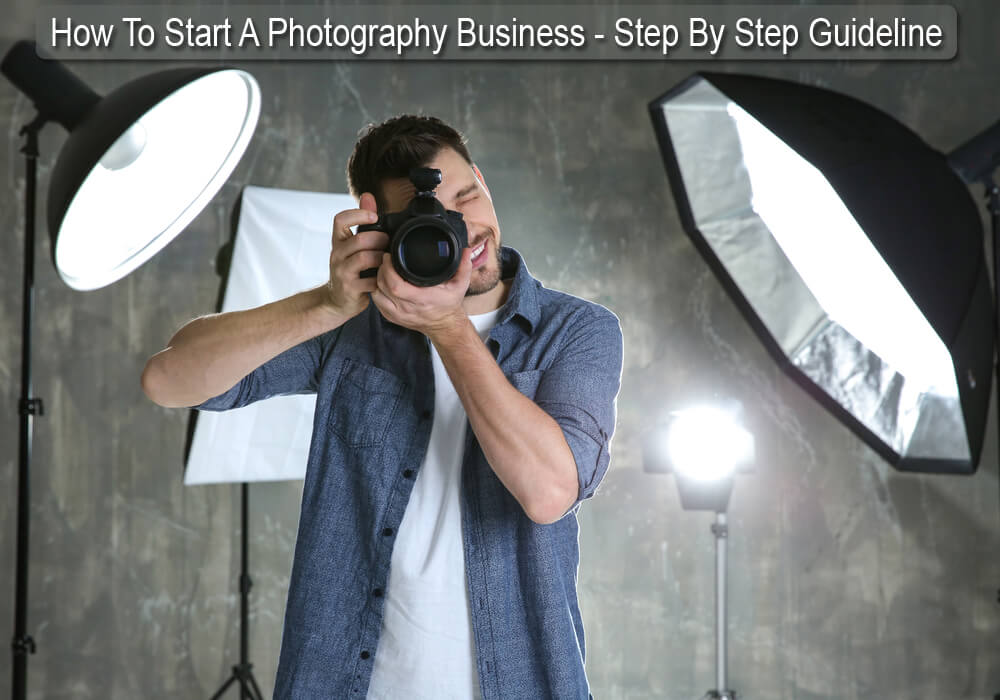 Striving to launch a photography business but don't know where to start since starting a photography business takes huge devotion and requires investments of time and money.
On the following guideline, I'm going to share how I started a successful Photography Business after failing two times. Therefore, I don't want anyone to make the same mistake that was the cause of my failure.
Stay tuned till the end of the articles to overcomes the burden and boost your confidence to be someone professional in this industry. The deficiency of information feels you afraid in many ways to start a photography business.
However, As an experienced photographer, I will go through each step and disclose the secret behind to run a successful photography business.
The Basic Structure For Starting A Photography Business
The photography business is gradually becoming highly competitive. Thus, what should be your business structure is essential to run a photography business.
Business Partners:
You have to be determined first whether it is going to be a sole proprietorship photography business or (LLC) a general partnership business where involves one more partner.
Partners should be someone who has the same experiences in photography and using photo editing software. On the other hand, good communication skill is preferable to deal with the client.
Niche Selection:
Identifying the right photography niche is tricky. Hence you need to go through much research before running your photography business on the internet as well as the local area.
A recent trend shows the customer prefer to hire someone who has the same experiences for what they are hiring you.
Either you are excellent at product photography or Event Photography. So anyone out of two could be your niche for your future photography business.
A portrait photographer shouldn't wait for product photography clients; on the other hand, wild photographers should wait for family photography.
That's all I want photographers to understand they should be precise on their niche to grow photography business fast.
Most Profitable Photography Niches Are:
Product Photography
Weeding Photography
Real Estate Photography
Portrait Photography
Fashion Photography
Newborn Photography
Still Life Photography
Travel Photography
Food Photography
Social Media Photography
Business Name:
A business name should be relevant to your niche you good at; it helps you in so many ways to find only potential customers.
Since it is a photography business, you must choose a short, sweet, and eye-catchy brand name with a professional logo that represents photography business and your niche.
Recent trend shows that people are much more aware of the business name since business name represents overall services you offering
Business Logo:
It goes without saying how important a business logo is. A business is the primary identity of the business. Therefore, you must choose a business logo relevant to your services. Isn't it?
There are so many websites that allow you to make a free logo as per your requirements. On the other hand, You can outsource Photoshop editing expert to make a professional logo for your photography business.
Photography Studio: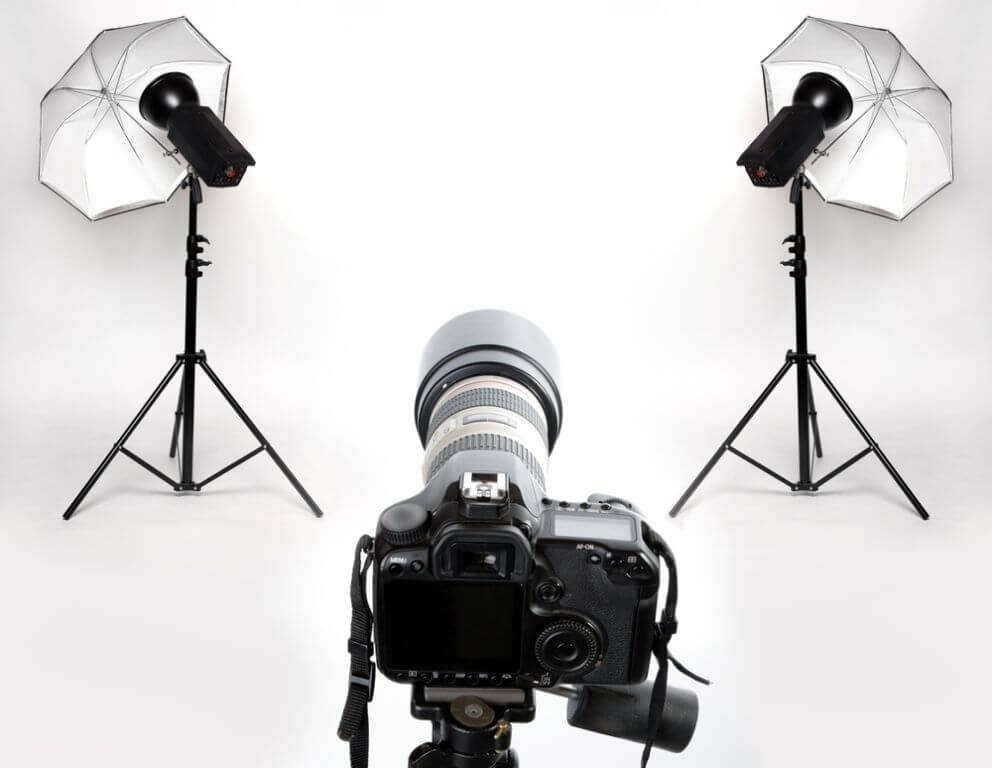 Unlike a traditional business, photography business requires a highly formatted structure such as a studio where you shot photos. Pont to be noted, the studio should be located somewhere the client can directly meet with you.
You can also run a home-based photography business since you source most of the clients online. It would help you to run a hassle-free business but doesn't seem to be professional. Because most of the clients expect a photographer, shooting photos in a well-located studio.
It would help the client a better understanding of you and your business and get more attention to a potential client who is looking for a professional photographer. Isn't it?
Ideal Budget to Run a Photography Business
Probably, you are one-man army shoot photos by heart but don't have enough money. This is also true; you require a minimum amount at the starting point to run a photography business successfully. It would be challenging for beginners as the same happened to me on the very first hand.
However, once I noted the approximate amount it takes to start a photography business. The cost associated with four-segment in terms of the ideal budget such as cost for running profession website, equipment cost, accessories cost and finally cost for computer and necessary software.
Cost For Running Profession Website:
It would take approximately ($200 – $1000) to run a professional photography business website where you can deal with the client to delivery order and accept payment.
Equipment Cost:
As I mentioned earlier, whether it is going to be a world-class photography business or business for local clients, that is important. However, considering all the basic types of equipment as per your niche. the cost goes around ($400 – $7000) for Camera, ($350,$5000) for Lens And ($160 – $500) for Backdrops & Lighting.
Cost For Computer And Necessary Software:
Since it is going to be a professional photography business, you must start with professionally. Therefore, you require a high configuration computer for photo editing and image storage. It would cost around ($1800 – $3000). On the other hand, ($250) for the necessary photo editing software such as Photoshop and Photoshop Lightroom.
points to be noted, the cost may vary as per quality, capacity, configuration, and source.
Photography is such an occupation severely cut your pocket. The days had gone when it was possible to setup a full studio with a handy DSLR and cheap light. Photography instruments should always be up to date to provide industries the best work; otherwise, there is a big chance to fall. Luckily, there are lots of places where you can rent equipment and studio.
No matter how big is your budget, you need professional business skills with the least amount to build a successful photography business.
It was best at that time for wedding photography. But not for today since a lot of professional photographers integrating high-end photography instruments such as Canon EOS 6D Mark II DSLR camera, Sony FE 90mm f/2.8 Macro G OSS lens for advance product photography with the existing setup.
Don't get afraid to invest money when it returns with an additional amount just after sourcing a few potential clients. The potential clients such as e-commerce companies, real estate companies are always ready to pay you only after getting done your task.
In some cases, the client agrees to pay advance to get fast delivery or pay a small portion after the agreement final.
Common Equipment for a Photography Business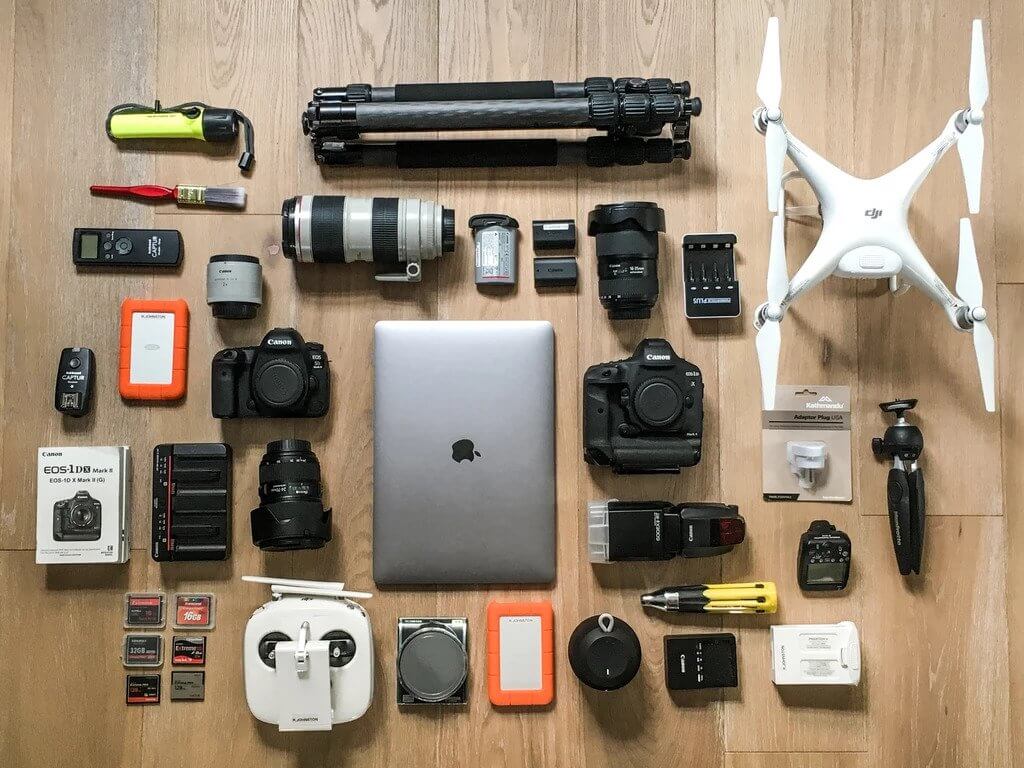 First of all, a photographer requires creative skills with technical knowledge to bring photography business to the next level. It is not easy to survive in the photography industry without having the required pieces of equipment.
There are some common types of equipment needed for every photographer to start a photography business successfully. I am familiar with plenty of photographers who started photography with a mere smartphone at the starting point, and they did well. However, when it comes to the professional level, you must require all professional photography equipment.
The most notable types of equipment are a good camera, lighting, a tripod, camera bag, lenses. On the other hand, you require backdrops, props, and a powerful computer where you can smoothly run graphical tools such as photoshop, illustrator, print, etc.
Not sure whether you are supposed to run a photography service only or photography with editing. Whatever, keep in your mind, you must arrange the equipment mentioned above to run a professional photography business.
Most Common Photography Accessories Are:
Camera Body
Lenses
Camera Bag
Lighting
Drones
Backdrops
Memory Card
Props
Flash
Tripod
Computer
Photo Editing Software
Planning The Services, you will Offer:
Assuming you are a full stuck professional product photographer. That doesn't mean you can't shoot a portrait or wedding Photo. On the other hand, you are planning to run a professional photography business. So, why not offering photo editing too since there is a way of outsourcing photo editing services at a cheap rate.
The client requires quality photos. However, they also need a clipping path specialist to make the picture more eye-catching and realistic. So, you can offer them those services that are available to you.
If you are confident enough about your work, you must offer a one-time free shooting to represent expertise you are good at. It would help you to find the client fast and boost your photography business rapidly.
Be careful about your charge on each photo you shoot since you are going to start a brand new company. Pricing is essential to attract customers on the very first hand before making him your fixed client. I don't recommend to charge too low since it creates a negative impact on customers.
Moreover, put yourself into a client shoe to know exactly what problems they are dealing with and offer them to your best possible solution. That's all I want to say about starting a successful photography business.
Most Common Services A Photographer Offers:
Quality Image Editing
Sessions
Coloring
Printing
Matting And Framing
Delivery
Advertising
Concierge Service
Marketing Plan – Getting Clients Fast
Nobody cares what happens under the skin since wisely marketing your brand through different popular media brings the customer. That is also true for any other traditional business. Isn't it?
There is very little chance to do a successful photography business without choosing the right platform. It helps photographers to reach clients very fast and spread out services to the targeted community.
So, which media is the right platform to start a photography business? Well, there are so many platforms available out there to spread out your brand with cornerstone services through the most popular medial like website, facebook, Instagram, Pinterest, google plus and so on. There are so many ways to promote your pre-made best work out there.
Most Common Marketing Medium For Photographers:
The following marketing strategy helps you to source customers fast and spread out your brand
Photography Portfolio Website:
A photography website is the easiest way to reach potential customers with your best work. A good photography portfolio website with reach content helps users to understand the types of services you provide and drive visitors into customers.
Facebook Business Page:
Facebook is the right chose to source customers. By sharing your great shoot since millions of people visiting Facebook every day and see your great work before hiring you for family photography or baby photography. Although Facebook is famous for sourcing wedding photography clients.
So, You better lunch a Facebook ad campaign with beautiful work done by you, it won't cut your pocket severely. Most of the photographers follow the same to promote themselves by sharing their great shoots.
Instagram:
Being update is the primary requirement to get success in photography industries. However, Instagram is such a photo-sharing media where millions of visitors visit everyday day.
Gradually Instagram becomes very popular with young people. Therefore, you should be active on Instagram with your beautiful work. Don't forget to give a big thumbs up to the model. It's entertaining, isn't it?
Pinterest:
There is no such platform to spread out your great work as Pinterest can. It allows the user to reach people within a few hours. Therefore, printers become one of the best platforms for self-promotion by sharing your best work done. Pinterest
Twitter:
I don't recommend to chose twitter since most of the people come here to share their thought and legislative update. So, playing with twitter wouldn't be profitable although you can try.
Forum and Relevant Blogs:
If you are good at product photography, then there is a big chance to find clients from amazon sellers. Because they require limitless professional product images, so, amazon seller community could be the right chose for you like a product photographer.
Better Relationship With Customers And Supplier
As a photographer, you have to maintain an amicable relationship with both customers and suppliers to get an excellent output in terms of business communication.
Photographer Relationship With The Client:
Probably, you are not going to start a photography business for a week or month. Therefore, building an intimate understanding with your clients bring them back again and again.
The story goes the same for every successful photographer. It's like a kind of game playing with potential clients. Beware about the client too since you are a beginner photographer.
Perhaps, you connect with a client over the internet and doing long term photo editing work without taking any advance payment. So, there is a chance of not getting paid since I have such bitter experiences in my photo editing carrier as a clipping path specialist.
Photographer Relationship With The Supplier:
On the other hand, getting engaged with a supplier is extremely important to get original equipment and additional necessary information. You suppose to replace your existing camera lens by an upgrade version so what about the old one? Yes, here is the deal with the supplier.
You may add some additional amount on your existing device to get a new one. However, it won't be right for every supplier as I'm just sharing my experiences.
Once I bought a camera with Canon 800mm f/5.6L IS USM lens from my regular supplier, the lease excellently well. Moreover, I was happy with that, but after a few days, I detect there is a tiny scratch inside the lower part of the lense.
I know it was not a big issue, but I felt exhausted inside. I asked my supplier, and he replaces the same lease with his responsibility. So, can anyone imagine such help without having a good understanding?
What Are The Mission And Vision Of The Photography Business?
Every business should start with following a mission since it would help you determine the progress of your business. There are a lot of ups and downs in the photography business, but a mission-oriented company never fails anymore.
The mission of Photography Business:
No business can reach its higher level without having a proper mission on its way. Therefore, I highly recommend drawing a crystal, clear purpose for your photography. Every professional business should do it before launching the business, whether it is a photo editing company or a photography company.
The Vision of Photography Business:
Many photographers got massive success in their business but never satisfied since they are moving toward something unknown. It's like driving a car without a driver so how long they can survive it an important question. So, determined a precise vision is vitally needed for the most significant success in the photography business.
Final Verdict And Recommendation Of Starting A Photography Business:
It doesn't matter how big a photographer you are; nobody cares about you without giving it a professional shape. If you are genuinely passionate about photography and photo editing. Then this is high time to start a photography business right away.
The demand for upcoming photographers is unexpectedly well. Since the present world is trending to move online everything and it already noticeable if you look around carefully. No way to bet photography industries. The photography and photo editing industry will become huge competitive as per the demand in the current market.
Salim Ahmed is the founder of Clipping Path Center, an offshore graphic house for Portrait Retouching services. Besides, he is a Photographer and  Blogger. He likes to share tips and tricks on photography, photo editing, and graphic design!