The Corona Virus or COVID-19 outbreak has hurt businesses around the world. The stock markets worldwide have taken a massive hit.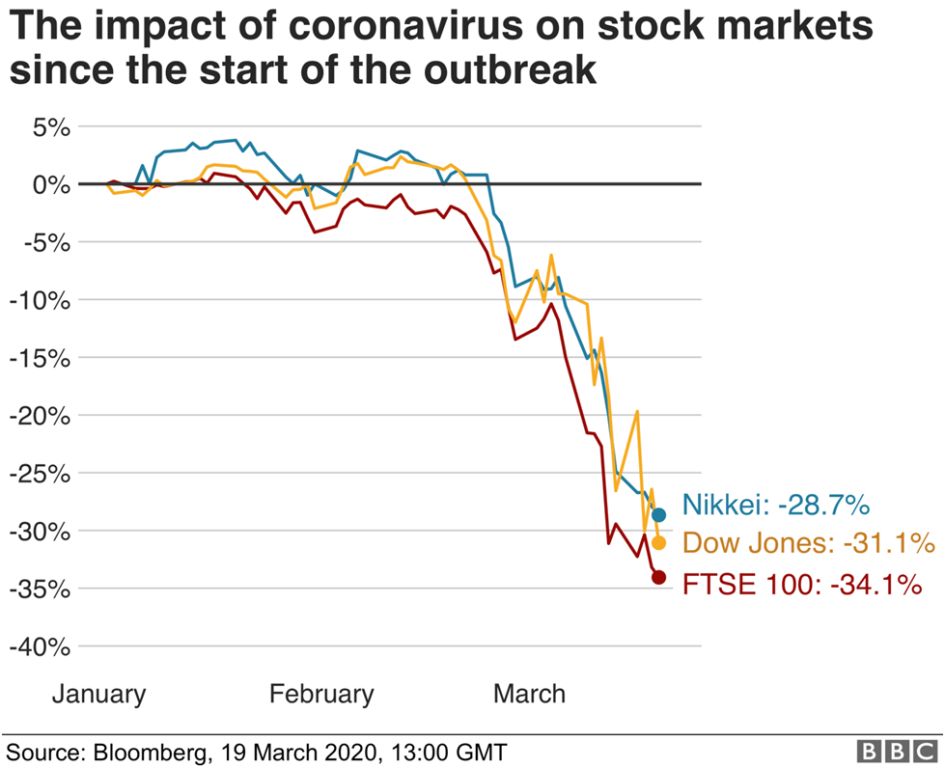 The Dow and the FTSE saw their biggest-ever decline in one day since 1987. The worst-hit industries include:
the Travel Industry,
Airlines,
Restaurant Bookings,
Car Sales,
Investment Banks, and
Manufacturing Sectors.
A report by the OECD states that the world economy is at risk.
The professors of Harvard Business School think that this pandemic is going to change how companies do business. They believe that it' an opportunity for the businesses to:
Develop a trust-based culture in their organizations: Senior management needs to hear about barriers to execution from lower levels, find solutions to overcome them, and spark honest conversations throughout the organization.
Develop a partnership with customers: They can provide clear instructions to customers on how they can be helpful and how their little actions can make a positive difference to everyone else in the network.
Fine-tune their remote work processes: They can train their employees to use tools like Google Docs, Zoom and Slack to make working from home easier without losing productivity.
The biggest challenge is for the new entrepreneurs who have set out to start a small business in these times. Here is a step-by-step guide that will help you set up a new business successfully and easily:
How to Come Up With a Successful Business Idea?
An expert of the GoAssignmentHelp, says, "Every entrepreneur wants to set up a successful business. And to generate profits, a business will need customers. Before you start your business, you should know about:
Who are your target customers?
Why will they buy your product or service?
How and how much they are likely to buy at once?
Why do they buy from your competitors and why they will buy from you in the future?
What will be the unique selling points (USPs) of your business to offer you the niche marketing edge over your competitors?
Research is the main-stay of setting up a viable business."
U.S. Census Data offers many excellent tools to know the demographics within your reach. You can explore this data to determine who you want to target as customers. For example, if you are based in Los Angeles and want to determine your customer profile, you can see that the city has:
4% females,
4% Whites overlapping with Hispanic or Latino population reported as 48.6%,
21% population under 18
…and so on.
Source: Census.gov
Now create a customer persona you are after. For example, you want to target white females between 15 to 18 years in Los Angeles. Come up with products and services they will need, how you can help them, how much they can spend on your product, and so on. This should give you an idea of which business is the best fit for you.
How to Test Run Your Idea to Check Its Feasibility?
Typically, entrepreneurs go by their gut when they start a business. But they need to know:
Is it technically possible to create the product or service?
Are the market and/or the industry ready for it?
Does the entrepreneur have the ability to run the business?
What are the financial prospects and future outlook of the venture?
Writing a business plan helps them find answers to some of these questions but not all of them. Test running a business idea can save you a lot of time and effort in the long run.
Jake Rockwell, who owns Rockwell Products LLC, has started several online businesses that turned out to be successful. His strategy is simple. Here's how he does it:
Rockwell looks for something he knows well and uses himself.
Checks if it has limited competition.
Sees if the product is re-saleable.
Makes sure it does not need an investment of more than $20,000.
Prefers minimal hiring and warehousing (and thus focuses on drop-shipping items).
Finds suppliers, set up a site and start pay-per-click ads.
If a business he sets up doesn't start earning money right away, he switches to another business.
Venture capitalists bet high on customer feedback. Put your business idea on paper, prepare a quick presentation, and show it to your potential investors and customers and ask for their feedback. If no one else thinks it can work, it may be a wise decision to dump it.
David Silver, a venture capitalist and author of Smart Startups has a formula for new business feasibility:
V = P X S X E
where,
V stands for Valuation or Wealth,
P stands for Problem the Business Intends to Solve,
S stands for Solution the Business Offers, and
E stands for Entrepreneurial Team Skills.
According to Silver's formula, if a business lacks any of the three following things:
Clarity about the problem it is going to solve for the customers,
A Product or Service that addresses the said pain point,
Skills or the ability to make it happen,
it will be worth 'zero' in the future.
How to write a business plan easily and quickly?
Business experts, including investors and venture capitalists, can take a look at your business plan and predict your success or failure in a jiffy. Your business plan is a blueprint of how you will structure, run, and grow your venture. You may go for a traditional business plan which may run into several pages. This one has a standard structure and several sections full of details. Lean startup business plans only mention the key elements of a business plan and summarize the most important points of running and managing a business. It is usually just one-page long and may take only one to two hours to draft.
U.S. Small Business Administration offers free guidance on how to write both types of business plans as well as free business plan samples.
Next Steps to Get It Going
Writing a good plan means that half of your work is done. Now, it is about actual implementation. This involves:
Planning Your Finances: A small business does not require a lot of investment initially. But you need to account for costs for equipment, inventory, property lease, licenses and permits, legal fees, trademarking, branding, market research, etc. You also need to have enough money to cover rent, utilities, and salary of employees for at least 12 months.
Registering Your Business: You will have to choose your business name and the type of business entity you want to be (such as a sole proprietorship, a partnership, an LLC (Limited Liability Company), or a corporation. Note: the LLC is the most popular business structure for small businesses thanks to their simplicity to form and manage through legal services.
Getting Licenses and Permits: It's important to research what permits and licenses you need to run your business to avoid any legal hassles later.
Choosing an Accounting System: An accounting system can save you from a lot of mess. You need to keep track of every penny you spend and earn and file your taxes on time.
Choosing the Right Location: Many industry giants started in a garage or the bedroom of their owners. You need to decide what kind of setup and equipment you need and where you can work from.
Setting up a Team: You may choose to hire employees or outsource some of the work to different contractors. Even if you are a solopreneur, you might need a support team to help you with your household chores or a mentor who can offer you advice, motivation, and reassurance when you need it.
Branding and Promotion: Marketing is possible in the smallest of budgets if you know what to do and how to do it. Write a professional press release and distribute it to PR sites and journalists that match your niche. SEO, Social Media Marketing, and Content Marketing are still big parts of the digital marketing game – and you can do them yourself. Search them up on Google if you don't know how to do it.
In the end, YOU as a founder matters most when it comes to the success of your business. So, stay safe and healthy, and keep working on ways to make the world a better place.
Emma Jackson is specialist in content writing, blogging and exploring new topics. Emma is also a part contributor of GoAssignmentHelp that provides marketing assignment help. She loves to write topics like marketing, education and assignment services.