We have had various instances where users require to transfer WhatsApp messages from one device to another. This can either be a user attempting to transfer WhatsApp from an iPhone gadget Samsung Galaxy 8 or Samsung galaxy 9 or probably to avoid data loss by backing up Samsung WhatsApp. This process isn't always easy especially if you don't have the right software.
In this article, we are going to walk you through a seamless process of  about how to transfer WhatsApp from iPhone to  Samsung. This is possible through the use of third-party tools or cloud services.
With iSkysoft Toolbox
There's no doubt that there are several options when it comes to transferring WhatsApp data from iPhone to a Samsung S9/S8 plus devices. But it's not just a matter of going for any solution available in the market. It is about getting a full proof solution that will not lead to the loss of some of your messages or compromise the security of your phone.
iSkysoft Toolbox is one of the best whatsapp transfer backup & restore solutions in the market and is trusted by millions of users across the world. iSkysoft Toolbox – Restore a social app is a software that makes it possible for users to transfer WhatsApp messages from iPhone to Samsung S9/S9 plus as well as well as backup their WhatsApp data.  It is a software program that is easy to uses and readily available in the market.
Functionalities of iSkysoft Toolbox – Restore Social App can do
Allows you to transfer WhatsApp information between iOS and Android devices including photos, messages, documents, messages and many more.
The software also allows users to transfer data between iPhone and Samsung devices
The program supports all almost all iOS versions
Step by Step process on how iSkysoft Toolbox works
Step One
Download and run the iSkysoft software on your computer and then click on the "Restore Social App" tab in the Toolbox.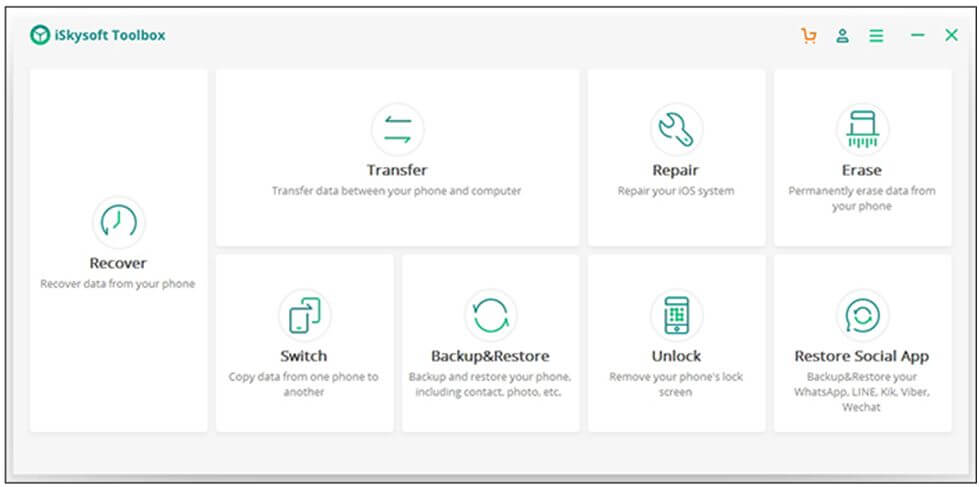 Step Two
The next thing is to select "WhatsApp" and click on "Transfer messages" icon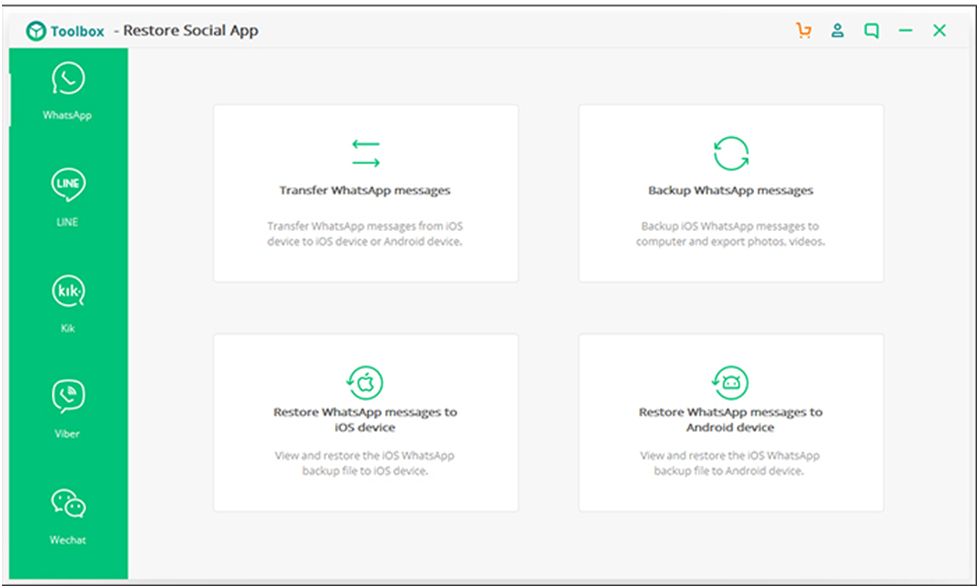 Step Three
Step three involves connecting both the devices (iOS & Android) to your PC and confirming that they are successfully connected as shown in the screen below. Then click on the "Transfer" icon located at the bottom right corner.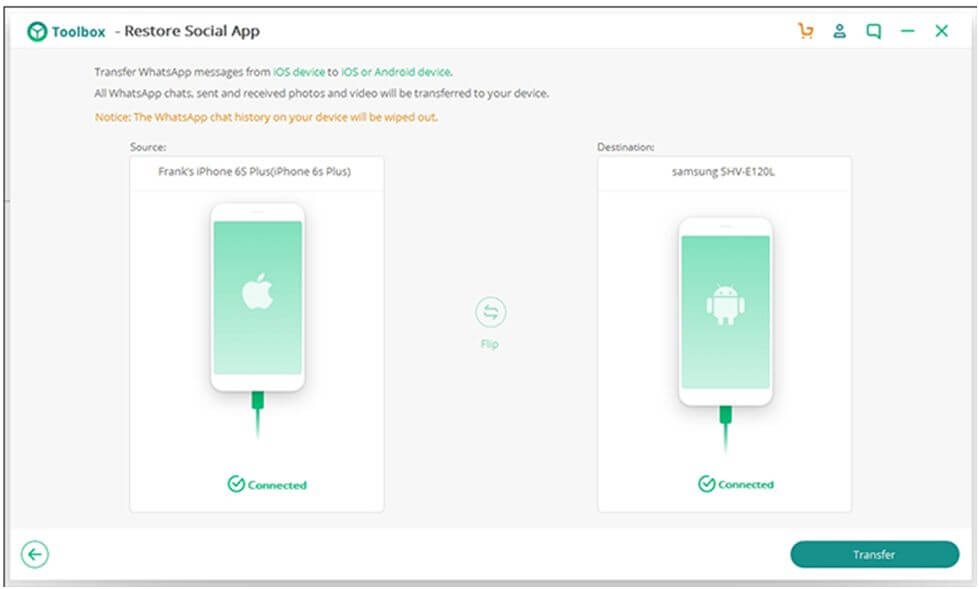 Step 4
When the next screen appears, select on the "skip" icon in case you do not have a Google Play account. If you have a Google Play account then you can log in and move to the next step. There's a pop up message that will appear, click "yes'
Step Five
This is now where the iSkysoft Toolbox initiates the WhatsApp restoration process form iOS to Android. Ensure that the connection is not interrupted during the process.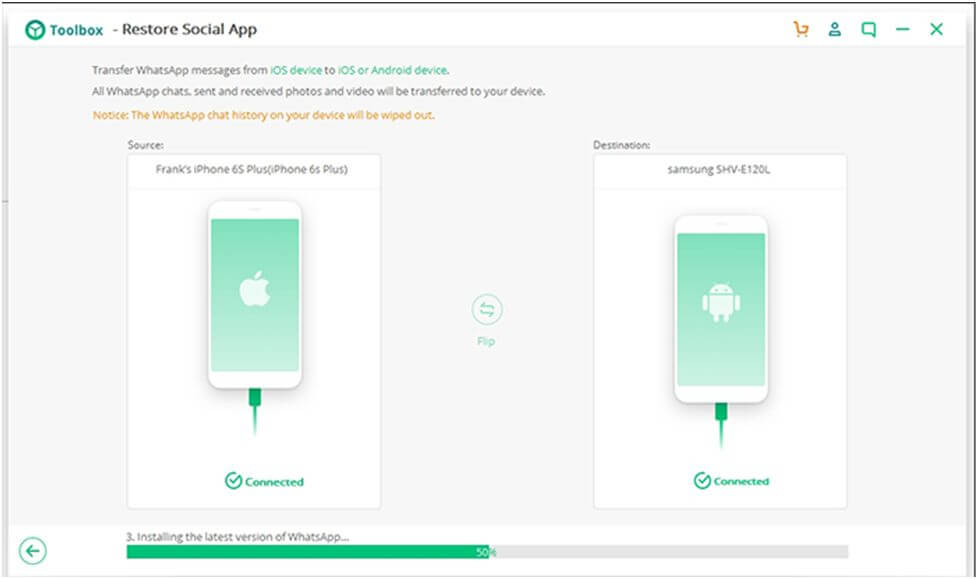 Step Six
A pop-up menu will appear showing "Transfer Completed"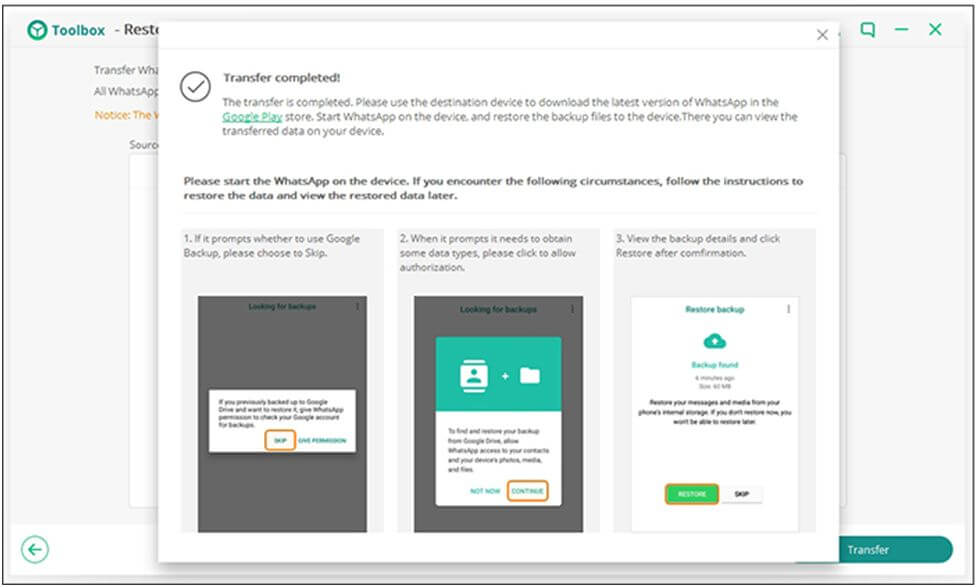 Chris Mcdonald has been the lead news writer at complete connection. His passion for helping people in all aspects of online marketing flows through in the expert industry coverage he provides. Chris is also an author of tech blog Area19delegate. He likes spending his time with family, studying martial arts and plucking fat bass guitar strings.