Kitchen appliances are one of the biggest investments for homeowners. But even the most expensive appliances will break down eventually. When this happens, you have to decide what to do, repair, or replace the malfunctioning kitchen appliance.
Repairing or replacing a broken kitchen appliance can be a costly decision. That' why it's crucial to have an understanding of the value of your kitchen appliances to ensure you don't end up spending more than you need to. In this guide, we're going to explore how you can know when to repair or replace your kitchen appliances and give you tips on how to maintain them to improve their durability.
Kitchen Appliance Repair Vs. Replacement
Once your kitchen appliances start to go on the fritz, you'll have to decide if it's worth it to repair, or you'll be throwing money down the drain with a temporary fix. Before you decide on your kitchen appliance, there're a few things you should consider first.
1. How Long Do Kitchen Appliances Last?
Kitchen appliances, no matter how high-tech they are, have a limited lifespan, and as they age, they tend to break down more and become less efficient. If your appliance has started to malfunction and is more than halfway through its expected lifespan and the cost of repair is more than half the original cost, replacement is the best option.
If your kitchen appliances have broken down repeatedly over the past few years, you might want to consider getting a replacement. Frequent repairs are not only annoying; they are also expensive and time-consuming. While the upfront cost of a complete unit upgrade can be high, a newer model will run more efficiently and save you money on repairs.
On average, dishwashers and microwave ovens can last for 9 years, while fridges and electric ranges have a lifespan of around 13 years, gas ranges can last up to 15 years. Outdoor kitchen appliances like BBQ grills have a lifespan range of between 5-15 years. However, how you use and maintain these kitchen appliances will affect their lifespan. Lack of upkeep coupled with incorrect use can considerably shorten their lifespan, but with proper care and maintenance, your home kitchen appliances can last past their expected lifespan.
2. Are Your Kitchen Appliances Still Under Warranty?
When deciding whether to opt for kitchen appliances repair or replacement, you need to check if they're still under warranty. If you've had your appliances for less than a year, chances are it still has a warranty covering labor and kitchen appliances parts, and you may be able to have your unit replaced or repaired free of charge. Even if the warranty is expired, don't throw away your essential kitchen appliances unless they keep breaking down.
In some cases, warranties can be extended for future cover, so be sure to check. If you've decided to purchase new kitchen appliances, consider buying a warranty. The best kitchen appliances can cost thousands of dollars, so having a warranty is important. Remember that almost all warranties have restrictions, so be sure to read through the warranty to understand what it covers and its limitations.
3. Is Your Kitchen Appliance Energy-Efficient?
Skyrocketing energy costs are usually the result of malfunctioning kitchen appliances, so if you've noticed an unexplainable high energy bill, it might be time for a replacement. Also, if your kitchen appliances have a lower energy rating, consider upgrading to newer models. Smart kitchen appliances are highly energy-efficient and will save you money on energy bills.
When going through your kitchen appliances list for upgrades, it's important to factor in their energy efficiency rating. Check the yellow tag on the front of the appliance for an Energy Star label and the estimated energy use and cost per year. You can also ask your gas or electricity provider if upgrading your old kitchen appliance will make you eligible for a rebate.
4. Do You Want to Maintain a Uniform Design in Your Kitchen?
If your kitchen style and design are important to you, you can take advantage of your old dishwasher breaking down and get a new dishwasher matching other kitchen appliances. When you need to replace a kitchen appliance and want a uniform look in your kitchen, you need to find out if you can find a new appliance that fits your kitchen's design.
Also, ensure your new kitchen appliances can fit in through the door, and there's enough space in your kitchen to accommodate it. If the appliance's size doesn't fit where you want it to be, it can affect your kitchen's interior. So before committing to an appliance, measure the new unit's area and leave some space. For example, if installing an oven or a fridge, leave enough space to account for the door to open.
Even if you'll be getting the appliance online, it's advisable to visit a showroom to look at the appliance in person to confirm the size and aesthetics. If you have a small space, go for small kitchen appliances that won't take up a lot of kitchen real estate. There're plenty of compact appliances on the market that function as well as large kitchen appliances. 
When to Repair or Replace Your Kitchen Appliances and Maintenance Tips
Before your kitchen appliances completely break down, there're usually signs signaling this impending doom. Knowing what to look out for and carrying out regular care and maintenance of your cool kitchen appliances can help you avoid costly repairs and replacements and extend your appliances' lifespan. Here are some tips on identifying a malfunctioning appliance and what to do to prevent future breakdowns.
1. Refrigerator
If you have a malfunctioning bottom and top refrigerator below 7 years old, it's better to repair, but a replacement is ideal if it's older. Side-by-side refrigerators have an expected lifespan of 5 years, so if it breaks down past the five-year mark, consider replacing it. It's always better to repair built-in refrigerators since it involves more work as they are built into your kitchen. Watch out for these signs:
Overheating and noisy motor
Cools unevenly
Too much condensation on the inside and outside
Regular frost buildup in the freezer section
The back and side of the fridge get too hot to touch
The food gets spoiled quickly
Before calling for professional repair, check the condenser coils, ensure they are clean, and make sure the door seal or gasket isn't dry or cracking. Also, there should be at least an inch of space between the wall and the fridge for adequate airflow, and be sure to replace the water filters every six months. You should also be careful not to overload your refrigerator with food items as this causes the compressor to work harder to keep your beverages and food cold and fresh.
2. Microwave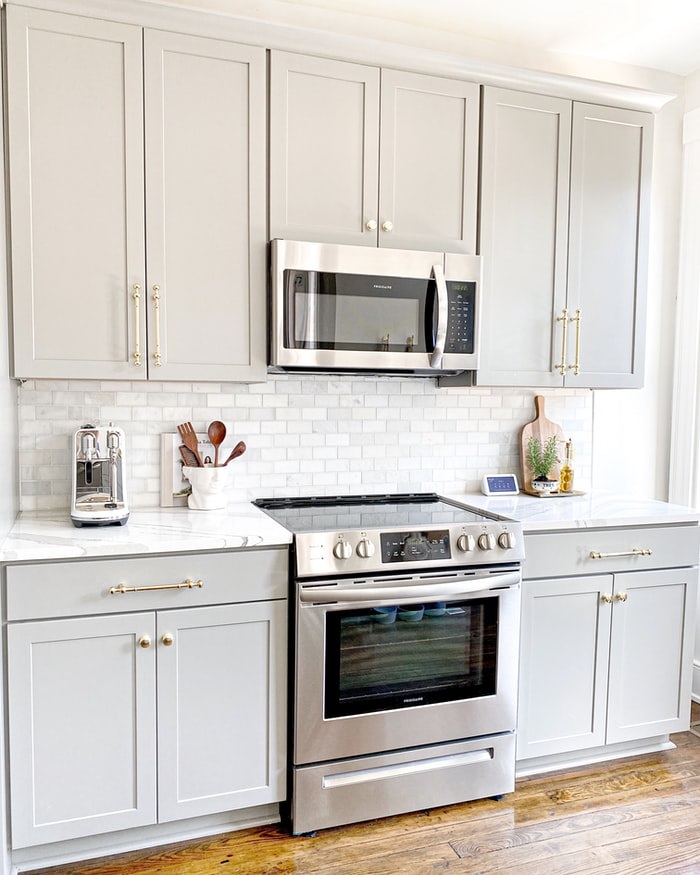 Although the microwave wasn't considered an essential kitchen appliance until a few years ago, their easy-to-cook meal features and space efficiency has made a microwave a vital kitchen appliance. Microwaves usually have a 5-year expected lifespan, so if you notice any of these signs before the 5-year period elapses, you may need to repair or get a new unit.
Loud buzzing noise while in use
You experience door switch problems
The turntables don't rotate
Takes longer to cook
The touchpad doesn't work
To ensure your microwave operates efficiently, clean up spills immediately as food particles, grease and grime can shorten its lifespan. Wipe down the control panel, door seal, and frame at least once a week. Don't heat any flammable food or beverage; put a metal container or utensil inside the microwave, and remember to remove the aluminum foil and the food container seal before heating.
3. Cooking Range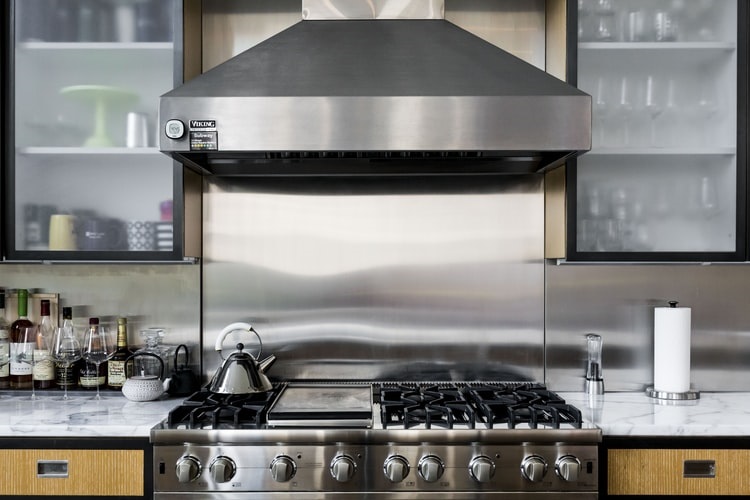 Regular maintenance of your cooking range is crucial since any problems could become a fire hazard. If you've noticed any of the following signs, call for repair service or invest in a newer kitchen cooking appliance.
Cooks food unevenly or takes too long to preheat
The switches are broken or get stuck
Cracked ceramic top
The control panel keeps malfunctioning
You smell gas, in which case you should call your gas company immediately
Damaged pipes
Non-functional burners
Lack of heat or inconsistent heat from the oven gasket
To ensure your oven is in excellent condition, place a baking sheet on the lower rack to catch any spills, and in case of any food splatters, be sure to scrape it off after the oven cools down. If there's a big spill while cooking, coat the mess with salt while it's still hot to make it easy to scrape it off.
4. Dishwasher
A dishwasher is an essential kitchen appliance, and as such, you need to care for it so it can continue keeping your kitchen clean. Although most dishwashers have a 10-year lifespan, you might have to give it a few tune-ups within that period. Depending on the extent of the damage, you may have to replace some components or the whole unit. If you notice these issues, it might be time to repair or replace your dishwashing kitchen appliance.
Breaks or cracks on the frames and doors
Rusting exterior indicating water leakage
Cold dishes after a cycle
The door doesn't lock properly
Stagnant water inside the dishwasher suggesting clogging
Water pooling under the dishwasher
Spotty dishes after a washing cycle
Adhesives from pasta sauce or jelly jars and dirt and oils from painting or gardening tools can clog the hose and filter. To prevent your dishwasher from damage, don't put non dishwasher safe items in the unit. Also, regularly clean the unit using a dishwasher cleaner as it helps to dislodge food residue and breaks down mineral deposits.
5. Small Kitchen Appliances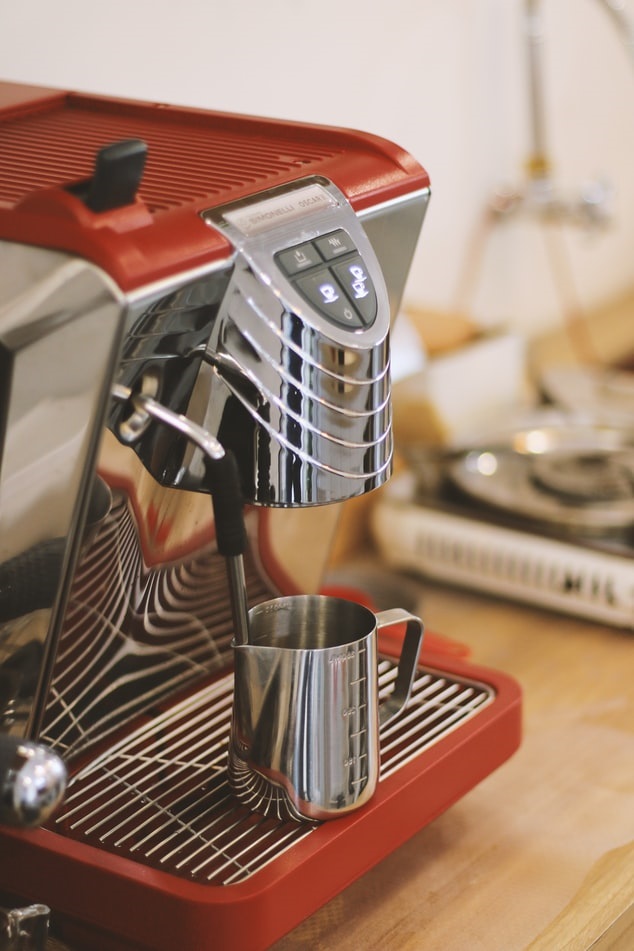 Most appliances for small kitchen spaces such as toasters, coffee makers, and stand mixers don't last longer than five years. Despite their small size, these kitchen appliances are expensive, so you need to evaluate the problem before buying a new unit. If it's a simple operating fault, you can repair it yourself, but a replacement might be in order if the problem is more complicated or costly.
4 Tips for Kitchen Appliance Repairs
Use a local repair contractor as this is a cheaper option than using a large company.
Register your kitchen appliances with your manufacturer so they can have a better understanding of the parts your unit will require.
If possible, group several kitchen appliances into one call.
Get your repair service to give you a written guarantee and check what's included in the cost and which repairs attract extra charges.
Frequently Asked Questions (FAQs) on When to Repair or Replace Kitchen Appliances
Q1. Should you repair or replace your kitchen appliances?
If your kitchen appliances are nearing or past the end of its lifespan, replacing them with modern kitchen appliances is the best option. You'll save money on energy and repair costs, and you'll have more efficient appliances. If your unit is still relatively new and doesn't break down frequently, consider having it repaired.
Q2. When do you need to repair kitchen appliances?
If you notice your kitchen appliances not working properly or stops working completely, you should have it repaired immediately. Waiting can make the problem worse, resulting in expensive repairs.
Q3. Can you fix a broken kitchen appliance on your own?
If the problem with your kitchen appliance is simple, you can quickly fix it without calling a pro. However, be careful not to attempt a complex DIY job as you make a mistake that can result in more expensive damages.
Q4. How often should service or inspect kitchen appliances?
For large kitchen appliances, schedule inspection and servicing at least once a year, while for smaller appliances, you can service them twice a year.
Conclusion
As a homeowner, knowing when to repair your kitchen appliances can mean the difference between extensive and costly repairs and a simple, inexpensive fix. It's also important to regularly maintain your unique kitchen appliances to help them run more efficiently and increase their lifespan. Do you have any other tips on how to know when to repair your kitchen appliances? Let us know in the comments.
Alex Green is a copywriter with 3 years of experience. He is fond of healthy living and knows everything about home improvement. In his spare time, Alex likes walking with his golden retriever, meeting with friends, and attending the gym. He is a contributing author on MyKitchenAdvisor.