Introduction
We find a lot of mobile app analytics tools over the internet, but which one to choose for your project? Choosing the best one that matches your needs and expectations is very important.
In this article, we are providing the list of the 10 best tools, choosing one from these 10 may match your standards. Each of these mobile app analytics tools provides different features, so carefully read about all of them before determining which is the best for your requirements. With the visions these tools offer, you can adjust your application's performance to make it even more efficacious.
What is a Mobile App Analytics Tool?
The analytics tools for mobile applications can be said as a developer's best friend. These tools analyse the performance of your smartphone application and help you get a good knowledge of how your users are acting and how the application can be optimised to attain your goals.
But, as I said in starting, finding the best mobile app analytics tool can be a hard thing to do. That's why we have carried out the hard part by listing 10 of the most highly preferred mobile analytics tools to assist you to finalize which one is perfect for you as well as your business. So, just read ahead to know much about these top 10 tools.
Google Analytics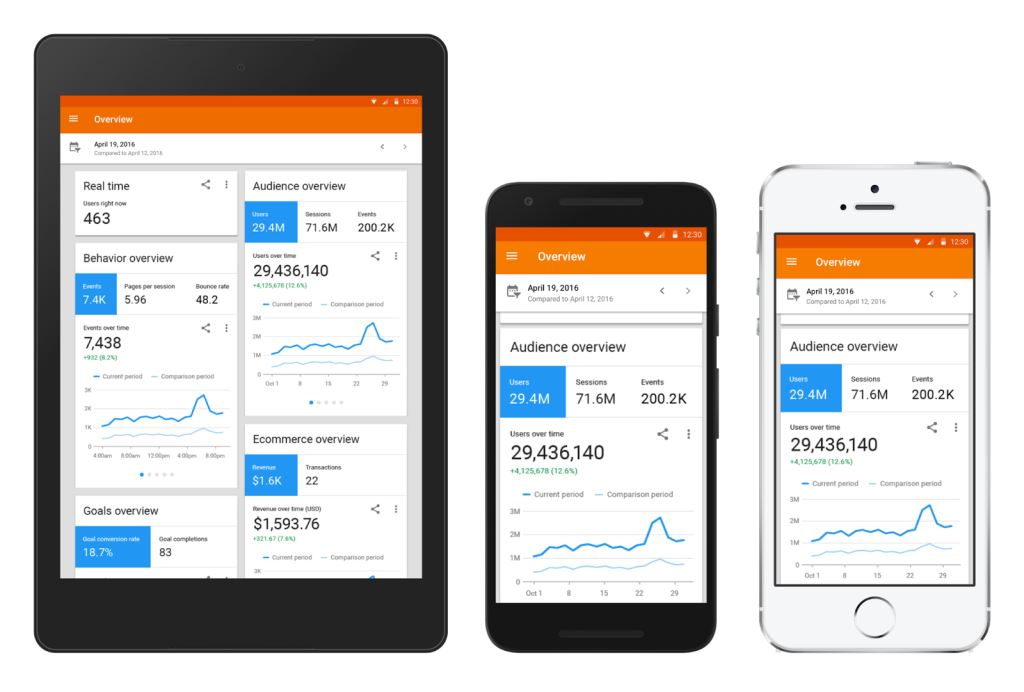 Google Analytics is a free tool that is used by many mobile app development companies and covers generally in-app analytics. Moreover, it has a premium version intended precisely for enterprises and offers more comprehensive information. It is offered on Android, IOS, and various other platforms. It typically focuses on assessing user acquisition, revenue and activation. You essentially sign in through your Google account and then begin using it. This amazing Google Analytics tool assists you to have a better knowledge of what your consumers expect from your application. You can essentially set up goals for your potential consumers and check if they achieved these goals in-app analytics. The provides many features including:
the money spent by the users'
the number of sessions and users
session duration
device models as well as locations of your users
OS of your users
Apple Analytics (App-Analytics)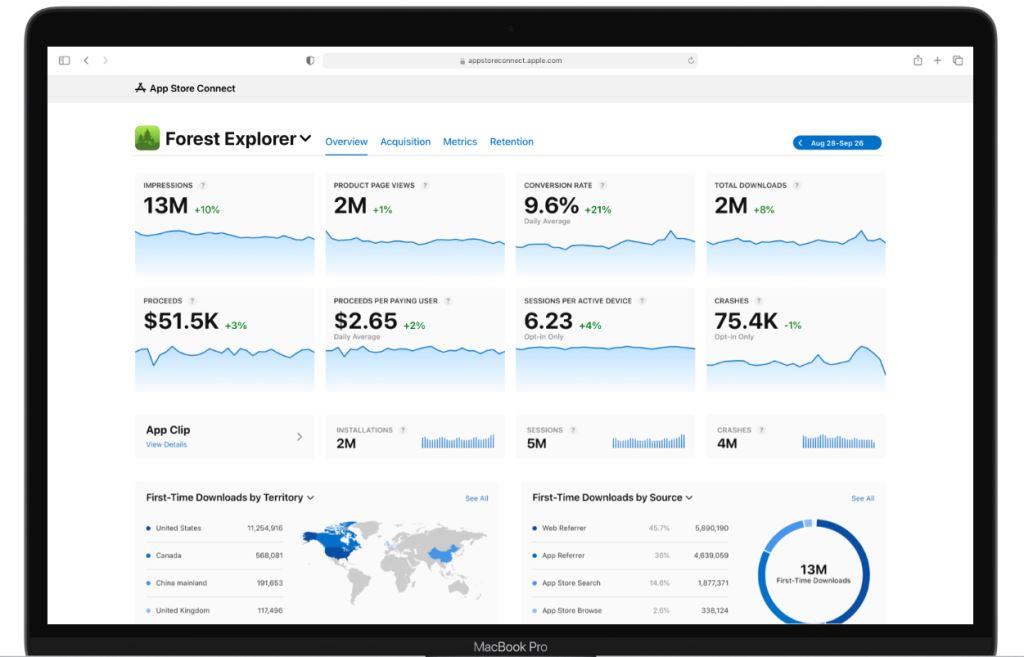 Apple Analytics is the best free tool that is used by most App Analytics Companies and its developer is Apple. If you want to boost your application on platforms such as macOS Mojave, watchOS 5, iOS 12, and tvOS 12, to be prominent in devices such as App Store for iPhone, Apple Watch, iPad, Mac, iMessage, and Apple TV, and also on the Safari Extensions Gallery, then Apple Analytics tool is just the best for you. Through the data these tools provide, you can make the required adjustments in your application to fascinate your new users as well as to keep the current ones. It provides an in-app service. It essentially focuses on measuring user retention, acquisition, revenue and referral.
Mixpanel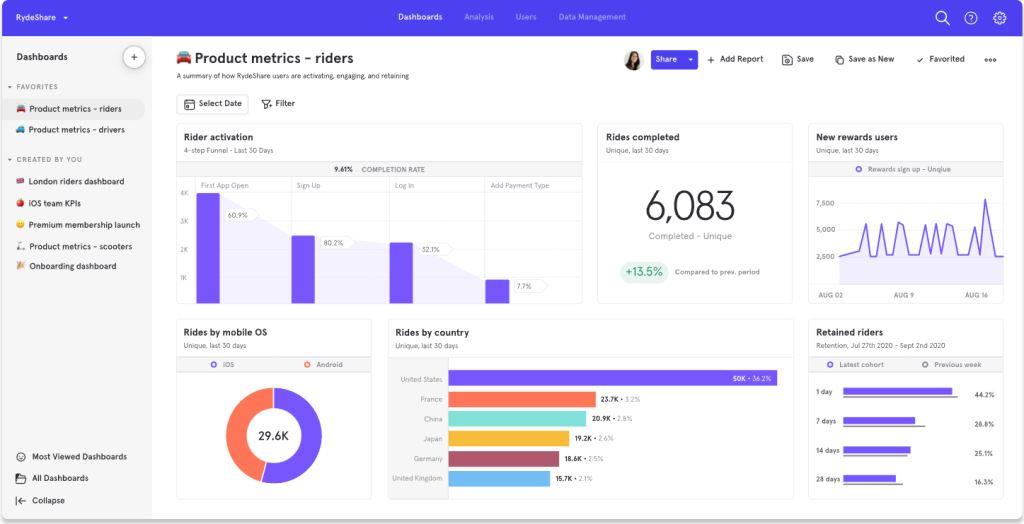 Mixpanel is another trendy real-time tool for mobile app analytics among mobile specialists, predominantly for crunching different data points and understanding the whole user journey across different channels. Since no code is needed to track application data, it is just perfect for technically challenged users or inexperienced users. The people plans and engagement are two diverse plans provided by Mixpanel, and users can pick out from free, yearly, monthly, or corporate choices depending upon the number of data points.
Firebase Analytics
Firebase is a mobile platform for developing applications that can assist you to expand your user base on Android and iOS. You can find everything in a single place, including communications, real-time data visualization, & crash reporting. It is also counted in the real-time data collection tool. Various other Google technologies, for example, Google Analytics and Google Ads, are also integrated into Firebase.
Flurry Analytics
Another mobile app analytics tool we are discussing is Flurry Analytics. It is free analytics for the application involved as a constituent of the Yahoo Mobile Developer Suite. It offers a great extent of data, ranging from usage statistics such as active users as well as sessions to technical data on mobile carriers and devices.
Similar to Mixpanel, conversion tracking in Flurry Analytics is carried out using funnels and events. User paths are envisioned in simple flow charts, allowing you to rapidly gain the knowledge of the path users take with your app from the start to the end of every session.
The customizable dashboards of Flurry make it simple and comfortable to view your key behaviour as well as conversion data just once you are logged in. You are allowed to make up to ten custom dashboards, providing you with access to all of your important data without needing to get too deep into fairly complicated menus of Flurry.
Branch.io
This is another free to launch real-time data collection tool that has a startup plan of around $ 59 every month. It also has custom pricing for the companies. Also, you can try out premium products for 2 weeks before investing a lot in them. It does well for both İOS and Android platforms. It grants customized auto-generated application previews having deep links & considers it is a perfect way to display a preview of your content to the consumers rather than directing the user straight to the Play or App Store. It also offers analytics reports on installs and previews separately that provide you with an impression of your innovative goals. Branch.io claims its people-based attribution is idiosyncratic. It concentrates on attribution, performance and referral.
Singular
Singular is a mobile app analytics tool that has customized pricing and to know how much app analytics tools cost, you can directly contact them for the quotes. It performs well on Android and IOS. It combines intelligence data and campaign data in a single dashboard. This analytics tool has strong customers such as Linkedin, Target, Symantec, Disney, Twitter, etc. It concentrates on user attribution. It offers marketing data sources connectivity, detection and prevention of mobile fraud, marketing optimization, reengagement with inactive users, and tracking links and audience segments based on user behaviour.
BuildFire
BuildFire is the best option used by many App Analytics Companies, which is an app development platform, however, it features an amazing recon that provides users with complete app statistics. Recon keeps good track of plugin usage, downloads, the number of repeat clients, and how many new people register among other things. In this software, user segmentation is additionally available, separating users into groups based on activity, permissions, and behaviour. Some features of this system include real-time app analytics, user segmentation, retroactive funnels, retention rate detection and scalable analytics.
Localytics
Localytics is a mobile app analytics tool that has customized pricing and to know how much app analytics tools cost, you can directly contact them for the quotes. It works in Android, iOS, Windows Phone, HTML5 and BlackBerry. Localytics target each of the customers from retail, media, travel, lifestyle and business; that is why enterprises like Sony, Marvel, Bose, Bloomberg, Avis, Hasbro, & Virgin are among its consumers. Localytics privileges that it is all about helping your beloved customers know to make them active in your application. It offers personalized in-app messaging, recommendations, and customized notifications, and gives you suggestions on how to get this done without maddening your users. It also offers location-based messaging solutions for vendors. It concentrates on user attribution. It offers support on A/B testing, funnel reports, uninstall tracking, marketing clouds, mobile CRM, detailed event & attribute tracking and custom dashboards.
Heap Analytics
The last mobile app analytics tool, we are discussing is Heap Analytics which has a free plan with 5,000 sessions every month for side projects and young businesses. It also has customized pricing and to know how much app analytics tools cost, you can directly contact them for the quotes. Heap has reputable and decent customers like Harry's, Microsoft, and Casper. It states that event tracking is very old now, and the latest thing that does is to capture whole customer datasets robotically and you compliantly model them to Virtual Events. It concentrates on user retention and attribution. It provides auto-capture, behavioural analytics, virtual events, virtual users, historical data and connections.
The Final Thought 
Selecting the most suitable mobile application analytics platform is a daunting task, but when you do your perfect research and get the right and most suitable tool in place, you will be stunned at the visions you receive. The above listed top 10 tools may help you in your research. Making use of any of these mobile application analytics tools will offer you a more all-inclusive view of what is happening in your application and facilitate you to see results on an inclusive level, taking your mobile application to a place of utmost development.
Groovy Web is also here to help and give great support. We are the best mobile app development company, focused to give you the advantage of A/B testing, real-time data collection tools, comprehensive analytics and many more. Once you hire our services, you can rest assured that you will get an all-inclusive solution.
Krunal Panchal is the CEO & Co-founder of Groovy Web. He has been a hardcore programmer since he was 11 and started his professional career very young. His technical and logical mind drove him to choose coding as his destiny. At an initial stage, he got essential experience and the spirit of innovation and entrepreneurship. Learning something new is a never-ending process for him. Under his leadership, Groovy Web has become an established organization that serves industries from startups to enterprises, regardless of any limitations.