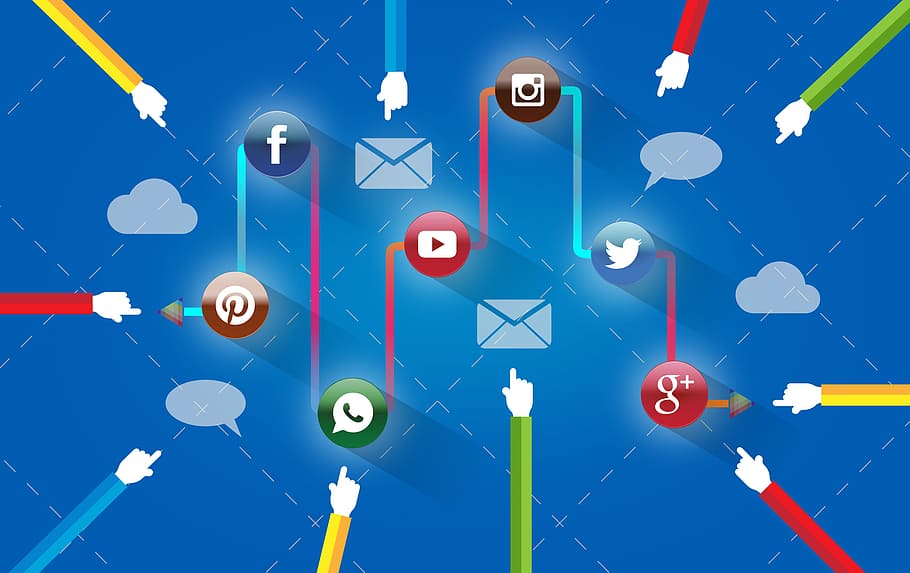 Managing your social media is crucial in developing your online presence and boosts your sales. At times, you may be confused about the implementation of the right way. Yes, we got you an answer. Social media management is better employed by using a few social media management tools.
These tools allow you to cover all aspects of social media platforms and improve your presence and traffic. Ultimately, it leads to an increase in your sales. Starting from understanding your target audience to improving your reach, everything requires a basic analysis. To explore more on the social media management tools, read this article till the close.
Here, we explain the top 10 exclusive tools that you can use to enhance your sales through social media management and social media marketing. Here, we go!
Top 10 Social Media Management Tools
Social media is a powerful tool that helps you reach a wide range of people. Hence, managing your social media is vital. Now, glance at the top 10 social media management tools that help you boost your sales and save time.
We have also stated the features for your better understanding. Check it out and make a pretty great choice.
1) Revive Old Post
It is the prime social media management tool that you can use to revive your old content. Further, it allows you to fetch desired pictures from your blog sites and upload them in all your wanted social media shares. It is one of the social media scheduling tools which allow you to specify the time and days wherein you need to share.
Features
Suitable for Facebook, Twitter, Instagram, Linkedin, Pinterest, And Tumblr
Controls include title, hashtags, tags, and texts in the post
Share any media that is allowed in the particular social media platform
Automatic fetch of hashtags
Pricing begins from $75
2) Adobe Spark
Adobe Spark is a professional social media management tool that you can use to make graphics, videos, and even posters for your social media handles and web pages. Sharing through email is also possible in this case. It is easy for anyone to upload it on your device and cloud storage. The unique characteristic of Adobe Spark is you get access to around thousands of free online images.
Features
Highly professional tool
Multiple fonts and design access
Get access to ultimate and professional fonts
Sharing through social media is possible
Easy to transport via emails
Top-notch layouts and colors
A limited free plan is accessible
Pricing begins from $8.99/month
3) CoSchedule
Management concerning organizing makes an accurate combo. Only when you organize things way better, you can effectively manage onto them. There is an interactive tool named CoSChedule, which you can use to schedule your social media posts using its social calendar feature.
The social inboxing feature is also feasible in this case, as you can build your community with this. Supporting your customers by answering your customer as fast as you is an advantage. Campaign performance can be traced instantly. No matter what, you can gain valuable insights and boost your sales using this social media management tool. The Analytics features you find in CoSchedule identify the best content for your social media handles.
Features
Works as a prime social media scheduling tool
Improve your online sales by actively interacting with your potential audience
Best suitable for social media networking sites
Increase traffic, reach, and engagement
Allows you to share effective content on perfect time
Fetching of Analytic report is possible
Pricing begins from $9/month
4) Canva
Canva is making a revolution in the field of design. Anyone can use Canva with ease in a minute. You get default templates wherein you can just edit on things and create a wondrous design. Almost most of the graphic designing experts have switched to Canva to make revolutionary designs.
Though one party is not satisfied with the ease in the design feature of Canva, most people find Canva as a gift of the present design domain. The Presence of free Canva templates makes it popular among designers. Not only designers, but it is also a proper tool for non-designers.
Features
100+ free templates
More templates in the paid version
Uploads storing options
Handy illustrations, shapes, frames, and much more
Free stock photos
Suitable for almost all the design types
Paid versions start at $9.95/month
Compatible with presentation
Make an attractive corporate pitch, presentations, menu, and so forth.
5) SOCi
If you are a multi-location marketer, here, SOCi is for you. You can manage your local presence much straightforward with this wonderful social media management tool. The tool allows anyone to create and share libraries.
Having worked in multiple locations, it becomes difficult for anyone to keep on branding consistency. In such a case, if you operate your online sales and presence with the SOCi social media management tool, it is an added plus. Being also a social media scheduling tool, you can optimize content and share in on your desired time and date.
Features
Maintain accuracy
Consistency is at its top
Business listing and networking is possible
Sending notification for real-time responses
SmartBot for conversational feature
Chatbots linked with FB messenger
Pricing depends on the custom needs of the purchaser.
6) Google campaign URL builder
Collaborating with different influencers is key to a massive improvement in your business. Additionally, there is a chance of getting huge traffic. When more people visit your site, there is a huge chance of many becoming your long term customers.
So, it is the hidden strategy that you find on Google campaign URL builder. You can easily host any of the campaigns, track it, and set up is done with ease. All you need to do is filling on a few parameters to employ a campaign. The marketing partners find it is an easy and straightforward method.
Features
Campaign organization
Data management
Track campaign performance
Easy to find service
Performance on a good phase
7) SocialOomph
It is one of the coolest social media management tools, as stated by most of its users. Here, you can easily manage your client's social media postings and schedule. It means you can employ it for social media marketing and digital marketing purpose.
You can also set a timer to delete the outdated content. The feature is known as a self-destructing poster feature. It is the prime feature that sets this tool unique from others. It reduces your work of manual deleting and checking.
Features
Easy to use
Scheduling is possible
Check the specific time
As you schedule for posting, you can also schedule for deleting
Publishing limits can be ser
Creating value-added blog posts is possible
Get feed entries without interruption
Ease to publish
Work well as a team
Manage your clients handle as well
8) Sendible
Looking for a cool social media management tool that covers around 20+ social media and networking sites? If yes, check out Sendible. Sendible has been a reliable social media management tool that you can use for social media, social networking sites, and even blogs.
At times, people use it for their websites too. It is purely a social media scheduling tool. You can organize your mail listings, blogs, and so forth. No wonder if someone says it as one such prime tool everyone should use to boost their sales.
Features
Check messages
Respond to chats instantly
Everything is availed in your dashboard
Social network scheduling
Interactive calendar planning
Reviewing of your campaigns
Positing is regulated
Accessing multiple networking sites
Availability of 14-day free trial
Pricing starting from $24/month
9) Wistia
Social media management tools are always crucial in boosting the sale. Because, with a proper posting schedule and design, you can attract all the potential customers. Yes, we talk about the attractiveness of a profile. You can work on exclusive videos to attract the crowd.
For the same, Wistia is of great help. You can organize the videos and playlists effectively. They include recording and video editing.
Features
Work on customizing videos
Video making and editing
Quality recording feature
Add CTAs
Ad-free service
Viewer data is accessible
Target existing viewers
Limited free account
Paid pricing begins from $99/month
10) Hootsuite
Hootsuite is one social media management tool anyone can use with ease. You can create, shape, and manage posters. Further, you can add infographics, demographics, statistics, and other data. It covers around 35+social media or social networking sites.
You can add filters to the existing social media posters, and add elegance to the new posters. Social media scheduling is possible is a high level. You can promote your posts anywhere at any time. It is easy to look at the target viewers.
Features
Post scheduling
Save time and energy
Ease to use, manage, and share content
Best content promotion
Auto-schedule setting
Enhanced teamwork
Pricing begins from $29/month
Things to Consider While Choosing the Right Social Media Management Tool
Choosing the right social media scheduling tool needs proper analysis. On knowing the below-mentioned factors, you will understand exactly what you need.
Check to price is mandatory in purchasing the right social media management tool. It is because most of the services offer discounts with authenticity. So, choosing the one with minimal cost and perfect service is fine.
Choosing the tool that has high positive reviews and usage is the best choice. In short, it is a wise choice. The more you read reviews, the higher you get to know about the tools' pros and cons. Ultimately, it allows you to make a great choice.
If you can find an ultimate all in one tool, don't pause, afford it instantly. For the same, just check the pricing. If everything works well with your needs, you can go on with all in one tool.
Why Use Social Media Management Tools?
Now, using social media scheduling tools, you can schedule the perfect time of posting. It saves you time and does its work without fail.
Certain social media management tools also self-destruction. All you need is to set the time, rest will happen automatically. A perfect tool to stay updated.
On getting the insights, you can easily find what is needed and what is not. It can help you in formulating the accurate strategy demanded to boost your online presence. Ultimately, improving sales is possible.
Now, you can also create attractive graphics using social media management tools. Attractiveness is the key to a wide reach. Through good posters, you can make your audience aware of your products and services.
Merits of Using Social Media Management Tools
You can keep up the social engagement for a long time.
You can manage multiple social pages at the same time.
It is simple to use and handle.
You can handle your client's social media handle easily.
Boosting sales is much easier with all these social media management tools.
Teamwork is possible with these tools.
Social media scheduling tools make your schedule easier.
Increment in social accountability is observed through these tools.
Through keywords and hashtags monitoring, you can boost your online presence and sales.
Through Analytics, you can analyze all your social performance. With these tools, it becomes easy and straightforward for anyone to increase their engagement.
Closing note
Hence, every social media management tool has its characteristics. It is your wise choice to choose the best one. To choose the best, you need to have little patience to analyze everything you need. You can read reviews and recommendations to strengthen your decision.
No matter what, if you get employed with a social media management tool, be ready to witness a huge positive impact on your sales and online presence. Businesses always need a proper way to grow better. Here, you always have social media to guide you. And, social media management tools are there to make your social media journey way better. Happy reading!
Sukriti is a Marketing Head at BloggingMile, a platform that help people to earn passive income through Blogging, Affiliate Marketing, etc. She also loves to write content on the topic related to Digital Marketing, SEO, and Technology. When she is not in front of a screen she enjoys listening to music and cooking.