Ah, the blissful and carefree days of summer… When one thinks of summer, it conjures up images of being out of school, weather that lends itself to getting out of the house and having fun, and family vacations. Whether it's a picnic on top of a mountain, boating and swimming in the lakes, or enjoying ice cream at the local neighborhood shop, there is a sense of freedom that is not always easily found during the other seasons.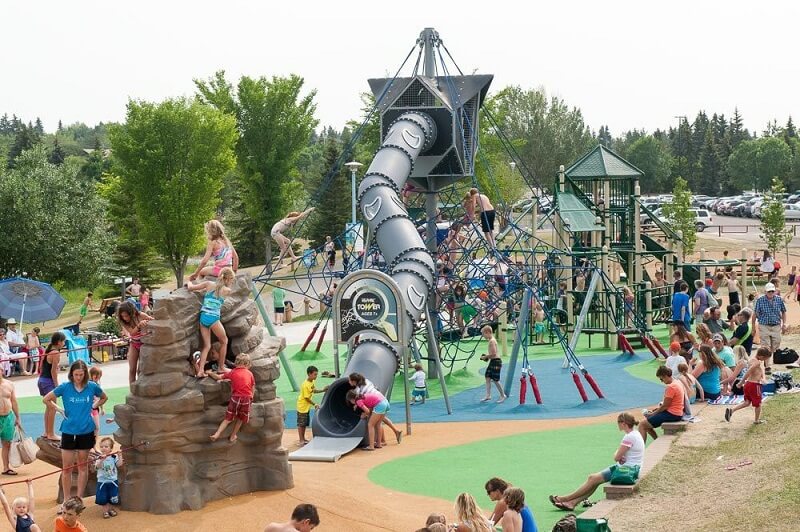 Edmonton is a fantastic place to enjoy the summer. From the long days and music festivals at night to the beauty of the surrounding natural world of Alberta, there is seemingly no end to the potential to enjoy life there.
Know Your History
As with anywhere, the story of how a place came to be is fascinating and complex. A story that weaves and winds its way through the narrative of human history. There have been plot twists, character developments, and the setting altered and grown in numerous ways throughout the years. Edmonton is no different, as there are multiple places to go to and explore the history of the area.
Fort Edmonton Park
Upon stepping onto the ground of the Fort Edmonton Park, you will feel yourself transported back to a time where fur traders roamed the land and the language of the market included pelts and arrowheads. The buildings that stand have a rustic feel to them, with historical interpreters and guides providing a sense of authenticity to the area as you ride on a horse-drawn carriage, a steam train, or simply enjoy a picnic in the midst of it all.
Alberta Railway Museum
If riding and learning about the history of trains is more your speed, then the Alberta Railway Museum is going to be a haven for your desires. Enjoy a ride on a train or a motor car and relish in the relaxing aura of being able to passively take in the world as you speed through. There is a sense of calmness and luxury associated with train rides, and you can enjoy that amidst the beauty of Alberta. While doing this you can read and learn about the impact the railway system has on Edmonton.
John Walter Museum
John and Annie Walter were a large part of the community of Walterdale from 1875 to 1920. A Scot from the Orkney Islands, John Walter came to Canada in 1870 to build boats for the Hudson's Bay Company. He would go on to become one of the wealthiest citizens in the area and an entire community was built around his house. However, in 1915, a flood of the river caused massive damage to the community and effectively destroyed it all. Five years later, he passed away, having never recovered his losses.
The museum today boasts a number of original buildings, activities for the whole family and more, as it tells the story of Walterdale in an effort to remember this chapter of Edmonton life.
Summer Fun in the City
If you have explored the historical attractions listed above and now are ready to have more fun-filled activities, Edmonton has got you covered.
High Level Bridge Streetcar
Starting at the Strathcona Streetcar Barn and going up to the Museum Jasper Plaza, this streetcar will offer breathtaking views of the city. As it moves through the streets of the various neighborhoods in Edmonton, all while being led by informative, personable, and humorous guides, you will come to appreciate the beauty of Edmonton. Also, on select evenings, there are Street Car Shows. At only $30, tickets sell out very quickly and are one of the more premier music events in the city.
Combat Archery
If you're looking for something truly creative for you and your friends or family this weekend, try something new like combat archery. Fun for everyone, this will give you the rare opportunity of shooting arrows at other people without worrying about safety or retribution. The sizable arena of 5,000 sq. ft. allows for groups of up to 30 people to play a game that combines archery with dodgeball in a paintball/laser-tag style. All equipment is provided, and party options are available for reservation.
Edmonton Corn Maze
You could say that the corn maze is an A-maize-ing idea for an activity that will engage the entire family. In the same line of fun as a thrilling movie, you are able to live out a real-life scenario where you have to utilize your wits and navigational skills as a group or individual in order to make your way through a life-size maze. If the maze itself isn't enough, there are a number of other activities including: the Corn Cob Express, spud guns, and other arcade games.
Nature Fun
While the entire province is one filled with world-class beauty, the beauty of nature is not limited to the national parks of Jasper and Banff but include numerous spots closer to the city.
Botanical Parks
The St. Albert and University of Alberta botanical gardens both are filled to the brim with natural beauty to the tune of five acres, in the heart of St. Albert, and 240 acres in Parkland County. Both gardens promise a day full of beauty, fresh air, flowers and tranquility. Special events and classes are offered at both locations with more information available on their websites.
Jurassic Forest
For a unique blend of nature with fun, checking out the Jurassic Forest might be the ticket. Located in Gibbons, this place provides multiple activities for boundless fun for the entire family. From being able to research and discover dinosaurs using their paleontology guide, to the opportunities to dig for your own fossils and play areas, your family will be sure to enjoy a unique day of fun traveling back in time
So Much More!
The activities listed above are only a few of the incredible activities of fun on the weekends during summer in Edmonton. Besides these special places and activities, there are several other opportunities to explore in the city and the surrounding area.
Chris Mcdonald has been the lead news writer at complete connection. His passion for helping people in all aspects of online marketing flows through in the expert industry coverage he provides. Chris is also an author of tech blog Area19delegate. He likes spending his time with family, studying martial arts and plucking fat bass guitar strings.