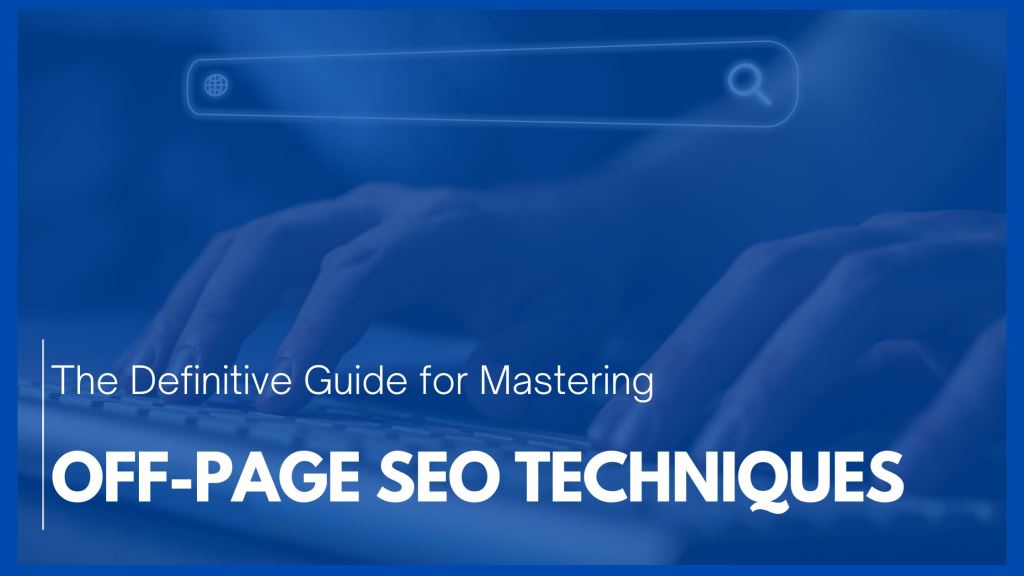 The world of digital marketing is constantly changing, and Search engine optimization SEO plays a vital role in reaching a potential customer with effective marketing strategies. The success of SEO optimization depends on two important factors on-page and off-page. Off-page factors are one of them. The site owners do not control Off-page factors, but it helps improve the website ranking in SERPs. We will discuss other off-page factors here.
On page SEO
On-Page SEO is a technique that enables you to increase your website's rankings, optimize its content and increase more relevant traffic, both organic and paid in search engines.
Standard on-page SEO practices include optimizing title tags, content, internal links and URLs. Contrastingly, off-page SEO involves optimizing for signals that transpire externally to your website—such as the case with backlinks. It's about improving your website's search engine friendliness by making it easier for search engines (such as Google) to crawl and index its content. It's also important when someone does a search query. Search engines scour their index (aka their database) of web pages relevant to what people are looking for and use algorithms to return the best results.
Off page SEO
Off-page SEO is a technique of everything you can do directly off your website to increase its visibility to ensure that visitors find your site quicker while searching and improve the ranking in the search engine results page (SERPs).
Off-page often includes:
Increasing brand mentions on reputable industry websites.
Earning quality inbound links.
Online reviews.
Being active on social media.
These are all off-page activities that have a significant impact on search engine rankings that helps the website in improving the site rankings on search engine result pages for specific keywords.
Link building
Link building is the most talked-about aspect of digital promotion as it covers a significant component of any marketing strategy. A well-promoted website naturally gains great traffic from the users and organically ranks higher on Google search results pages.
The better the quality of link building, the more weight it has in certifying your site as reliable and informative, meaning the prospective customers will likely find your site first.
Link building activities in SEO
Content related activity
Content marketing is helpful because it helps companies engage their audience and build relationships with them. It can educate your prospects or entertain your customers with original work such as blogs, images, infographics, and articles directly promoting the products or service. The content results in followers, leads, conversions, and revenue when done right. Following are some of the content related off- page activity most widely used:
Infographics Submission
In just a few years, infographics have gained worldwide popularity as an organized data collection, often combining images and information. Their integration enhances website visual appeal, increasing user engagement and click-through rates.
One effective strategy is using various infographic types and uses. These visual tools significantly contribute to marketing and lead generation, boosting SEO rankings and brand visibility. Infographics serve to simplify complex data, while also allowing seamless inclusion of your brand logo, tagline, URL, and contact details.
Press Release
A press release is a professional writing style that comes in handy for corporations, public figures, and journalists to publicize information and news. It is an effective way to get a high DA Dofollow backlink. It is also constructive in search engine ranking if you have do-follow backlinks that help in brand promotion. By submitting your website URL with other required details, you can get quality backlinks and higher traffic to your website.
Article Submission
The article is a great way to get attention for your site is one of the helpful resources that educate your audience, build trust, and get people closer to becoming customers. An article is a piece of writing about a specific topic, written for a particular purpose and a particular audience.
Submitting articles is one of the leading techniques to build your backlinks and improve your brand presence. The article includes one catchy title and good quality content with appropriate keywords, images, and author names. The focus keywords included in the article body makes it easier for search engines to locate your target web pages quickly during searches.
PDF Submission
PDF is one constructive approach for an inbound and off-page link-building activity where people use PDF submission to promote their websites as one of the strategies. On top of that, it is additionally used to improve user engagement and generate higher traffic to your website. While creating a PDF, one has to remember to have unique content. Fewer keywords and unique images make it more impressive and informative for users visiting our site.
PPT Submission
PPT is extremely important that helps get new and quality inbound links to the site, which will improve the site's visibility in the search engines. The slides can contain your site content and information that demonstrates what your site is all about. It is a great way to share your knowledge with the audience. While making PPT, one must consider certain variables like valuable, vital data, focused keywords, attractive images, pages, and attractive format design.
Web 2.0 Submission
Web 2.0 refers to the feature-rich sites that work as a communication platform and collaboration for you, as an individual or an organization. Web 2.0 platform is where you can publish content on high-quality and SEO-friendly blog sites. You can change the design of blogs and have complete control over them, making them relevant for browsing, marketing purposes, and promoting your business or products across the globe.
Web 2.0 submission can substantially impact your online business prospects through improved web traffic. It is an excellent way to add more relevancy and authority to your website by building natural backlinks. It helps diversify your link profile and build authority, trust, and relevance. It is effective for gaining a high-ranking in-search engines when you need to get more traffic in a short period.
Image Promotion
Images are vital in SEO as it has visual appeal. It is the process of publishing your images on various social media websites to increase the brand visibility of your products and services. There are a few things to keep in mind to help make sure your images stand out in search results. When picking an image, use high-quality, relevant images that match the content. Inserting images with the correct dimensions and adding a short description below the image can increase brand perception by making your site seem more credible or approachable.
Images often have social interaction that increases audience engagement. It is powerful link building that extends your reach to highly relevant audiences.
Video Submission
Publishing high-quality, helpful, and informative content on the web is one of the best things you can do to promote your business effectively. Video plays an essential role in this regard. When a company wants to reach a large audience, online videos can be an incredibly effective tool for spreading awareness. Video sharing is a method of promoting your website or company by creating product videos, animated videos, video presentations, or any other type of marketing video clip that can be shared within and across the web.
You can earn traffic by uploading your video to various websites by adding extra details about your website or blog in the description of your video. A video submission is one of the best ways to share your business idea, boost conversions, get more leads, organic traffic, backlinks, and visibility.
Q & A Submission
Building content backlinks with Q&A websites is one of the most common ways in SEO to engage with your audience and get more traffic. People who visit Q&A websites are actively looking for answers, so you can already qualify them as potential customers.
Posting informative questions or answers in your niche can also help you promote your website. Provide thoughtful answers to other people's questions to slowly build a reputation for being knowledgeable. When someone asks a related question, supply an answer that includes your links. This is a free way to generate traffic by letting the search engines do the work for you.
Social Media Bookmarking
Social bookmarking is an internet-based service that enables users to add, modify, and share their collection of bookmarks. It is done by adding URLs, keywords, choosing a specific category, and a short description of any product or service.
Social bookmarking is a great way to increase brand awareness by allowing readers to like and share your content. It will help you increase traffic to your site, more exposure, and visibility. The more people who view, read, or watch your content and interact with you, the more likely they will remember your name and recommend you to others.
Social Sharing
Social sharing is the process of making content available to the public on a social platform in the form of articles or blog posts so that your information is spread as far and wide as possible via promotion from your followers. The goal is to share the content with their social networks, further expanding its reach and exposing the content to more potential viewers.
Share and engage in a more socially connective way on your web pages and social media sites. In short, Social Sharing is another way of text-link building to gain additional traffic from referrals on the other sites, increase exposure, sales, and ultimately ROI.
Quality Social Bookmarking
Social bookmarking is an effective promotion technique that allows Internet users to store and categorize their favorite links and generate a backlink to your website. You can easily create backlinks from high-authority websites by using social bookmarking, which significantly benefits your website and page rank.
Social bookmarking is one way of showing search engines that your site has high-quality, relevant content that users find useful by sharing it with others. When a post is shared and bookmarked, the backlink also gets indexed by search engines resulting in higher rankings providing more organic traffic to your website or blog, incurring higher visibility to users searching the web.
Using social bookmarking tools allows you to save articles, images, and every content you like. These tools enable you to store, organize and share your favorites links with everyone you want. You can use them to bookmark and save your content, as well as content others have saved. This will allow for easy access to your bookmarks from wherever you are.
Local Business Classified
Everyone wants to increase their business. This can be attained in various ways, regardless of how small or large the firm is. One way is through free classified, where posting to many free categorized advertisements websites, your company will get brand new exposure and recognition. By creating your advertisement post to specific categories, you will have the ability to reach a broad audience.
Classified ads are an exciting opportunity to communicate with more consumers, expand your reach, and generate engagement, conversions, leads and a great way to promote your website. You can post your ads related to your service and products with all the necessary information.
Local Marketing
Local SEO is a perfect approach to attract new customers online as it involves optimizing parts of your website to make it stand out in local search results. It is essential for local businesses in creating a digital presence for their business with off- page techniques such as directory, forum, profile, blog commenting. Following are few off-page activity of local submission are as follows:
Local Business Directory
Directory submission is an SEO activity that involves submitting your website to a specific web directory category. The directory has listing spaces that include the basic information in the form of website URL, Description, Keywords, category, address, email, and site content or other information related to products and services. There are mainly two types of directories – paid and free. The paid one charges a small amount to list in their directories, whereas the other is free of cost.
When you submit your site to the directories, you get a valuable backlink for free. The higher the page rank of your directory, the more chance to receive quality backlinks. This can help boost your website's page rank and get permanent high rankings on search engines.
Customer Reviews
Customer reviews are great for SEO, but more importantly, they help potential customers evaluate a service based on the experience of someone who has received it before. Customers love knowing that their voice is heard. Reviews are great that shows your customers that their opinions mean something to you, and good reviews make your site look more authentic and trustworthy, increasing the number of potential customers who will buy from your site.
Customer reviews help inform, educate and engage customers. When properly leveraged, they have the power to inspire confidence in your products and services. Reviews improve trust and strengthen brand recognition, which enhances product discoverability.
Google places a lot of importance on improving your click-through rates and your rankings for targeted keywords. What's more, Google actively scans shopping sites for customer reviews, so it's essential to have them there before Google crawls your site.
Forum Profile
A forum is also a discussion board that offers a platform to discuss ideas and information. Many forums allow users to create their profiles, add private messages, leave comments and give star ratings to posts they like.
Forums are one of the most popular ways to share your posts, images, content, and more with people interested in answering questions. The individual can promote a product or service through advertising and dedicated sales pitches to freeform discussions and share information. If a forum is closely related to your website's targeted market, you may be able to use forum marketing to either increase your exposure or discuss issues with prospective customers.
Social Profile
Creating Profile is an alternate type of link building where we offer valuable information about you or your business on different social media. To rank over the search engine, you need to create a profile by including information related to your business, such as your website URL, short description, images, and address, to get engagement.
By submitting profiles, you will be able to achieve quality backlinks, drive traffic, and create brand awareness, which will help you in achieving your audiences.
Blog Comment
Blog commenting is the best way to share expert views on the blog. It is a great first impression on the blogger and a way of communication with a relevant topic. While commenting on any blog, one should remember to be insightful by leaving a value-adding comment that creates a good impression. Blog commenting is similar to leaving a testimonial for someone else. It is an exceptional approach to improving visibility, generating leads, increasing brand reputation, and developing relationships with current/future clients.
Competitor's research
Competitor research helps you find new competitors, understand the marketplace with the level of competition, and identify opportunities where you can out-perform the competition. It is usually done by off page activity such as Competitor's link building.
Competitor Link Building
Analyzing backlinks is a core component of link-building as it allows you to find new opportunities for promotion.
Competitor backlinking is a fast way to build your link-building strategy. The key lies in the quality of your competitors. It would be best to focus on competitor websites with similar authority or rankings as you do.
Competitors' backlink saves time and resources for quality inbound links. By reviewing the competitors' link profiles, you can gain insight into their strategies and uncover opportunities.
Off-Page SEO Benefits
There are several benefits of off-page SEO, which include attracting new visitors to your site, increasing trust in your website, and improving your Google rankings.
Off-Page SEO primarily helps in generating Backlinks for your website. When you get backlinks to your site, it helps improve the authority of your domain name, hence creating genuine inbound links.
Another benefit of off-page is that the upper you rank a page in search results, the higher the possibility that people will click to visit your site. Which is really great for businesses because more traffic means more leads, more conversions and quite simply, more success.
Wrapping Up
Off-page SEO is essential as it builds a website's reputation and authority by connecting it to other high-quality websites. When many high-quality websites link to a website, it shows that the site has quality content or services. Search engines reward this by ranking it higher in search results. Off-page SEO methods encompass activities such as acquiring backlinks from external websites and overseeing local listings and directory profiles.
Chris Mcdonald has been the lead news writer at complete connection. His passion for helping people in all aspects of online marketing flows through in the expert industry coverage he provides. Chris is also an author of tech blog Area19delegate. He likes spending his time with family, studying martial arts and plucking fat bass guitar strings.