Content marketing has become a key to grow website traffic and boost conversions, content marketing companies are developing content marketing strategy that build awareness and engage their targeted audiences. Content marketing involves the creation and sharing of online materials such as news, blog post, social media posts, press release, and whitepapers etc…
It is commonly used in online marketing for businesses, for attracting client's attention to expand their customer base. Content marketing attracts customers by creating and sharing valuable contents which creates a feeling of willingness in customers to buy their brand in future. There are mainly three benefits of using content marketing which is: Increased sale, cost saving and better loyalty to customers.
According to the survey, 72% of markers believe that content marketing is the best way to get better ROI. Large companies, such as frac.tl consistently creating and effectively distributing contents and helps companies in branding. If you have good content marketing strategy then you can enhance with these marketing tools which you must use for content marketing:
Ahrefs
So what you want, discover most popular topics, backlinks of your competitors, whatever details you want to get for your competitor for your content marketing you can get by using content explorer and other tools. Ahrefs is one of the most powerful toolsets for competitor analysis and SEO that can be used for performing backlink audits, finding link prospects, performing the keyword search, managing brands, site audits, etc.. You can find the best backlinks of your competitors and create a content marketing plan. Most people generally think of Ahrefs as a powerful backlink checker tool but checking backlinks is only one of few things it can perform with its huge data index.
You can analyse the competitor marketing strategy, what they are doing, how they are doing, what keywords and pages they are targeting and much more.
Hootsuite
HootSuite is another SEO tool which is used to manage social media platform. It was created by Ryan Holmes in 2008. It has more than 15 million users across the globe. Basically, Hootsuite service is used to manage online brands which include twitter, facebook as well. HootSuite allows free basic services, with payment for additional services. Its head office is in British Columbia, Canada. The maximum numbers of active social media accounts are owned by major brands like Dell and banana republic.
It allows you to manage a number of social media accounts and track the performance of your social media posts so that you can track the status of your content marketing strategy for social media marketing. It also helps us in getting free reports via emails.
Evernote
Evernote is a tool which is used to design for note making, organizing tasks lists, and archiving. The app allows users to create notes which can be a piece of formatted text, a webpage, a photograph, a voice memo, or a handwritten "ink" note. Notes can also have file attachments. It is a cross-platform which supports android, ios, Microsoft.
In content marketing, you can plan your blog posts in advance, create blog posts and note down your posting ideas. You can boost your content creating activities and you can improve your social media content marketing by creating a notebook on Evernote for Twitter, Facebook, and Instagram updates.
Evernote is great for writing content. It is also good for keeping notes synced in the cloud. Using the web clipper through Evernote, we can also keep track of research found online. If you are working with a team it allows you manage and share your projects with the team thus helps in collaborating with your team. Evernote is compatible with all the major social media networks. Using it you can also create a live link and share it with your followers to see. It provides the organization sanity to juggle multiple projects with multiple people.
Audacity
According to the survey, the number of podcasts will increase exponentially and the Audacity can be used for audio, podcasting content marketing, strong audio audiences result in expansion into video and other content.  Audacity is a digital audio editor and recording software. It is used for post-processing all types of audio. It can fade, normalize and trim a digital audio. It can record and playback sounds, edit an audio and can multi mix it. It can also detect the dropout errors while recording with an overburdened CPU.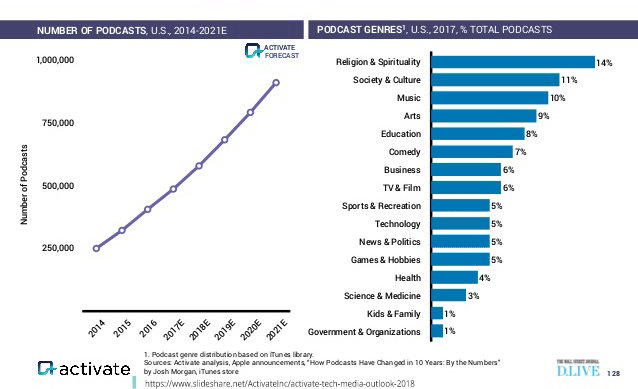 It merges the multitrack editing and wave editing which allows you to edit the audio in a convenient manner. The interface of audacity is similar in across all formats. Audacity is free and can do everything all audio podcasters need.
Tweriod
Tweriod is a twitter tool which helps you to know the best time to tweet. It analyses your account and gives you details about your followers, your past tweets, and the people you follow thus allows you to know the best time to tweet. The user authorizes Tweriod to gain the authority from twitter account and it starts working. The Tweriod app will automatically generate a report for you. It makes a report with the help of graphs and tells you that when your account would get the most exposure and when most followers are online during weekdays and weekends. It works using predictive analytics techniques which read tweets and retweets from your followers.
It analyses you and your followers past 200 tweets. It excludes any tweets coming from automation app because if this app tweets and user is not online at that time the results can be deceiving. It also suggests user about different schedules for different days.
In this blog, we discussed about the tools of content marketing which helps us by saving our time. Not only they save our time but also increase the impact of our content marketing.
Birbahadur Singh Kathayat is an entrepreneur, online marketer and writer. With over 10 years of experience in online marketing and Content Marketing, he helps and guides budding business owners to manage, grow and scale their businesses. As an entrepreneur, he himself has director of LBSWebSoft, a leading digital media solution company.