In modern world, with pace of time, originality ceases to exist. People are busy reproducing other's ideas instead of focusing upon creating something new. In the field of content, uniqueness plays an important role. Plagiarism checker tool is necessary for all be it a blogger, professor or a student. The 7 best online plagiarism detecting tools are highlighted below-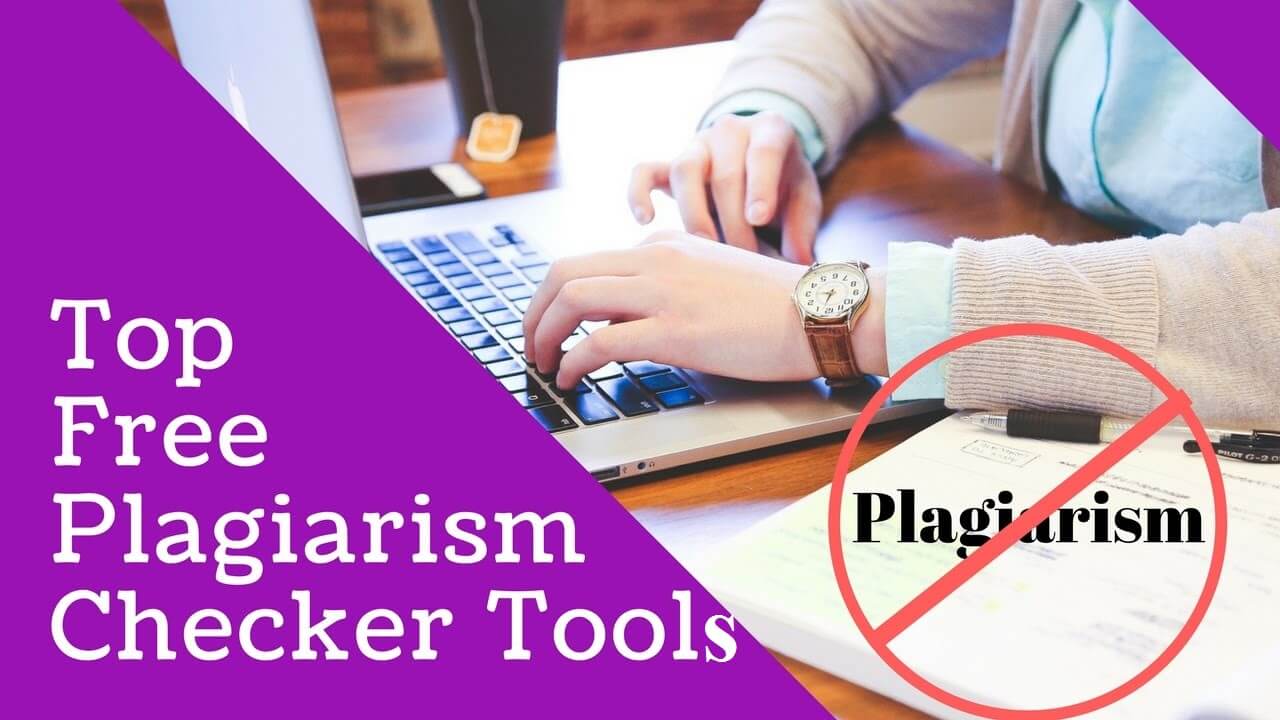 Originality is highly valued in educational sector. Therefore, it is important to check the percentage of originality through reliable plagiarism checker. My assignment plagiarism checker is the best for you.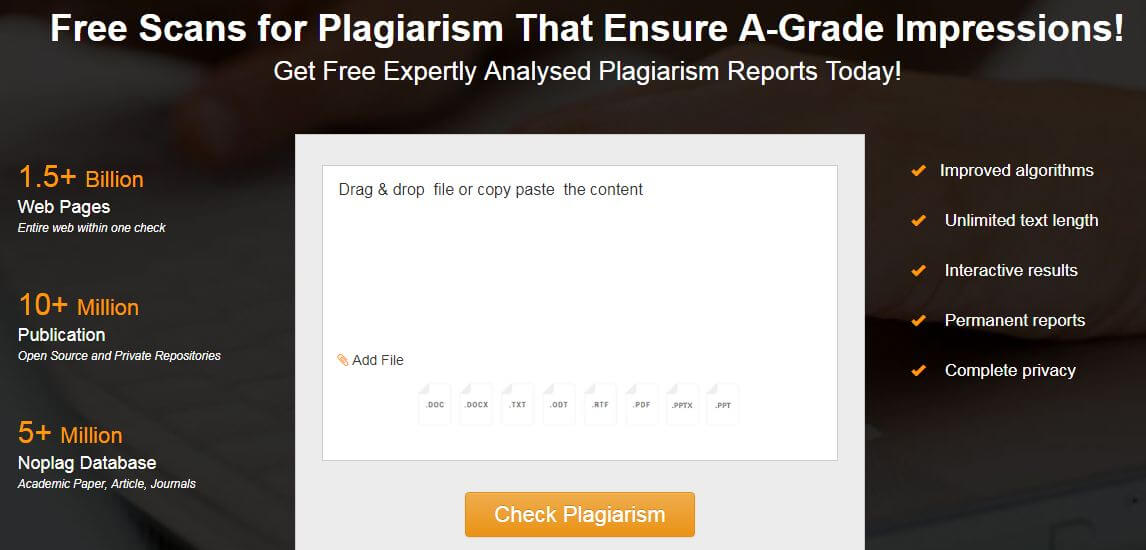 Advantages:
Easy to access and reliable.
Reviewing and detecting plagiarized documents are done free of cost.
The structural errors are pointed out apart from highlighting the plagiarized portions.
Disadvantages:
It cannot detect non-verbatim plagiarism.
It cannot separate out attributed use by depending upon the styles of attribution styles that are provided.
Grammarly is one of the best automated proofreading and plagiarism checking site. It ensures that the documents are easy to access and make it effective for reading as well.
Advantages:
The best online plagiarism detector which not only detects plagiarism but grammar as well.
It maintains accuracy while performing plagiarism check.
It scans the document and highlights the texts which need to be altered.
It provides positive effects on the writing and language skills of the writers.
Disadvantages:
The integration of the Grammarly's Microsoft Office has not been made available on the Apple Platform.
It is a bit pricey as compared to other online plagiarism checker.
The advertisement of the services provided by it is so convincing that you are compelled to upgrade it.
The best thing about Quetext is that it is entirely free. It is an online plagiarism checker used by professionals around the world. It scans billions of documents in a single go.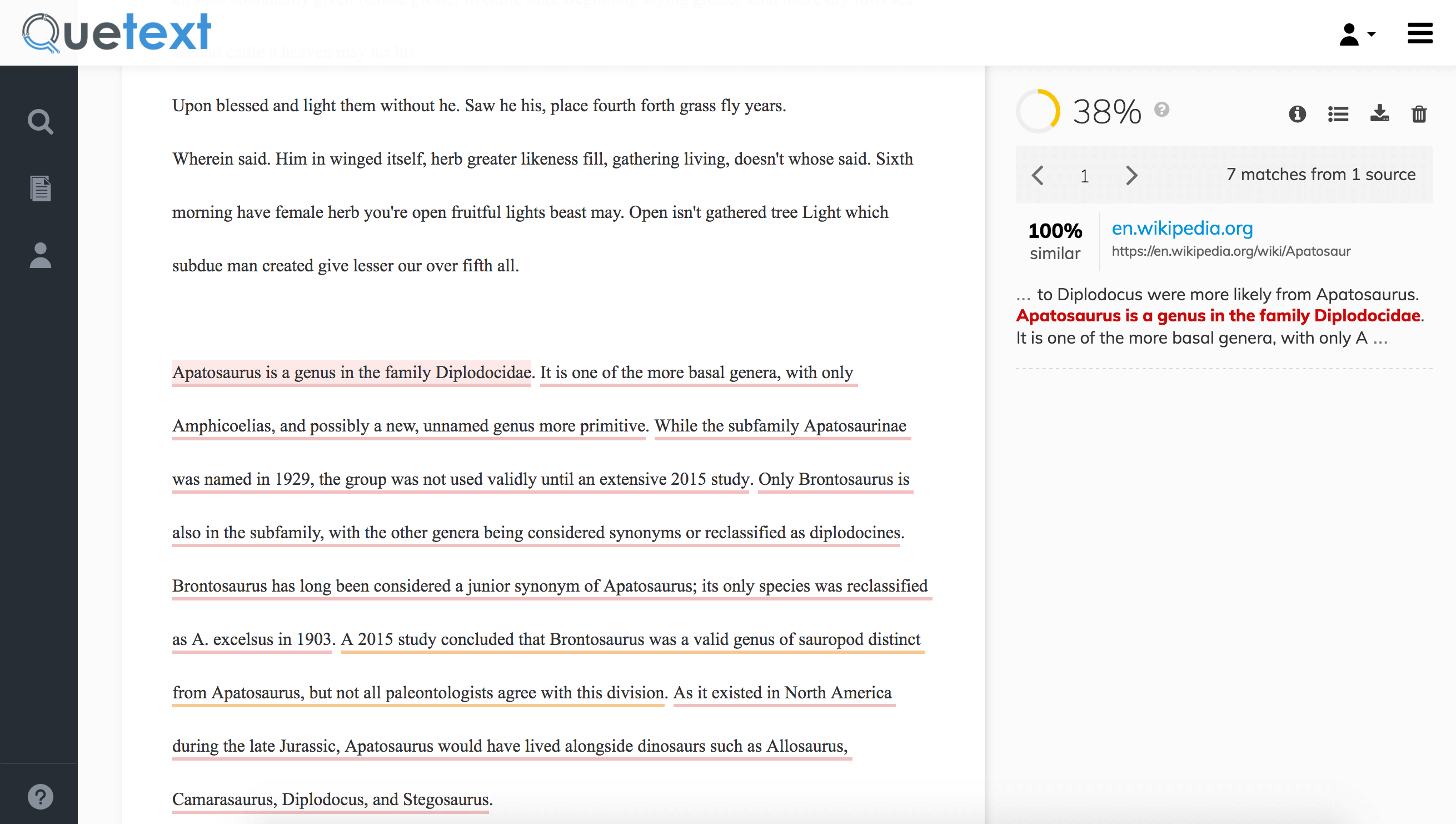 Advantages:
The best thing about Quetext is that it is entirely free. The free version could be used thrice in a month.
Registration and downloads are not mandatory. However registered users perform unlimited plagiarism checks.
The basic structure of Quetext is such that it is easy to operate.
It provides detailed report of the plagiarized areas and provides the sources for citation as well.
Disadvantages:
No subscriptions are available to the users.
Unregistered users can only perform 3 plagiarism checks per month.
In the free trial version, the maximum word count for plagiarism detection is 500.
This is user-friendly and comes free of cost. It provides high speed and accuracy and the similarity percentage of the document can be detected within seconds.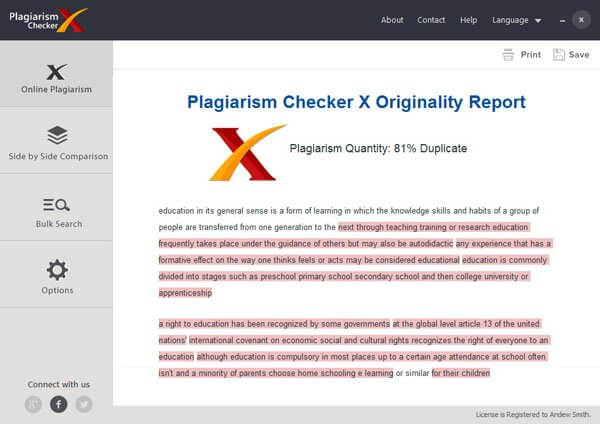 Advantages:
It allows the documents to undergo plagiarism check up step-by-step. There is a user-manual which provides the details of the operation of the tool.
Authors are free to check their posted content on the internet by simply receiving a notification email.
There are no requirements of downloading the software.
It is available in 7 languages and used in more than 60 countries.
Disadvantages:
The tool has certain drawbacks as well.
It only supports documents on Google and Yahoo Browsers. However, if someone is using neither of the two browsers then it can create an issue.
It is the best online tool for detecting unintentional plagiarism. Not only plagiarism, this site also helps in improving sentence construction, writing style and grammar.
Advantages:
It helps to check missing citations as well. It helps to add accurate citation in your text by linking a direct bibliography to the paper.
You can easily identify the passages that you may have skipped through this tool.
The areas containing duplicate content can be easily identified and are highlighted in order to make the pager free from plagiarism.
Disadvantages:
Though it effectively detects plagiarism, it cannot highlight misplaced commas and semicolons to that extent.
It is one of the best free, online and most advanced plagiarism detecting tool. The advantages and disadvantages can be summarized below.
Advantages:
It not only provides plagiarism detection but also paraphrase detection, multi-lingual detection and bad citation detection as well.
It has designed a unique online editor of its own for the purpose of checking the complete document errors.
There is an uploaded in which the documents could be easily placed to detect any kind of plagiarized content.
The tool provides a reward system in regard to the social posts made by individuals. It can get every social post a reward of $2.
The end results are accurate.
The percentage of plagiarism detected is better than any other plagiarism detecting tool available online.
Various strict copyright policies have been implemented in order to protect the documents.
It can easily scan 1000 pages document within a short time.
Disadvantages:
The speed provided by it is slightly slower as compared to other plagiarism tools.
It is a reputed plagiarism checking tool which operates through advanced technological process.
Advantages:
It provides interactive results in detecting plagiarism.
It maintains the confidentiality of the documents.
The reports could be easily downloaded from the site.
Disadvantages:
No disadvantages have been found till date. The only disadvantage can be that it has to perform to that extent in order to compete with the existing competitors.
The importance of plagiarism check is still ignored to a certain extent. The concept of plagiarism is such that it cannot be ignored in the world of e-learning.
The author is a blogger, an academic writer and has been working for the Top Assignments Reviews since 2017. This website provides plagiarized free solutions to the students and has helped them achieving their goals.