The highly competitive nature of the digitized global market has increased the demand for a high-quality logo. Industries and business organizations are looking for new and innovative ways to make branding and marketing of products more effective.
There's no denying that getting a great logo is crucial for your business organization and company. After all, it's your company's face. A well-composed symbol is a useful and succinct medium of conveying your business message to your targeted audience and the potential customers.
A logo is not your company's visual representative rather it is a perception creator and trust builder. A logo is probably the very first thing that customers notice about your company. So it is important that your logo makes a great first impression.
Important considerations:
Your company's logo will be a market differentiator. So make sure that it looks good on every platform, be it a billboard or a Facebook Ad or business cards. Every element should be integrated with extra attention to design and detail.
When it comes to logo designing, detailing plays a pivotal role in this process. The visuals and graphics elements should not only be relevant to your company's nature, but it should also be consistent all the way through.
The shapes, size, color schemes, contrast, and textures—all these things should be integrated in such a way that your business message can easily be interpreted from their arrangement and organization. Whether you are run a startup or you are revamping your company's logo, few considerations should be taken care of in logo assessment and completion processes:
Your logo design is the core element of your marketing and branding strategies. Being the face of your company, your logo should hold relevance to the nature of your business and your industry/market niche. Choose appropriate symbols, icons and color schemes that will help you in developing a connection with your targeted audience and customers.
Never stuff-up your logo design with too many design elements. A crammed up logo has never eased up the marketing or branding processes. Avoid using too many photos and images with texts such elements reduces the clarity of the design. Try to come up with a logo design with a simple shape and regular symbols for maximizing the lucidity and prolonged existence.
When it comes to logo designing, clarity is not something to be compromised upon. Apply special effects like drop shadows and patterned designs to increase the effectiveness of your logo design.
A multipurpose goes a long way in branding and marketing procedures. Your logo design should look good regardless of the size and type of the advertising platform. A professionally and well-composed logo will maintain its legibility whether it is shrunken to a few pixels or resized to fit a huge billboard.
Scalability is the major concern when it comes to fine-tuning the design layout and detailing of every design element.
Meaningful color scheming:
The colors of your logo create the immediate impact of your company on the minds of your audience and viewers. Intensity and tone of color convey the emotions and the meaning. Neon colors are chosen to make a bold impression whereas usage soft colors are customary in health and beauty industries.
Tools for creating logos on your own:
Eye-catching logos are simple to create, easy to remember, flexible and long-lasting. To guarantee all these qualities in the logo design, most of the companies and business organizations hire professional logo designers and developers to create high-quality for them.
However, if your business budget doesn't allow you to hire a professional, you can use these online tools and applications for producing high-quality logos without much hassles and financial strains:
1. Design Iconic: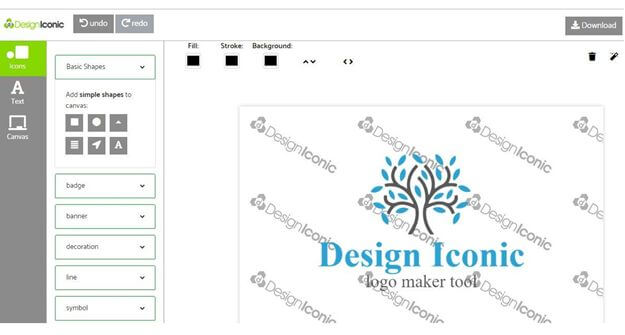 Design Iconic is one of the latest addition in the online logo designing industry. It is an AI-powered online tool with numerous useful and more advanced designing features. With a comprehensive collection of stock images, a diverse color palette, hundreds of layout styles and patterns, this tool is the ultimate solution for all your logo designing issues and worries.
This tool consists of expert guidance feature to assist you in perfecting you selected logo design. So explore the countless possibilities of creating free logos through online logo maker tool with Design Iconic powered by Artificial Intelligence. Another great point about this tool is that it is free to use!
2. Shopify: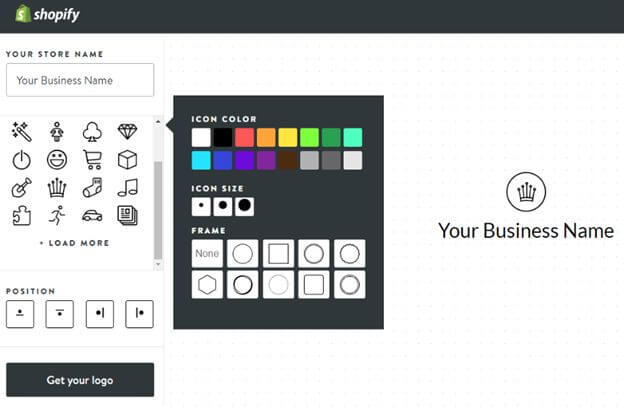 It is one of the best online logo generator tools which helps the user to generate any number of logo designs within a few minutes. This tool only requires you to type in your company's name and industry category, and the tool will display all types and styles of logos of your industry niche.
Shopify has large archives of stock images and photos to choose from. The tool is widely used and preferred by startup business and small and medium-sized business organizations.
3. Hipster Logo Maker: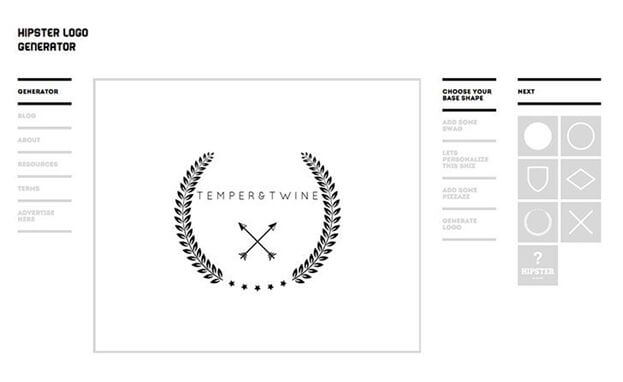 The name says it all; the tool was introduced when the hipster trend spread like wildfire globally. It is the best logo generator for companies whose target audience is the younger generation and millennials.
This tool is filled with hundreds of hipster style logo designs and layouts. The tool is simple and easy to use, all you have to do is to browse a few design element alternatives and options before finalizing your logo design. No technical skills and designing knowledge are required to use this tool. With a small fee, you can get the high-resolution version of your logo design whereas the download of low-quality version is free of charges.
4. Ucraft: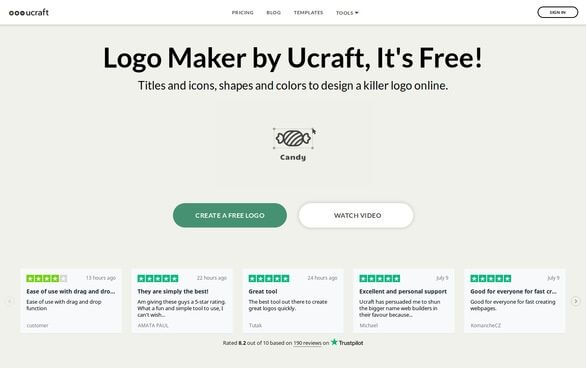 Ucraft is a useful logo generator tool for business organizations and companies. The tool includes various features and prompts that are utilized in logo designing. The best service of this tool is that once you have finalized your logo design layout, you can refine and improve the quality of your design by taking assistance from designing experts.
The high-resolution version of your design is the logo, and this high-quality logo can be used on almost every marketing platform.
5. Turbologo
Turbologo is a powerful logo generator that lets you create unique logo designs in just a few minutes. With its intuitive interface and plenty of customization options, users can easily customize their logo to suit their business or project needs.
The main advantage of Turbologo is that it offers 100% uniqueness of each logo created. The system uses its algorithm to generate a unique design that will never be repeated. This way, users get a unique identifier for their business that will help them stand out from the competition.
Turbologo also offers a wide variety of icons, fonts and color schemes so users can customize their logo exactly to their needs. Whether you need a logo for a new business or for an existing project, Turbologo can help you create a professional and unique design.
6. Graphic Springs: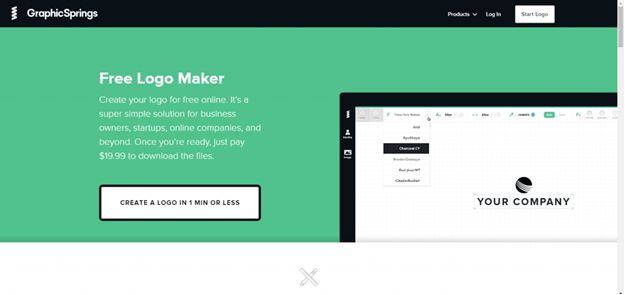 Graphic Springs is a highly-efficient logo designing and generating tool. The tool provides you with hundreds of design customization options and features. From letter-based logo designs to abstract designs, Graphic Springs has almost every style and type of logo design layouts.
From doing it yourself to getting it done by the professionals, Graphic Springs offers a large variety of features and services which are not available on any other logo designing platform.
7. Canva: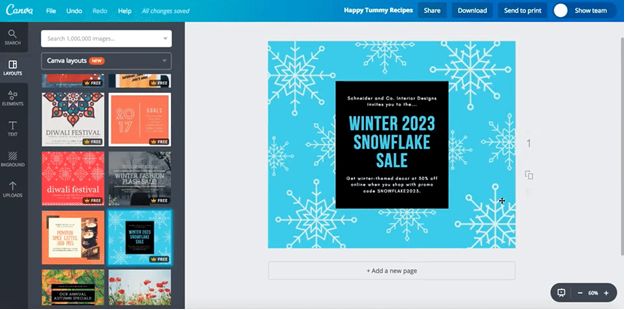 Canva is widely famous for being the social media tool, but it also provides you with features and services to create high-quality logos. With simple drag and drop features, you can make any number of logos in just 5-steps.
Having numerous free design templates and style layouts, this tool allows you to tweak with the colors, textures, patterns, fonts, and texts of the chosen logo design layout. With millions of people using this tool and the similar design templates, it is quite possible that your design might not be any different from others.
You can easily download the high-quality logo design in JPG or PNG file format and that too at zero cost.
8. Zillion Designs:
Probably one of the most comprehensive logo designing tool of the online designing world. Zillion Designs provides its users with tons of services and features. The design process is simple, simply enter your company's name, category, choose the fonts and design elements, and you can obtain a high-quality and unique logo.
9. SquareSpace: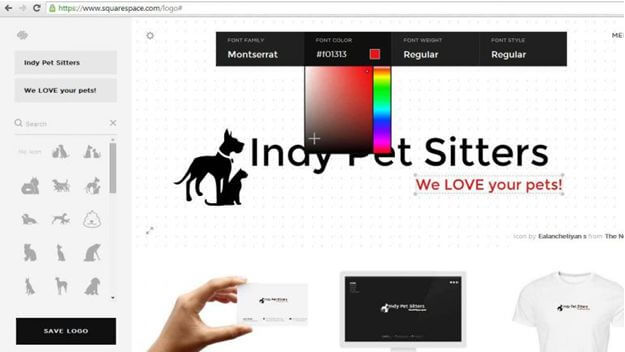 Out of all these tools and applications, SquareSpace is probably the only tool which was previously known as the website builder. Apart from the description of the tool, the designs and layouts available on this tool are exceptional. The tool has a simple drag and drops function to create high-quality logos and an efficient user interface.
Wrapping it up:
In conclusion, a free online logo generator tool is probably one of the effective ways to craft out your company's visual representation. Even though designing and developing processes can be a bit challenging, but these online tools and applications have simplified these procedures.
Alternatively, these tools provide you with options to produce high-quality logos but the download fee can be a big drawback, so make sure whichever tool you use the download is affordable, and no compromises are made on the uniqueness.
Jessica Ervin is a professional UI UX designer & passionate tech blogger with enthusiastic writing skills. Jessica is a brand researcher as well, She is currently working Design Iconic by which you can easily design your own logos & download it, having a good reader Jessica is contributing to the Technology, Artificial Intelligence, Augmented Reality, VR, Gadgets, Tech Trends and much more. Jessica'sexperience has given her an insight of UI UX designing & writing skills and became a conventional contributor. You can follow her on twitter@jessikaervin.