Social media platforms today, can be utilized to fulfill many more goals than just managing your social presence. Companies are now able to personify their brand and engage with their audience so much more through their social media channels. As of 2021, it is estimated that more than 4.1 billion people actively use social media platforms every month, and most of them use social media on their mobile devices.
It is due to this constantly growing popularity of social media, that multiple social media management apps have now flooded the space. Many companies now handle their social media channels through these applications or by hiring an SEO agency to take care of their requirements.
While most of them offer similar features, there are also unique ones that some of these apps offer that make them the top social media management apps available out there right now. Here are the top social media management applications and tools that can help you manage your social presence in 2023:
1. Hootsuite
Founded by Ryan Holmes in 2008, when social media was still in its nascent stages, Hootsuite is a name synonymous with comprehensive social media management. Over the years, the features and services offered by the application have evolved and become only more sophisticated. With over 18 million customers and trusted by 80% of the companies within the Fortune 1000, Hootsuite has consistently topped the list of preferred social media management applications in the past decade.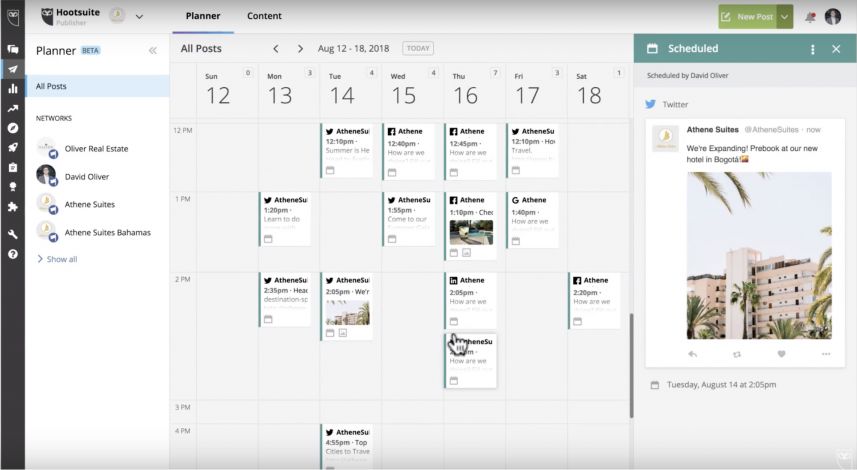 Source: Hootsuite
Hootsuite is known for its easy interface and stellar customer support which has helped it expand its global customer base. Additionally, it offers options to connect with over 35 social media networks.
Additionally, some of the primary features offered by Hootsuite are as follows:
Offers a free plan and four paid plans – professional, team, business, and enterprise
Crafting and Scheduling posts on social media channels
Complete social media management including posts and messages
Running campaigns and monitoring the social media performance through analytics
Hootsuite offers several of these features within the free plan, but a paid plan that is suited to your organization's needs will offer your team more tools and features to build a powerful social media presence.
2. HubSpot
HubSpot – the big old favorite content marketing tool used by marketers worldwide, also has social management software if you want to integrate all your content marketing efforts in one place. While HubSpot has already established its dominance in the digital marketing sphere through its diverse tools and integrations, one of its best features is that the software offers something for every brand – regardless of how big or small.
Here are some of the great features offered by HubSpot:
Monitoring brand impressions, mentions, and messages
Scheduling posts and tracking their engagement and performance
Building marketing campaigns and managing them within the app
Integrations with Salesforce accounts and website CTA monitoring options for easy collaboration within teams and stakeholders
HubSpot has tools and integrations to fit every budget, and you can use some of these tools to polish your social media efforts even when you can not invest in a complete subscription.
3. SproutSocial
SproutSocial is an internet favorite and has established its credibility by practicing what they preach. While their mission suggests that they aim to help businesses grow through their social media, their real appeal lies in their data-driven approach combined with robust personalizations. Whether it is their colorful interface with data represented in dynamic graphs and charts or their engaging social media presence, the brand is pretty hard to ignore. SproutSocial has a large and credible customer base consisting of renowned names such as Shopify, Zendesk, Edelman among others.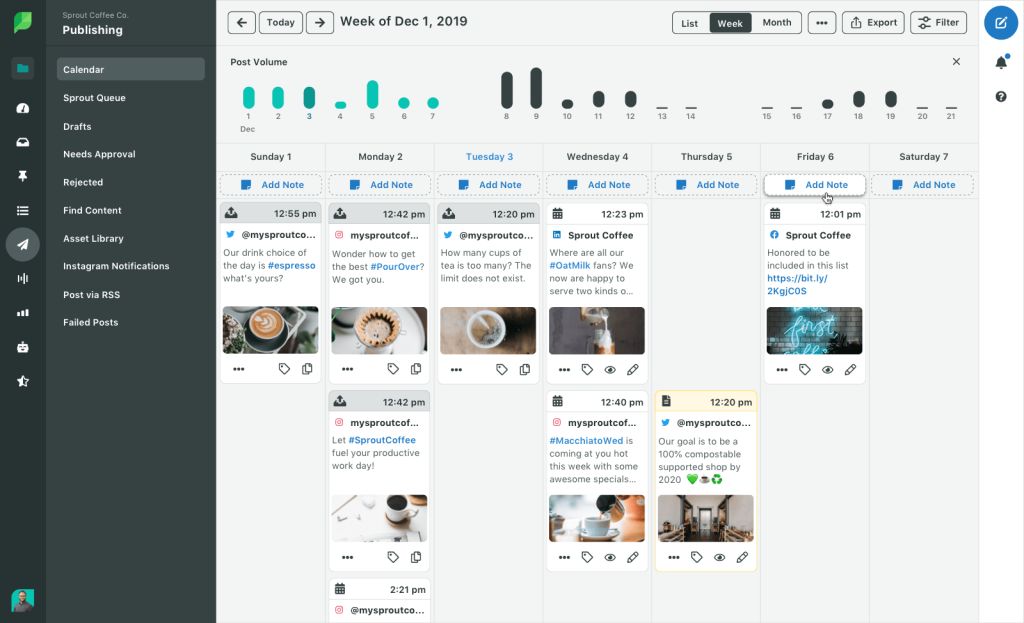 Source: SproutSocial
Here are some of the features that put SproutSocial on the list of top social media management apps:
Social media management tools for scheduling, monitoring, and tracking performance
Additional tools for sentiment analysis and curating social experiences on channels
Dedicated features that focus on employee advocacy and influencer engagement
Centralized dashboard for managing all campaigns and social media marketing activities
SproutSocial has gained popularity through its ability to provide tools that help all kinds of social media marketers and its authoritative position in the field of social media.
4. Sendible
If you are an agency looking for a social media management platform that helps you manage campaigns for multiple clients in one place, Sendible is a great alternative for you. Sendible differentiates itself from the other more popular social media management tools by making the user experience easier by providing a much simpler interface to work with. The app offers multiple options that can make the process of handling multiple social media accounts and campaigns seem effortless.
Source: Sendible
Here are some features that put Sendible high on the list of top social media management tools for 2023:
Seamless tracking and monitoring of multiple campaigns and accounts
A mobile application making scheduling and working on the go, much easier
Facilitates scheduling and management of social media, team communication in one place
The clutter-free dashboard offered by Sendible put together with an array of features including analytics and monitoring, makes it a great option for companies that want to create impactful campaigns.
5. Buffer
Buffer is a renowned social media management tool for companies that are looking for great features at flexible prices. Buffer offers some of the most diverse range of plans including tools and integrations that are great for social media monitoring and management. Great for individuals and teams, Buffer has a highly streamlined dashboard which makes it easy for brands to focus on all aspects of their social media channels.
Here are the features that you can expect from Buffer when you choose it as your social media management tool:
Highly intuitive tools and a clean interface that create an uncluttered experience
Options for scheduling, monitoring, and measuring your social media performance
Integrations for tracking analytics, report generation, and team collaboration
Highly efficient customer support
Buffer has been around for long enough to establish its reputation as a highly effective social media management tool through its efficient interface design and features.
6. AgoraPulse
Similar to most of the others on this list, AgoraPulse is a dedicated social media management tool that can help companies monitor, schedule, and manage their social media presence. What makes it a bit different from other tools are the unique features that the application offers within paid plans and as add-ons. Apart from its subscription plans, AgoraPulse also offers an array of free tools that agencies and companies can use to be on the top of their social media game.
Here are a few features that make AgoraPulse highly beneficial as your social media management tool:
Scheduling, monitoring, and tracking social media performance and related metrics
Offers agencies and companies the ability to conduct competitive analysis and compare social media performance with others in the industry
Dedicated social inbox, team collaboration tools, and easy report generation options
Offers Facebook contest apps within the application at affordable prices
AgoraPulse can be a great tool to help you optimize your social media performance and engagement at affordable prices.
7. CoSchedule
Like HubSpot, CoSchedule offers a lot more than just a social media management tool. As the name suggests, CoSchedule is definitely one of the best when it comes to scheduling any type of posts such as emails, social media, and content. It has a wide range of integrations and features that companies can use to monitor their marketing activities across the board.
Some features that make CoSchedule one of the top social media management apps are:
Unique scheduling features offered by no other platform
One of the most robust apps for a comprehensive marketing calendar that integrates all your digital channels in one place
With a wide range of paid plans to suit every budget and need of individuals, companies, and agencies, CoSchedule is a great tool to manage all your online marketing efforts through a single dashboard. Moreover, the application has a ReQueue feature which allows brands to find the most optimal posting times so that they can fill in any gaps and schedule posts accordingly.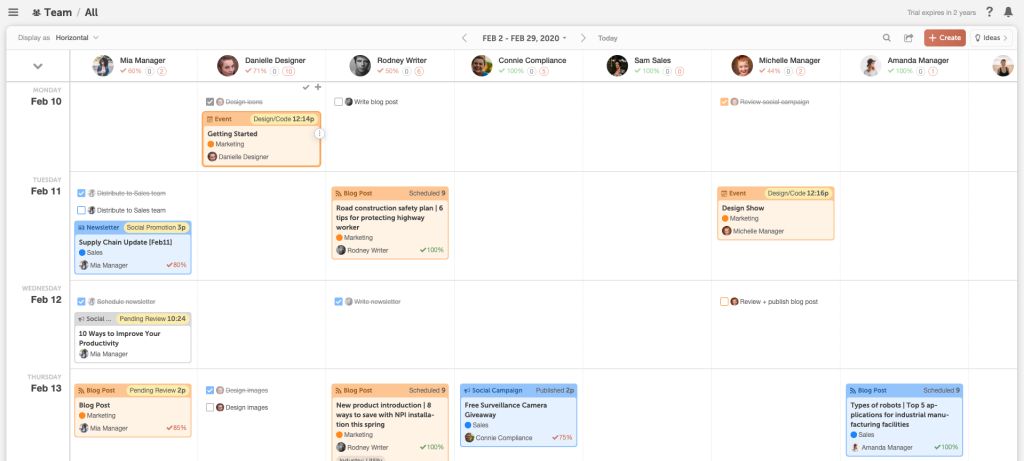 Source: CoSchedule
With prestigious clients like Forbes, UNICEF, Yamaha, and P&G on its ante, CoSchedule has put itself on the map through its highly efficient scheduling tool designed specifically for marketers. CoSchedule may not be the ideal tool if you are looking for advanced social media management tools, but it offers an array of tools that would help you schedule your posts better and ensure that your team efforts are synchronized.
Choose from the Best
Most social media management applications that have a comprehensive product generally offer features and integrations that enrich your social media management experience. More than anything, you should check whether the chosen social media management app helps you save on time and resources. If it does and falls within the budget that you have decided for your social media, investing in any of the apps is a great idea. These apps can ensure that your campaigns and actions are always aligned and that you can get the best out of your social media presence.
Lucy is a creative content writer and strategist at Marketing Digest. She specializes in writing about digital marketing, technology, entrepreneurship, and education. When she is not writing or editing, she spends time reading books, cooking and traveling.