The modern technological advancements have drastically transformed how and where we conduct business. Especially during the current COVID-19 pandemic that has contributed to more people working remotely on demand communication like video conferencing allows innovative businesses to grow and globalize. Before the coronavirus outbreak video conferencing apps, we were witnessing an increased market growth due to the increasing focus of organizations towards the expansion of business in the global market.
The global video conferencing market is projected to reach $6.37 billion by 2026 exhibiting a CAGR of 9.8%. Video conferencing simplifies the process of getting face time with remote employees, clients, collaborators, and customers, but you need to understand the importance of video conferencing in business communication and learn how to use it the right way.
In this blog, let's look into how video conferencing will help your business grow effectively.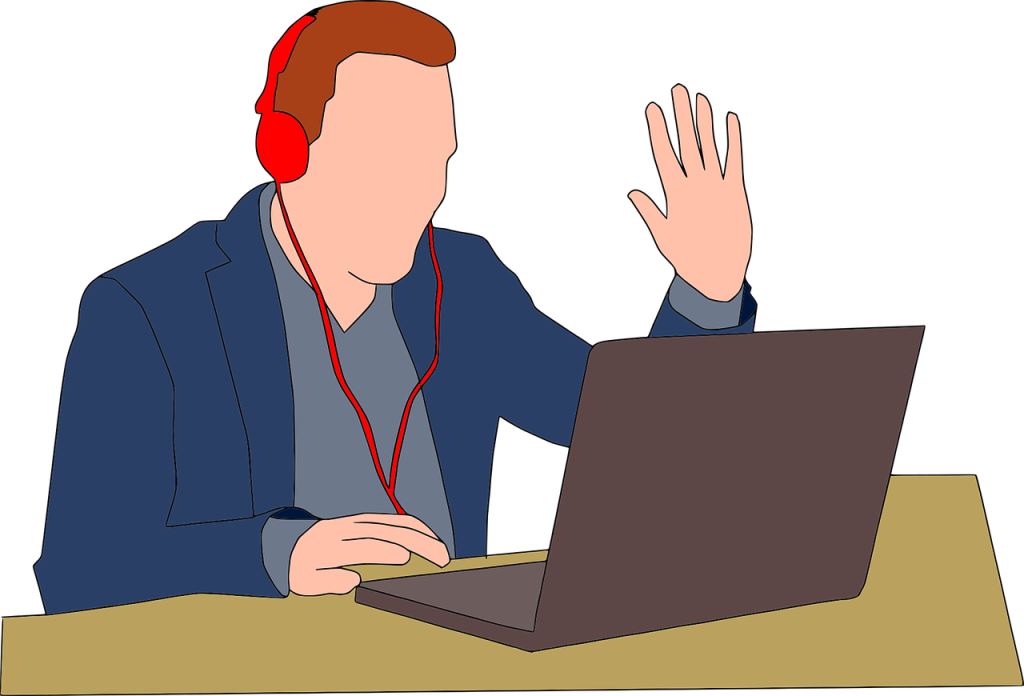 What is Video Conferencing?
Video conferencing or video chatting refers to the online meetings that take place remotely over the internet through personal devices like laptops, embedded webcams, or mobile devices. There are some challenges that are unique to businesses of all sizes and shapes. Executing different processes with limited resources and budget, prioritizing time to make the process happen efficiently, internal and external communication are a few among them. Business communication, be it external or internal must help every growing business achieve its goals and must also help businesses meet their constantly evolving needs.
Benefits of Video Conferencing for Business Growth
Business video conferencing enables businesses to connect with different teams and have discussions at the same time virtually. Not just that, video conferencing enables integrated software which ensures that you enjoy a rich and quality business experience.
The software also comes with features like meeting scheduling, email and chat functionality, screen sharing, analytics, and a host of other essential tools that make it convenient for organizations to conduct online meetings with multiple team members and receive inputs from them as well. You can also connect with people on cross platforms as well with video conferencing. This is why video conferencing is significant. Now let's explore what are the benefits of video conferencing in business functionality.
Simplify management usability
In a business environment, the need for teams to access collaborative solutions is really essential. They might have to conduct online video meetings, real-time instant messaging, screen sharing, and a lot of other activities to collaborate with each other. However, relying on different solutions can make things difficult. By using consolidated business video conferencing apps, your teams can focus on their meetings instead of being burdened with multiple applications.
Better productivity
There is no doubt that the impact of video conferencing on business is immense, in a positive way. By leveraging video conferencing, you can reduce the otherwise hectic business travel, cut down travel expenses, and thereby enhances the productivity of the workforce. Reduced business-related travel helps your employees to maximize their productive time by investing in some other significant areas.
Conducting video conferencing with clients, customers, and employees around the world helps to boost productivity. Video chatting enhances the productivity of human resources and projects can be completed faster as it helps your team more aligned with each other and with meeting goals.
Single platform for webinars, meetings, and chat
Utilize your resources intelligently and efficiently for webinars, chat, meetings, etc. with a single solution. Video conferencing apps bind all your employees through one software and encourage an environment significant to conduct important meetings efficiently. For example, members who are not able to join the meeting at a particular time as they are not in the office can join the entire to keep the work flowing in the desirable direction.
Reach out to a large team simultaneously
Video chatting allows you to conduct meetings with a large team at the same time. Business video conferencing allows you to connect and interact with team members from different parts of the world from the comfort of your home.
Business owners can connect with employees, clients, and even customers to hold the business discussion. Meetings that require strategic planning can be carried out with ease using video conferencing apps. You can connect with multiple people simultaneously and carry out business strategies effortlessly so that the project gets completed faster.
Improved business relations
Just like traditional meetings, video conferencing allows you to enjoy an opportunity to meet your employees, colleagues, partners, clients, or suppliers to facilitate and promote ideal working relations and create better opportunities for your business.
It also allows you to catch up with your colleagues, hold board meetings, webinars, train your teams, and brainstorm innovative business ideas. Video conferencing also allows you to create one-one business relations with your clients, team members, and customers.
Enable the digital workforce
Video conferencing software not just creates a collaborative meeting culture in your company but it also helps to equip today's digital workforce. Business video conferencing helps teams to maintain real-time connections regardless of their physical location which enhances the decision-making process and improves your ability to collaborate globally with team members.
Enhanced hiring and retention of staff
Generally, interviewing and hiring is an elaborate and expensive process. If your business is hiring top talents from outside the boundaries of your country or city, it might become more complicated. Additionally, if the interviewing panels involve people located in different places, the whole interview process might become more challenging.
With video conferencing, you can save effort, time, and money when conducting interviews and make the overall process more efficient. Moreover, the hiring process can be recorded for future references so that members of the interview panel who were absent to view the interview.
Effortless scalability
The difficult times where businesses had to buy technology boxes for video conferencing is over. Technology facilitates moving from low-quality video conferencing services to HD and even 4k business video conferencing. Best video conferencing services make it possible for businesses to adopt video conferencing strategy more cost-effectively and efficiently than before. Choose a video conferencing system that is easily scalable, allowing you to accommodate a large number of participants in video meetings.
Attain a competitive advantage
Organizations that communicate and collaborate by leveraging video conferencing systems share knowledge quickly and efficiently. Supporting teams can facilitate personal customer relationships and improve the quality and efficiency of business meetings.
Using video conferencing allows businesses to be more efficient with their processes. With less business travel, increased team collaboration, and efficient business meetings. You can improve the productivity of your business. Meetings are digitilalized when you adopt the power of video conferencing to connect with your teams.
Privacy tips for business when implementing Video Conferencing Technology
What is the use of video conferencing and in which all areas of your business it can be applied? Not only video conferencing can be used to train employees, but it can also be used to grow sales as well. Therefore, it is important to implement security and privacy strategies when hosting a video conferencing online.
Ensure only invited participants to join your video conferences
When hosting business meetings, you don't want uninvited people to show up on your meetings. What your organization can do to reduce the risk of uninvited members joining your online meetings? You can allow hosts to secure meetings with a password or limit access by offering a unique ID for each participant.
Additionally, you can also implement an additional step of authorization where you individually offer approval to each member trying to join the meeting. These security features might not be enabled by default, so it is important to look for such features or customize them when choosing a video conferencing solution. If you host recurring video conferences, most video conferencing apps allow you to generate new meeting IDs for each individual meeting which is more secure than using old credentials.
Use additional tools to limit unwanted access to meetings
Some video conferencing solutions might give you the choice to lock the video meeting once the invited members have arrived preventing invited members from joining. To achieve the highest level of control, hosts can even activate settings that allow them to remove individuals from the meeting when required.
Recording video conferences
Many video conferring apps allow hosts to record online video meetings for further reference. It is important to implement some type of indication that the meeting is being recorded. There have been reports of video meetings that have been shared online without the consent of the participants. Hence, the best strategy is to assume you might be recorded and hence avoid sharing sensitive business information via video meeting.
Be careful when using screen sharing
One of the best features of video conferencing apps is the screen sharing ability it offers. Most services allow you to share your screen. However, before sharing your screen, ensure that you don't have open browser windows or open documents, or anything that you don't want others to see. Some services also allow hosts to turn off this screen sharing feature or limit access to certain users.
Check your camera and audio devices
Participants might be able to see and hear each other as soon as they join the meeting. If you don't want to share audio or video, most video conferencing apps will allow you to mute yourself or turn the video off. You might want to adjust the default settings so your preferences are set for the next meeting.
Never open unexpected video conference invitation
With the upsurge in video conferencing in business settings, there are malicious users who send emails that mimic meeting invitations or other communication from video conferencing service. To add authenticity, such uses might even copy the business logo to convince the people. But instead of taking you to a video conference, these links might contain malware or viruses on your computer. On the safe side, it is recommended to announce to your team members that you have a video conference planned for a specific time and they should expect an invitation with your name. If they get an invitation they didn't expect, ask them not to click on it. If the service you are leveraging requires you to download a desktop app or mobile app, make sure you download it directly from the official website or the app store.
Adopt the best security features
While all businesses would like to adopt video conferencing, most of them are concerned about the security of the app. No video conferencing solution can guarantee the full security of your information. However, you can adopt various features and strategies to make your video conferencing secure to safeguard your confidential data. Evaluate whether the service provider you choose offers greater security for your organization and allows you to customize the solution to the extent you require. Also, make sure your video conferencing service doesn't share your sensitive data with third parties or advertisers.
Establish best video conferencing practices
The sole objective of any business activity is to maintain and enhance productivity during a specific time. If your video conferencing services are not aligned with your organization's privacy or security standards, you might put your confidential business data at high risk. To avoid such mishaps, share best practices for video conferencing with your team and establish video conferencing do's and don'ts and encourage them to follow the same when joining video conferences.
Update your video conferencing software
As security issues arise, your video conferencing software needs to update its security patches and fixes. Make your video conferencing software updates accordingly so that you can use the improved version. On the safe side, make it a practice to accept updates directly from the service website.
Conclusion
Video conferencing is a powerful communication tool that is gaining popularity at a rapid pace. Organizations that understand the importance of video conferencing will reap the benefits of better business communication and efficient collaboration. Hope this blog clearly explains what is the use of video conferencing in business functioning. Great business meeting efficiency also improves the competitive advantage and employee satisfaction. Video chatting facilitates efficient team building and interaction.
Chris Mcdonald has been the lead news writer at complete connection. His passion for helping people in all aspects of online marketing flows through in the expert industry coverage he provides. Chris is also an author of tech blog Area19delegate. He likes spending his time with family, studying martial arts and plucking fat bass guitar strings.