User-Generated Content means content in form of reviews, opinions, recommendations, or views provided by unpaid contributors for a brand or services. In simple words, it is the content made and posted by fans. It could be in any form such as pics, clips, tweets, blogs, testimonials, detailed videos and many more.
As not all people have access to any big platforms like blogs, so they generally provide their views on social media platforms.
Many big organizations like Warner Bros., TEDx, Facebook, etc. also getting so many advantages from this mode of marketing. This is helping them in so many different ways.
There are many effective uses of UGC. You can also get some water from this beneficial User-Generated Content river.
Types Of User-Generated Content-
There are numerous types of UGC out there on the internet and offline. We'll discuss some of the most useful of them here.
1. Websites-
Websites that allow its users to post content on their website are a type of User-Generated Content. Websites like Yelp, Flickr, FanFiction, etc. are some of the examples.
Different people provide their consent to a particular service or brand on websites. Which comes in the category of the content generated by users.
2. Blog Posts-
Blogs are created by individuals or groups. The posts on them are created by bloggers.
Reviews or recommendations given on blogs also considered user-generated content. Bloggers are also individuals who present their views as normal users.
3. Social Media-
A lot of people share their experiences related to some brands on social media. That is also a kind of user-generated content. It is the most popular type of UGC among marketers.
On social media, people provide friendly and connected reviews about different products. The normal audience easily engages in this type of content rather than detailed and descriptive information.
That is why a lot of marketers using this UGC to boost their marketing efforts.
4. Videos On Youtube And Others-
Videos also play a major role in contributing to user-generated content as people like to watch visual knowledge rather than reading whole-textual information.
Youtube is the biggest platform out there when it comes to videos. So it provides a major visual UGC to market with people providing their concerns in the form of videos.
Other platforms of UGC in the form of videos include Vimeo, Facebook, Instagram, Twitter, etc,
And these are just some of them. There are plenty of more types of user-generated content that can help any business to grow more. Marketers can easily adopt them in their promotional campaigns like some brands we discussed above did.
Reasons To Use User-Generated Content-
There are a lot of reasons for use UGC in different situations. We are acknowledging some of them.
● UGC Is Authentic-
One of the best reasons to choose user-generated content to apply in your strategies that it is very authentic. The content generated by users is very honest as real users provide their feedback over that particular product or brand.
Everyone on the internet today is an influencer in some way. Anyone can express their views on social media, forums or other platforms. So if you got positive responses from the general audience in any way, you can consider it as UGC and use it in your promotional efforts.
People will like the fact that other people are recommending that brand after their use. This will impact your brand's image and goodwill too throughout the public.
● Saves Time, Money And Efforts-
Using user-generated content is proved a very efficient mode of marketing in business. It helps you in saving a big piece of the marketing budget. It is a more economical mode of marketing compared to other traditional methods.
UGC helps in saving time as you don't need to create some content. You just have to prepare the content from the public through several platforms.
UGC also helps in saving efforts because you as we discussed, you don't need to create content, and you can collect it from the internet from anywhere.
● Enhances Interest Of Viewers-
Viewers find it very interesting when they see such types of things on their random internet scrolls.
We can understand it with an example when Warner Bros. put a social wall on the webpage of Mortal Kombat 11, the users got very excited about that. They started a #mkkollective campaign on social media. It got very popular among the fans of the Mortal Kombat game.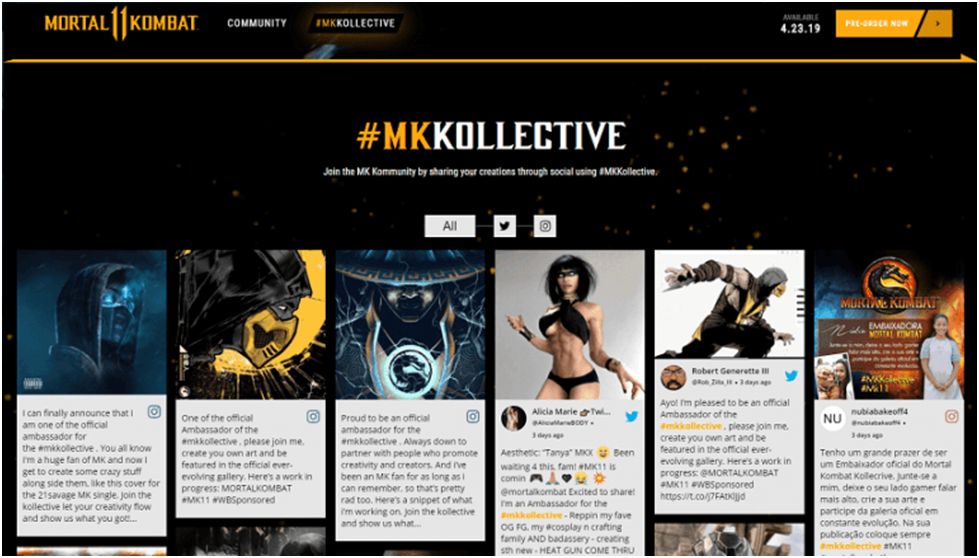 To keep this engaging, they encouraged people to make arts related to it and they will get a chance to featured in the official webpage gallery. It results in a huge engagement of people from different parts of the world to participate in it.
This leads to huge audience retention to the new Mortal Kombat 11 release with very creative marketing.
Leaving Out On You…
We have now discussed many things related to user-generated content. It's completely on you if it is an effective technique for you to imply in your business strategies and how you should do it.
Chris Mcdonald has been the lead news writer at complete connection. His passion for helping people in all aspects of online marketing flows through in the expert industry coverage he provides. Chris is also an author of tech blog Area19delegate. He likes spending his time with family, studying martial arts and plucking fat bass guitar strings.