We live in a world where everything is just a click away from us. Technology is advanced now and has reached a whole new level. In a word full of gadgets and artificial intelligence let's discuss social media marketing boom with Instagram.
Now, what is social media marketing?
Anything advertised with the help of a social media platform can be clubbed under social media networking or marketing.
Every other person is today active on one or the other social media app like facebook, Instagram, snap chat or youtube. All these social media apps help people to communicate, share, advertise, showcase their talents and a lot more from the comfort of sitting at home.
However, the question is!
If all these sites do the same thing then why Instagram is setting a new milestone in popularity?
Well to answer this,
Let us understand what Instagram is and how it is influencing other people's life.
In short, Instagram was first designed as a photo-sharing social networking app. Sounds vague?
Yes, it's TRUE.
It's been almost nine years since Instagram was first invented and this app has only seen gradual growth and success ever since. It's no more designed for just photo sharing. Considering the facts
Every month, over 800 million users join Instagram
60% of the users using Instagram are adults
More than 25 million business profiles are active on Instagram
50% of the active insta users follow at least one business profile.
Instagram today is the second most popular social media site in the world after Facebook. The users of Instagram are not just active but thoroughly engaged.
Let's understand why Instagram is the best platform for social media marketing
Easy Functionality
I cannot stress over this fact of how user-friendly and feasible this app is or any mobile user. No matter if you're an ios user or an Android user, it's specially designed for increasing your mobile viewing experience. It's easy to use if you are on the go. With its inbuilt editing features, it gives you the ease of editing your pictures and directly posts it on your timeline, avoiding all the hustle. Making it an in the moment experience. This helps you in engaging a larger section of the population if you are constant and creative with your posts. It also helps brands to plan their marketing strategies and upcoming timeline by adding fine edited pictures in the draft which you may schedule to upload later.
Great visual Experience
As Instagram was first designed as a picture sharing app, it has always been the key objective of the developers to make it visually attractive. As it goes with the saying, people buy what they see. Photos are the most engaging content on the web. People tend to reach out for things when they can visually feel them rather than reading about them. No wonder visual marketing has become so important these days. It's advisable to try to post pictures which are visually aesthetic and allure the users.
Instagram Bio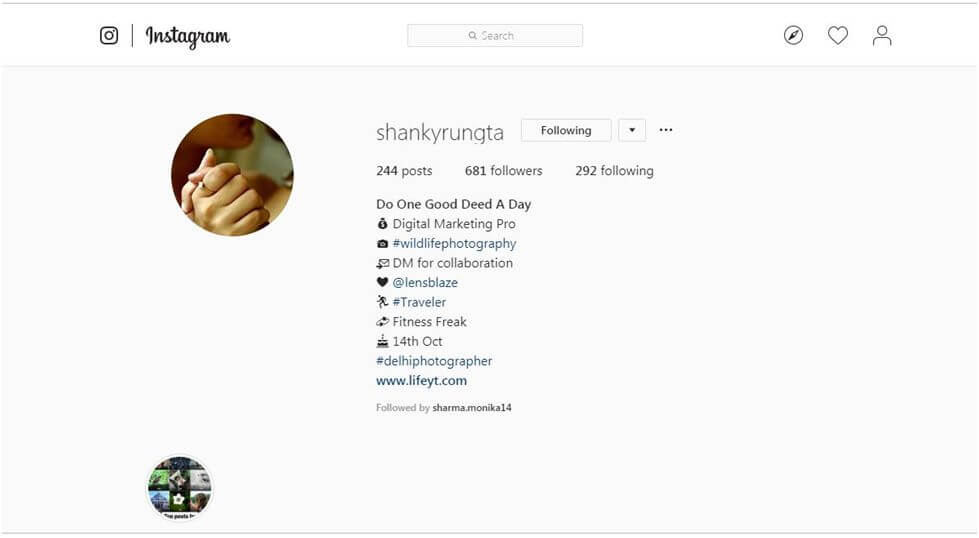 Your Instagram bio describes you. If you have a business account or a personal account, your bio speaks for you and your work. Moreover, starting with the very first thing, your insta profile picture. This is one of the main components of setting an insta profile. In the case of the business profile, this can be a logo, trademark image or mascot, anything representing your work. Next is your bio, which may be your company tagline or simply describing your business activity to get your audience a clear idea of your account. You can also use the links in your bio to connect to a landing page that holds the same posts you put on Instagram or even to your website homepage and allows you to collect leads, promote your e-commerce site and gain subscribers to your blog.
Instagram stories
People are always attracted to storytelling. They love to hear new stories and what better way to attract people when you can make them part of your story. With this new story feature on Instagram, one can engage their audiences by posting stories and asking for their opinions and polls. It's an easy and attractive way of user engagement in case you have more than 1k followers, and you are unable to connect to them personally. Instagram Stories has been quite popular with businesses – in fact, 33% of the most viewed Instagram stories are from businesses, As quoted stories can help users to develop a stronger connection with the brand. Marketing agencies can show behind the scenes content, run competitions for increasing your followers and display your creativity with the various tools on offer.
Instagram Ads
Instagram ads are popularly synced with social media marketing in the paid form where you choose a segment of the audience and display your product or service advertisement to improve your customer base. There are big brands who are effectively running Instagram ads via story and feed both immensely. These ads work just like other paid mediums like impressions and engagement with CTR and other KPIs.
Final Thoughts
Whether you work in e-commerce, education, media or publishing, it pays to build a presence on Instagram. However, if you want to get ahead, you need to know the platform and your audience. Your content should be well researched and strategic. As a smart marketer, you should monitor conversations about your brand and products on social media.  There is a pro tip associated if you have a brand which serves some products or services, go for trademark registration for your brand to safeguard your business identity. You can also secure your Instagram username by this. Not the only Instagram provides you with visually attractive options; it also helps you to manage your stats in cases like profile visits, user engagement, sales through insta and much more.
At the end my only advice to you is to stop delaying – you know how to create a successful Instagram account, time to make it happen.
Shanker Rungta is a Data-Driven Marketing and Automation expert.
https://www.linkedin.com/in/shanker-rungta-51432021/