Every business needs to invest in promotion to ensure growth and customer retention. E-commerce stores are no exception. With a growing number of new stores and a strong, competitive market, e-commerce stores need to give it everything they've got to stand out from the rest. Luckily, there are powerful marketing and promotional platforms that can help them reach their business goals, and Instagram is one of the strongest and best options.
Promoting your e-commerce store on Instagram is a smart marketing move. The platform is growing stronger every day, with 1 billion active monthly users. It allows you to create the content your audience responds to and promote your brand, products, and business activities.
But, to nail your Instagram presence, you need to learn how to write like a pro. This article breaks down the 13 most important and powerful writing tips that'll help you promote your e-commerce store on Instagram.
● Why Use Instagram Marketing?
Before we dig deeper into the writing tips, let's make sure you understand the true power of Instagram marketing. Why should you bother improving your writing strategy and promoting your e-commerce store on this platform?
Here are the main reasons you need Instagram promotion:
it's one of the top 5 social media platforms today
customers search for brands on Instagram before making a purchase
customers love learning more about a brand based on their Instagram account
you can establish direct communication with your potential customers
you can keep an eye on your competitors
you can promote other content you're creating for different platforms
Being present and active on Instagram is a must for any business that wants to stay in the center of the action and promote their business successfully.
● How to Write for Instagram?
Having a powerful and effective Instagram account is a challenging task. It's not enough that you just post images of your products and write cute captions. You need to walk the extra mile.
Writing for Instagram needs to be a strategic move and not something you're just winging. Below, we've created a list of the 13 ultimate writing tips that you need to follow to keep your Instagram account impressive and ensure it delivers the right results.
Here's everything you need to know about writing on Instagram to promote your e-commerce store.
1. Establish a Voice
Before you start writing, you need to decide how you're going to write. You need to establish a voice that you'll be using consistently, across the platform.
Here's why this is important:
your e-commerce store is a brand
this brand needs to build an image for its target audience
this image is reflected in everything you do, including your Instagram writing
your customers will accept this brand image and expect to see it always and everywhere
To establish a voice, you need to choose the tone, personality, and overall impression you want to make.
Are you a laid-back, friendly brand?
Are you formal?
Are you professional and technical?
Your voice will depend a lot on the type of products you're selling and your target customers. Here's an example:
you sell clothes for children and teenagers so your voice needs to be casual, modern, and friendly
you sell luxury male products so your voice should be sophisticated and semi-formal
Establish your voice before you start publishing and stick to it in all your future writing.
2. Research Your Customers
Another important preparation step is researching your customers to get to know them better. You are writing for them, after all.
So, knowing who they are exactly will help you write better.
You can use your followers base, your newsletter or email subscribers list, or any other data you have to learn about:
customer demographics
their interests
their habits
their social status
their social media Instagram accounts
their Instagram activity
The more you know about them, the better you'll understand how to write for them. You'll be able to choose the type of language, content, and visuals you'll use.
Do your research and learn as much as possible about your target audience.
3. Grab Their Attention
When you're writing on Instagram, you don't have a lot of time to grab your customers' attention.
They're scrolling down that news feed quicker than you can imagine. And, if your post image manages to slow them down for a second, your caption needs to seal the deal.
That's why you should open strongly and come up with a caption opening that is:
intriguing
catchy
informative
The first line of your caption can make a huge difference for your potential customers, so think twice before you write it.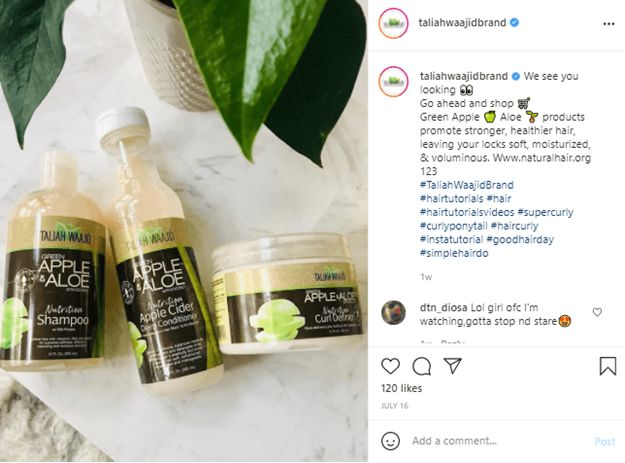 source: Instagram
4. Address a Pain Point
Think about the main reason your customers would be interested in buying a specific product. It's because it solves their problem, or is directly linked to a pain point they're experiencing.
Addressing this pain point in your Instagram post is going to make it more interesting to your target customers.
Let's say you're selling baby equipment and the post is about a mattress for toddlers. You should mention the pain points of your customers:
Are you having trouble putting your toddler to sleep?
Is your kid struggling to sleep through the night?
Every parent wants their child to sleep well…
Recognize the trouble your customers might be in, and address it in the caption. They'll feel like you're talking directly to them and will pay more attention to the rest of your post.
5. Explain the Benefits
Another thing your customers will expect is that you explain the benefits of the product you're promoting. Naturally, all the benefits will be listed on your e-commerce website. But, the most important ones should be on Instagram as well.
Think about what makes your product great and don't hesitate to write about it. You can write about:
how the product helps the customers
the best features
different uses of the same product
how it makes your customers' live better
Don't go too far with praising your products but rather intrigue your customers to visit your website and find out more about them. A phrase as simple as "No more snoring- ever" is enough to get them to head to your website and read about your snore-stopping remedy.
6. Create Urgency
Instagram is great for creating urgency around a product, sale, or event that your e-commerce store is offering. People don't like to miss out on great opportunities so building this positive pressure can add up to your successful campaign.
All you need to do is:
offer something unique and special
set an expiration date for the offer
set off a countdown
limit your offer in any way possible
So, you could say that it's a "Today Only!" offer or that there are "Only 4 Pieces Left". You can also urge the shoppers to "Pre-Order the Limited Edition Copy!"
The important thing is they understand it's a one-of-a-kind opportunity and make a quick decision to buy the product you're offering.
7. Use Humor
A bit of humor is always a great idea, especially if you're a brand trying to establish a friendly relationship with their customers. Humor is a great way to show you're more than just a brand trying to sell things, but you have a personality as well.
The most important thing about humorous writing on Instagram is that:
your customers understand the jokes
they can relate to them
they have the need to share these fun posts with their friends
Think about their struggles, daily habits, or characteristics, and make the kind of jokes they'll honestly laugh at. Combine humorous writing with memes and fun images.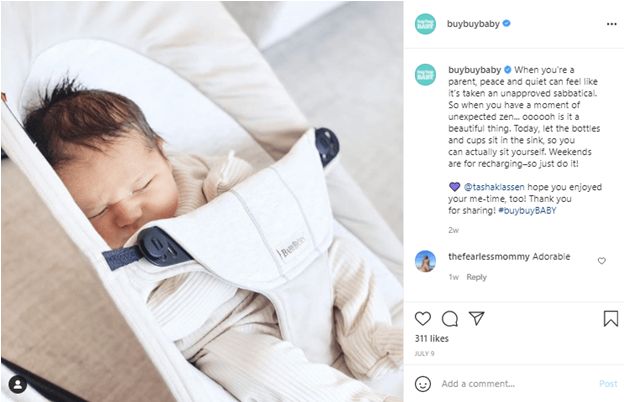 source: Instagram
8. Use Emoji
You want to make your writing visually appealing, as well. Instagram is a primarily visual platform and you don't want to kill the joy by posting dull, huge pieces of text that nobody wants to read.
Therefore, mix it up a bit by inserting emoji throughout the text. Emoji will help you:
break down longer pieces of text
organize information
visually enrich your post
make the post more attention-grabbing
Still, you have to be careful not to overdo it and stuff your content with too many emojis. Adjust the number of emojis to the length of your content and create a text-emoji balance, just like in the example below.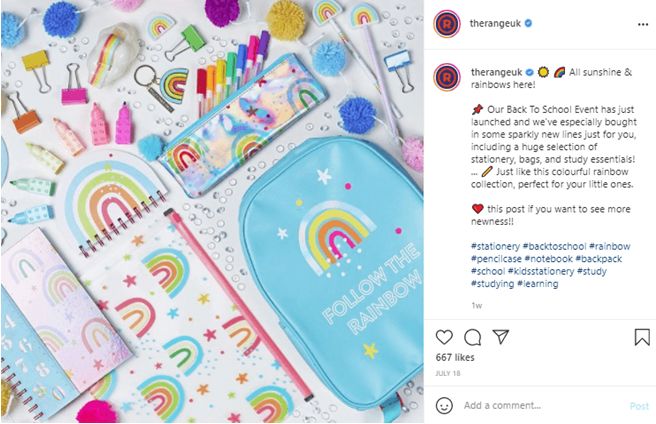 source: Instagram
9. Ask Questions
To make your Instagram posts more engaging for your followers, try to insert questions they might find interesting to answer. This will increase the activity of your followers on your posts and make them more popular among Instagram users.
Ask questions related to their personal experience to:
–             Are you enjoying summer in our swimsuits?
–             Who's your biggest inspiration?
–             What makes you smile every day?
–             Hey fashion lovers, what's your favorite color this summer?
You can make the questions related to your products, or simply create a post to check in on your followers.
10. Structure Your Writing
Another thing you should do when writing longer pieces of content is to try and break it down using structural tricks. This will make the post visually better and allow your customers to scan for specific information.
So, always try to:
divide the text into short paragraphs by leaving empty lines in between
break down the text using bullet points- emoji are great for this
use bold or italics to emphasize the important information
use all caps from time to time
Creating a dynamic structure for your written content means making it more fun to read. This will influence your customers positively and boost your posts' effect on your followers.
11. Share Tips & Advice
Your Instagram posts can be more than purely promotional and entertaining. They can also provide value and give your customers a reason to keep following your account.
So, consider writing useful tips and advice that your customers can benefit from knowing. For instance, write about:
DIY hacks
how to use a product responsibly
how to save time, space, or money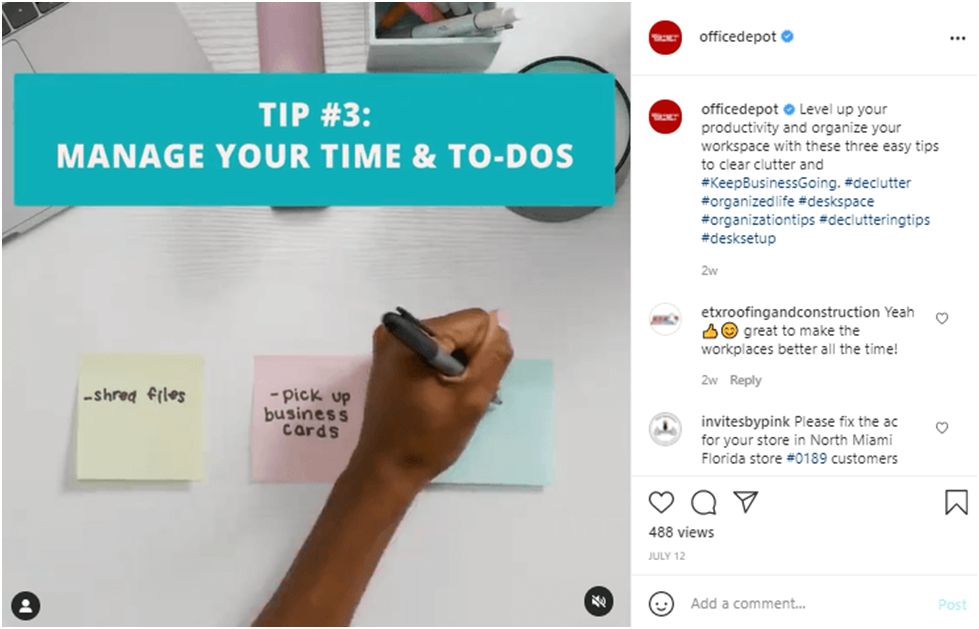 source: Instagram
So, if you're selling home accessories, you could create a post with quick tips on redesigning a bedroom with a budget of under $100. It's a great way to showcase your products in a real-life environment and give your customers a reason to shop with you.
12. Include CTAs
To truly make your posts productive, you need to invite your followers to perform the desired action. This is the final touch your Instagram posts need to help you successfully promote your e-commerce store.
So, make sure to write powerful CTAs that will help you reach your goals easily.
You can invite them to perform different kinds of actions:
Head to our store to buy yours!
Which one's your favorite? Tell us in the comments below!
Got any of our products? Post an image and tag us so we can see it!
Start your fitness routine with our home gym equipment!
Follow the link in bio!
Also, make sure to include links that can help your followers perform the actions you're talking about. So, always provide a quick and easy way for them to do what you're asking them to do.
13. Don't Just Sell
Finally, you have to remember that Instagram is primarily supposed to be a social platform and not a selling one. You don't want to wear down your customers by constantly trying to sell or promote something.
This is why you should occasionally post things that are purely entertaining, inspirational, or fun.
This can include:
motivational quotes
fun videos
inspirational messages
facts about your team, company history, or office dynamics
giveaways
Give your customers and followers a reason to keep following you, and create a balanced dynamic between your promotional, selling posts, and those that entertain and please your customers' daily need for fun content.
Final Thoughts
As you can tell, writing for Instagram is a complex task, but it's far from difficult. You simply need to have a well-prepared strategy and stick to it while writing for your e-commerce store.
The 13 writing tips we've listed for you above are your ultimate guide for e-commerce Instagram writing. Use them in accordance with your branding and add your creative spice to the story. We hope you'll start using these tips today!
Jessica Fender is a copywriter and blogger at EssayPro with a background in marketing and sales. She enjoys sharing her experience with like-minded professionals who aim to provide customers with high-quality services.